The Image, Deconstructed
Sep 26, 2011
When I see an image that moves me,
the first question that I want to know is:
How was that picture made?
I've been a photojournalist for more than 15 years,
and it's still the question I ask the most.
Early in my career, I didn't know how much thought
was put into making images that have impact. I had
little idea of the psychology of photojournalism. It was
only through years of trail and error did I begin to see
predictable patterns of behavior, and once it was recognized,
it became easier to harness one's vision and direct it to
a more purposeful approach to photojournalism.
I was speaking with Logan Mock-Bunting, a freelance photographer,
who suggested I start this blog as a venue for this type
of discussion. After bouncing around names with other friends,
we came up with the title of: The Image, Deconstructed.
The purpose of this weekly blog is to create a greater understanding of the psychological approach to photojournalism.
One week we'll deconstruct an image of mine, and the next
we'll spotlight a different photographer and deconstruct
one of their images.
The blog will not only serve as an educational tool for
photojournalists, but as a reader, you're invited to ask
the organizers of this blog about a certain image you'd
like to know more about. Let us know and we'll reach out
to a photographer and interview them about an image.
To kick off the first post, I wanted to talk about
this image and how it was made.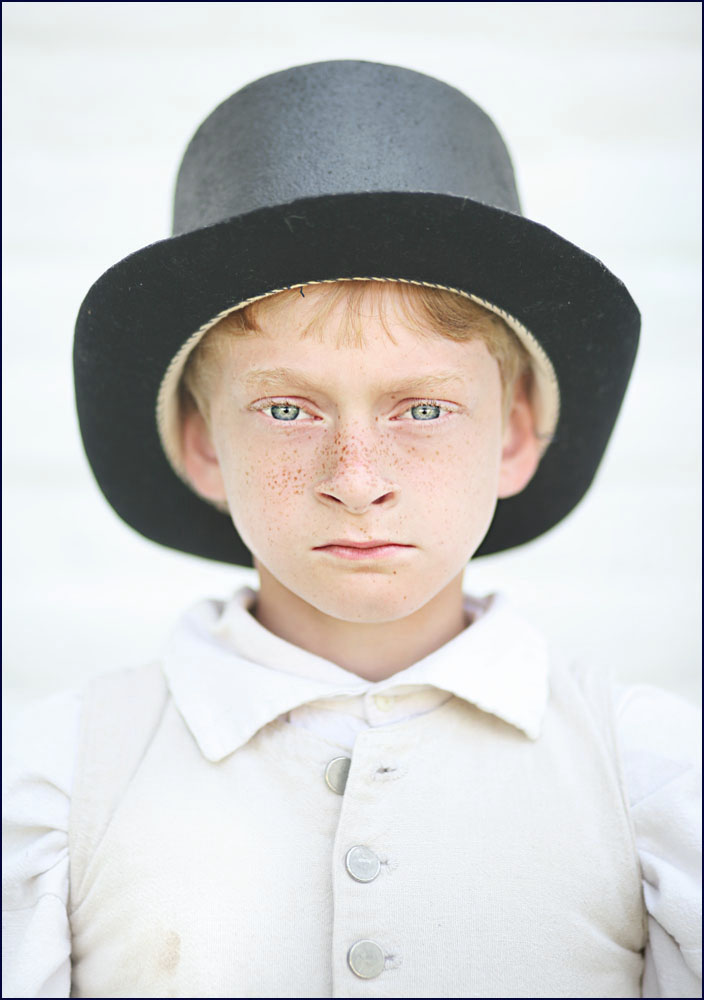 I had an assignment to cover a historical re-enactment
in Norfolk. It was billed as an event with scores of
people, but in reality, there were only three re-enactors
and few visitors. There wasn't much to document as far
as moments and the other two re-enactors to me
weren't that striking visually.
But to me, this boy was. I thought he looked interesting,
and that he could make for a striking portrait.
I pulled him off to the side and requested he stand in
front of a white wall for a portrait. I started making
portraits of him, taking dozens of pictures. After more
than 5 minutes of making his portrait, I could tell he was
becoming a little uncomfortable with the attention, so I stopped.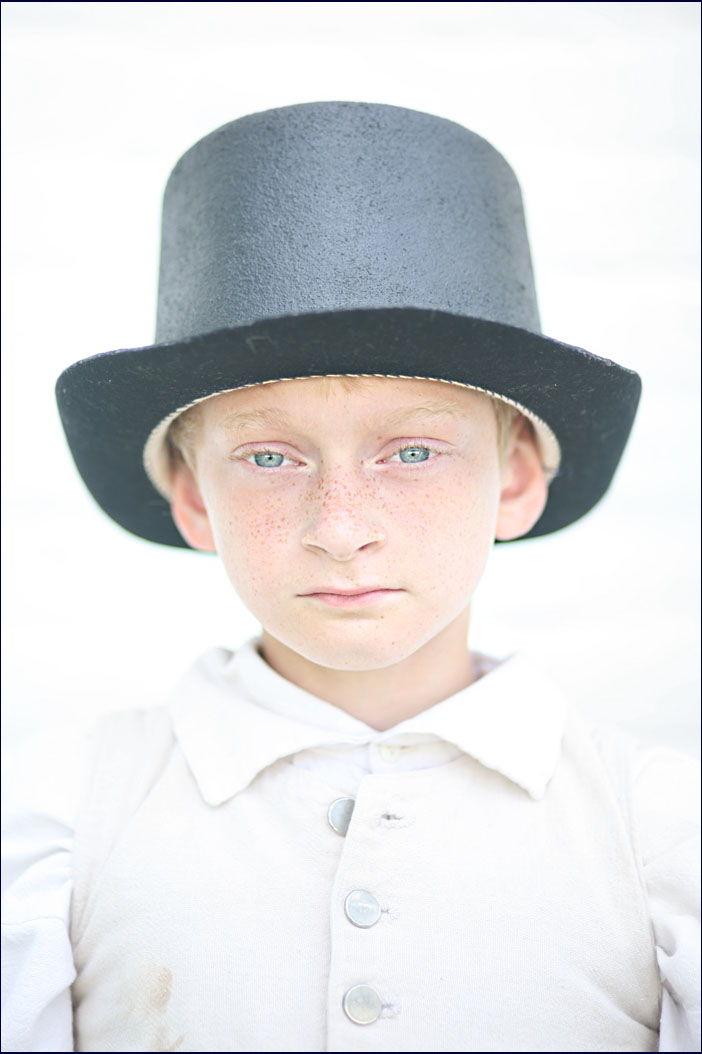 I didn't like the picture, and thought there was possibly
more to look for - so after 15 minutes, I went back to
the boy and asked if he could stand again for me. He
was a little nervous but he agreed. I made dozens of
more pictures but I could tell he was tense and it showed
in his facial structure.
You can see the tenseness in his jaw.
It's a common in portraiture - people bear a lot of tension
in their mouth area. It's clearly visable here.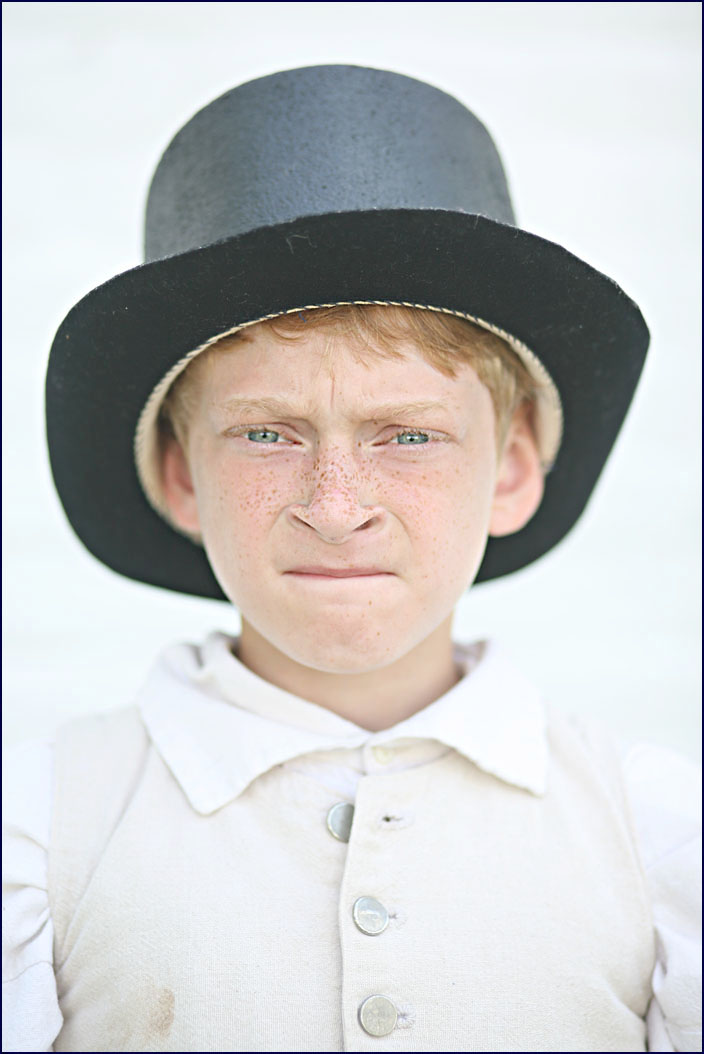 I kept trying to help him relax but everything I did wasn't
working. I felt at this point I was asking too much of
him to keep standing for a portrait, so we parted.
I shot other aspects of the re-enactment for more than 30
minutes, but I kept thinking of the boy. I hadn't made
an image that was reflective of his unique appearance.
I also knew, however, if I asked him to stand one more
time that he would be very tense. His father was there,
and I thought perhaps having his dad around would make
the child more relaxed.
I asked the father to stand behind me and then asked
him to just talk with his son, to help him trust me, and
the process.
I noticed immediately that his jaw was more relaxed and
his face seemed to open up. I began making pictures of
the son and showing it to them. They both liked it and
at that point everyone was much more loose. It became
much easier to photograph him at this point.
I finally made this image which was the one we
went with for the newspaper the next day - one of close
to 300 images.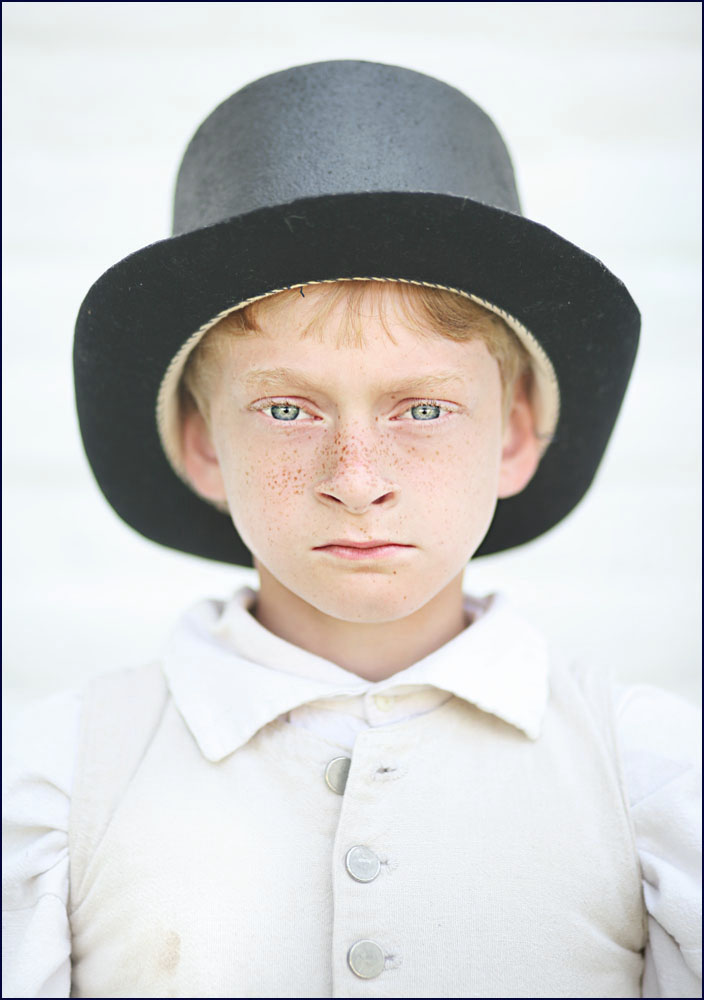 Technical notes:
This image was made in broad daylight with no flash. It
was a partly cloudy day and I took the image when the
sun would go behind the clouds. I photographed him
with a 85mm lens shot at 1.8 in front of a white brick wall.
I also overexposed it some to give it a white-washed look,
which helped wash out the texture of the bricks.
Advice from this process:
Help make sure your subjects feel comfortable with your
presence. Sometimes no matter what you do, however, it
requires an additional element to help them feel comfortable.
Search for clues and opportunities to help them feel they
can be more of themselves, and you'll make stronger images.
Thanks again to Logan for the origin of this blog and
you can check out his work here:
+++++
Next week, we'll dig into one of Matt Eich's images from his
"Sin and Salvation in Baptist Town" series. Eich is a founding member
of Luceo.