Spotlight on Tim Dodd
Jun 18, 2014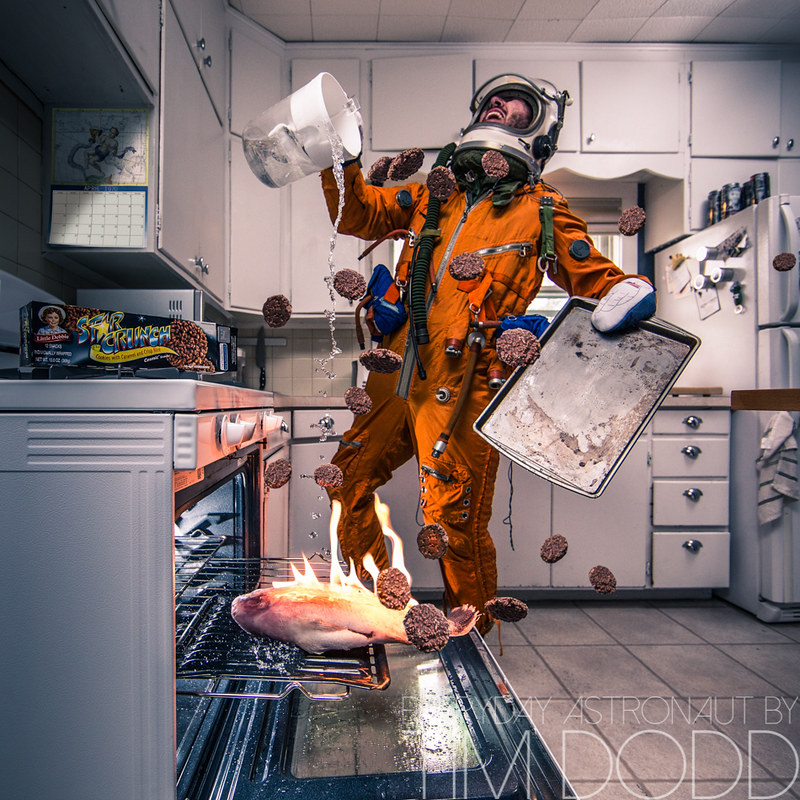 TID:
Tim, thanks so much for being a part of this. I saw your work going viral recently from this series and we're grateful you're willing to be a part of this. To start with can you set the stage of where you got the idea behind this, and why?
TIM:
The idea came from an impulsive purchase of a Russian space suit back in November of 2013. I was the only person who bid on said Russian high altitude suit from a website called RRauction.com. At the time they had a huge listing of space relics. Being a fan of anything space, I was just looking for something affordable. On one of the last pages I stumbled upon this suit and no one else had bid on it. I put down the minimum bid of $300 and later on I get an email congratulating me on my purchase. I couldn't believe it! When it arrived I had this big sense of responsibility/panic overwhelm me. I think of myself as a fairly funny guy and I was just scheming up funny ways to use the suit. I've made dozens of dumb/funny youtube videos (username TERMDERD), so I was assuming I'd go that route with it. The longer I had it, the more and more the need to do something cool with it welled up.
I was just doing silly little things here and there, but nothing epic or too ridiculous with it. I ended up getting hired to shoot a SpaceX rocket at Kennedy Space Center in Florida in April. As soon as I told my friends about it, everyone BEGGED me to take my suit. Since I'd be alone for almost 4 days, I figured it'd be something I could do while bored. I took a couple of funny pictures at the visitors center and moved on. The feedback was overwhelming! I knew I was onto something... people were talking about these pictures, sharing them and genuinely excited.
I think it was the acceptance and the virality that pushed me to really start being creative with it. I began to write down ideas; things that were witty, things that were funny, things that'd be easy, and some that would be a huge challenge. Once I got a list of about 30 solid ideas, I really started to knock them out. I started to focus on the daily, mundane things first. Mostly because it'd be easy to do around home. I then decided I should name this first series, "A day in the life of Everyday Astronaut" and really focus on what he could do through out one day.
TID:
What sort of mental preparation did you have going into this series?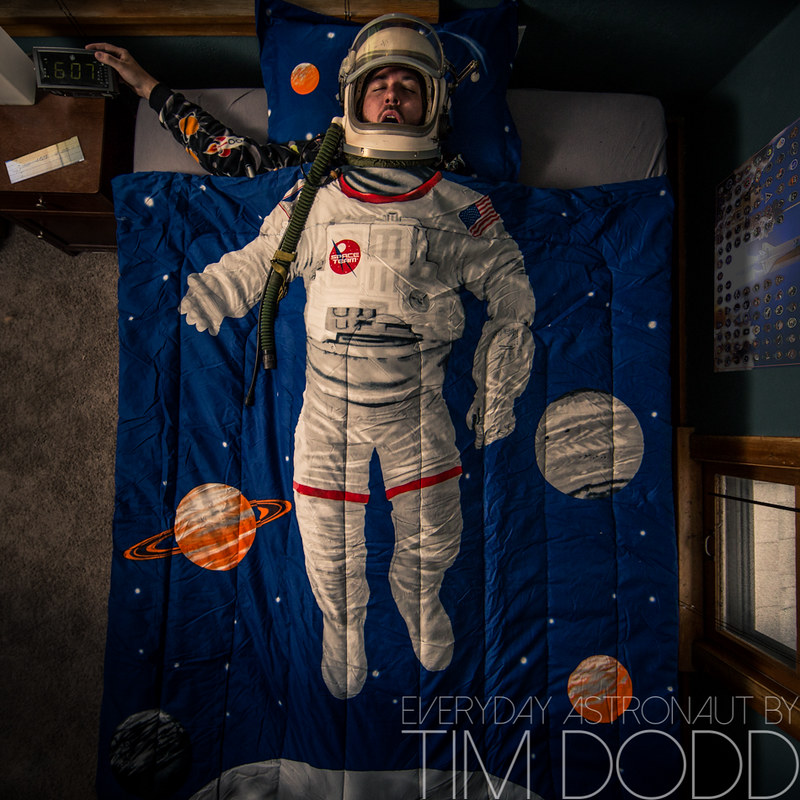 TIM:
Months of thinking and research. I would lay in bed and think of things I could do with this character. Not only things he could be doing that would be funny, but more importantly to me, ways these things could be tied back to space history. I wanted this first series to lean heavily on space puns. I didn't JUST want the slap stick humor, I wanted something a little deeper, something that space fans would actually appreciate and not just write off as "some idiot with a space suit." (Although I got lots of that anyway). I would ask friends for ideas when I would get stuck, but lots of times it just led to repeat ideas, which got annoying, so I stopped asking, haha. I'm really glad I wrote down the ideas as they came to me, because there's still a lot left to do (which I'm working on now), as I would've easily forgotten them all.
TID:
What challenges did you encounter while working to make this series, especially at the beginning?
TIM:
Honestly, the biggest challenge at the beginning was finding the mojo, or the right motivation and path to take. Once I got inspired by the feedback and the images I was creating, it just kept snowballing. Later on, the biggest challenges was probably shooting them myself. Setting that self timer and having to use myself as a test model. Not only for focus, but for the lights and general exposure etc. It also became a struggle to make sure to have something witty in the images. I would go blank while talking to friends because I'd just sit there thinking about what I could add to a certain shoot.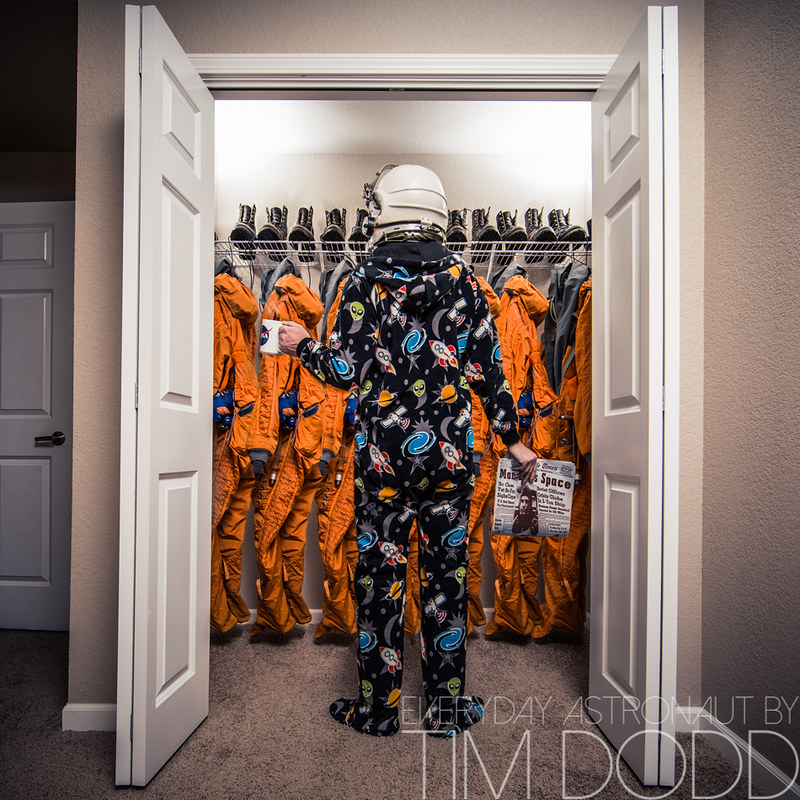 TID:
How did you handle and overcome these problems?
TIM:
I grew very comfortable with the 10 second timer. I know that rhythm by heart. I could hear it start and walk 30 feet and still know exactly when it'll go off. Having played drums for 15 years probably helped with tempo, but it still took some practice and some blind luck to get some of them to line up. The lighting was another thing. I'm so glad there's really good solutions for lighting these days. I had to be creative at times as I was working with really tight spaces. Having Canon EX600RT's came in very handy. I have 3, which I would stick in places, or tape to walls, or do weird things to get the perfect lighting.
TID:
We're featuring a contact sheet around one of the images. Can you talk about the moments leading up to the picture
and also the actual moment.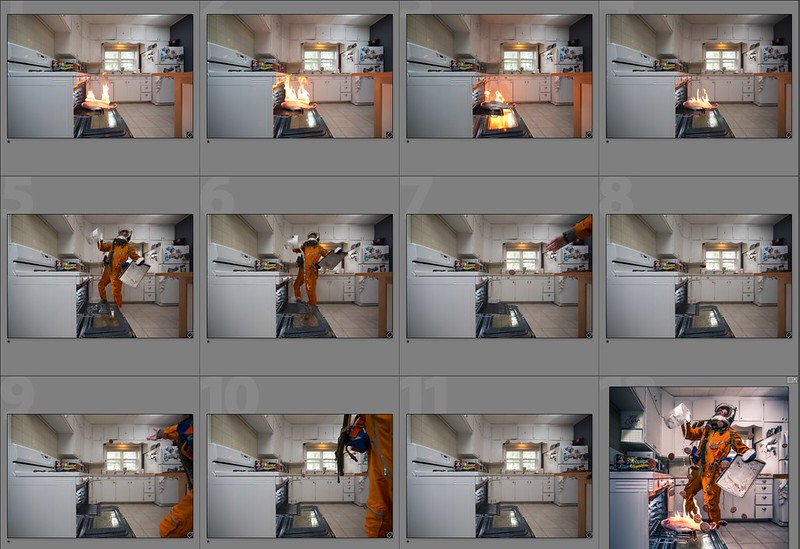 TIM:
Well this particular image was bugging me. There were a few things drawing me to creating this scene.
1. I bought some NASA "astronaut oven mitts" while down in Florida... I really wanted to do something with cooking with them.
2. I wanted to use Star Crunches or Moon Pies in a shoot.
3. I really wanted fire in a picture, because fire.
I was struggling with a concept so I took to Facebook to ask my friends, "What would an Astronaut cook," which kind of went no where besides one friend who mentioned something about arranging the cookies to be like a constellation. That got me thinking. I was thinking about constellations that could be cooked, and I started chatting with my friend when it struck... Two constellations interact and it's Pisces and Aquarius. Aquarius is a man pouring water on fish. PERFECT! I thought, I'll just light the fish on fire and then be pouring water on it.
The next step was trying to find a full fish. Enter my local Asian market in Waterloo, Iowa. I remember half gagging as I bravely opened one of their freezers once. It was full of frozen fish, fish heads, eels, octopus, etc etc. PERFECT! I drove down and bought a 5 pound tilapia for $10. I found some star crunches and lighter fluid and hurried home.
The first thing I did was unwrap the fish, which was weird! I put it on a tray and started to prepare the scene. I stuck my Canon 5D MK III on a tripod against the back wall of my kitchen, probably 3 feet from the oven. I had a 14mm F2.8L on it due to the incredibly tight space. I use a Canon ST-E3-RT to trigger my 3 Canon EX600RT's. I put one of them in the oven, one about 2 feet to the left of the camera, pointing towards the back corner of the room (to bounce and be the key light). I put one more over by the refrigerator for a bit of rim/fill light. I used the ST-E3-RT on manual to be able to get perfectly consistent results every single time so the ETTL didn't mess with exposure as the scene changes. Once I got it set up well, I got ready for the dumbest/most fun thing I've done with my oven, light a fish on fire. At first I simply poured lighter fluid onto the still frozen fish. This didn't work at all, so I took a paper towel and rolled it up into a little strip and soaked it. I lit it and woolaa! I ran to my camera and shot a bunch of shots, and then I realized it was getting a touch out of hand... I grabbed some water and put it out, but it had already put smoke/burn marks on my brand new oven! CRAP! I cleaned them off and reset, that was a little scary! I made a much smaller strip and tried it again, PERFECT! I felt really good about that so I moved onto the next part, pouring the water. Since the lighting was all locked down, I just set the self timer and took about 5 shots of me pouring the water. It was a little hard to get the stream to look right and to have everything be at about the right angle. Then I simply took some star crunches and threw about 6 of them into the scene and clicked as it's in the air. I would use these to photoshop them into the constellation.
I uploaded the pictures into Lightroom, selected the keepers and opened them into a layers in Photoshop CC. From there I isolated the burning fish, then added me pouring the water, then added all of the star crunches to line up with the constellations. I then added a calendar on the cabinet showing Pisces and Aquarius and the month of April, 1970 (the month of Apollo 13). I originally had it as January, 1986, the Challenger Disaster, but realized it wasn't something to be light about at all. Out of respect of those who lost their lives, or their loved ones, I decided I'd change it to something that didn't involve the loss of life.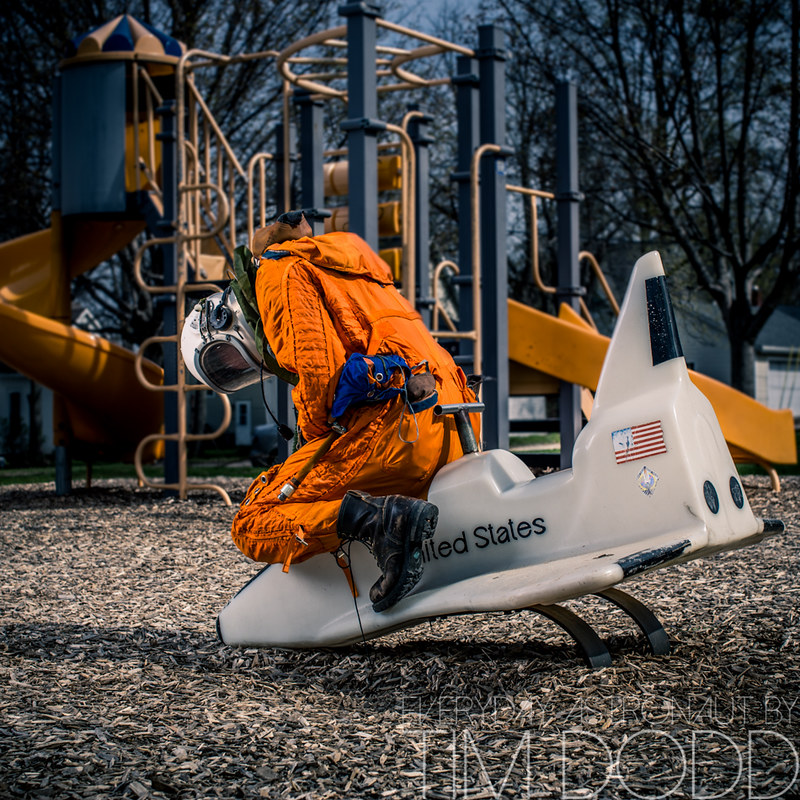 TID:
What surprised you about the image? What has surprised you about the making of the series?
TIM:
I think I surprised myself with how ridiculous I got with that image. Maybe it's because I had just finished watching True Detectives and was thinking very cryptically, or maybe it's because I was going a little insane... When I got it all done and showed it to my friends, they all were speechless and worried about my sanity.
I think the thing that has surprised me most with the whole series is how much motivation you can provide yourself when you believe in the project enough. I would look at my collection of images in Lightroom like a kid would look at baseball cards. I just wanted more!!!! I was just having so much fun with it, I couldn't help but wake up early and go find supplies or locations and shoot. Looking back at it, the 40+ hours of shooting and editing were beyond worth it. It does surprised me I went this far with it, but there's no turning back now.
TID:
What have you learned about yourself in the process of making images like this?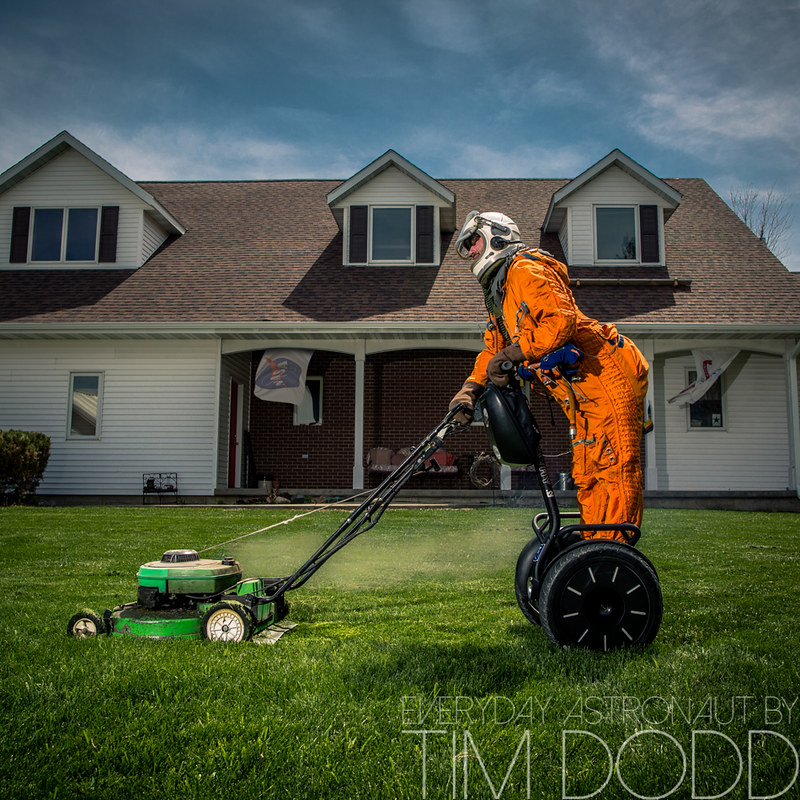 TIM:
Like I started to say in the above paragraph, I think I mostly learned how self motivated I am. I always knew when I had a project, it's been hard for me to put it down until it's complete. I've always been that way with drawings as a kid and motorcycle and car projects as an adult. It was just refreshing to be that excited about photography! I mean who gets that excited about their own profession that they can't sleep at night because they can't wait until the next day to shoot! It more or less re-affirmed my love for the art of photography and not just photo journalism. Working with a completely blank slate was extremely rewarding but also very challenging, but I need that sometimes.
TID:
What have you learned about others? And with this, what have you learned about making images
and work that have the resonance that these did.
TIM:
I found out people are generally ok with a stranger wearing a space suit in public. As long as you flash them a smile and some quick line like "Never mind me, I'm just taking some pictures of myself in a space suit." they quickly learn you aren't being malicious.
Like I had touched on, I found I really enjoy working with a blank slate. Like completely blank. Not just someone standing in front of me hoping I can make them look good or something. No, I mean where you have to dream up the whole concept from a blank canvas, find the exact location, the exact time of day when the lighting is right and the right lighting solutions. It's very refreshing and brings me back to my old love of drawing. I used to draw for hours and hours and hours as a kid. I would carry a drawing pad with me EVERYWHERE (and I mean everywhere) to keep my ideas flowing. It took me back to those times and it sure felt great. Not only in the creative sense, but also in the sense that I was projecting my childhood love for space outwardly as an adult. I was buying the things I would've loved as a 9 year old and it was hilarious to me.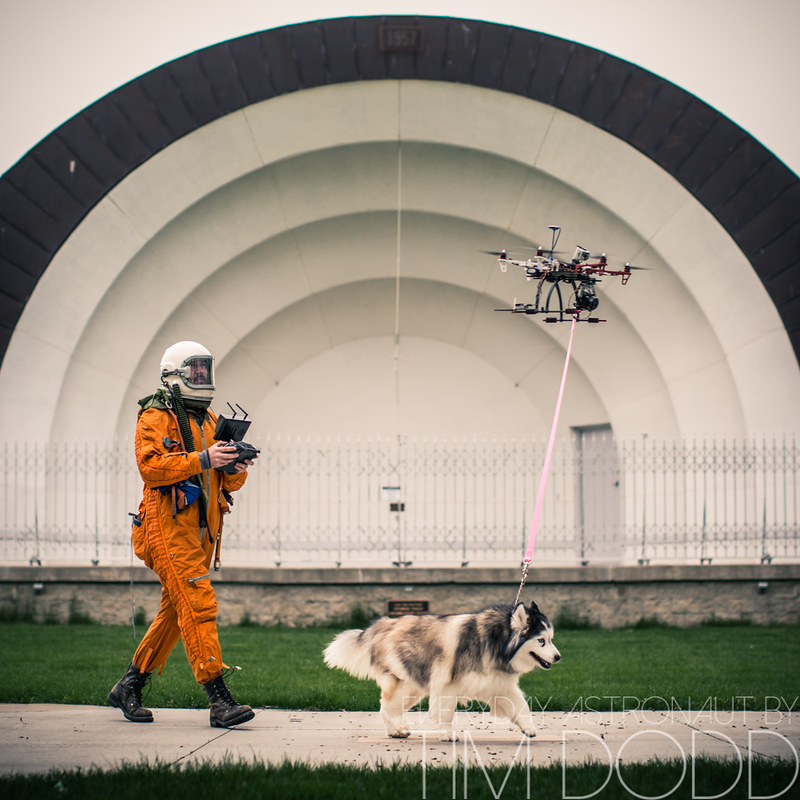 TID:
In conclusion, what advice do you have for photographers?
TIM:
No matter how silly an investment might seem, you'll never know what it can do for you. My girlfriend just thought I was a plain moron for buying a space suit. "What will you EVER do with that thing?!?!" to which I'd reply, "What CAN'T you do with a space suit?!?!" This would up being so true! Although it was an impulsive and silly purchase it sure inspired me to do something that pushed my boundaries, comfort and skills to a whole new level. I would say if you're currently debating whether or not to buy that flash, lens, camera, quad copter, whatever it is, do it. Seriously. You never know how that knowledge from whatever you bought will come in handy later. Or more importantly, you never know when you might NEED to use said thing. Not that equipment is everything, but if it gets you to that next step, or pushing you beyond your current comfort zone, then it's worth it. Especially when you're comfortable with your set up, that's the best time to make that next purchase that you can hopefully learn from.
Most importantly, never stop shooting. No matter how silly or pointless it may seem to you or your friends, just keep going. It never hurts.
SIDE NOTES:
A few things I wanted to mention just for fun, to see if you'd want to write them in anywhere:
I'm not really a huge space nerd. I mean I grew up loving Star Wars and Apollo 13, but I nerded out on other things much harder than I did space. I've been revisiting my love for space the past couple of years, so this just went right along with that. All the space facts I hid in the pictures were easy to come up with. I didn't know them all before hand (although I have a decent general knowledge of the space program from beginning to modern day). It was more a matter of me google-ing "Yuri Gagarin" and just finding little facts that I could insert into pictures etc. Having the hindsight of the facts is a lot easier than trying to find the clues in the pictures and figure out what each thing might mean.
I mentioned how I wore the space suit at NASA's Kennedy Space Center... well I learned a valuable lesson to never wear a space suit in 85 degree heat at a Space Visitor's center... Just as I finished taking my pictures, I had a line of kids waiting to get their pictures taken with me. I ended up spending an additional 20 minutes in the hot Florida sun in the hottest suit ever made. When astronauts wear them, they're liquid cooled, I wasn't as fortunate. After 20 minutes of posing with kids, I ended up politely declining any further pictures so as not to pass out from the heat. I literally had an inch of sweat around my feet. Since the whole thing is sealed, the sweat sloshed around and poured out when I get climbed out of it. It was disturbing and miserable.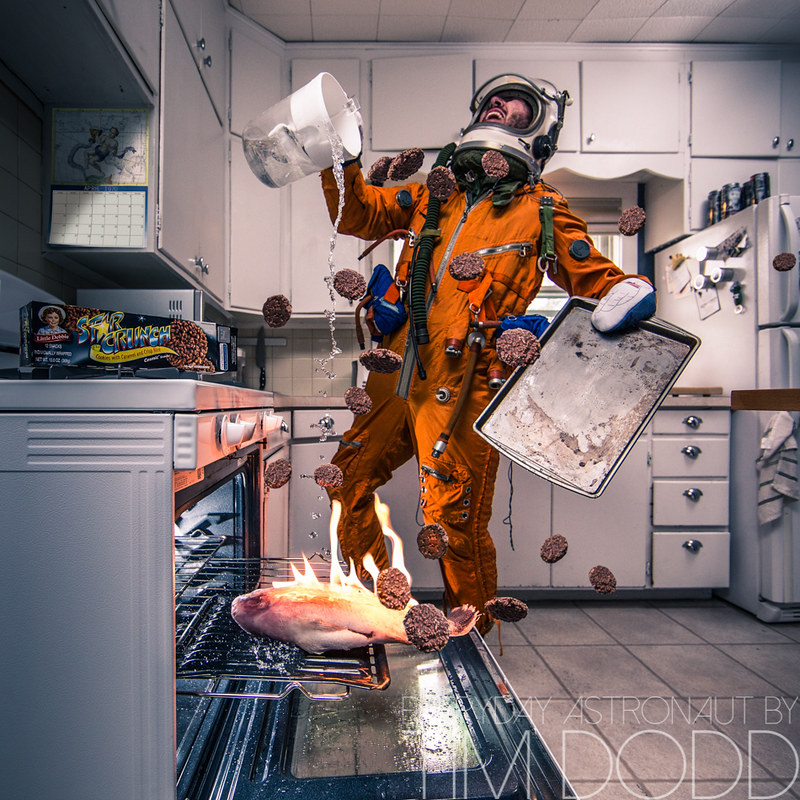 :::BIO:::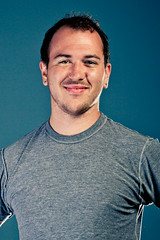 Tim Dodd has been a full time professional photographer since 2009. His work has been featured on NBC's TODAY show, Buzzfeed, Huffington Post, The Guardian and many more. Tim's main source of income has been wedding photography, which has taken him all around the United States and even Ethiopia. He loves to travel and has visited 17 countries so far. In 2012 he covered his friend, Taylor Morris', recovery after losing all four limbs in an IED blast in Afghanistan in a touching photo essay. The story went on to be one of the most viral stories on Buzzfeed in 2012. In May, 2014, Tim released his first of many series featuring him in a Russian space suit he acquired the prior year called "Everyday Astronaut." The series gained a lot of international media attention. Tim is currently in the process of continuing his series through his instagram account @timdoddphotography as well as on his blog www.timdoddphotography.com/blog