Spotlight on Stacie Scott
Jun 6, 2016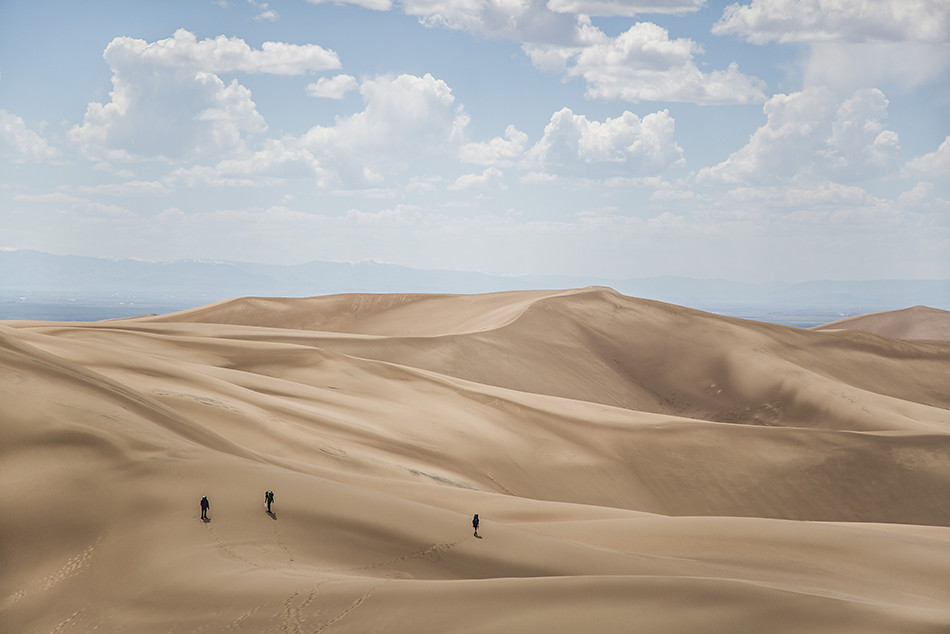 TID:
When we saw this online, it immediately stuck out - it's well-done and striking. Can you tell us a little about the image?
STACIE:
Thank you! For several months I had been planning a camping trip for friends that would be visiting Memorial Day weekend. About ten days before, I switched the camping destination to the Great Sand Dunes National Park in Mosca, Colorado, primarily due to weather conditions. The planning of this trip had been difficult, as my friends are from Chicago and not acclimated to high elevation or long distance hiking.
The dunes quickly morphed into the ideal location for everyone. The tallest dunes in North America, several rising over 700 ft, are located at the park, and beyond the dunes lie the Sangre de Cristo Mountains. Medano Creek flows at the base of the dunes in the summer months. Together, these features provide one of the most diverse outdoor experiences I've encountered.
TID:
For those who haven't been there before, can you describe in sensory detail what it's like?
STACIE:
It is truly otherworldly. The word that kept popping into description was "alien," and that is the most accurate way to characterize it. As you approach the park, the dunes tend to look underwhelming. The 14,000 ft mountains in the distance put the dunes to shame, but only in comparison. Upon entering the park and, of course, starting your trek, the massiveness becomes evident. These are not your typical sand dunes.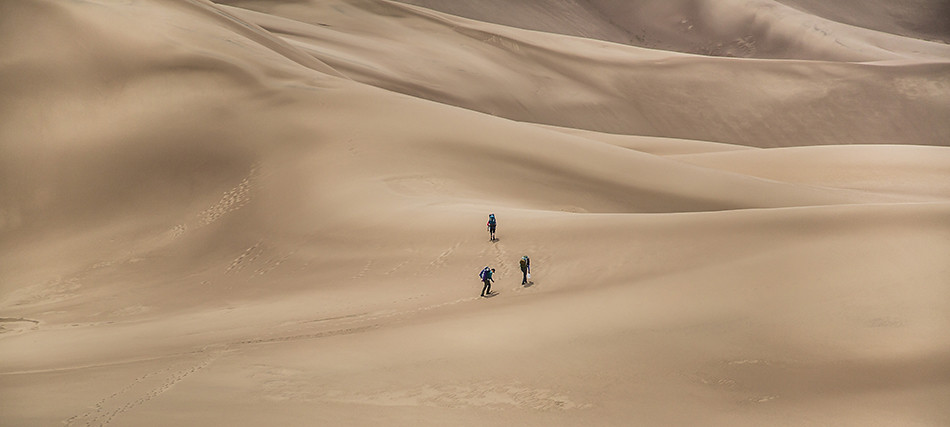 We set up camp and followed a trail from the site to the dunes (which can be incredibly hot to the touch in the height of summer). Medano Creek was flowing briskly and we decided to remove our shoes for the journey across. It is a strange sensation, very unlike walking along a tide. The water flows consistently and the translucent ripples shimmer only a few inches above the sand. It is early in the summer season and the water is cool as it rushes over our feet. Distinct patterns line the sand. The water collides with our ankles, walking against the current toward the dunes. We exit the water and sink into dry sand at the base of the dunes, knocking it from our feet before returning to our shoes. And thus begins the ascent.
At the base lie an assortment of ridges to the top, zig-zagging across the sand. I pick a modest, less challenging route. One step forward, two steps back, we agreed. Walking in sand is difficult. Hiking steep sand hills is highly difficult. Occasionally the surface is firm, bracing your feet above ground. Most of the time, though, you sink with each step, slide back and exert extra energy to move forward.
We discussed what planet might favor such an exotic scene, Mars, maybe, with references to Interstellar and The Martian. At the top, we appreciated the mountain range vistas to our right, complete with jagged crags and littered with trees, and dune field vistas ahead, pastel colors filling the sky and blanketing the sand. Shadows form behind hills and around ridges, and the textures, shapes and patterns of the dunes become most apparent.
The dunes at night offer an entirely different experience. It is quiet and calm, and the sky is filled with as many stars as the dunes are filled with grains of sand. It is worth a trip after dark to collapse on the sand and devour the illuminated sky.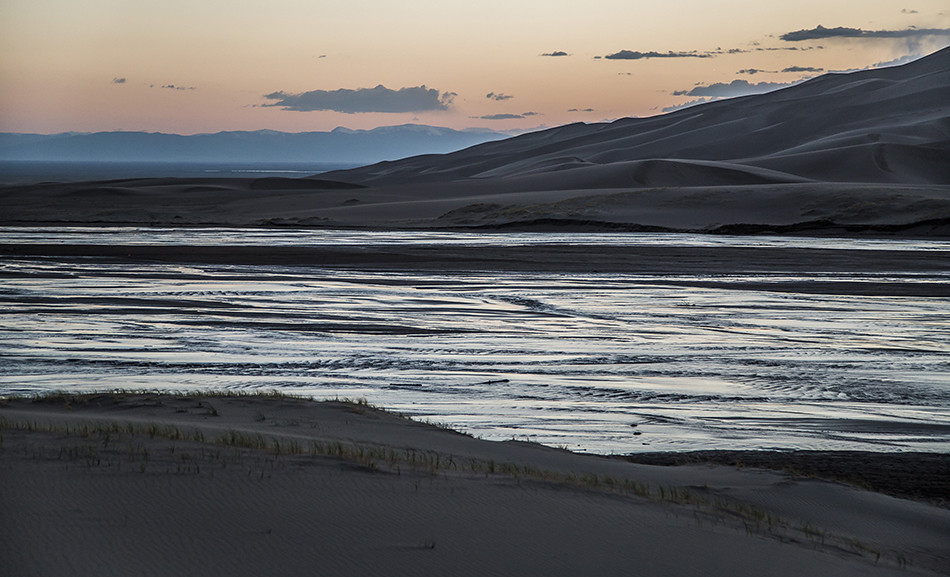 TID:
How big/expansive are the dunes? With this, how far away from those you photographed are you?
STACIE:
The dune field is 30 square miles, housing five dunes over 700 ft tall. That's a lot of sand!
The back packers had been a relatively short jaunt ahead, or across, throughout our hike. They traversed what appeared to be a more challenging but direct ridge to the left, which allowed us to move at similar paces. Our route was less direct, and by the time I veered left and reached a dune overlooking the field, the back packers had descended into it, roughly a half mile away, possibly less.
TID:
I'm always curious how photographers problem-solve. Any problems that you faced, and how did you overcome them? With this, is there anything you wish you had done differently?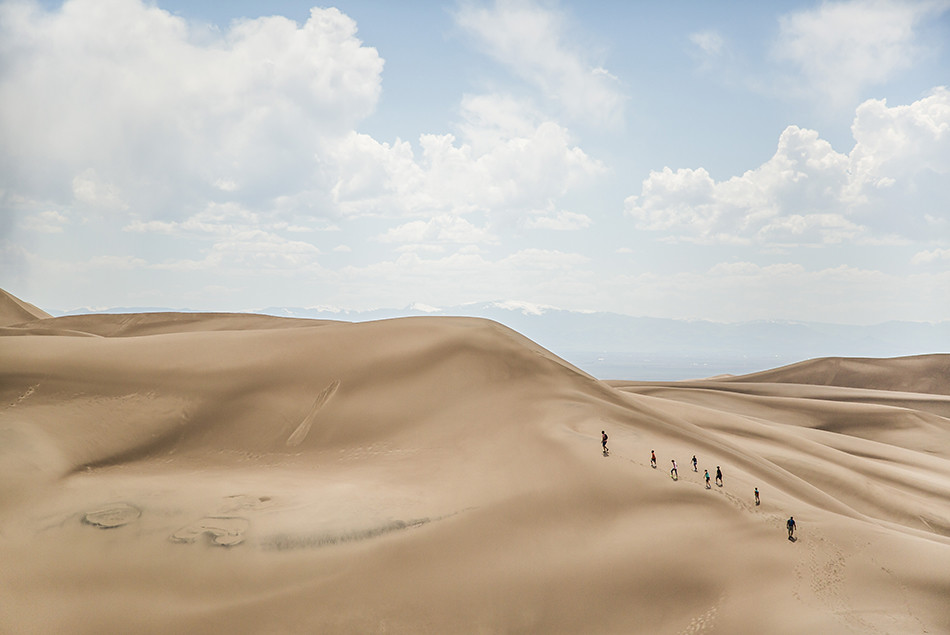 STACIE:
Weather is the most common problem when hiking. It often turns you around before you are ready. Upon reaching the top, the wind had increased immensely due to rain showers in the distance. Sand blew in every direction and pelted the skin. It is not normally this windy, but weather can change rapidly and move in quickly, a general rule of thumb for hiking in Colorado. While the weather was not threatening that afternoon, it was less pleasant. We sat until our bodies filled with sand and retreated to camp to beat the rain (which I don't believe ever materialized).
I frequently hike alone. This allows me to set the pace, distance and difficulty freely. When hiking with others, especially out of town visitors, you must take into account experience and acclimation. If a limit is reached, you must honor that. Of course, I would have fancied hours more to hike and explore the park further, physically and photographically. Had I been alone, it is most likely that I would have continued on.
Had I been assigned to take photos for work, I would have entered the dunes with a completely different mindset, perhaps encountering more complications, pressure to photograph constantly and attempt or obtain certain shots. When I am hiking for pleasure, with friends or alone, I spend considerable more time relishing the venture than photographing it.
Next time, for both purposes, I will most certainly be backpacking and camping in the dunes.
TID:
How long were you out in the dunes in total? Additionally, how does it feel for you to be photographing in a place like this?
STACIE:
We spent roughly 3-3.5 hours in the dunes.
It is simply thrilling. Gratitude overwhelms me. I am grateful to live in Colorado, a state that provides limitless outdoor opportunities and majestic views. I am grateful for the excitement that propelled me through the dunes, and that propels me outdoors regularly. I am grateful and aware that time in the mountains produces an elated, healthy self. And I am grateful that I can share a glimpse of those occasions I feel my best. To be photographing in such a place, well, there's not much I'd rather do.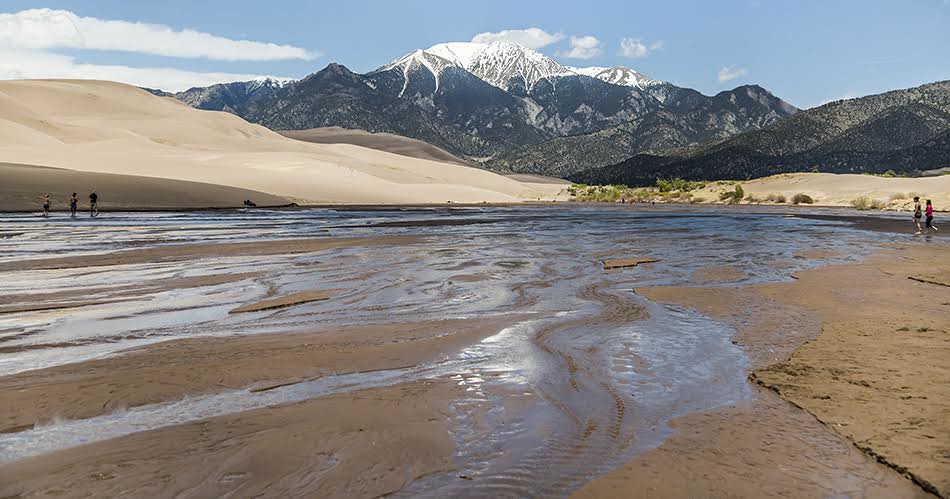 TID:
You're a photographer in Colorado. What are some other places that you've traveled that are also great to photograph?
STACIE:
Unfortunately, I have not yet traveled extensively around Colorado. I have several wilderness areas, national forests and mountain ranges to explore this summer! Of the places that I have been thus far, I can't say anything quite matches the sand dunes. But Colorado Springs offers visitors plenty in the way of sites to see. Pikes Peak and Garden of the Gods are very popular stops. To the east in Calhan, the Paint Mines provide an unassuming and awesome experience as you climb around funky geological formations. Hanging Lake in Glenwood Springs is a popular but very worthy and photographic hike.
A quick drive from Colorado, you have the multitude of parks in southern Utah to explore at your leisure. Zion National Park is a favorite of mine. Yellowstone and Grand Teton National Park are roughly nine hours away. The state is fabulously located for accessing the abundance of parks that surround it, while filling your weekends with the many wonders within it.
TID:
Now, onto the moment. Can you tell us what was going on in the lead picture and how you mentally worked through the scene to capture the image?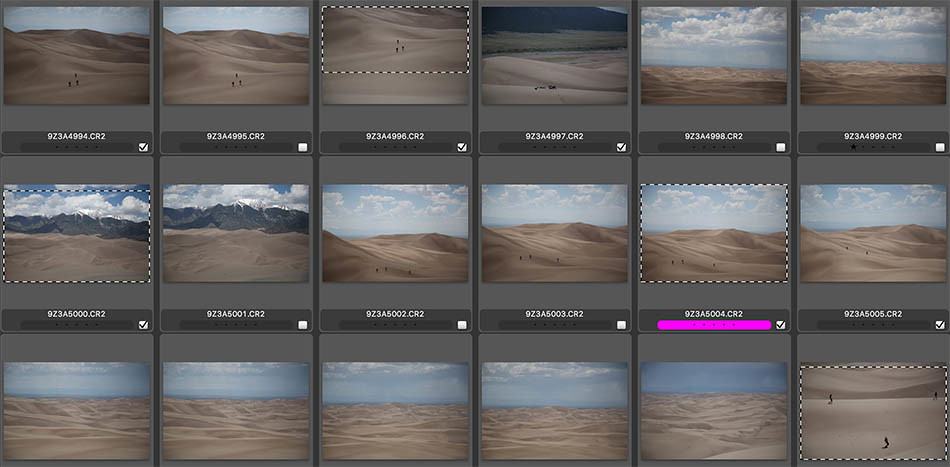 STACIE:
We set out for the dunes late morning. As my friends put it, I kept running ahead. In order to get an unobstructed view of the dune field, I knew from a pervious trip that we would need to summit the highest dune in that particular area. As you climb, there are many times in which you feel you have reached the top, only to reach the top and see more climbing that needs to be done. My friends found a spot they were satisfied with while I ran ahead to the top.
You are guaranteed stellar views no matter where you hike, but I was yearning for the panorama of the dune fields. In between snapping photos of my friends, who were seated on the ridge behind, I continued visually following the three backpackers, popping back into view, as they trekked through the dune field ahead. Most visitors hike to the highest point and traverse no further, and in the miles beyond, these backpackers were the only individuals in sight.
I loved the solitude the scene presented, as if they were alone in the park and I was alone with them. As I watched them trudge through the sand, the sound of distant hikers and images of crowds at Medano Creek fell away. The otherworldliness of the dunes was now elevated. I watched and periodically photographed the backpackers until the last one descended behind a dune. The field was now empty again.
TID:
In conclusion, do you have any advice for photographers that you've learned from this (or from your career)?
STACIE:
In my opinion, it is incredibly important to put our cameras down. I have yet to find a way to completely appreciate a moment that I am both photographing and experiencing (not all moments I am doing both). Photographing a moment can often impede on my personal experience. I like to absorb moments without that distraction, to savor it for myself. I am not that photographer friend who will document every gathering, constantly snapping photos to serve as mementos. In fact, it is unusual for me to lug my camera anywhere outside of work. Unless it's just outside.
Which brings me to the next most important matter: learn what's significant to you, find an activity that you love entirely unrelated to photography. Give yourself down time. Maintain other interests. If you can work photography into those interests in a way that doesn't feel like work, that's wonderful. I do that with my hiking, and I receive so much satisfaction from photographing the terrain that I cover. And with the last photo, I sit down, set my camera aside, and fully observe what's in front of me.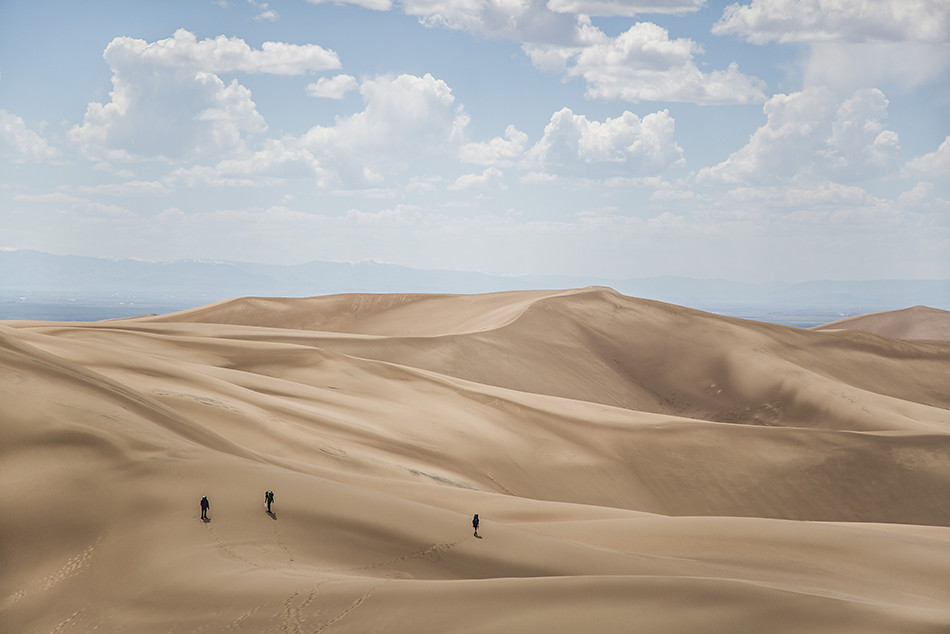 :::BIO:::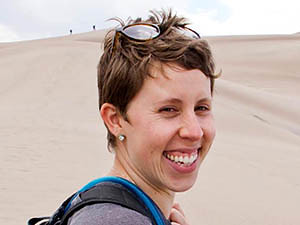 I am currently a staff photographer for the Colorado Springs Gazette. I was born and raised in Louisville, Kentucky until attending Columbia College Chicago for photography. Following my graduation in 2012, I bounced around on internships for 2.5 years and had a wonderful time. My previous internships include the Chicago Sun-Times, the Arizona Republic, the Lincoln Journal Star, the Colorado Springs Gazette and the Deseret News. I returned to the Gazette full-time in October.