Spotlight on Showkat Nanda
Jan 11, 2016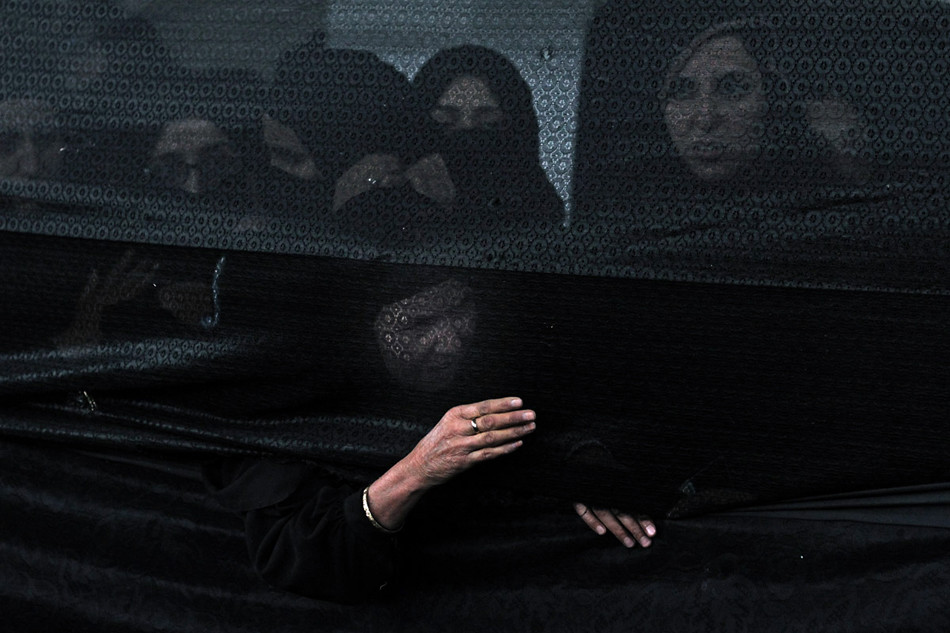 TID:
Thanks for being open to this, Showkat. This is an impressive image; can you please tell us a little of the backstory?
SHOWKAT:
Thank you so much, Ross, for having me on ITD. I still remember speaking to you for the first time on Skype in Julia Robinson's class (at MU) when I was a staff photographer at Columbia Missourian. Honestly, it's an honor to be interviewed by you.
I made this image inside a Shia commemoration shrine on the day of Ashura as a part of my long-term project, "Beyond Blood and Blades".
Though Ashura has a great significance for all Muslims, it is marked as a major religious occasion for Shia Muslims who observe it as a time of mourning to commemorate the martyrdom of Imam Hussein, the grandson of Prophet Muhammad (peace be upon him). It consists of diverse ritualistic practices including street processions, chest-beating and chanting. Some people express their grief by flagellating themselves by chains and knives.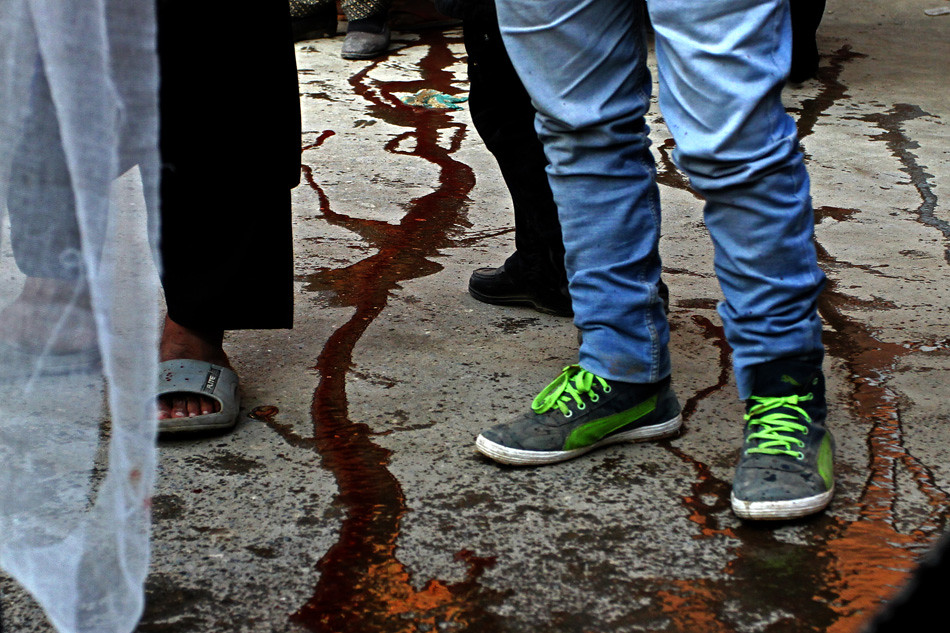 As a photographer, I have always been fascinated by the visual richness that Ashura provides. The unique rituals make it extremely intriguing. Though I have covered Ashura before as a news photographer, this time I wanted to do an in-depth project with the aim of documenting things that go beyond knives, chains and blood.
TID:
You are originally from Kashmir, but studied at the University of Missouri. Can you talk about that decision and how it impacted you?
SHOWKAT:
Studying at Missouri School of Journalism wasn't an intended decision. I already had a master's degree in Mass Communication and Journalism and never planned to study further. I had a job working as an editor for a weekly news magazine called Kashmir Life. Prior to that, I had worked for nearly four years as a journalist and photographer in Kashmir.
It was only after I received the Fulbright Fellowship in 2011 that made it possible for me to study in the US. It was a great opportunity for me to specialize in what I thought I was best at and was always passionate about – photojournalism. After receiving the fellowship, I had a choice to apply to four different universities for a master's degree. I applied to five and was accepted by four of them including MU. I chose Missouri for two reasons – one, for its reputation as one of the best J-schools in the world and two, for getting associated with Pictures of the Year International (POYi), the prestigious photojournalism contest administered by the school.
Missouri, for me, was a life-changing decision. The two years that I spent at the J-school completely transformed me as a visual storyteller. It impacted the way I think and see. My association with Missouri Photo Workshop and POYi gave me a great opportunity to spend time with the brightest photographers and editors from organizations like National Geographic, The New York Times and The Washington Post among many others. This experience helped me learn how to critically look at my own work. It taught me how be a dedicated photographer and an unforgiving editor at the same time. Missouri made me a better documentary photographer.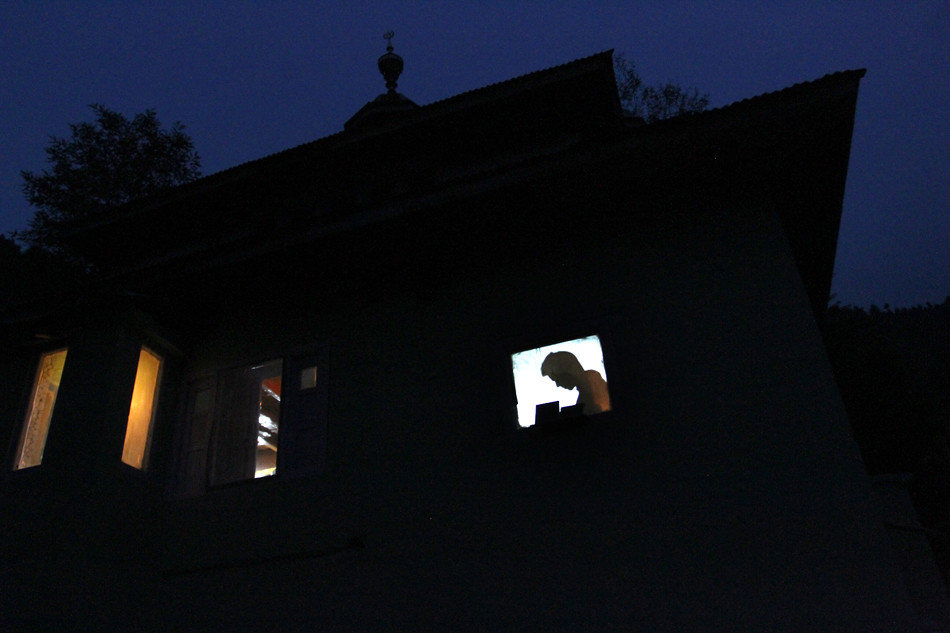 TID:
When you returned back home to Kashmir, what was it like after being away for so long? Did it alter how you see things in your homeland as a photographer? If so, how?
SHOWKAT:
Being away from my homeland helped me to look at our own stories from the perspective of a documentarian, because of the immense exposure I received working in the US. I decided that I would revisit every story that I had done as a photographer and reporter and find a deeper meaning in them.
To be very honest, photojournalism in Kashmir, which has advanced with an exponential pace in the last twenty five years of the conflict, has been confined only to news reportage – most of the time. There is a lack of in-depth documentary style of working and what I would call long-form narrative visual journalism.
When I returned home to Kashmir, I started looking at every story in a completely different way. I do not think in terms of single pictures anymore. Presently, I am working on similar lines where I am trying to produce projects with a uniquely personal point of view.
TID:
This is from a body of work on Ashura. For those who are not familiar with this, can you talk about it, as well as what it's like to cover it as a journalist?
SHOWKAT:
Ashura is observed on the 10th day of Muharram, the first month of the Islamic calendar. On this day, in the year 680 AD, Imam Hussein, the grandson of Prophet Muhammad (peace be upon him) was martyred in the Battle of Karbala, near Baghdad in Iraq. He was assassinated along with seventy-two of his supporters and family members including women and children. His own newborn son was also killed.
Shia Muslims commemorate Ashura in their own unique way. The first ten days of Muharram, especially this day, consist of public expression of mourning and grief. It's the painful remembrance of the assassination of Imam Hussein where Shia men and women dress in black, beat their chests and take part in mourning processions. Others re-enact different events that happened at the Battle of Karbala some thirteen centuries ago. A few others express mourning by cutting their bodies with blades and knives. In mosques and shrines, poetic lamentations are recited and prayers are typically said to the tune of beating chests and chanting. There are regular gatherings where people invite their neighbors and relatives for a feast and recite a special kind of poetry called "marsi" in a traditional style. In 2015, Ashura was observed on October 24 and the ritualistic processions continued for the next forty days.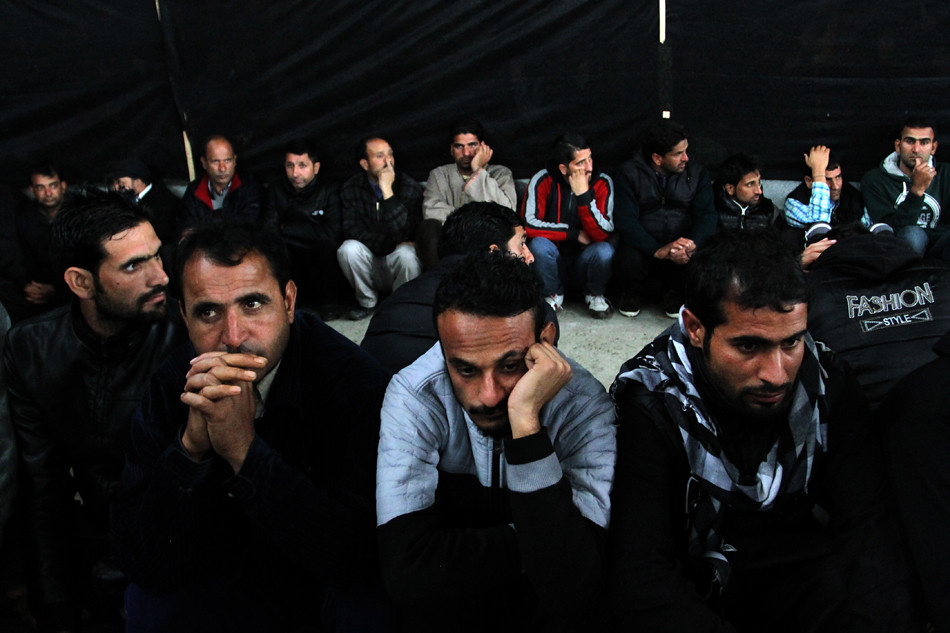 In this photo project, I have tried to go beyond ritualistic self-flagellation (which has even been condemned and forbidden by Iran's Ayatollah Ali Khamenei in his fatwa) and document the essence of the mourning of Ashura. I spent several days in the localities of Kashmir's main city dominated by Shia population.
Covering Ashura as a journalist is always filled with problems because there are sensitivities of the people involved. It's not too difficult when it comes to shooting in public. For instance, street processions can be easily photographed by anyone. But as you go deeper into the story and enter the personal space of the people, it becomes a different game altogether. You need to do your homework properly.
It took me at least five days to understand how people in Shia dominated areas would spend the next ten days. I visited localities and shrines almost five days ahead of Muharram. The biggest challenge for any documentary photographer is that of access. You need to have someone who can guide you through the "process" of how a story unfolds. I was lucky enough to collaborate with two of my friends from the community.
TID:
Now, onto the moment. Can you talk about the minutes leading up to the main frame, and what was going on in your mind at the same time?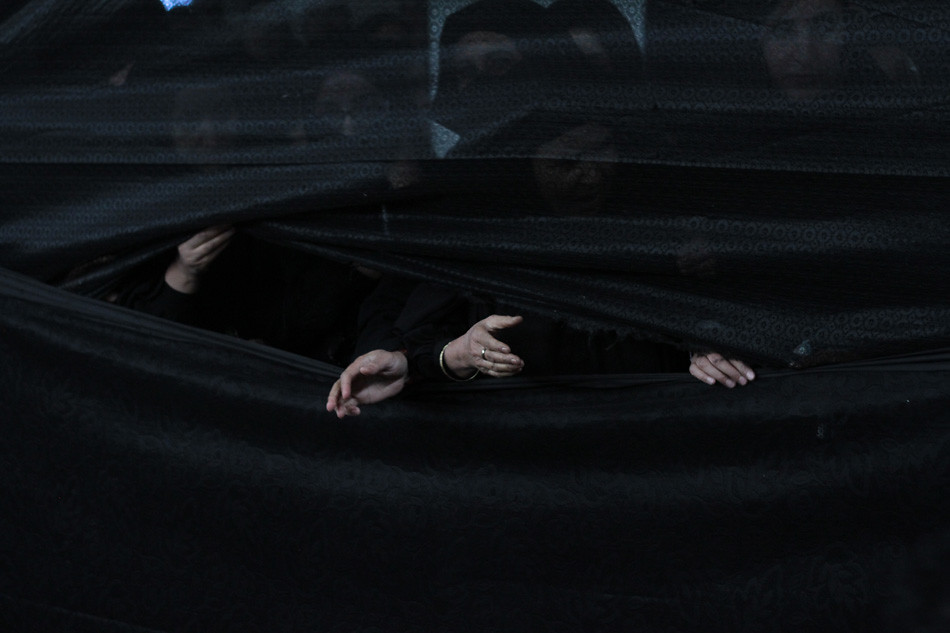 SHOWKAT:
I was inside the most important congregation shrine for Shia commemoration ceremonies in Kashmir, the Zadibal Imambada, in the summer capital, Srinagar.
I had already been shooting for three days. Before taking this picture, I had walked nearly two miles amid heavy rains following a huge procession, which was heading toward the shrine. It was really hard to penetrate through the jam-packed group of hundreds of mourners to reach the shrine. Thousands of people from different areas were coming in groups and entering the building. Inside the shrine, there is this huge square area in the middle where hundreds of men were beating their chests amid loud and synchronized chanting. A large number of women stood in the surrounding chambers separated from the middle area by a narrow path on all four sides. As I stood in the men's area, I could vaguely see their faces through a long stretch of semi-transparent curtain.
Many a time I tried to point my camera to these women to capture these intriguing scenes but I feared it might infuriate some men and I could lose the opportunity of being the only person with a camera inside that place. Though people were profusely shooting (within men's area only) with their mobile phones, I thought my camera could intimidate the mourners.
Then suddenly a large procession of men came with a decorated horse, which is an imitation of the horse on which Imam Hussein rode in the Battle of Karbala. Many women took out their hands in the hope of touching the horse. When the procession was gone, some women still had their hands out. That is when I shot a series of images. The obscure faces with those hands coming out of the slit in the curtain prompted me to shoot more frames than I would normally do.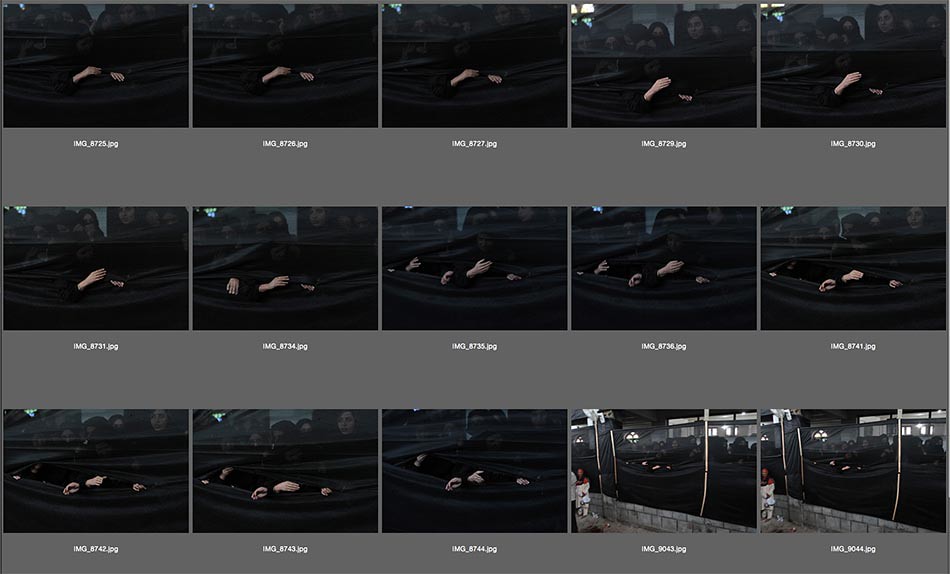 TID:
What problems did you face, and how did you overcome them?
SHOWKAT:
I always thought that Shias were more conservative than most Sunnis, so there was this initial fear of photographing women, both during processions and inside homes and religious places. This kind of environment is so sensitive that pointing your camera to a wrong direction could lead you in trouble. I was concerned because my objective was to go beyond what we usually get to see as outsiders. I wanted to document the essence of Ashura and what it means for a common Shia Muslim. So this project demanded a fair amount of access.
To overcome this problem, I had already hooked up with two close friends, one of whom happens to be my former photography student. Wherever I went, my friends accompanied me and introduced me to the community, which made things a lot easier. The more I spent time at religious gatherings, the more familiar I became with people. I got introduced to more and more people especially youngsters who became very friendly. This was extremely helpful. On one occasion, I stepped into a shrine where there were nearly two hundred women and a few men mourning. I was the only photographer inside. Nobody objected to my taking pictures there. I was highly respectful and didn't do anything that would offend anybody. I think that's very important.
TID:
What have you learnt about others from covering events like this?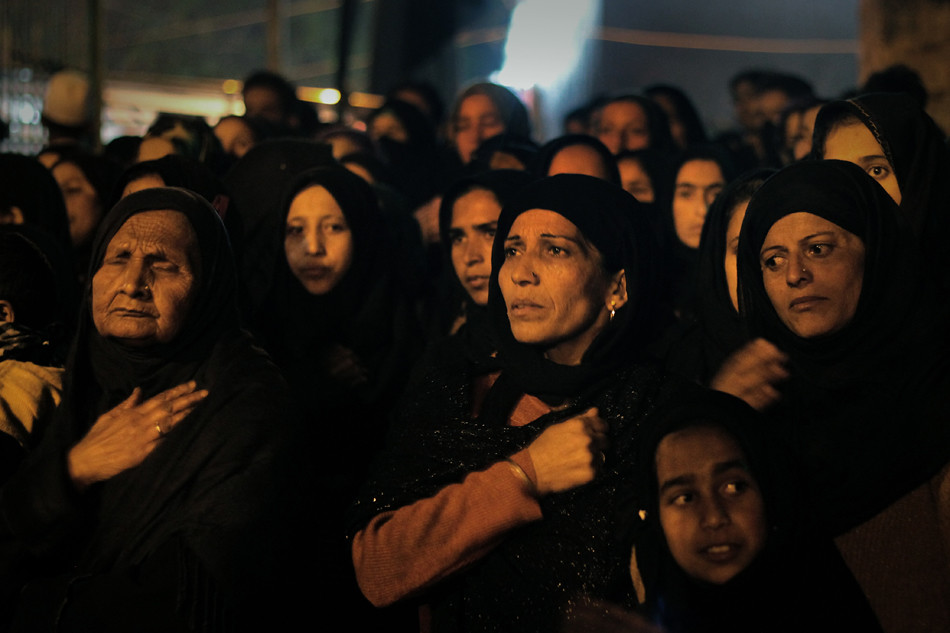 SHOWKAT:
During most of my photo projects including this one, what I have learnt about others is that most people are not as aggressive and unfriendly as they initially seem to be. Anybody can open up if you are friendly and respectful. They understand you once you make your position clear. I also learned how little we know about others when we haven't spent time with them. In many cases, I still get compassionate phone calls and Facebook messages from the people I have photographed. These are the same people who weren't very friendly when I first photographed them. That gives me a wonderful feeling.
TID:
What have you learned about yourself?
SHOWKAT:
One of the most important things that I have learnt about myself is that I am extremely patient when I am on a photo story. I can be pretty resilient when I know that my pictures will make a difference. That's what truly keeps me going.
I literally get immersed in the situation until I am able to capture 'that' moment. Another important thing that I learnt as a photographer, and that's true for this project as well, that I always keep connecting pictures in my mind and virtually edit the story in my mind.
During this project, I learnt that I could be extremely friendly and easy-going with people despite my shyness. To be honest, I think anyone working as a photographer documenting sensitive issues has to be calm and patient.
TID:
In conclusion, what advice do you have for photographers who may want to do this type of work?
SHOWKAT:
Never go alone when working on such projects. It's great to have a friend with you, especially if he or she belongs to the same region or community and understands minute details of what you are intending to document. It helps in two ways – first, it aids you to break the ice with people and stop feeling like a stranger and second, you are able to anticipate visual moments.
When your friend or guide informs you about different rituals and practices before they actually happen, it helps you to visualize the kinds of pictures you would be making.
There are some other things that I would like to suggest. I think most young photographers, who are still starting off, try to do their work quickly. To work on projects like these, you have to be extremely patient. You have to love your work to the extent that you are ready to spend days on a particular story. Please do not be too hasty in pressing the shutter release. Working on these sensitive issues could be extremely difficult at times. Meet people, talk to them and make them feel that you are not a stranger. Whenever somebody objects to taking their picture, respect their choice and do not be rude. Some people are friendly and don't mind if you take pictures of their women folk but there are some whom you cannot afford to annoy. You could be beaten up or your camera could be smashed.
Another important thing is to look for moments – those moments that depict the soul of the story that you are doing.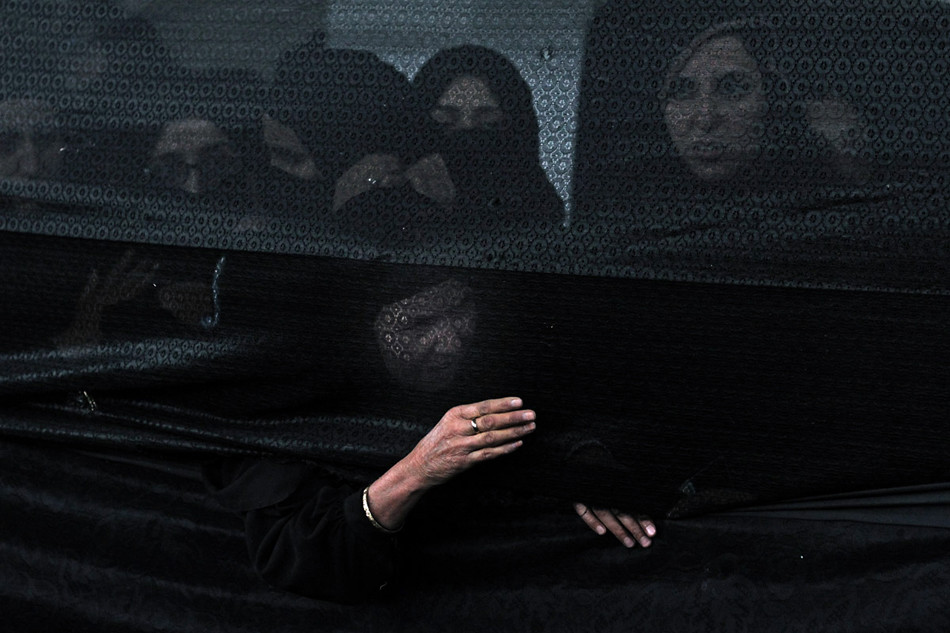 :::BIO:::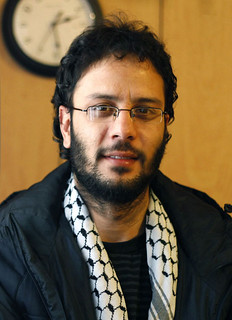 Showkat Nanda is a Kashmiri-based documentary photographer and instructor. He started his career with AFP in Srinagar in 2006 and later worked with various organizations as a reporter, photographer and editor. He received his first master's in Mass Communication and Journalism 2007. In 2011, he was awarded the prestigious Fulbright Fellowship and graduated with a second master's in photojournalism from the University of Missouri, Columbia.
Showkat has been teaching photojournalism to college and university students for the last eight years as a visiting faculty. He has also conducted a series of workshops on visual storytelling both independently and in collaboration with various universities in Kashmir. A Missouri Photo Workshop alumnus, Showkat has won several awards including the "Picture of the Year" at MFI National Press Photo Contest, 2011. He recently won CSE Climate Change Photography Award and was also named among the '20 Storytellers of Tomorrow' by VII Agency and EyeEm.
Showkat's works have appeared in numerous publications including The Washington Post, Al Jazeera, Vogue, The Vox Magazine, The Sunday Guardian, British Journal of Photography and Columbia Missourian.