Spotlight on Sean Simmers
Jun 1, 2012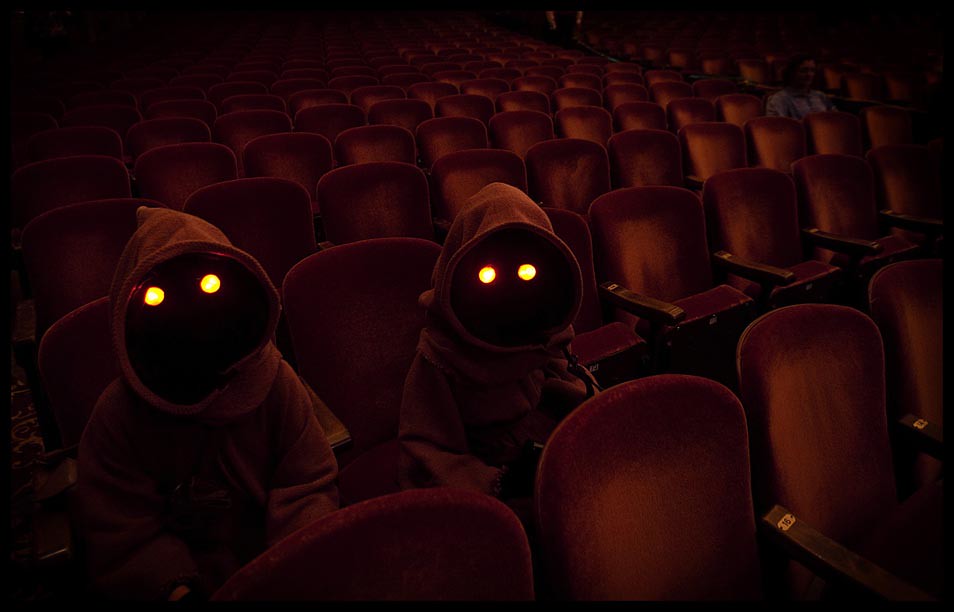 TID:
What an unusual image! When I saw this I thought immediately this would be perfect to deconstruct. Please tell us a little of the backstory of the image.
SEAN:
Thanks for including me, Ross, I am honored and humbled to be among the photographers previously interviewed. This was a routine daily assignment. One week before the assignment I was at my desk and overheard the reporter discussing it with my photo director. I immediately became interested when I heard him mention grown men dressed as Star Wars characters. Though not really a Star Wars fan, I was playing out photo possibilities in my head. Darth Vader standing at a urinal next to a Stormtrooper. Cliche, I know, but surely something visual and/or humorous had to happen. I have been spending a lot of time shooting portraits for our magazine, and was also in the middle of shooting our annual Best and Brightest section, which consists of stylized portraits of 20 local high school students. I was in need of a break from having to fill my car with lighting equipment and come up with another portrait idea.
TID:
How did you prepare for this shoot, or what did you to put yourself in place to make this happen?
SEAN:
I looked ahead in our assignment queue and saw that I would be getting the assignment, which was basically following one of the dozen or so people who would be dressing as a Star Wars character for a concert by the Hershey Symphony, performing songs by John Williams. I did a little research and found that there is a group called the 501st Legion "The Worlds Definitive Imperial Costuming Organization" which consists of mostly adults who, rather than collect Star Wars action figures, make very accurately detailed costumes and become action figures themselves.
I spoke with the reporter ahead of time and decided I would head to the home of the guy that the story was concentrating on a few hours before the show. My thought was to introduce myself, maybe do a quick video interview with him, and find out all the details of what would be happening once we arrived at the venue. When there is an opportunity for me to speak to a subject before photographing them, I take it. It helps them understand what I will be doing and makes them more comfortable around the camera. I also called the PR from Hershey on my way to the theatre to make sure I had clearance to wander freely around the facility during the performance.
I have learned from dealing with them for the last 12 years that they are extremely controlling and almost always have someone follow you around while you are shooting. I keep the number of one of the PR folks that I get along with in my phone and always call her before arriving. It turned out she knew nothing about it, but quickly got me the number of the stage manager. I called and he gave me permission to go anywhere I wanted during the show, as long as I was not disruptive.
TID:
What challenges did you encounter while working to make this image?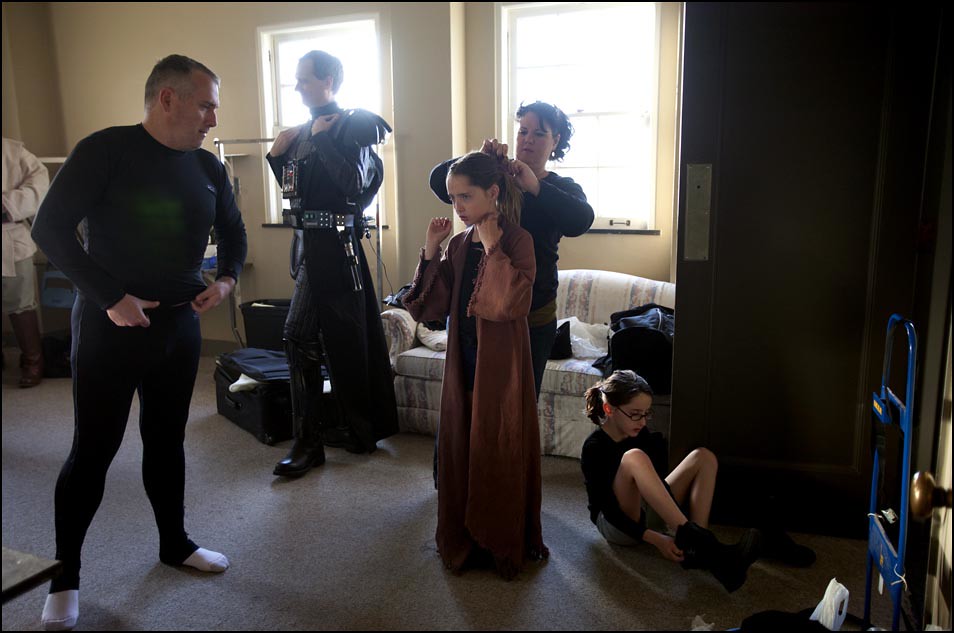 SEAN:
I arrived at the same time as our subject and followed him and his wife into the theatre and up to the dressing rooms. There were a few challenges that presented themselves, the first being that it became obvious that this was going to be a visual overload. I sometimes find myself running in circles in situations like this, not wanting to miss anything, always thinking something better is happening around the corner. It becomes a constant struggle for me to concentrate on one subject.
There were about a dozen participants including my subject (dressing as Boba Fett) and I was having a hard time staying with him - especially when the guy playing Chewbacca arrived and put on his costume which consisted of stilts that made him about 7' 10". I was bouncing back and forth between two dressing rooms filled with various characters in various states of dress when I first noticed the two young daughters of one of the couples, who would later become the subject of the photo above.
They were around 8 to 10 years-old and were getting dressed in the Jawa costumes. When I saw the light-up eyes, I instantly realized were going to make for a good photo. That's when challenge number two presented itself in the form of another photographer, obviously hired by the theatre or a PR firm judging by her propensity to have people pose and blast them with her on-camera flash. This actually ended up being a good thing initially as I just went to the opposite room and hung out.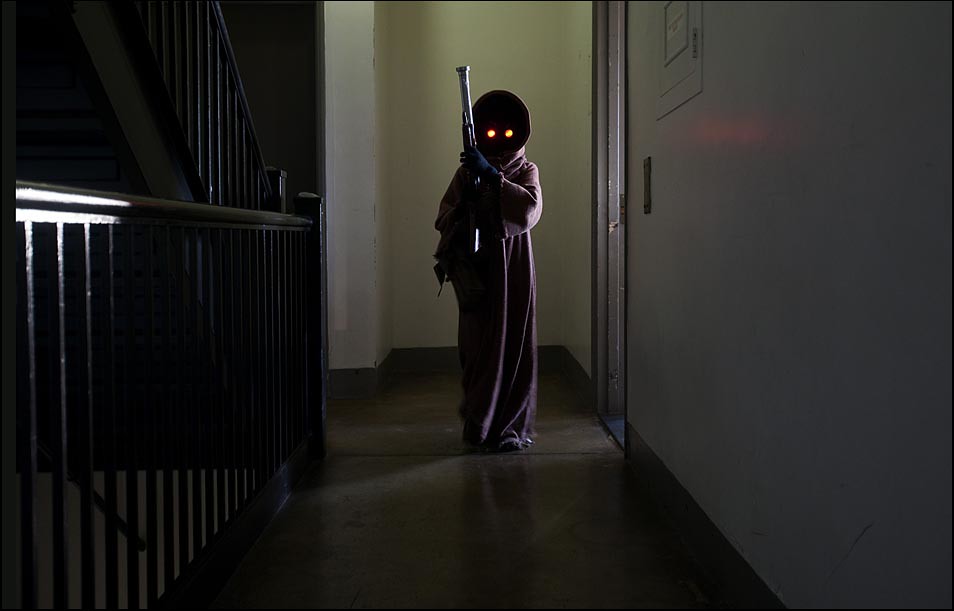 TID:
How did you handle and overcome these problems?
SEAN:
Normally when on an assignment that presents mass chaos, but nothing very visual, I will try to find the person or persons in the room who are the loudest and hang out with them, knowing that they probably won't mind being photographed, that they will eventually do something worth photographing. In this case, though, it was extremely visual, it turned out to be these young girls. I said earlier that I wasn't necessarily a huge Star Wars fan, and truthfully never sat and watched all the movies until a few years ago when my 7 year-old son became interested, but it became apparent, even to me, that once the two girls put on the costumes, they became the Jawas, complete with unintelligible noises.
I kept checking on Boba Fett to make sure I wasn't missing anything he was doing. I knew I already had a few publishable photos of him, so I made the decision to just hang with the Jawas. I talked with their parents and told them who I was and what I was doing and got their names and some background information.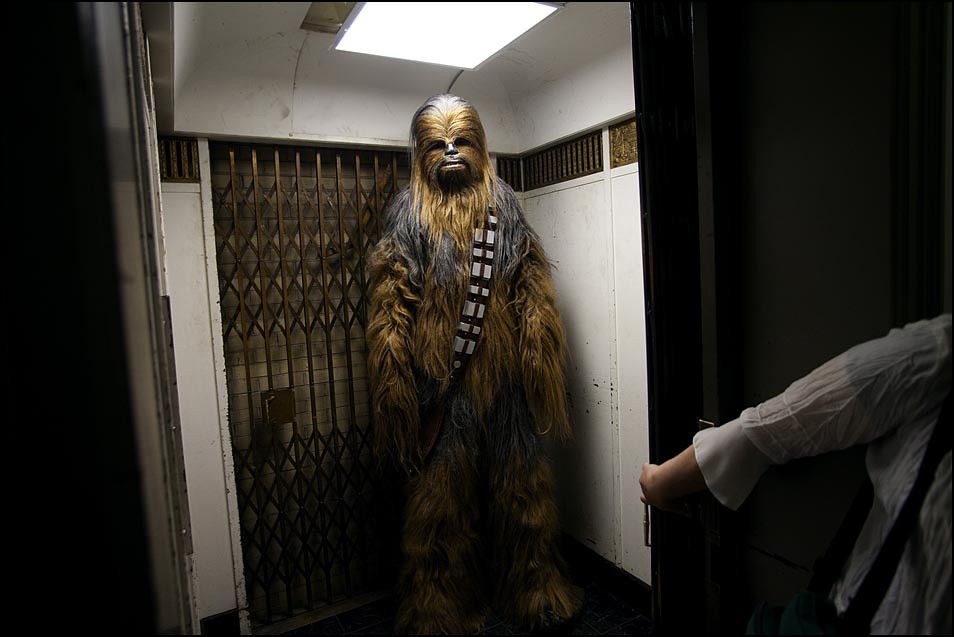 TID:
Now, onto the moment. Can you talk about the moments leading up to the picture and also the actual moment.
SEAN:
After about 30-45 minutes the characters were asked to come downstairs to greet the crowd as they entered the theatre. I took a few photos as they entered the elevator then ran down 4 flights of stairs to greet them when they exited. At this point I knew I still didn't have "the shot." I was shooting, as usual with two bodies, a Canon Mark IV and a Canon 5D Mark II and I had taken off my usual go-to lens the 35mm 1.4 and switched to the 16-35 because of how tight the rooms were. We were directed behind the stage and through a tight, poorly lit corridor toward the actual theatre. I was following Boba Fett. When we came out into the theatre it was still mostly empty except for the two Jawa girls, who had decided to take seats in the theatre.
It was extremely dark, I quickly adjusted my camera settings and realized I was shooting at 1/20th of a second but didn't want to miss the shot knowing that they were probably not going to sit still for long. I held my breath and shot a few frames (5 or 6) and then challenge number two re-entered the picture. I heard from behind me the voice of the aforementioned photographer telling the girls to stand up an pose for a picture for her. That was it, they stood up and pointed their guns at her and the moment was gone. I knew that I would have to crop the image (which I rarely do in anything other than sports) because I shot it fairly wide and didn't have time to re-compose before being interrupted. I may have cursed a bit under my breath but smiled anyway and walked away.
TID:
What surprised you about the moment?
SEAN:
Just the fact that they were sitting there and how well that the costumes blended in with the chairs. I couldn't have set up a situation any better than that; a few people have told me it looks like a painting.
TID:
What have you learned about yourself in the process of making images like this?
SEAN:
Over the years I have learned to become more patient in situations like this. Earlier in my career I would have continued running in circles rather than slowing down and making the decision to stick with the girls. Slow down, think, and be patient. Something will happen, and if it doesn't, you can start all over tomorrow.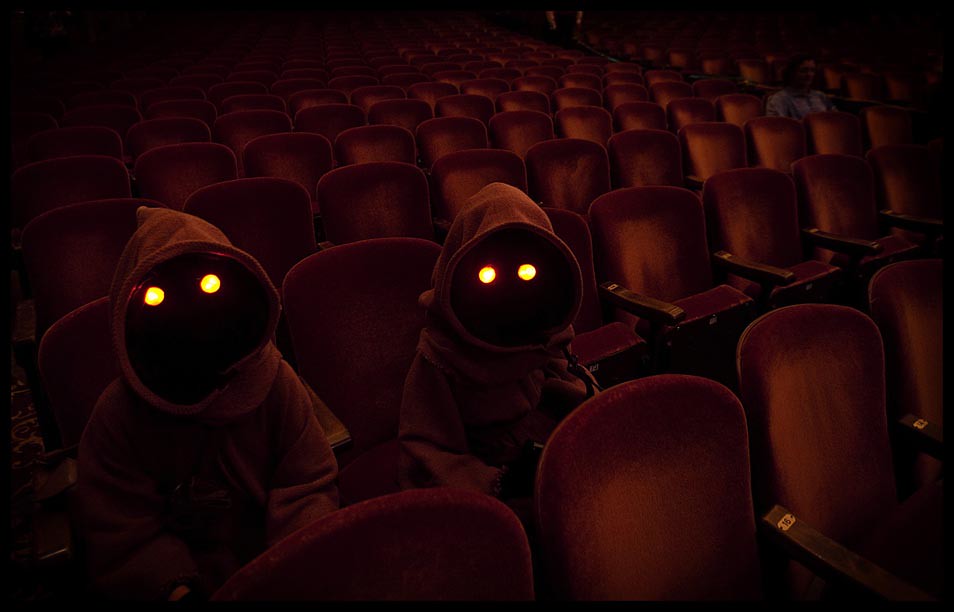 TID:
In conclusion, what advice do you have for photographers?
SEAN:
When I walked into the classroom of my very first photography class, the instructor had K.I.S.S (Keep it Simple Stupid) written on the chalkboard (that should be a good indication of how old I am). I have tried to adhere to that concept to this day, not just the photograph itself, but the entire process, including the amount of gear that I carry. It has been about 25 years, and so far it seems to be working. Thanks, Robert Baylor.
::BIO:::
Sean Simmers is a photographer based in Harrisburg, Pennsylvania, specializing in documentary, editorial, and portraiture. He has been a staff photographer for the Harrisburg Patriot-News for 12 years, beginning there as a stringer in 2000 based on a portfolio of Rock and Roll band portraits and no formal journalism background. Sean holds a BFA in Photography from the University of the Arts in Philadelphia and spent almost 10 years teaching photography at the local Community College. When not behind the camera he can be found purchasing Mid-Century Modern furniture and playing baseball with his 7 year-old son Asa (and yes, as Melissa Lyttle once said, I am such a photo geek, I named my kid after film speed).
Twitter @SeanSimmers
Next week we'll kick off summer by deconstructing this surprising image by Robert Sabo: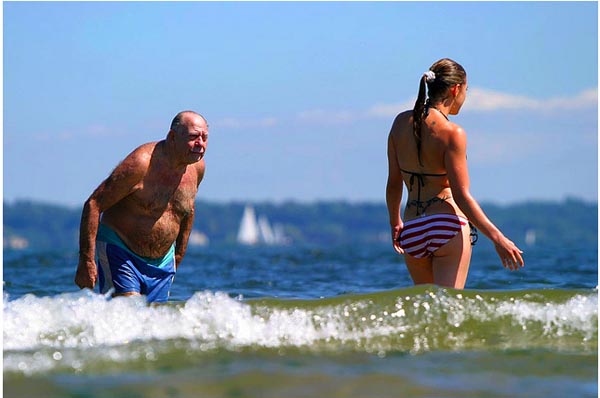 If you have any suggestions or if you want to interview someone for the blog, contact Ross Taylor or Logan Mock-Bunting.