Spotlight on Sarah Phipps
Oct 15, 2012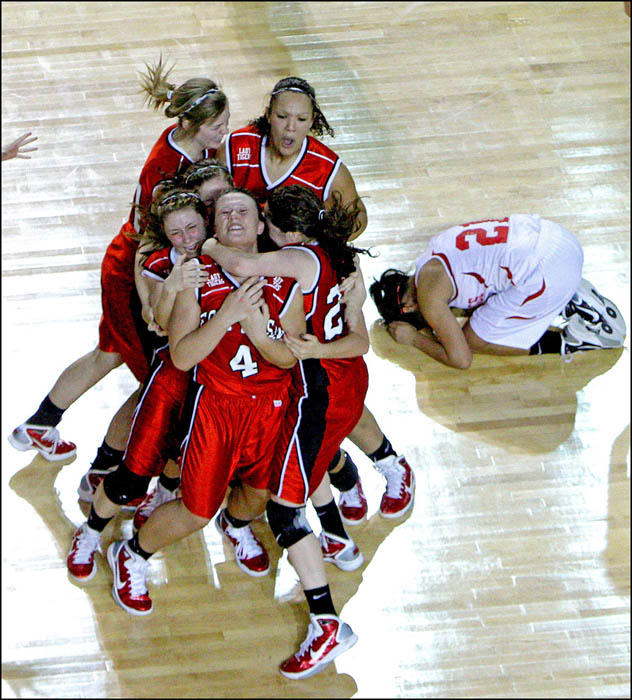 TID:
What a fantastic image! Please tell us a little of the backstory.
SARAH:
Thank you for including me in this blog. It is an honor.
This image was taken during the championships of the Oklahoma High School State Basketball Tournament in March at the State Fair Arena, known as The Big House.
The Big House is where Oklahoma's small schools have been playing their tournament since the 1960s. Most of the schools have a long tradition with the tournament, and the small towns pack the arena. The fans come dressed in crazy costumes and painted faces. It is hard to explain, but shooting state games at The Big House has a different feel than the other tournaments for the larger schools.
TID:
How did you prepare for this shoot, or what did you do to put yourself in place to make this happen?
SARAH:
In my opinion, assignments do not get much better than Championship Saturday at the Big House.
There are two sessions on Championship Saturday. We typically cover each session with two photographers. In this case, Chris Landsberger and I covered the four games in the morning session. We chose to alternate shooting each game. Because Chris was covering this game from the ground and I was done editing my previous game, I decided to check out the angle from the catwalk.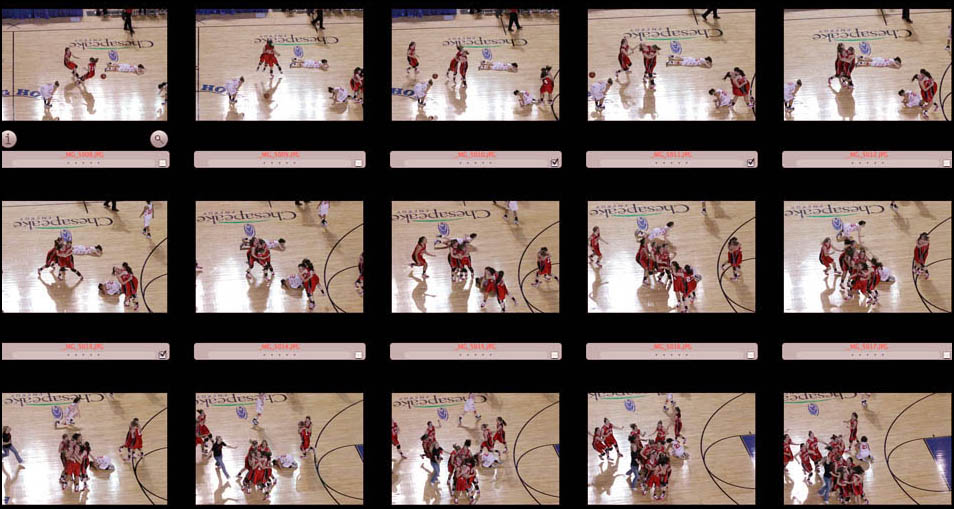 TID:
What challenges did you encounter while working to make this image?
SARAH:
To me, the State Fair Arena catwalk is the scariest in the world. It is made out of rusted metal grate, exposing the floor below. It is covered in dirt from years of rodeos and bird droppings from local residents. I often feel as though I am going to fall through the floor. So, that was an issue. Other than my fear of the spooky catwalk, the biggest challenge of this photo was the technical issues. I shot the photo with a Canon 7D and an 80-200. I could never find a good color balance for the arena, and I did not zoom all the way in, which I should have. The image is looser than I would have liked.
TID:
How did you handle and overcome these problems?
SARAH:
Every time I venture onto the State Fair Arena catwalk, I have to talk myself into it. When I am up there I have to put my irrational fears of falling into the back of my mind and concentrate on shooting the event. On the technical side, I had to crop the image considerably in post-production and push the file to its limits.
TID:
You said: "Every time... I have to talk myself into it." What do you say to yourself to overcome the fear, and what advice do you have for others who may deal with the same issue?
SARAH:
Although it is scary, as long as you follow caution it is not that dangerous. It is important you have the bare minimum camera equipment and remove your lens hoods. I make sure that there is nothing that can fall out of my pockets.
In our jobs sometimes we need to push ourselves a little outside of our comfort zone. If I did not go onto the catwalk, I would not have gotten a good photo. I just imagine the end photograph that I might get.
Don't look down. That is bad advice, because you always wind up looking down.
TID:
What sort of permission did you have to get to go up on the catwalk? Was it hard to get?
SARAH:
The State Fair catwalk is generally open and I have never had a problem gaining access. We have talked with the state athletic association and building management in the past about access to the catwalk. We also put strobes up there for the state basketball tournament. If you want to gain access to the catwalk it is best to contact the venue's facility manager or security guard.
TID:
Now, onto the moment. Can you talk about the moments leading up to the picture and also the actual moment?
SARAH:
The basketball game was in overtime with just seconds left on the clock. Cache, the white team, had a chance to force double overtime with free throws. The Cache player missed her last foul shot and Ft. Gibson, the team in red, rebounded the ball and won the game. Then all kinds of emotions exploded. Girls were jumping in the air screaming. Others were sprawled out on the court crying. I saw pictures everywhere out of the corner of my eye, but I decided to follow the girl who rebounded the ball.
There was so much going on. I just kept shooting as I followed the girl even though I was tempted to focus on the reactions around her. She ran to meet some teammates and then they all huddled in celebration next to the girl who missed the foul shots, who was on the ground crying.
TID:
What surprised you about the moment?
SARAH:
We shoot every state basketball championship game year after year, so it was nice to have a different angle on the celebration. I thought there could be a good image from the catwalk. But, I expected to get the typical image of the girls holding up the trophy. Overtime and extra periods usually push reactions into a higher level of emotion. However, I never expected the winners and losers to align so perfectly in the photo.
TID:
What have you learned about yourself from the execution of this image?
SARAH:
We are always learning as photographers. I think it is important that we take the time to learn from our mistakes. I see a lot of imperfections in the photo. I should have had a better color balance and used a longer lens. If I could of have this moment back, I would have used a different camera/lens combination. But finding a different angle on an event I cover every year paid off with a great emotional photo. I think that it is important to find different ways to cover yearly events.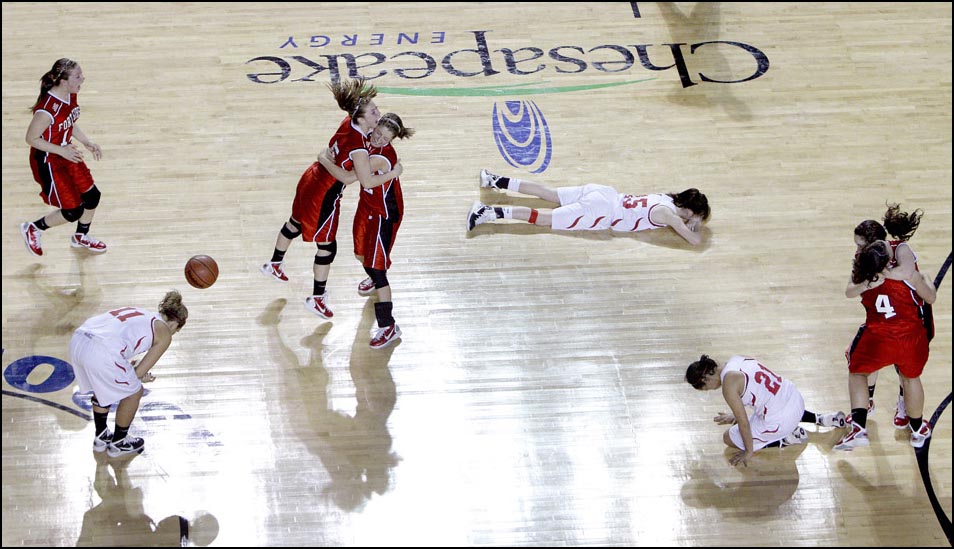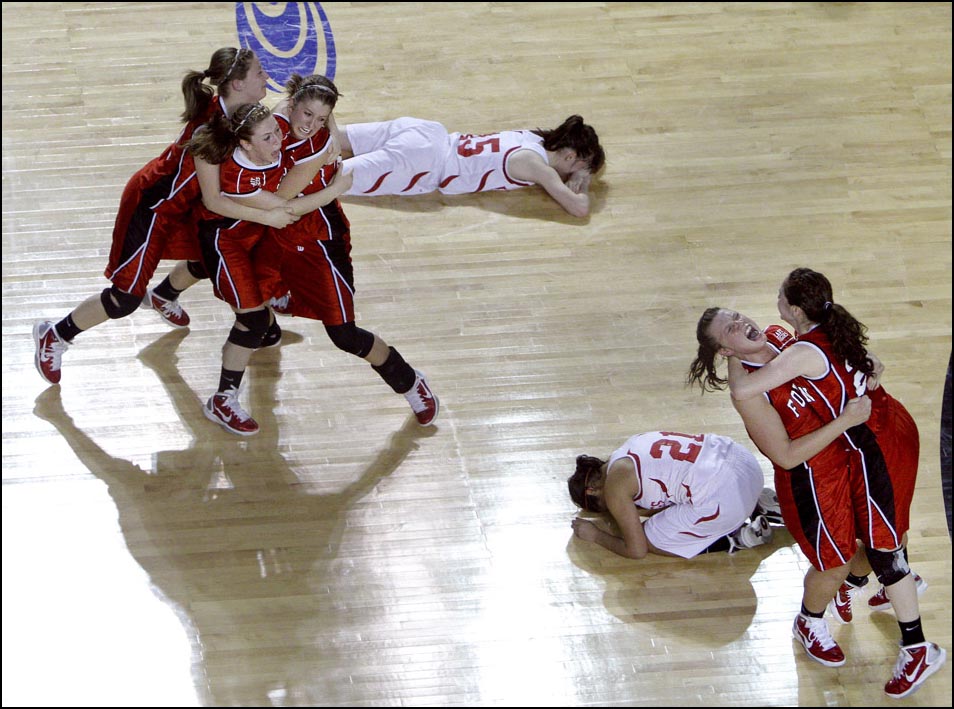 TID:
In conclusion, what advice do you have for photographers?
SARAH:
Often younger photographers say to me, "If I could just shoot big events like you I could get good pictures."
I shot the NBA Finals this year, and shooting the NBA is a lot fun. It is amazing how much better the athleticism is than in college and high school. Sometimes, this does lead to better action pictures. There are more photos of players driving the lane. There are bigger dunks. But, I did not get one image in the Finals that I would consider putting into my portfolio. The truth is a photographer can build a great sports portfolio from shooting prep sports and even Little League. Good pictures come from capturing moments and great moments exist in all levels of sports.
It's easy for us to get caught up in the excitement of big sporting events, but sometimes our best pictures come from a championship game between two tiny Oklahoma towns that most people have never heard of.
So, it's important to remember the small stuff, too.
:::BIO:::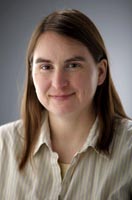 Sarah Phipps grew up in Missouri. She graduated from Northwest Missouri State University with a degree in Mass Communications and French in 1999. Phipps is a staff photographer at the Oklahoman where she covers Oklahoma State and Oklahoma sports, high school sports, The Oklahoma City Thunder and everything in between.
You can view more of her work here: