Spotlight on RJ Sangosti
Apr 11, 2013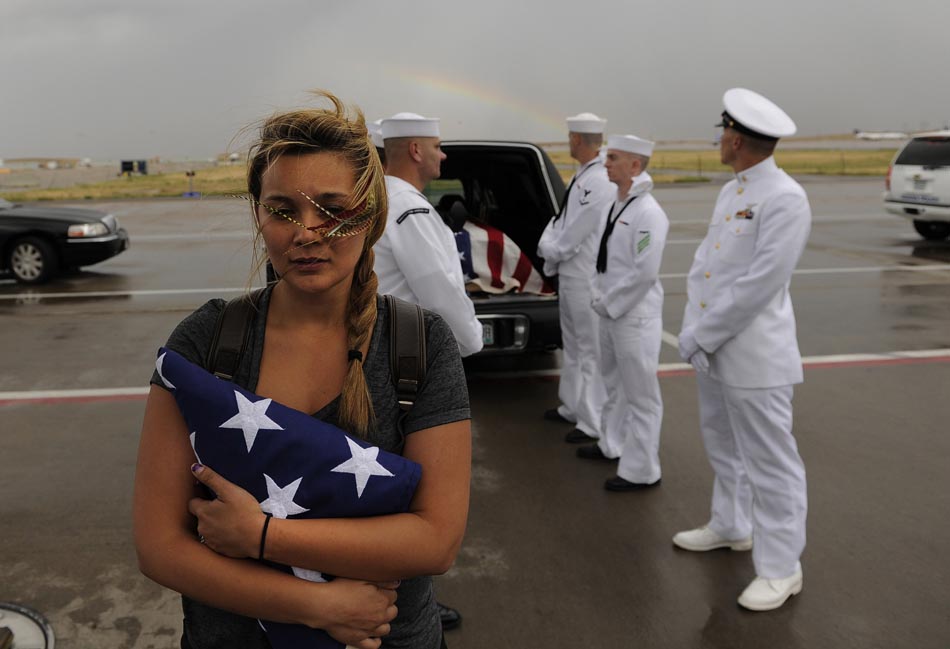 TID:
What a powerful picture. This is really a wonderful, intimate moment. Please
tell us the backstory.
RJ:
The image is of the wife of Jonathan Blunk, a five-year U.S. Navy veteran, and father of two children, who was killed in the mass shooting inside an Aurora movie theater in July. In the frame the victim's wife, Chantel Blunk of Reno, Nev., is shown paused on the tarmac at Denver International Airport before boarding a plane with her husband's body, being sent off in military fashion. A faint rainbow appears in the background – an ironic occurrence in her moment of sorrow.
TID:
How did you prepare for this shoot, or what did you to put yourself in place to make this happen?
RJ:
Tim Rasmussen, AME of Photography and Multimedia at The Denver Post, along with other editors here at the Post, made the decision that we would only cover funerals where families wanted us there. Each of the victims families was assigned a media spokesman, and we made contact with the families through the spokesman. Because of the way we approached it, many of the families who welcomed media coverage asked us to be the pool photographers for the funerals. Chantel Blunk was one of the victims who wanted media coverage, and she welcomed me into her life in such a dark time.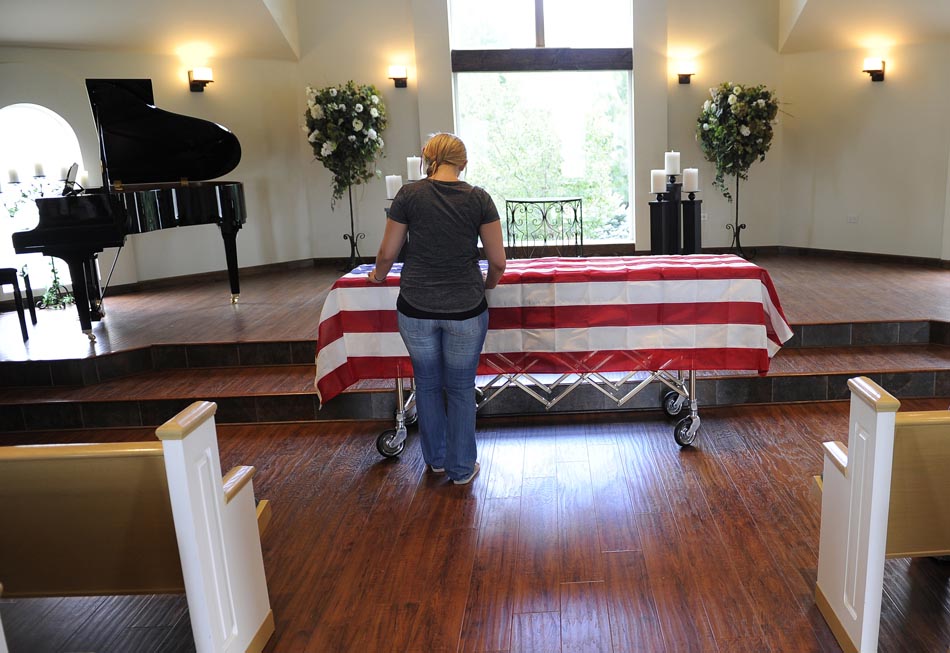 TID:
What challenges did you encounter while working to make this image?
Or what constrictions did you have?
RJ:
Even though Chantel wanted me there for everything, there were other grieving people around her who did not feel the same way. There were many occasions when a family member would tell me I needed to leave or that I was not welcome there, and I would have to explain that Chantel asked me to be there. They just wanted to protect her. Chantel was determined to show the world what she lost, and she wanted everything recorded so she could explain to her children when they get older what happened to their father.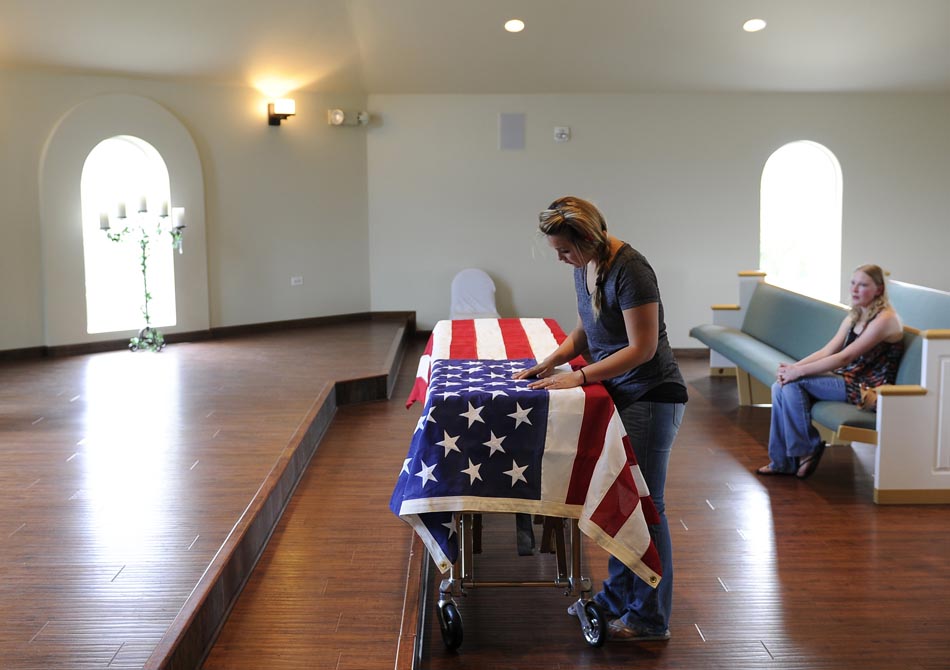 TID:
How did you handle and overcome these problems?
RJ:
A smile always helps, and I listened to everyone's concerns and assured them that if Chantel ever had a problem with my coverage, or just needed time without the camera there, all she needed to do was ask.
TID:
Now, onto the moment. Can you talk about the moments leading up to the picture
and also the actual moment?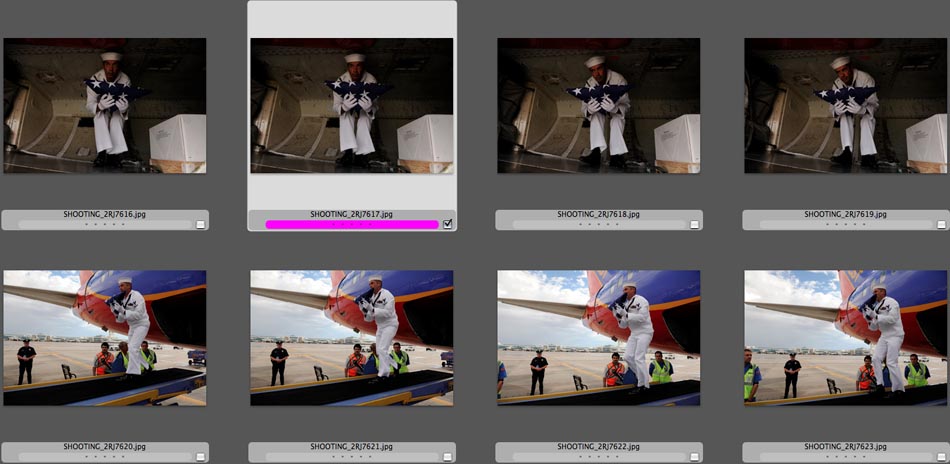 RJ:
In this moment Chantel started to walk over from a group of family and friends to the plane where crews lined up to load the body onto the plane. As Chantel started to walk over to the plane, I raised my camera to take a few photos. She saw the camera and stopped walking.
TID:
What surprised you about the moment that you weren't expecting?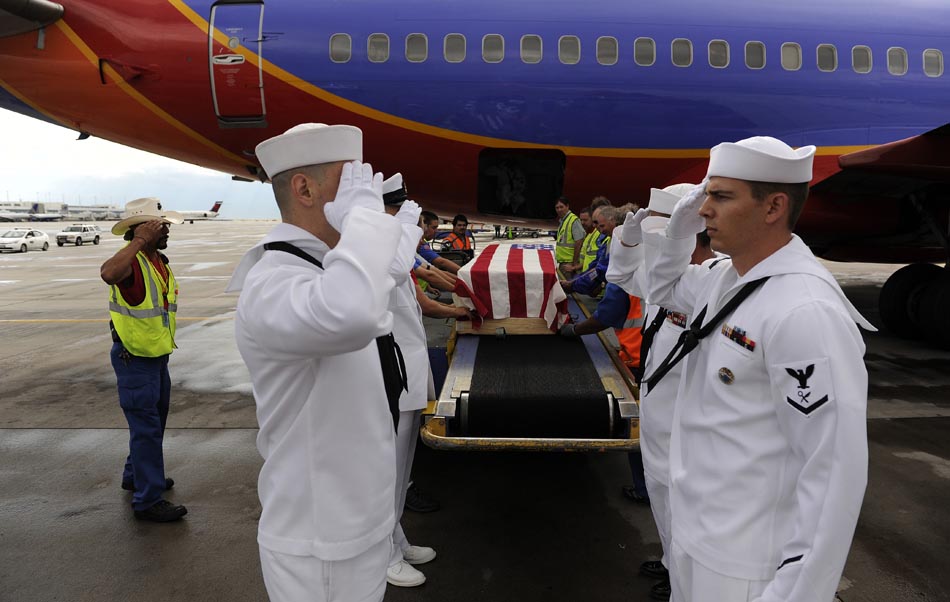 RJ:
When Chantel approached the plane, she stopped and looked directly at the camera. It was one of the moments that all photographers have experienced when people notice the camera and react to it. But what happened as a result gave us this image that I think encapsulates her personality, her sorrow and her youthfulness.
TID:
What have you learned about yourself in the process of making images
like this?
RJ:
Even though I'm exhausted from covering this story, it is important that tough moments, like this one of Chantel, reach a broad audience to keep people pushing for change in our society. I have learned that an image can help change thoughts, minds and laws. This has given me strength after a very long year to keep pushing myself for great photojournalism.
TID:
What have you learned about others?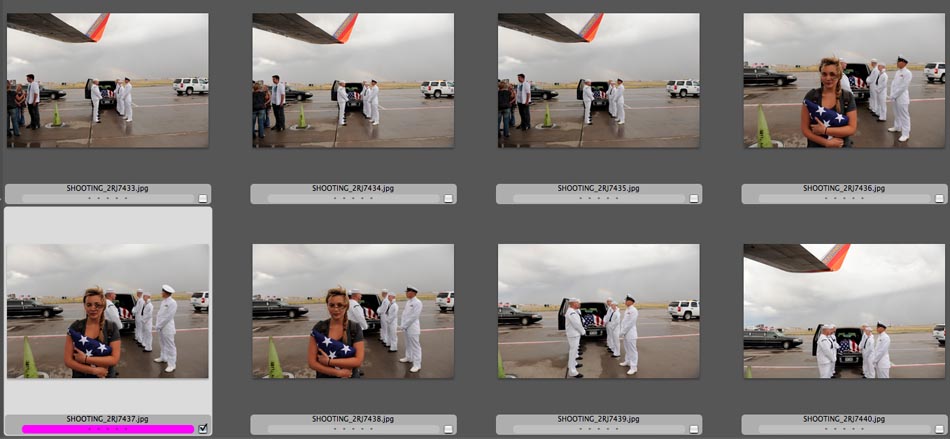 RJ:
Even though this story surrounded me in sadness and heartbreak, people are always there to support each other. For example, I remember flying into Reno to cover Blunk's funeral after working a few long days. When I arrived, I met up with Chantel at the funeral home to cover logistics for the funeral. The first thing she did was say, "You look tired. You should go home and rest. We can do this tomorrow." For her to be thinking about how I felt at that point was very humbling.
TID:
In conclusion, what advice do you have for photographers?
RJ:
I have been told in the past by other photographers and reporters that when you're working on a hard story to leave the cameras behind the first time you meet the people you're going to photograph. But I disagree. Be who you are, have your cameras with you, and only take a photo when the moment is right.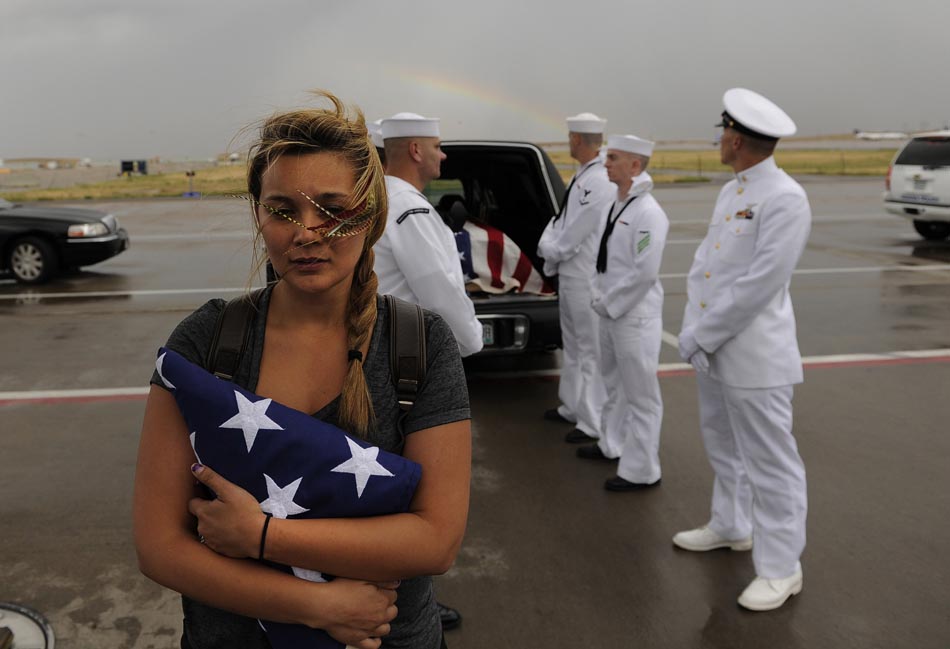 :::BIO:::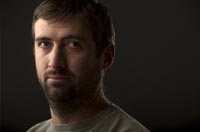 RJ Sangosti can hardly remember a time that he didn't like looking at good pictures and, like many shooters, says he started contemplating life behind a camera as he pored through the pages of National Geographic magazine. Sangosti grew up in Gunnison, Colo. and earned a bachelor's degree in art at Colorado State University. He worked for three years as a staff photographer at a community newspaper in Loveland, Colo. In 2005, Sangosti earned a full-time gig and his inventive approach to whatever subject matter is thrown his way continues to enthrall readers and his colleagues. In his free time, he enjoys flyfishing and — even now — looking at good photos.
You can see more of his work here: