Spotlight on Rich-Joseph Facun
Nov 26, 2014
TID:
Thanks for being open to this, Rich. This image is out of the box and wonderful at the same time. Can you tell us the backstory of the image?
RICH:
First off, thanks for having me back for another TID. With all the great work out there, and all of the talent, I'm truly flattered to be asked to share some thoughts about the image I recently made of Taylor Whitehurst.
I photographed Taylor, who was cosplaying as Bonnie from the online video game "Five Nights at Freddy's," at a convention in Virginia. This particular portrait sitting was 1 of the 30 that I made over the course of the session. At the end of the day, I did the math, I was basically shooting six portraits an hour at ten minutes a piece for five hours.
The final edit would later run in The Virginian-Pilot as a portrait series that looked at different individuals within the Cosplay subculture. Going into it I had no idea how much space I was going to be given in our print edition. I pitched the idea and after I got the nod, I just ran with it. In the end, they ran 18 images in print, giving it a section front and back page as well. The full edit and sequence can be seen on my website.
www.facun.com/cosplay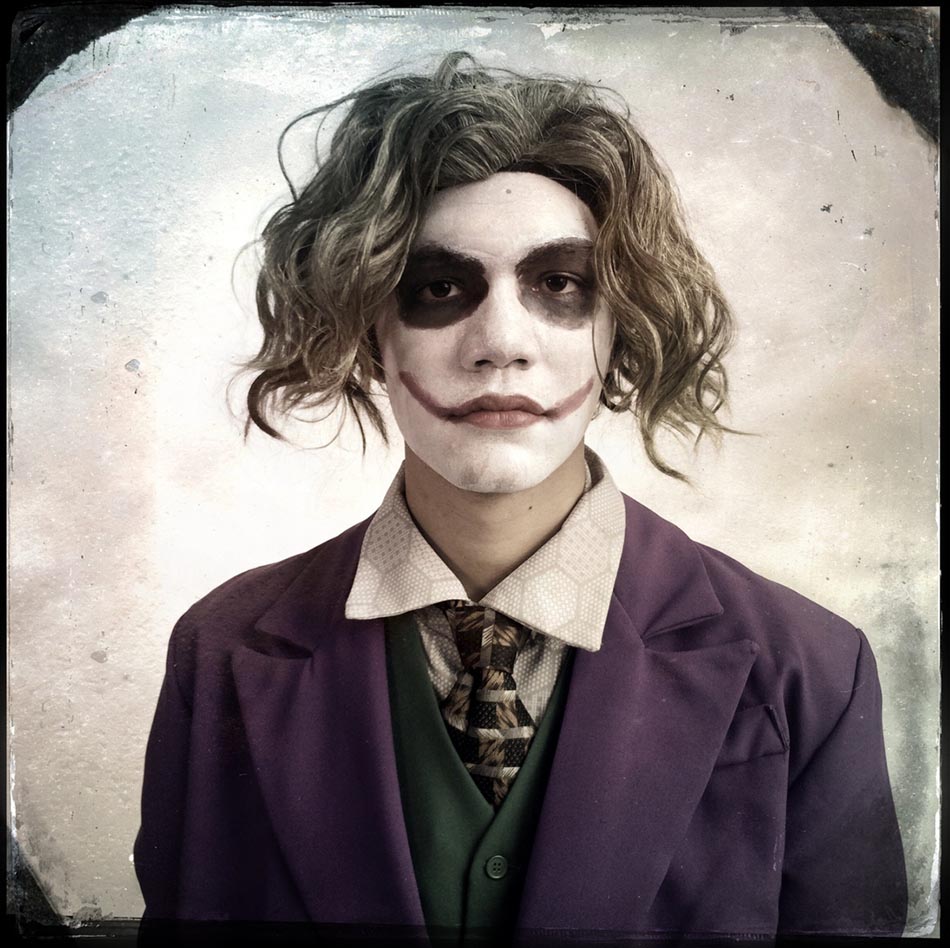 TID:
This is part of a larger body of work, can you speak more about the range of images you've made and what drew you to the event?
RICH:
I've always been interested in looking at subcultures. In fact, the first essay that I shot as a student was about a Rastafarian couple living in rural Virginia Beach. That said, I have an affinity for closed communities, groups of people or individuals who are either misrepresented, misunderstood, or overlooked within the norms of mainstream society.
In this particular series, I felt like I was walking a fine line between an eerie beauty, humor, innocence, and self. I tried to make images that communicated all of these aspects of Cosplay while at the same time maintaining the dignity of the people I was working with. I wanted the images to be honest, educational, and communicative but also aesthetically compelling and alluring.
TID:
When you first started this shoot, what were the first thoughts that you had going into it?
RICH:
An abundance of thoughts went into how I was going to execute the shoot. There was a lot of prep work involved, mostly tech and gear related. I had to decide which camera(s) I wanted to use and which lights would work best for my goals - LED, strobes, or natural? I also had to determine if I wanted to bring a seamless and what color, black, gray, or white? Did I want to shot in black and white or color or both? Did I want to shoot all the portraits with an identical composition or full body?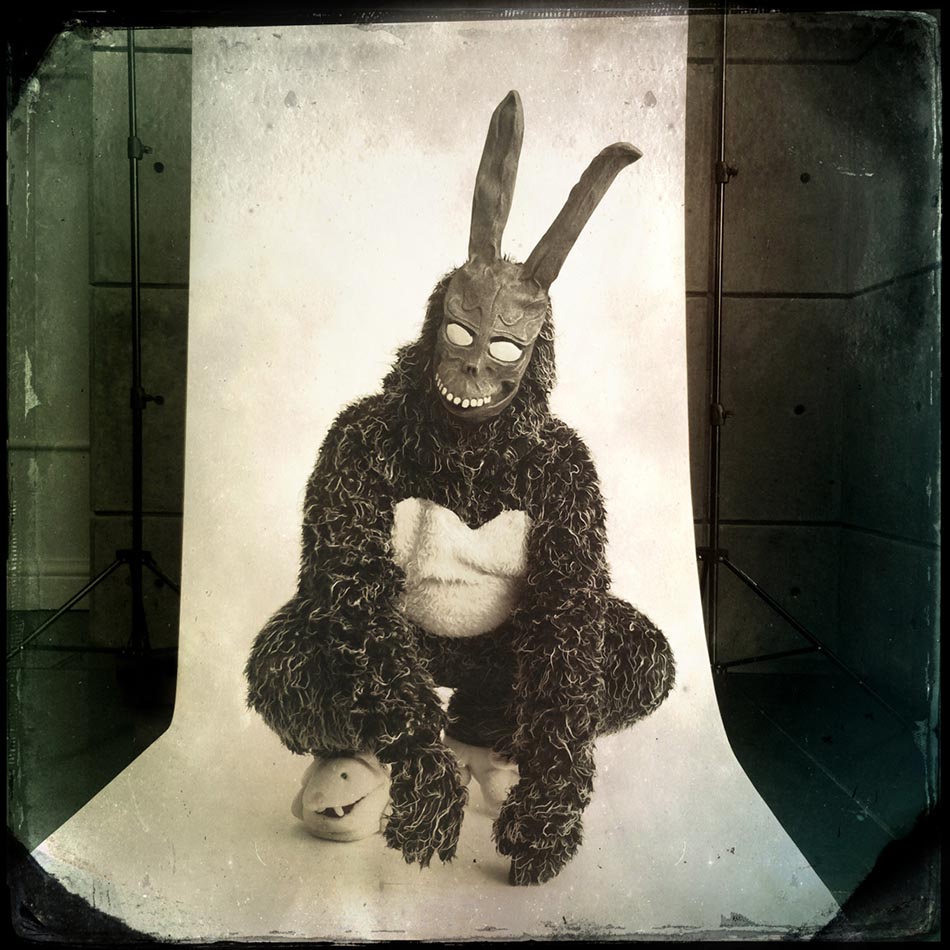 TID:
What challenges did you encounter while working to making these images, especially at the beginning?
RICH:
I shot the images in the foyer of the convention center where the Cosplay event was taking place. I was tucked away in a little nook and cranny but there was still a lot of interference from attendees, hence a lack of intimate space to work in.
I knew I only had four or five hours to work and it was the last day of the event so I had to get it right the first time around, no excuses. Also, I wasn't sure what I was going to do with the lighting. I had a few different ideas but didn't have time to scout the location beforehand so I wasn't sure what was going to work.
With this shoot I had a lot of gear. Normally, on documentary projects, I usually just bring one body and a lens or two. However, I knew this shoot was going to require more versatility and technique. So, I arrived with a lot of photography equipment, loaded it up on a pushcart, and walked about two or three blocks to the convention center.
The main challenges were the gear, setting up my lights, the seamless and a work station so I could download images as I shot in order to edit on the go. It would have been helpful to have an assistant to watch the set while I went out hunting and gathering for subjects, but being that this was a newspaper shoot I was on my own. I didn't just want to photograph anyone - I had a vision and wanted to make sure each portrait sitting counted. It would have also been helpful to have an assistant to collect the paperwork and field the interview questions I had each person fill out. Regardless, it worked out fine - challenges are fun and I welcome them.
TID:
How did you handle and overcome these problems? And can you also talk about your execution technically of the images?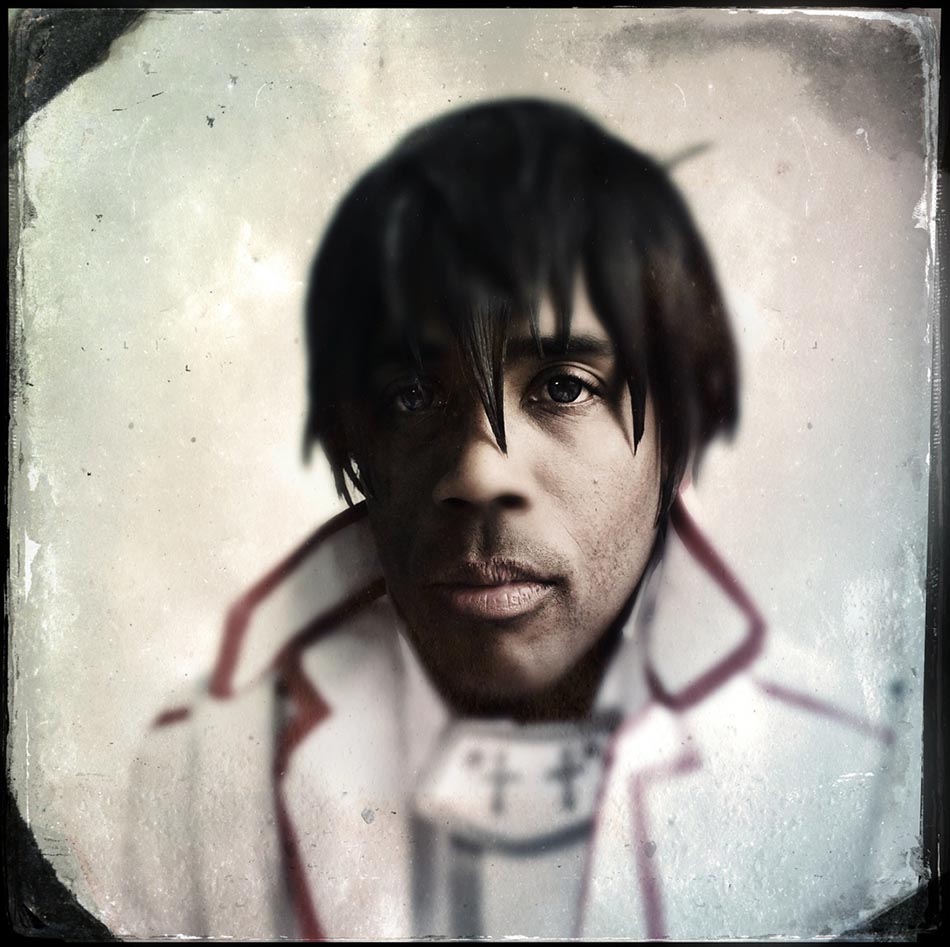 RICH:
I don't think the problems I mentioned above are unique nor was my solution. I think, like any news photographer, I just made the best use of my time and hustled my way through the shoot. However, I think there might be more to learn from the technical approach as it was new to me as well. The entire shoot was experimental.
First, I was using two LED panels that I had never worked with before. Normally I use strobes with umbrellas or a few portable studio lights or my main go to - natural light. For the execution of the images, I shot with one 35mm DSLR and three other camera phones with three different lenses and three different film types.
With the lighting I used the available light that was filtered through translucent glass. This became my main light source, coming in from the right. Then I used one LED panel to fill the torso and legs from the right and the third light source was on the left to fill the shadows created by the natural light coming in on the right. I dialed the LED light in so it was daylight balanced. The available light was so strong at times that I had to keep increasing or decreasing the amount of light the LED panels pushed out. Originally, I had planned to only use the panels but once I got to the location, not incorporating the available light wasn't an option.
Prior to the actual shoot I had planned on using a new camera/lens/film combination on my iPhone. However, my wife wisely pointed out that my camera/lens/film choice created limitations and issues, the main issue being that the tilt-shift only allowed me to focus in one spot of the frame. She and I started playing with multiple lens/film and camera combinations until we narrowed it down to three different combinations. One was the original combination I had planned to use, the other two were similar combinations of the original but with minor tweaks. Two of the choices called for black and white film and one was color.
I also shot with a digital DSLR and a 50mm lens. This was my back up in case my other approaches didn't work. I had never used the other camera, lens, and film iPhone combinations so I had no idea what worked and what wouldn't. I didn't know what unexpected limitations might present themselves during the shoot. With each portrait sitting I shot with all four combinations. After the first portrait session though, I was pretty convinced about which combination I was going to use. But, I kept shooting with all four cameras for each subject.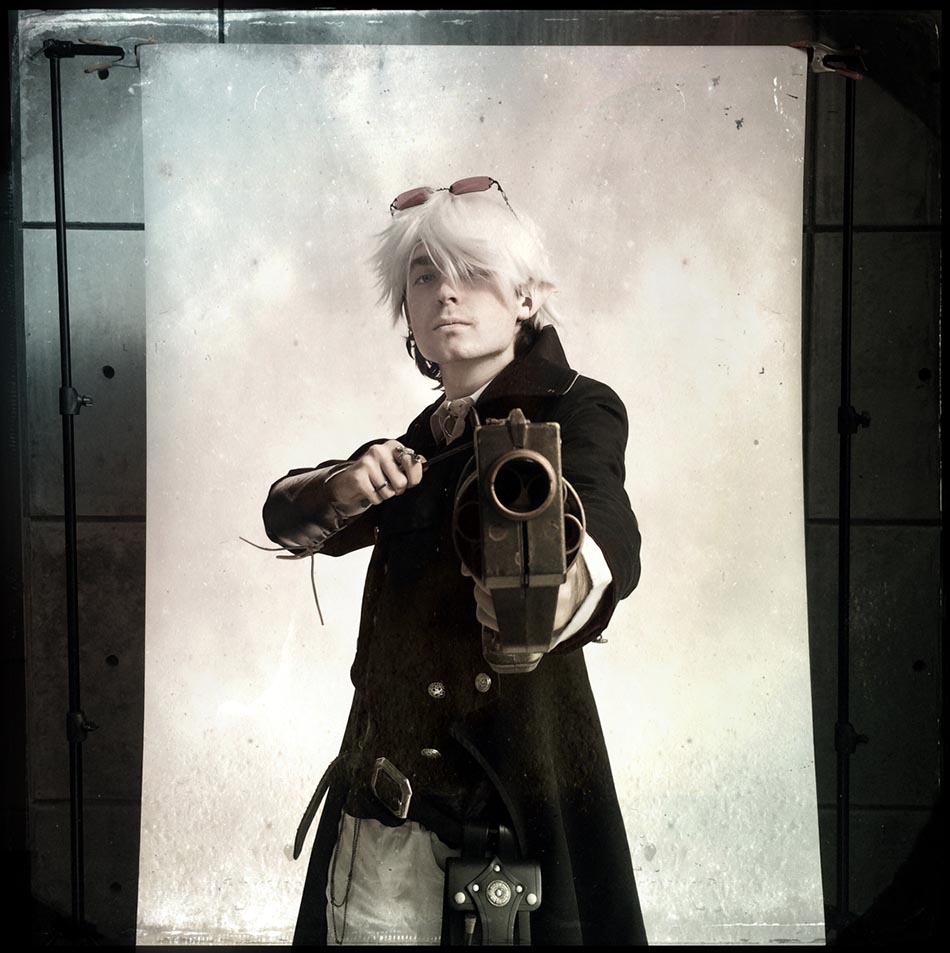 When all was said and done, I never even ingested the DSLR files until after the essay ran in print because I was happy with the results of my "Plan A." I knew the lighting wasn't how I would have set it up if I was going to go with the DSLR. I had been to a similar event previously and had envisioned how I would shoot the series if I was going to use my DSLR. Needless to say, the lighting I set up for the Cosplay convention wasn't even close to what I would have done if I was solely shooting 35 digi. That said, if I had seen that the other cameras weren't working I would have made my adjustments accordingly.
TID:
What surprised you about the main image? What has surprised you about the making of these images with this group of people?
RICH:
Both the girl in the main image and the portrait itself have a resounding presence. That said, it accomplished one of my goals within this series. My intent was to juxtapose the antiquated look of a tintype with a contemporary fringe culture - I anticipated and hoped to make some images that reflected this idea. This particular image accomplished that goal. Throughout the shoot I was initially surprised by the confidence of each person I met and photographed. They all carried themselves intelligently, were passionately creative, and communicated a sincere and innovative approach to their self-identites.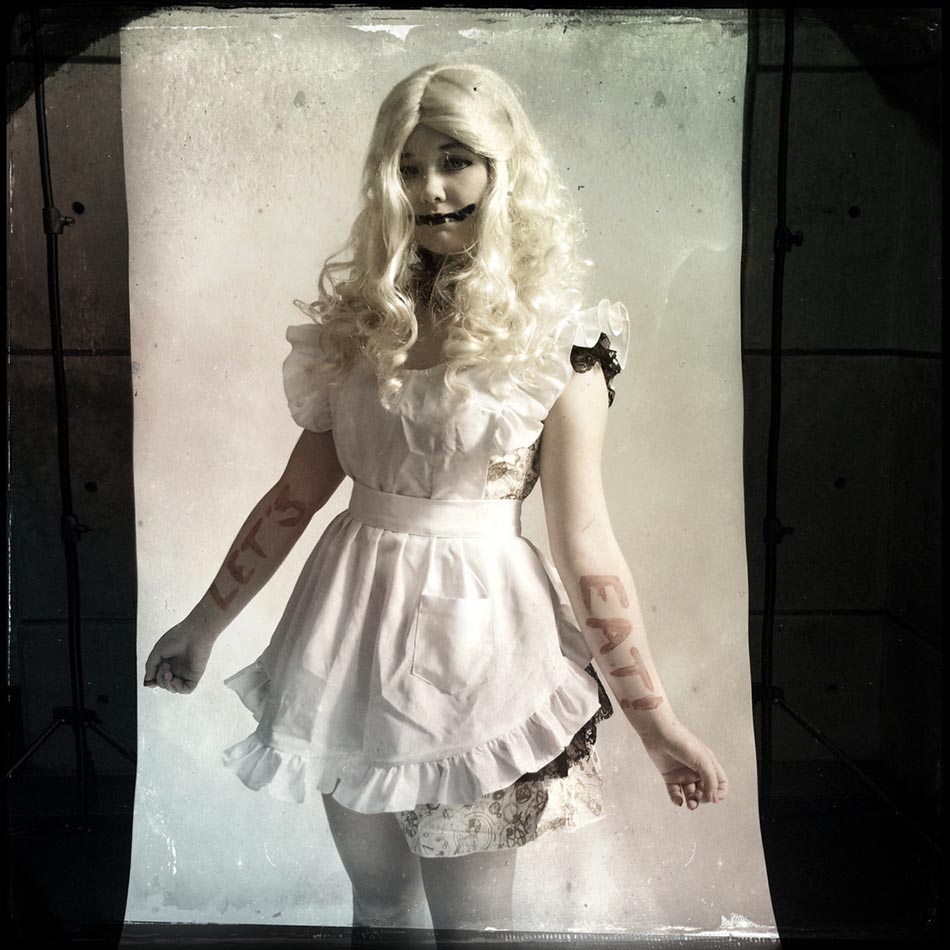 TID:
Now, onto the moment. Can you tell us specifically what was going on both here and in your mind leading up to the picture?
RICH:
Leading up to this picture, to be honest, I was just hustling. I remember feeling like I was in a Willy Wonka factory. I was an Oompa Loompa and my job was to crank out as many portraits as I could in the time frame allotted. I often tend to get into a rhythm when I'm shooting and I just roll. (In the words of the late great Garry Winogrand "It's the closest I come to not existing….") Of course, eventually I have to pause, reflect, and regroup. Too often I feel like I don't have any keepers when I'm shooting, so I get agitated and let my emotions get the best of me, but this time it was different. In my mind, I was excited. I knew I had something special.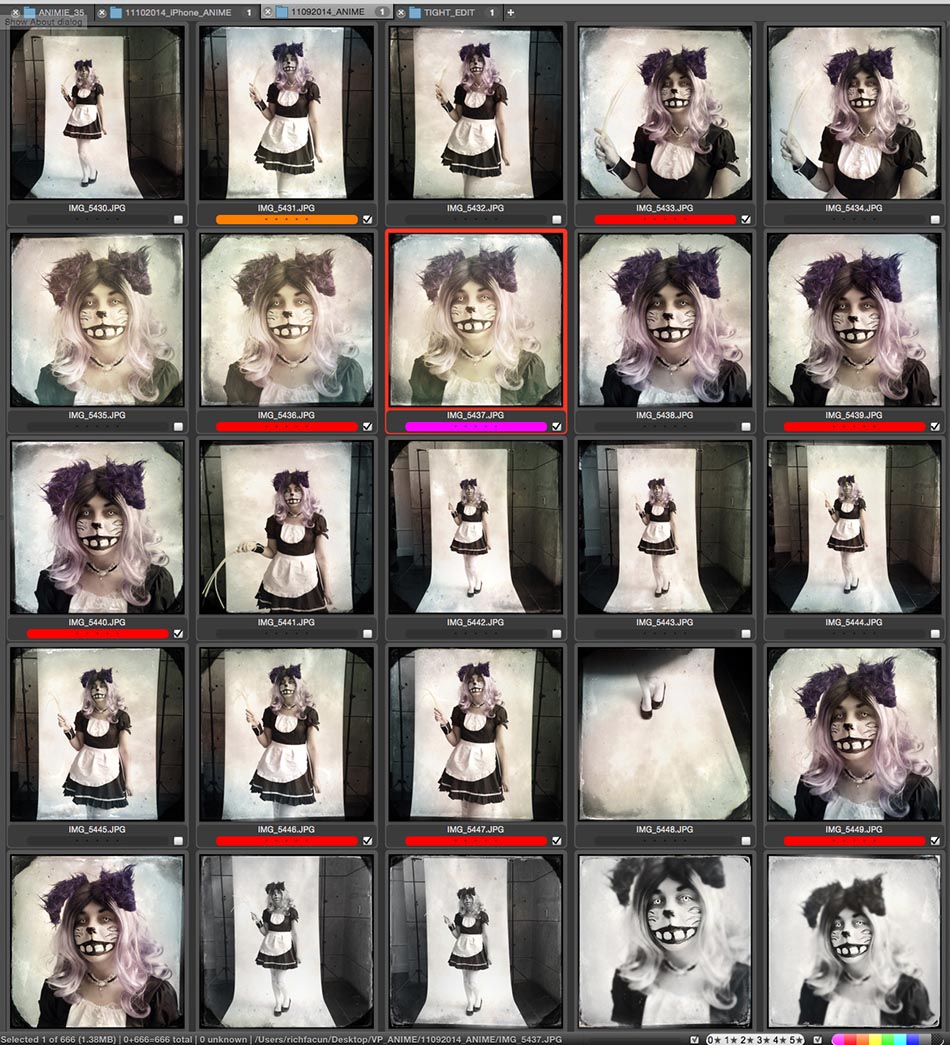 TID:
What have you learned about yourself in the process of making these images?
RICH:
I learned to have fun, loosen up, remain flexible, and to embrace my compulsions - let them work for me rather than against me.
TID:
What have you learned about others?
RICH:
I essentially walked away from the event intrigued at cosplay's ability to show how the fictional world can shape and influence reality. It was the epitome of life imitating art. For me personally, a highlight of cosplay was experiencing the creative vision that each fan expressed through their individual costumes. They often visually interpreted their favorite anime or manga characters and brought them to life. That was fascinating and inspiring to see. I loved watching everyone geek out while being completely comfortable and supportive of one another. The world could use a little more of this element.
TID:
In conclusion, what advice do you have for photographers?
RICH:
Be honest, right your wrongs, tell the truth, stand up or sit down, commit, eat clean, don't smoke cigarettes, love and be loved, remain curious, check your ego, surround yourself with people smarter than you, travel, get your romance on, respect your elders, exercise, be accountable, recycle, dream big, live a sustainable lifestyle. And listen to your spouse.
:::BIO:::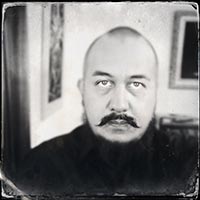 Rich-Joseph Facun was born in Florida to an Otomi Indian mother, and a Filipino father. His photography specializes in documentary projects that investigate history through fringe cultures and trends in societal norms. It is in these topics that he explores the phenomena of personal independence, the pursuit of dreams, and the discovery of self-identity.
Facun has been a working photojournalist for over a decade. In that time he has covered news, feature stories and photographed high-end commercial campaigns spanning over a dozen countries. He has worked abroad as a staff photographer at The National in Abu Dhabi, United Arab Emirates. Currently, he is a staff photographer for The Virginian-Pilot in Norfolk, VA and is a contributing photographer with arabianEye and the advertising agency Magnet (Dubai.) Facun's work has earned multiple accolades in Pictures of the Year International, the National Press Photographer Association's Best of Photojournalism, The Atlanta Photojournalism Seminar, and the William Randolph Hearst Foundation, amid others. Additionally, while working at The Virginian-Pilot he was awarded the first and second place Portfolio of the Year by the Virginia News Photographer Association for two consecutive years.
Rich-Joseph resides in the greater Hampton Roads region with his wife Jasmine, son Levi-Joseph and daughter Opal. His oldest child, Amber, works in the medical field in Virginia.
instagram: facun
twitter: thefacun