Spotlight On Patrick Smith
Nov 19, 2011
Originally published 11/19/2011.
The Image Deconstructed would like to congratulate Patrick Smith on being named 71 POYi Sports Photographer of the year for 2013.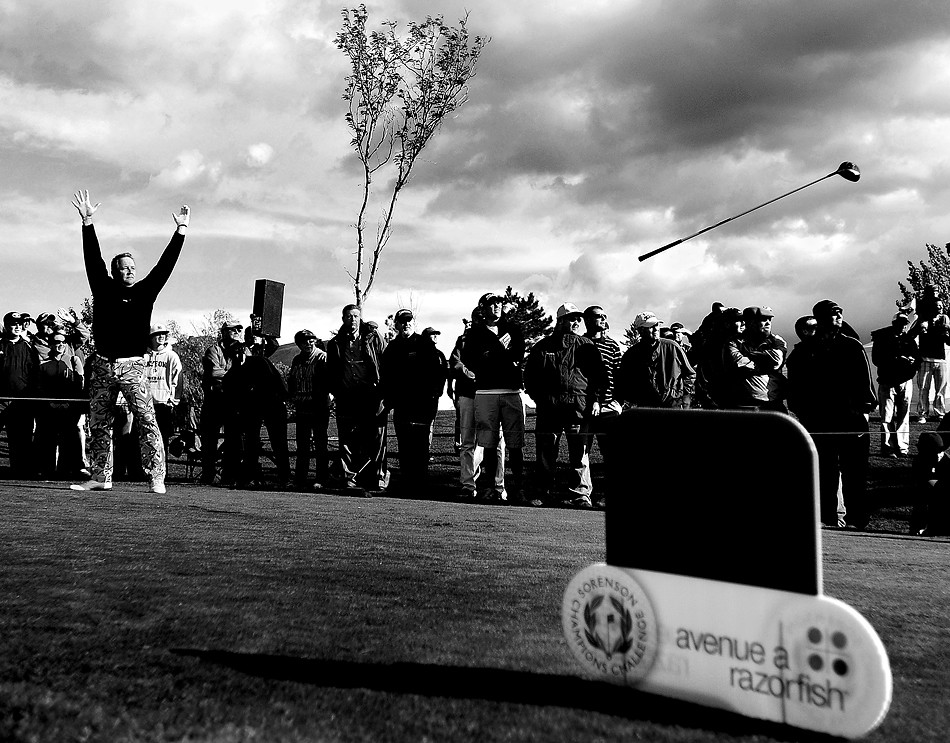 TID:
Patrick, nice to have you be a part of this. Please tell us about the image's context.
PATRICK:
Let me preface, this site is a well-executed idea and I am
humbled to be a part of it. Those featured here have shared
some truly inspirational work, and it's an amazing database
of wisdom, knowledge – well done. Again, thanks for having me.
I was working in Utah at the time for a mid-sized daily, and I was
fairly new to the area. I was shooting a mix of assignments, but
a lot of sports. My editor told me I'd be covering two days of
golf, which at the time, I had never shot in my life. I have zero
patience. I've played a handful of times and each outing
ended with my club in a tree, or a pond, and
continual cursing (and I already have a potty mouth.)
So as one could imagine, I figured I'd hate it and literally had
no idea what to expect. But I went into it with an open mind.
TID:
Now, onto the image. Can you describe what was going on in your
mind as the image took shape, and then also what you were thinking
when you made the image?
PATRICK:
Funny you ask. As I mentioned, I was at a total loss on what to
do and where to shoot from. I was on my own and I typically
use the "play dumb" and "act like you belong" approach when
shooting somewhere new. I didn't have any real direction with
my assignment, other than a small list of people I needed to
photograph. So I decided to camp out on the first tee and
shoot at least one frame of every golfer before moving on. As
usual, I wanted to get my mind and vision going, so I
crawled around shooting some pictures that I knew my editor
would hate, yet I would love. Most of them were wide and clean –
a blend of artistic photojournalism, if you will. I saw other
photographers all using 400mm lenses - or longer - and wanted
to be different.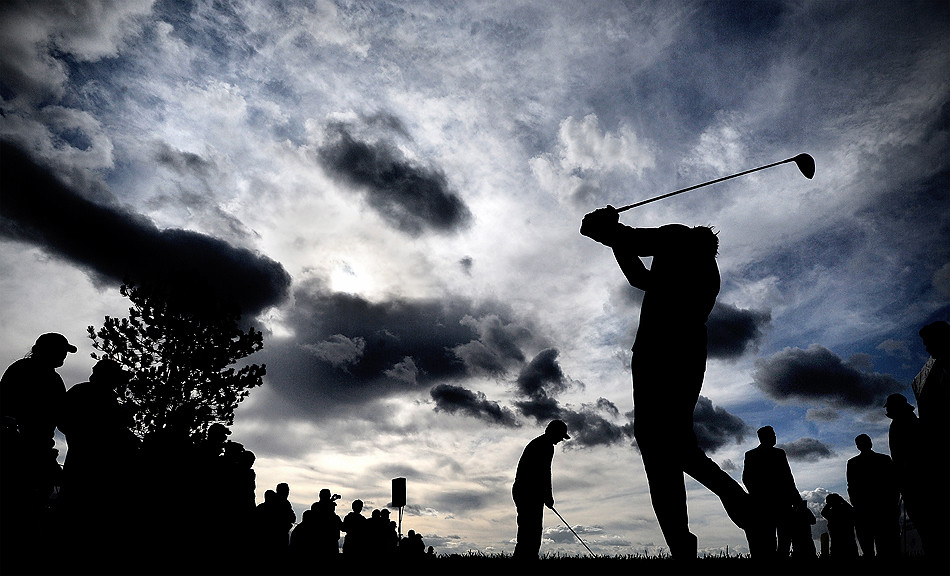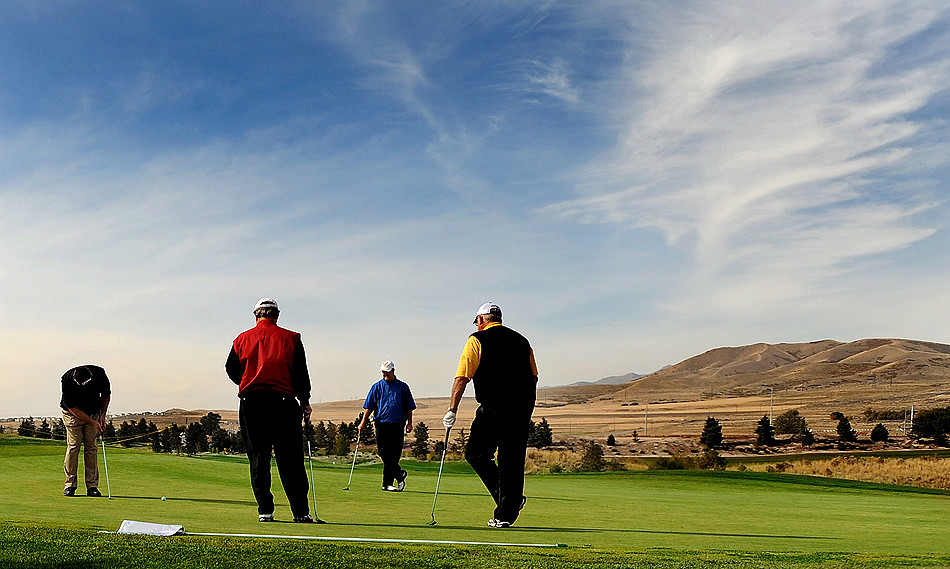 So I walked up next to the tee on the opposite side of the fans,
where I probably wasn't supposed to be, and started shooting
from grass-level. When Bobby Wilson came up, I loved his pants.
I wanted to make pictures of him, and a scene-setting picture,
so I kept the wide on. I fired a couple shots after he made contact
with the ball and then quickly turned toward the hole down
course as the crowd made a huge gasp. I thought he had made
a hole-in-one from the loud echo of cheers. But in the corner of
my eye I saw him making what I thought was a jube. I realized he
was throwing his club in jest, so I hammered the shutter
and leveled things off before the moment was over. It all happen
so fast I literally had no idea what happened.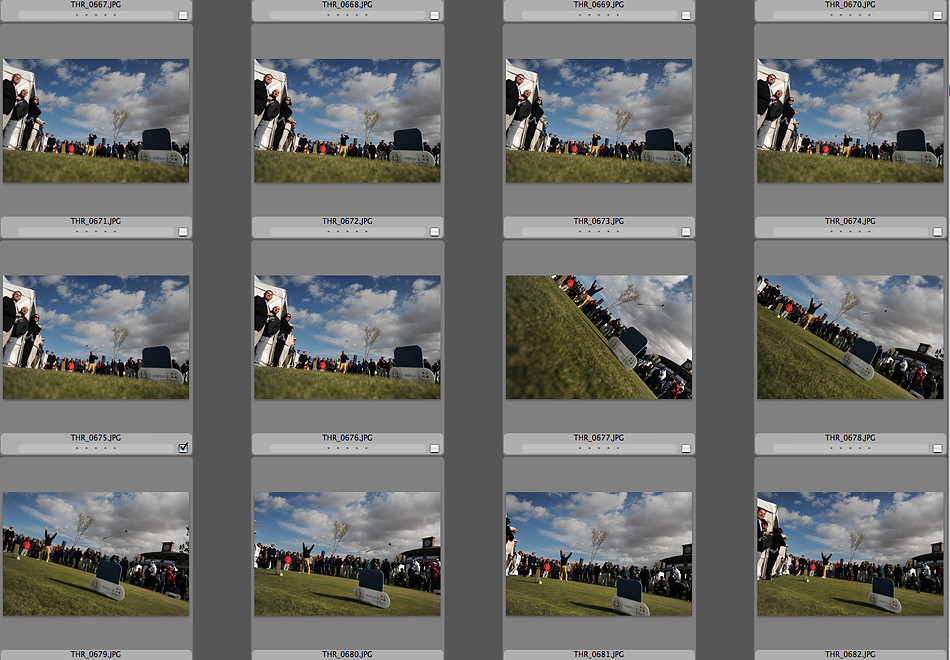 TID:
Wait, you are really just saying it totally happened by accident?
Did you have the camera to your eye when you made the frame,
or it was just from the hip?
PATRICK:
I am a firm believer that luck is a part of sports photography,
if not all photography and photojournalism. Is it always? I don't
think so. Yet, it all comes together when putting oneself in the
right place, at the right time, with the right lens, and being able
to react and capture the moment perfectly. This was certainly all
of the above. Photography is almost like a scavenger
hunt. Being curious is a good thing, and no matter how much you
know about a certain topic, person, location, or sport - life is going
to unfold in front of your eyes. Sometimes we capture it, and other
times we miss it. As for shooting this, I shot this from the ground,
just aiming where I thought would be the correct composition. I've
learned very well how to shoot from the ground and my hip over
the years, and I was doing this with the golfers teeing off before
him, too.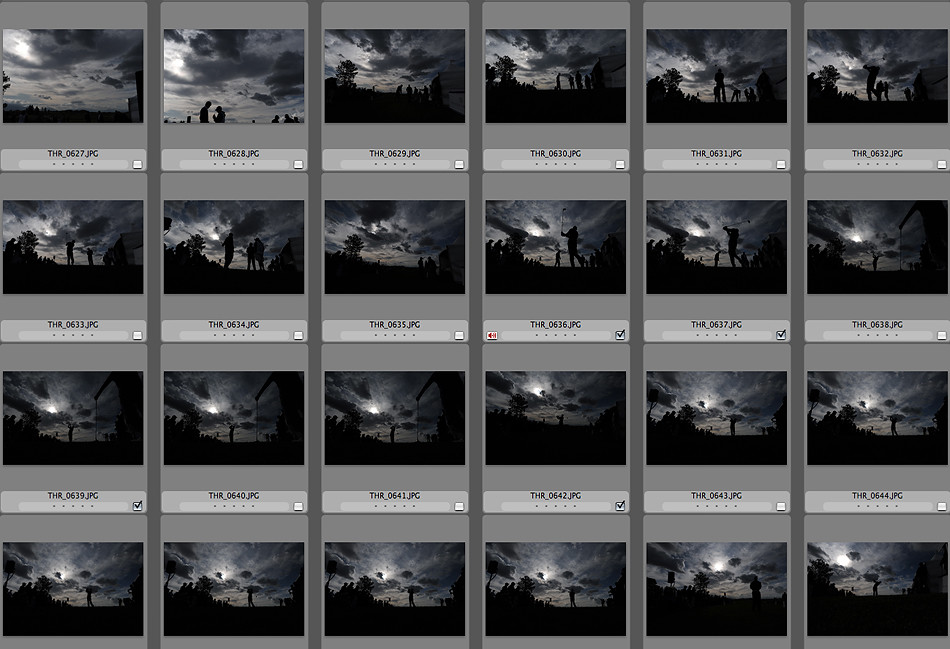 TID:
The "That's how it is done" quote at the top – did he say that? Did he
say anything or make a yell? Was there any reaction to him
throwing the club?
PATRICK:
The title of the photograph is a play-on-words because it's rare
you see a golfer let go of a club. Almost like saying, "Oh, shit. No
wonder I suck at golf. I don't throw my club after hitting the ball."
And as for him throwing the club and the reaction around him, yes,
laughter. I got the impression that he is quite a ham on the course.
Both days he wore bright colored, funky pants, interacted with fans
and made the tournament a bit of an entertaining show for the
crowd. I think the image of him captured his personality impeccably.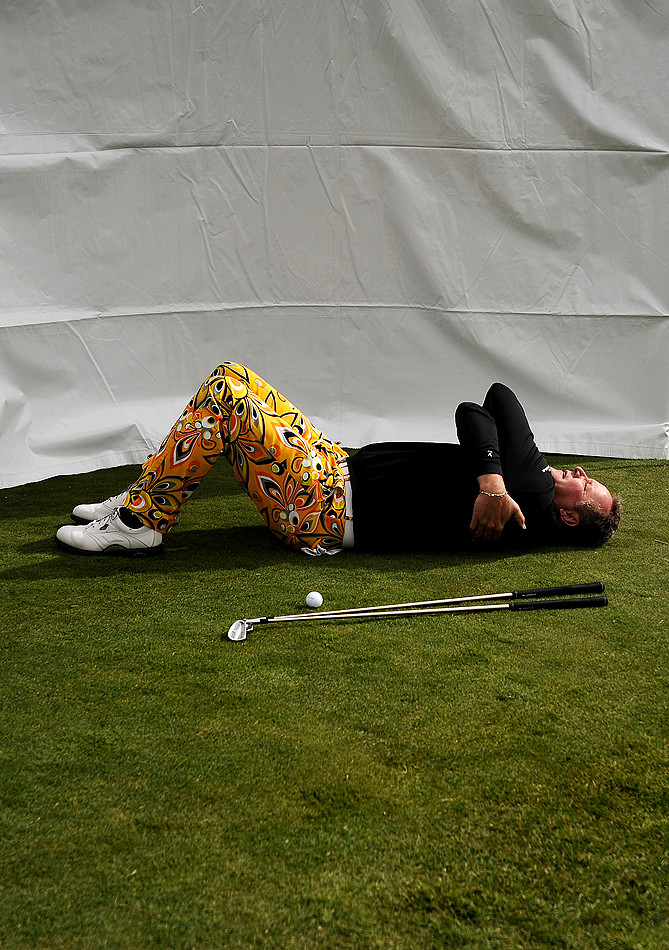 TID:
What were some problems or challenges you encountered during
the coverage of this event, and how did you handle them?
PATRICK:
Right off the bat, my long glass was very short (300mm on full-frame),
so I had to put myself in the right positions all day or go wide. Company
gear was in the dinosaur era and every time I touched my single company
body, I got a dreaded Error 99. So I was forced to use my own gear.
Second, I stole and ate way too many free Snickers bars from the media
lounge, which upset my stomach. And third, I had no idea, at the time,
how golf pairings worked. Luckily, I had a cart to quickly put me in the
right places at the right times, some very helpful fans, and some Tums,
to alleviate all my aforementioned woes. I also had Keith Johnson, who
was at the time working for the Deseret News and at the time was an
unknown to me. He later became a friend, soccer teammate, and is now
an editor at the Salt Lake Tribune. But we rode in a cart together and he
helped me stay on course - literally. Those carts are tempting to drive
wildly, aren't they?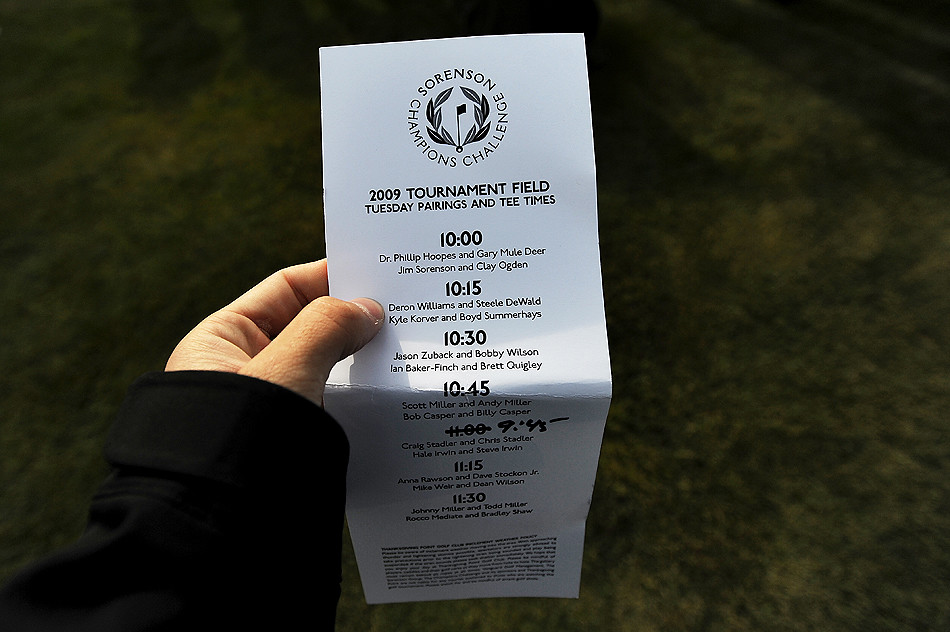 TID:
Could you talk about your approach to shooting sports?
PATRICK:
I approach sports as I do any other assignment - I like to have
fun, work hard and I want to make compelling images. Photographs
need to be telling and have significance, especially in the sports
world, But also, in my eye, they need to be graphic and clean.
I grew up playing sports and being very competitive, so I've always
been my own worse enemy when it comes to performing
and performing well. I also know if I want to stand out, I need to be
different than the other 20 some - give or take - photographers
covering any one single event. If everyone on the sideline is camped in
one spot, I'll go somewhere else. If everyone has long glass, I'll go
wide. And vice versa. I put myself where I know I'm probably not
supposed to be. I like to take risks, a lot of them, even if that
means failing; as a friend calls them - successful failures. Every
game doesn't have a brilliant outcome, but without risk and breaking out
of your comfort zone, you never know what you'll get. I think
the saying is, "Nothing great came from being comfortable."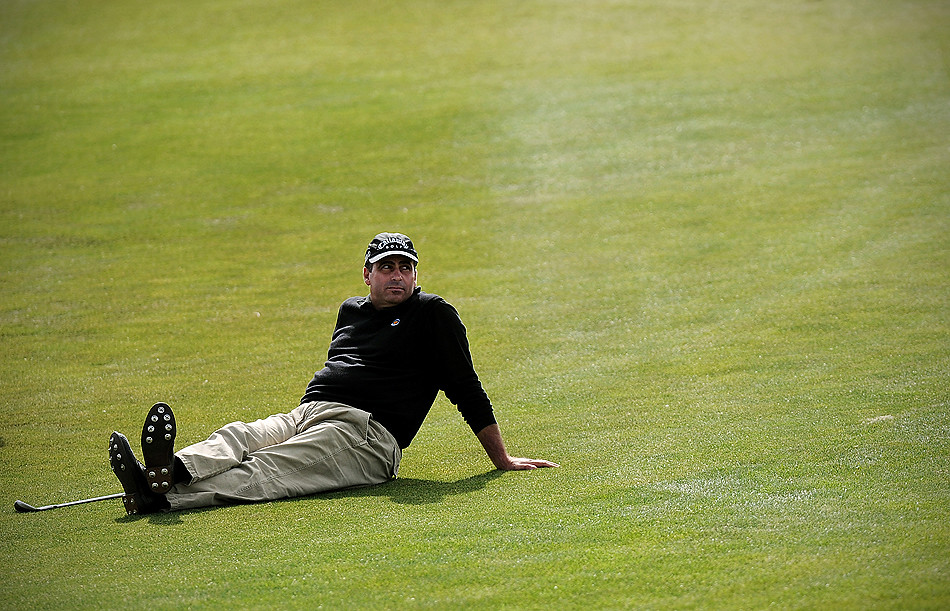 TID:
Surely you don't just react to what others are shooting and
shoot the opposite out of spite. Do you have ideas of what
you are looking for, or is it really a visual exploration of each
space you are in?
PATRICK:
I will change lenses out of spite sometimes, and I do like to roam.
I'll sit in the tunnel before the game just waiting. I'll walk to the
top of stadium to look around and shoot because no one else is
up there. I risk missing pictures that probably
need to be made, but I tend to work for clients who want to be
different and stand out among the rest - those who support and
appreciate initiative and creativity. Conversely, if a client wants
more conservative images, I still try and make sure to wander around
after I feel like I have some insurance images.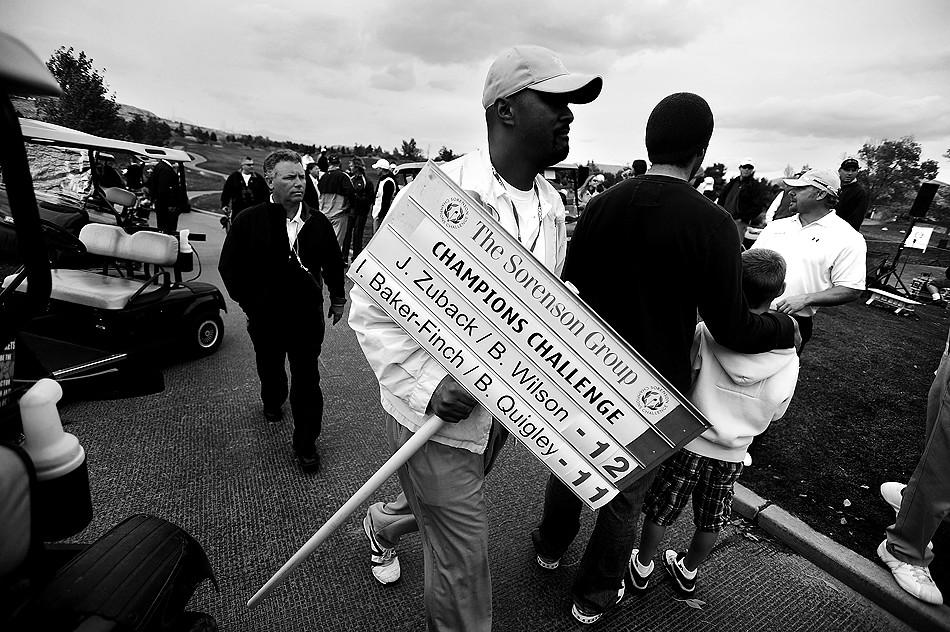 TID:
Do you have any philosophy about capturing moments in sports?
PATRICK:
This goes back to knowing the game you're photographing. It's
second nature for me to know what's going to happen. I know
players, the sports I am covering and where I should place myself
to get action, jubilation and dejection.
TID:
Can we hear more about this? How do you know? Do you study sports
like a pre-med student studies biology? Do you watch a ton of ESPN?
Do you read and keep up with stats? Do you grill other sports photographers?
PATRICK:
I hate to admit this, but for as much sports as I shoot and like to
participate in myself, I don't know as much as I should about the
actual players and teams I cover. I rarely watch SportsCenter. I'm
not a sports junkie. Most of my local photographer friends aren't
sports shooters either, so I rarely talk about sports after the fact.
But I did grow up playing sports and being an athlete – still one to
this day. It's difficult to explain other than it's second nature -
like different paint brushes are to painter. It's a sense of what to use.
I've photographed and played in games with hundreds of different
scenarios and have a feeling of how a game is going to end. But with
that said, you do learn to feel how a player is going to react due
to the crowd, the score and other variables, even if you're covering
a team for the first time.
TID:
Can you talk about the psychology of how you read situations?
PATRICK:
You tend to see more emotion and moments in high school and
college games than you do in pro, but every game is different. I hope
I make images that have never been made before, even if I am
covering the same teams in the same stadium over and over again.
There are so many variables that make even the same play,
different, ranging from: light, moment, color, composition, access, etc.
I guess I am being vague, so for those who don't cover a lot of sports,
follow the ball and commit.
TID:
You've mentioned your competitiveness and discipline, which I think
is reflected in the body of your work – is there anything you do to
psych yourself up? Do you have any mantras you repeat to yourself
when on assignment (either when things are good or bad)? Any
thought-out principles that guide you?
PATRICK:
Every day is different. I used to pre-visualize assignments, which I
learned a long time ago to not do, as it only sets you up for
disappointment. But I still find myself getting anxious before
assignments. It's not that I pre-visualize, but I get nervous that I'll
fail. I think that's my biggest fear in life – failing. So when I don't
have a clear mind, I really try and mellow out - do something else
before an assignment unrelated to photojournalism or listen to new music.
I'll also show up way too early to get the jitters out. But on days I have a
clear mind (which is rare because I consume too much social media and am
addicted to being wired into the news around me), I can show up and
literally just shoot without a care in the world. So to sum that up, as
much as a perfectionist as I am, I don't really have any mantras other
than trying to have a clear, open mind. It's very easy to over think
assignments, even when you're there shooting.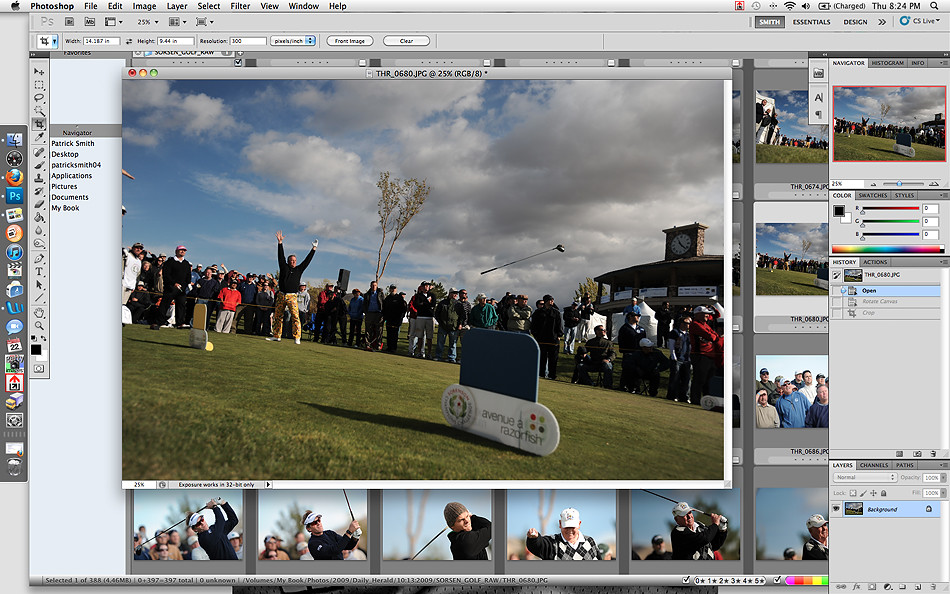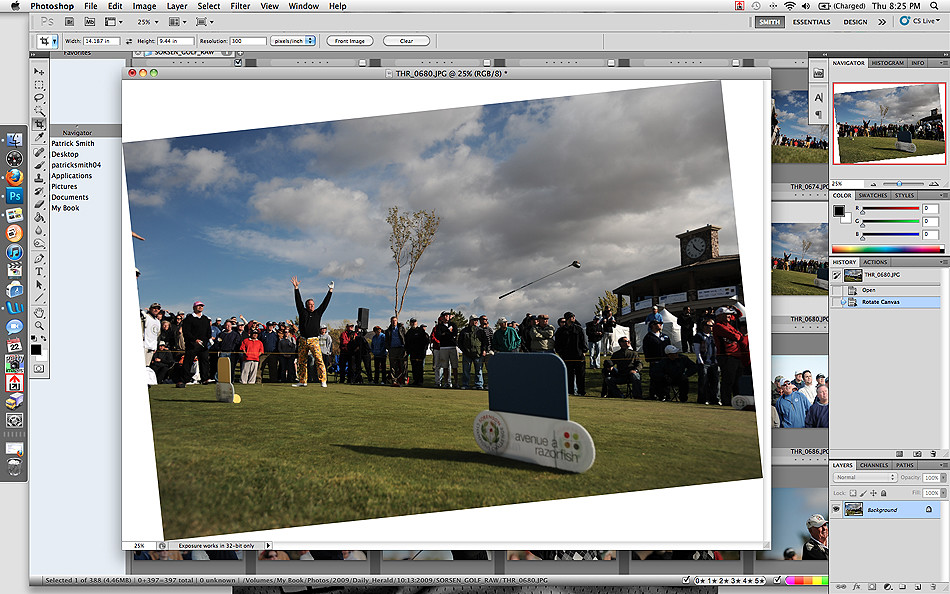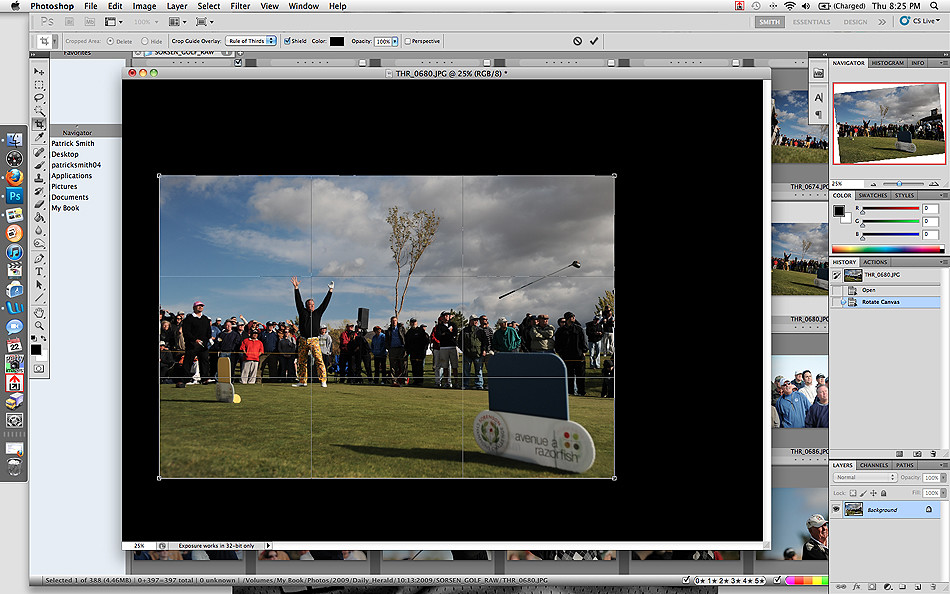 TID:
Was there anything that you learned, or put to use later
that came about from this experience?
PATRICK:
I am one to admit my mistakes. It comes from being an athlete
and a team player, learning to say "I" when you lose, and to
say "we" when you win. This assignment clearly taught me
to stay focused and never for a second let the camera off my eye.
I was lucky to be able to react and correct the
frame after I was distracted by the crowd's loud cheer. It's
easy to get caught up in the moment, even when it's a
natural reaction to turn to see what's happening, but we
need to continually remember to document first.
In addition, whenever I shoot something new, whether it's a
sports match, daily assignment, or even a person, I find
myself in a pure state of joy. These golf matches were cold
and windy, and while I had trouble speeding around trying
to figure out whom and where the leaders were - I had fun. I
kept myself visually entertained and happy throughout the
tournament. Even on days I wake up on the wrong side of the
bed or don't feel well, I try and remember that this job is
amazing. I am lucky enough to be cultured, learning about
the world, meeting new people, and traveling to places that
many never get to experience.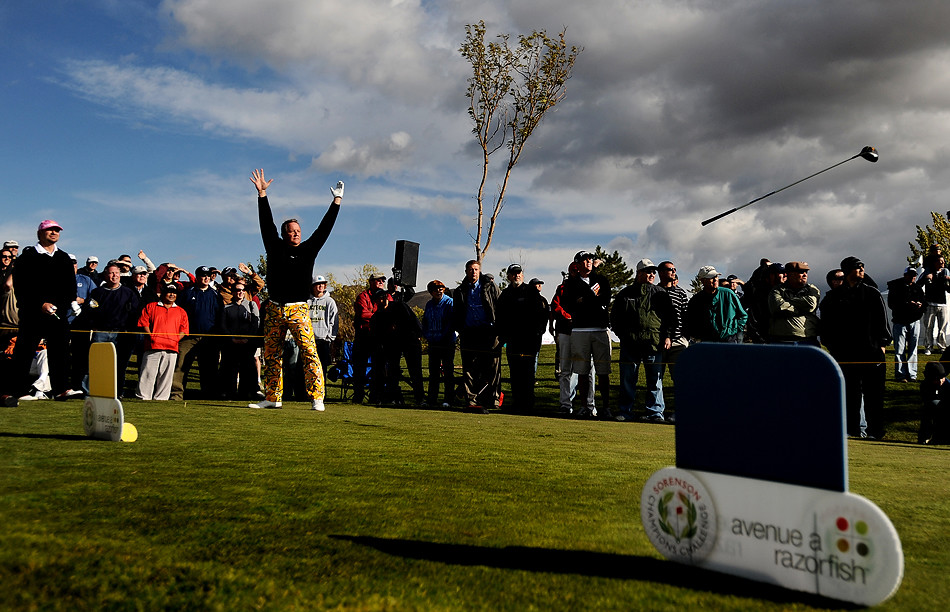 TID:
Anything else you'd like to add?
PATRICK:
I'll leave with a quote from Jeremy Clarkson of "Top Gear"
which I love and relates to taking risks and staying true to your
vision: "If you start to pay attention to everybody's concerns, then
you end up with something bland and boring. You sort of have to
ignore everybody to do the show how we want to do it."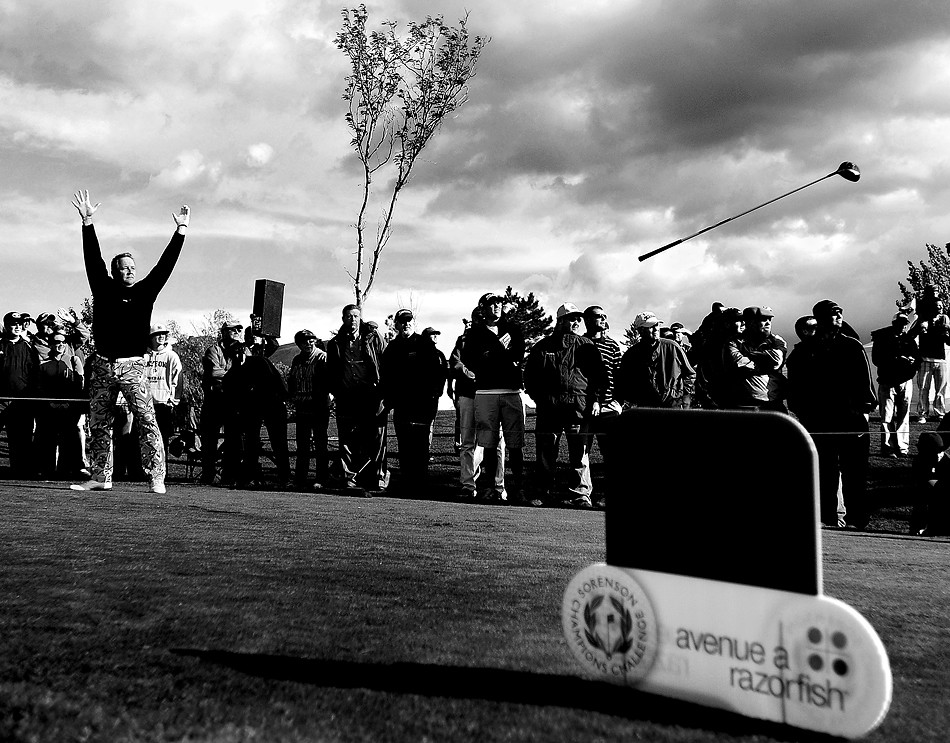 BIO:
Patrick Smith is an ambitious photojournalist currently based in Baltimore, Md., covering the Baltimore-Washington metropolitan region and beyond. The Baltimore native is a self-taught photographer that developed an enthusiastic passion for making compelling photographs while in college.
A two-time Utah Photographer of the Year, Patrick fulfills the needs of editorial, commercial and corporate clients with his
fresh eye for color, versatility and sense of humor. He continues to devote all his time into bettering his craft as a visual communicator and multimedia storyteller and is available for freelance assignments worldwide.
To find out more about Patrick and his photographs, visit his:
Website | www.patricksmithphotos.com
Blog | http://blog.patricksmithphotos.com
Twitter | @patricksmith04
++++
Next week we'll take a look at this wonderful picture by Josh Meltzer:
As always, if you have a suggestion of someone, or an image you
want to know more about, contact Ross Taylor or Logan Mock-Bunting: