Spotlight on Nadia Shira Cohen
Jul 5, 2012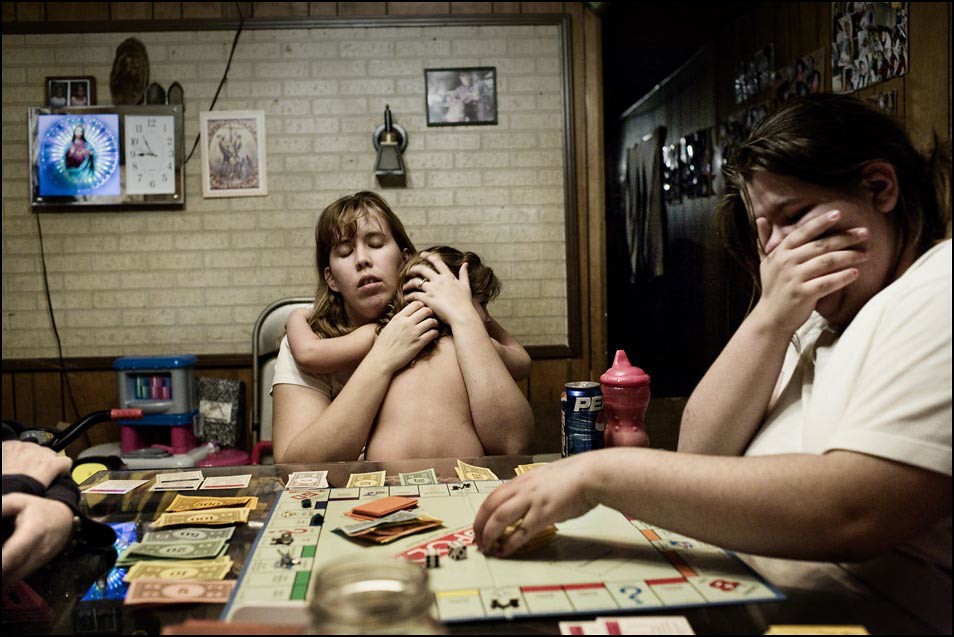 TID:
This is a striking image. Please tell us a little of the backstory.
NADIA:
This is an image taken during a long term documentary project called Oniontown that I photographed over the course of a year on various weekends while I was working as Director of the New York Office of VII. I was feeling stifled by working only on other photographers work and needed to get back to doing my work, even if it meant shooting in small pockets of free time here and there. At that time I had lived in NYC for 8 years and was visually and emotionally uninspired by the city. My eyes and my camera craved the countryside. Trailer parks and rural poverty had always been something foreign to me, as I grew up in a city and therefore it excited me.
I found them to be visually captivating. I had a friend who lived in Amenia, NY, just an hour and a half by train from the city so I thought I would go stay with her and look around for a project to start working on. At the very mention of trailer park among the locals I was told I really must go to "Oniontown," that it was a place like no other, but to watch out that I don't get shot. So of course I knew it was the place I needed to go! So one day I walked up into Oniontown and sat on a bench and waited for someone to talk to me. The place is comprised of about 7 trailers, a pig pen and chicken coup, many abandoned things like a bus, a small crane, children running around and lots of hunting practice.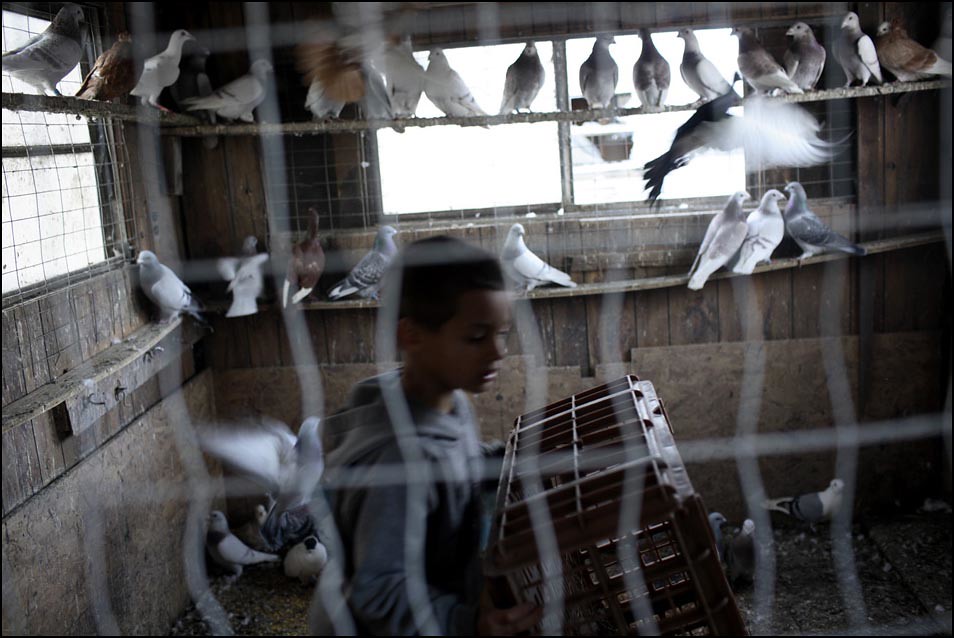 TID:
How did you prepare for this shoot, or what did you to put yourself in place to make this happen?
NADIA:
I was both fascinated and terrified to find myself at the door of Ethel Smith, a 90-year-old great-grandmother who founded Oniontown with her husband in the 50's and made it a home for her budding family who have since sprawled out into nearby trailers with their own families. Ethel was at first very skeptical of me and my intentions as Ontiontown had gained a terrible reputation in the local community through trash talking local journalists and prankster kids. Oniontown children had suffered years of stigmatization in school and so Ethel was reluctant to let me document the real "Oniontown."
I offered to sign her a paper that I would not publish within the local media and that my intentions were to make a long-term documentary of their community within photos. I showed her some work I had done during the Missouri Photo Workshop of another family living in a trailer park and she seemed to approve, letting me come back the following weekend. Then gaining the trust of the rest of the community was another process, but I had been accepted, which was the first step.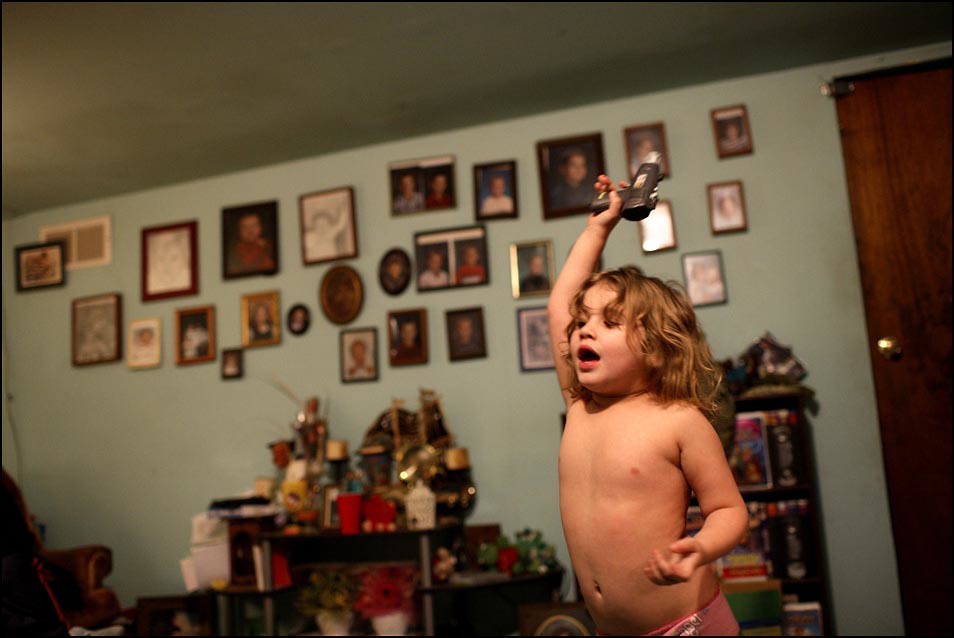 TID:
What challenges did you encounter while working to make this image?
NADIA:
I had been traveling to Oniontown routinely so my ability to become invisible within the family environment and not have the family preforming for me was no longer an obstacle. What was always difficult was making moving pictures out of mundane life moments. When I went up to Oniontown on the weekends I slept at the families houses within the community. There were of course many boring moments where nothing really was going on, but I still had to stay focused and engaged the whole time to be able to catch those compelling moments within all the monotony.
TID:
How did you handle and overcome these problems?
NADIA:
I would stick to some members of the family for a while and then switch when I felt it was time, when I had exhausted the situation I would change environment within the community. I also engaged a lot with the family, many times putting down the camera, playing games, and eating with them, etc.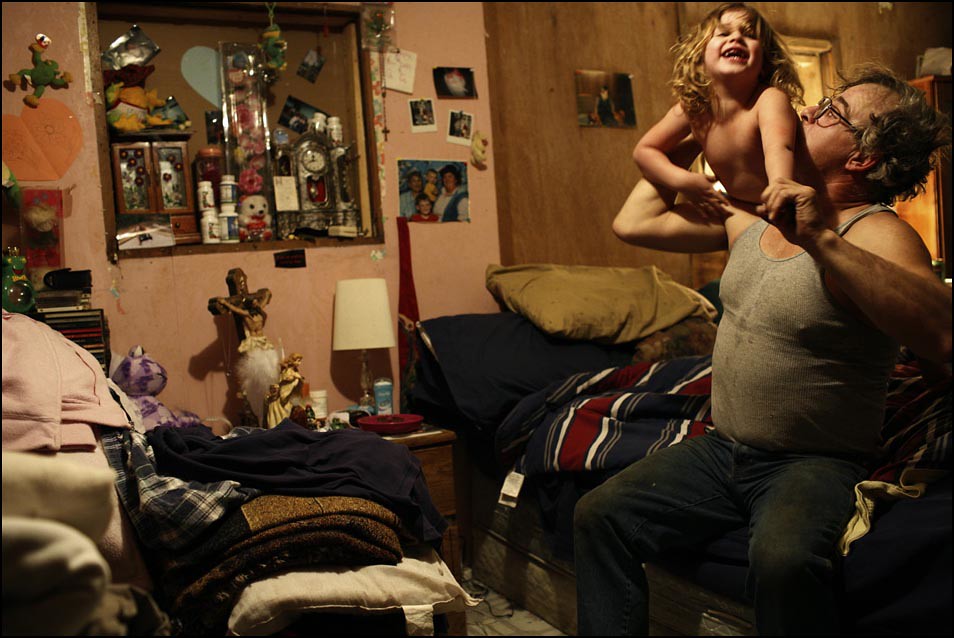 TID:
Now, onto the moment. Can you talk about the moments leading up to the picture and also the actual moment.
NADIA:
I was photographing the family on a Saturday evening. The kids brought out the board games and began playing. Then the adults took over the table and began playing cards, together with some of the older kids. This was a reoccurring event within the house so I wasn't expecting any spectacular images. Photographing the scene felt more like going through the motions of portraying what was in front of me, a family action. I had a lot of time to work on the composition of the frame since they were all seated and playing for a while. Then entered Hanah, Joyce's, who is in the center, daughter.
Hanah was a main focus of my project because she and her mother were living in Oniontown in her in-laws house while her husband was serving some years in jail for his third DUI. Hanah struggled quite a bit without her father and Joyce as well, and so this moment to me captured the salvation of which they found in each other during this difficult time. I had taken many touching images of Hanah and her grandfather (her father's father) since he had stepped in to take on the role of father figure in her life but images of Hanah and her mother like this were more rare.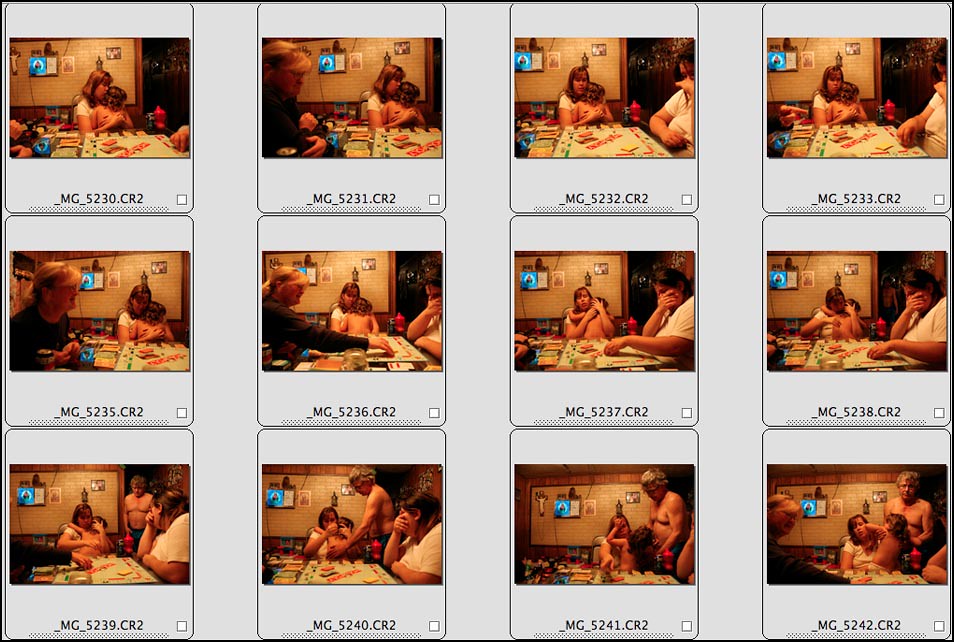 TID:
What surprised you about the moment that you weren't expecting?
NADIA:
I think I simply wasn't expecting a moment that would be worth the final edit of my work. The light was bad, the scene was just a typical card game, but what came out of it was just unbridled life emotions of a family.
TID:
In such quiet moments, how do you help people feel at ease in your presence?
NADIA:
When I first meet the people I do a lot of talking and not a lot of shooting. I ask them a lot about their lives and circumstances, just listening. Then I also talk about me, and my life sincerely. I strongly believe that if someone is opening up to you with their personal life, knowing that it is in order for you to tell their story, you need to do the same. So I do a lot of the getting to know the person exchange before even taking a picture.
Then when I do begin to shoot there is a bit of a transition that can sometimes be awkward, because the subject often feels they have to perform for me. However, if I stick to my camera they usually forget about me pretty quickly and understand what I'm trying to do. If it's a long term project, I play back and forth with being an active part of the environment, meaning that I might be a participant in a card came and then the next one I will sit out to shoot them playing, or I may begin watching a movie with them, always with an active eye out on the situation. If I see something interesting I will then pick up my camera and go into photographer mode. I think it's important despite the close relationships you build with your subjects that it is clear that you are there to document their lives and that you are a photographer.
TID:
What have you learned about yourself in the process of making images like this?
NADIA:
I think it was a lesson in patience. I learned how to really become part of a family environment over a long period of time, with all it's ups and downs, it's exciting and it's very boring moments. Actually living with the family not only gave me opportunities for amazingly intimate moments, but I also had to open myself and my life to them as much as they were doing so for me. In this difficult family situation I became a very wanted guest in the house, possibly a distraction or just something nice and out of the ordinary…someone from another world who came to spend time every now and then and who cared about them. I treasure these relationships I am able to build with people through my work, whether it be over the course of a year or more or sometimes much less time.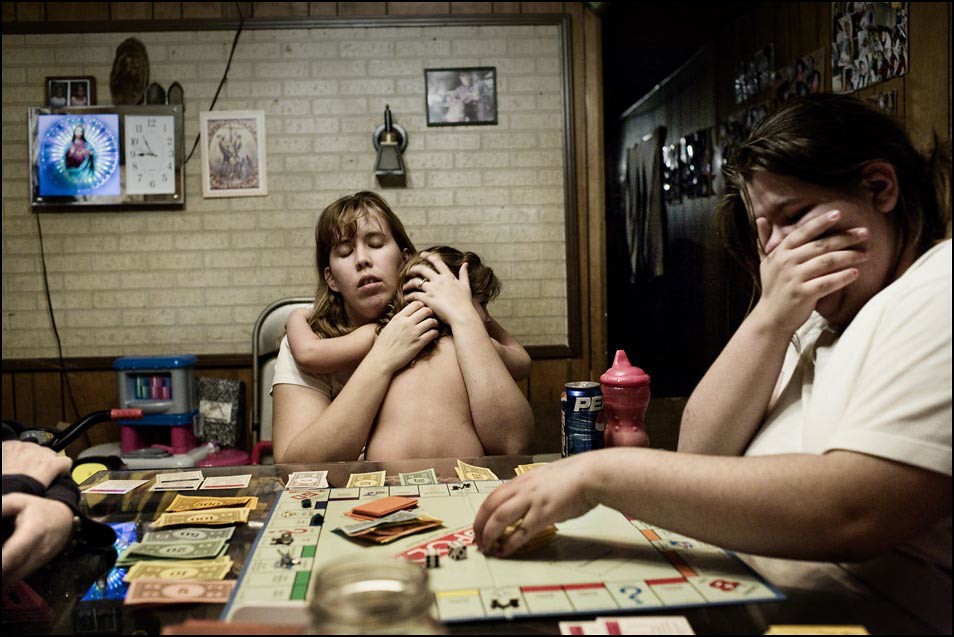 TID:
In conclusion, what advice do you have for photographers?
NADIA:
Don't always feel that something spectacular needs to be happening to make a compelling image. Often when we are presented with a situation we think, may be it's not so visually interesting and assume that that is not going to change over the course of time we are in that environment, but very often it can and does. It helps to get the idea out of your head that you need to make a very literal image of your story because sometimes an image that is less about the action of the characters and more about the emotion will win over all.
:::BIO::
Nadia Shira Cohen was born in Boston in 1977, with a great curiosity for the world and the unknown. Nadia's creativity was first nurtured by her parents, both artists in their own right. At the age of 15 Nadia received her first camera and began exploring documenting the world around her. She continued to pursue her passion for photography at the University of Vermont, with a semester abroad at the SACI school in Florence, Italy. Naturally her curious nature led her into photojournalism. Nadia started working as a photographer in New York City shortly after finishing her undergraduate studies, primarily as a independent photographer for the Associated Press. Feeling the need to understand the underworld of the photojournalism industry, Nadia began working for Sipa Press at their office in New York, where she began to represent the work of the agencies most talented documentary photographers.
In 2005 Nadia went on to work at the world renowned photo agency, VII with some of the worlds most talented and compassionate photojournalists. After initially joining the New York office, Nadia became the Director of North American Sales and Assignments and then went on to become Director of Special Projects.In the summer of 2007 Nadia fulfilled her dream of moving to Rome, Italy where she continues with a creative spirit, to tell stories of the lives of people who interest her and which she compassionately feels the need to expose.
You can view her work here: