Spotlight on Michael Reaves
Jun 28, 2016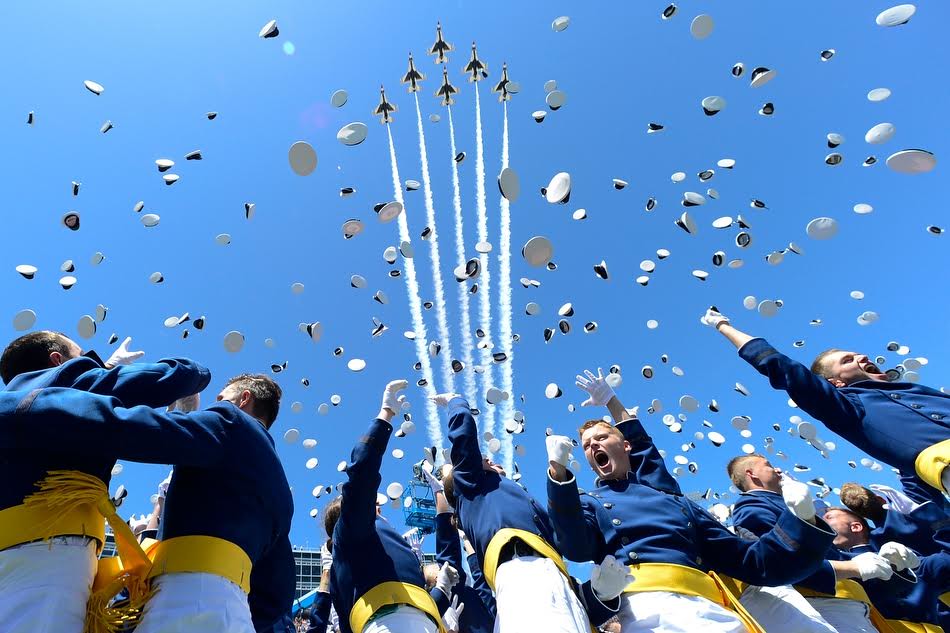 TID:
This is an amazing image. Can you tell us a little about it to set the stage?
MICHAEL:
First off, I just want to say thanks for having me here on The Image, Deconstructed. I have followed it closely through my college career and it has been a invaluable resource for myself and many students in the like. For my first assignment on my internship with the Denver Post I was assigned the Air Force Academy graduation in Colorado Springs. On my drive from Kentucky to Colorado, my editor Ken Lyons emailed me and asked me if I would want to cover the graduation and of course I said yes. After processing through HR paperwork and getting all set with my gear and workflow on Wednesday, I was off to the graduation Thursday morning.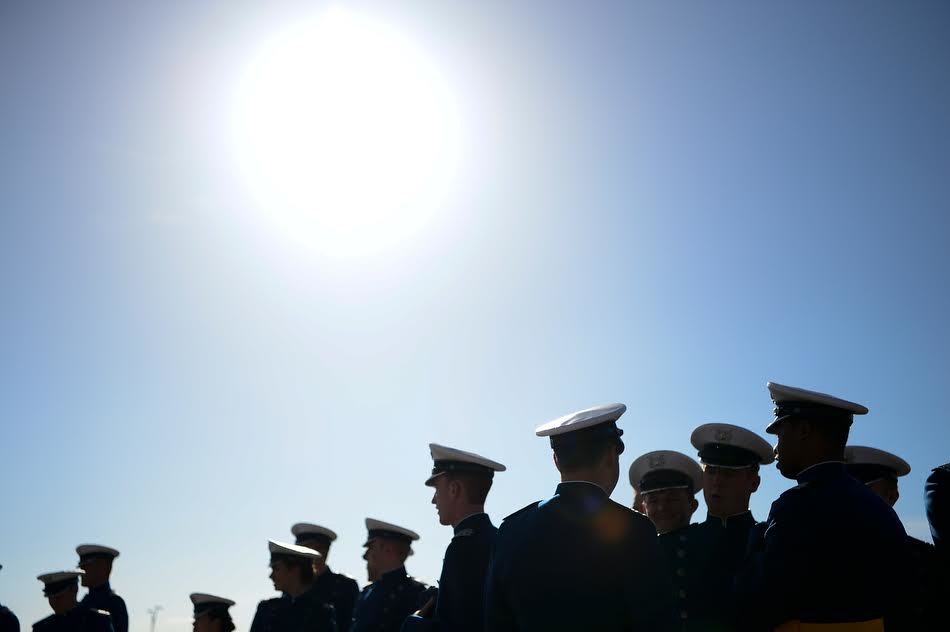 TID:
Since Obama was also there, can you talk about what time you had to arrive/security, etc. as well as some of the logistics
of the shoot?
MICHAEL:
In addition to myself, Denver Post staff photographer Andy Cross was assigned to the graduation and was assigned to focus on President Obama from the riser. My job was to be somewhat of a "roaming" photographer and shoot more of the features and moments of the day. With President Obama in town to give the commencement address, I woke up around 4:30 and met Andy at his home at 5:30 with hopes on arriving around 6:30 before the gates opened at 7 a.m. for media.
At the Air Force Academy north gate we turned over our driver's licenses to the guards and headed to park at the stadium. After searching for the media gate(for what seemed like forever) and the help of two cadets who were kind enough to give us a golf cart ride around the stadium we made it to the security gate. Secret Service officers and K-9 unit checked our backpacks and we picked up our credential and just like that we were in around 7:30.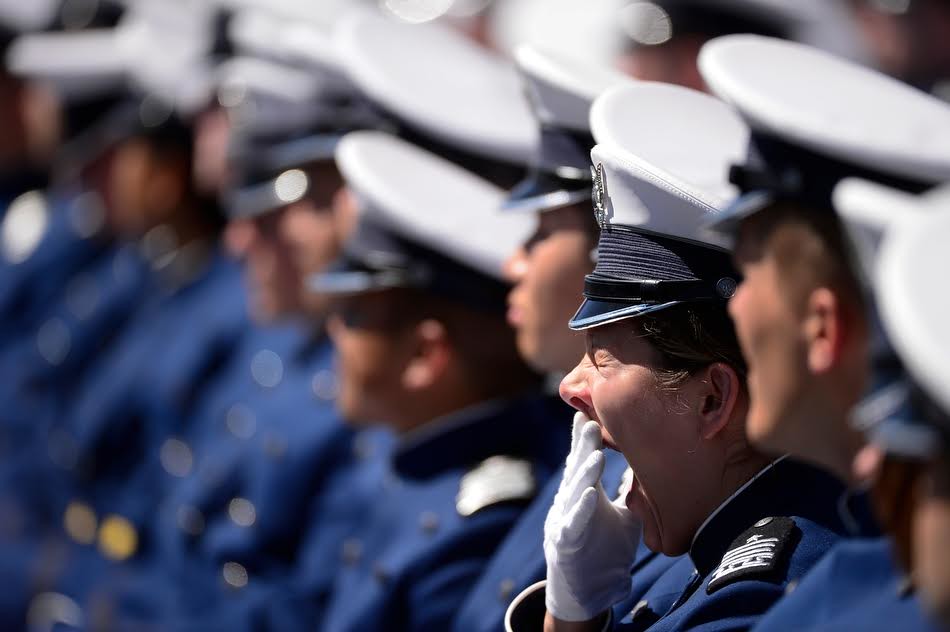 Andy and I set up our laptops and headed down to the field to check-out where the positions would be and what access we would have. In years past when the President is not in town, photographers have a relative amount of free reign around the stadium but with President Obama present, free reign was more like a controlled reign. We were allowed to roam in the back and walk about halfway down the isles and side with a PR escort.
TID:
I'm always interested in previous experiences and how they prepare us for future ones. As you framed this assignment up,what did you draw from in the past?
MICHAEL:
With it being my first assignment with the Denver Post, I really wasn't sure what they were expecting from me to be honest. I think as students, in our learning we are so often preached to focus on the story and that's really what I wanted to portray. I thought in my head I needed a few features each with the elements of light,composition and moments and then the aforementioned photos of the President and wide, medium, tight shots to help round out the gallery. I had also done research and looked at previous galleries and videos from the graduation so I knew what to expect and what the feel was like and would be prepared for any circumstance.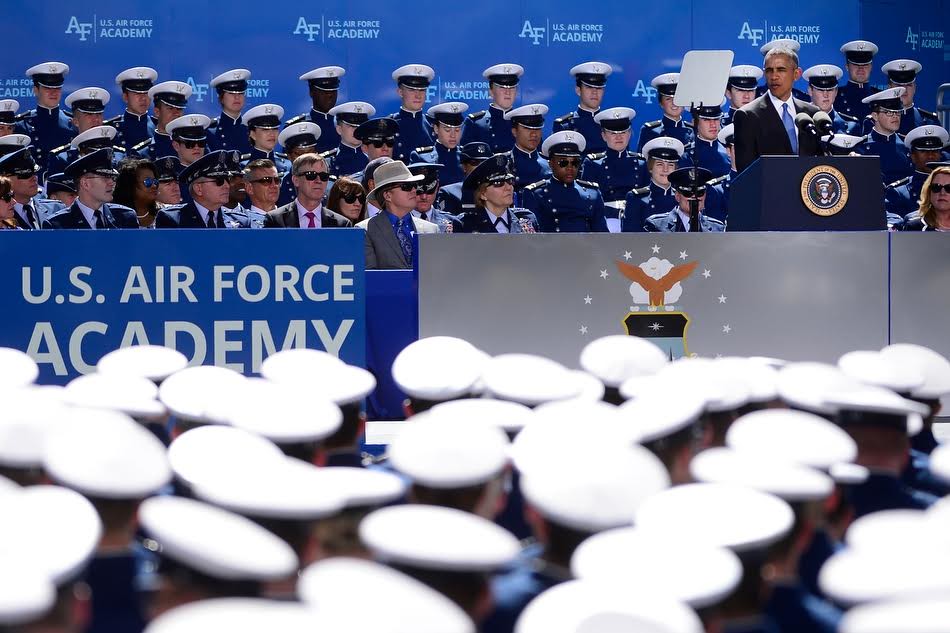 TID:
I'm always interested in how photographers problem solve. What problems did you encounter during the shoot, and how did you overcome/work through them?
MICHAEL:
As a photographer, I think one of the most indispensable skills we can have are problem solving skills. Every photographer, whether a student or a professional has an arsenal of stories full of things that have gone wrong on assignment. I think the best work through them by using knowledge, experience and common sense to get through it. Surely better than I did on this day. Naturally, being my first assignment I was nervous which didn't help when frantically trying and worrying about difficulties I faced.
The first of problems was with the President in town they had shipped in cranes with lighting fixtures to provide light on to the president while he spoke. This added a distracting element as I was prepping for the flyover photo at the end of the commencement. I was worried that when the Thunderbirds came over the stadium they would in turn be blocked by the fixtures.
Secondly, with the President speaking, the shooting positions were much more limited and Obama's traveling press corps had priority near the stage was in most of our photos. Working around and finding angles in an already limited environment to make "clean" images without other media in the photos made for quite the challenge.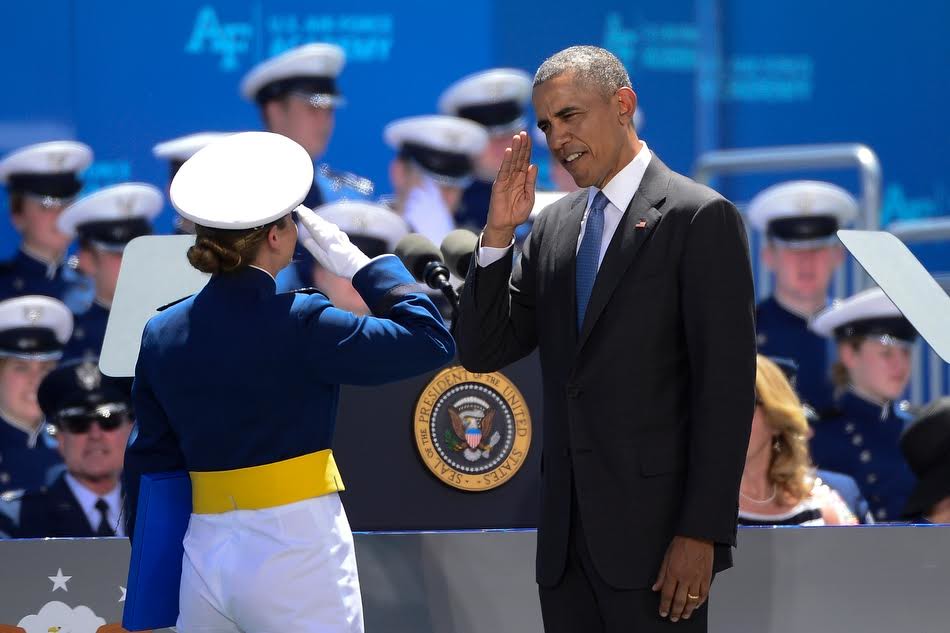 Lastly, with the President speaking, their were countless different things we were told about positions and procedure by members of his staff, the Air Force Academy PR and event organizers. In the end, we had to ask for permission whereever we went and go slowly to make sure we didn't end up in a position where we were not allowed to work from.
TID:
What surprised you about covering this event?
MICHAEL:
I think I was surprised at the organization and the pride connected with graduating from the Air Force Academy. I spent most of the morning shooting features outside of the main gate of cadets lining up and families entering for the graduation. Graduations are naturally one of the biggest moments in young people's lives but graduating from a military school provided much more anticipation for the cadets and their families. I also thought it would be a crazy event with disorganization and franticness but overall it ran smoothly and I never felt as if I didn't know what was happening.
TID:
What did you learn about yourself during this process? I always like to hear what people learn about themselves during shoots, so they can apply them moving forward as well.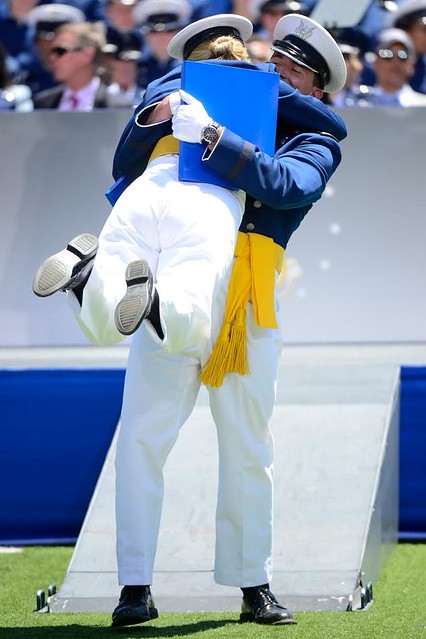 MICHAEL:
I think I learned a lot about myself as a photographer during this particular assignment. Staffer Andy Cross had to tell me about 20 times(slight exaggeration, more like 10) that I shouldn't overthink it and just take photos. I got so caught up in my head that I lost most, if not all, of my focus on my purpose for being there and just making storytelling images. I learned to take every assignment, whether its the Super Bowl or just a simple daily assignment at local park, as equal importance and patience. While it may be a bigger scale assignment to the public, you still using the elements of light, composition and moments along with shutter speed, aperture and ISO to make meaningful images, which we have been doing for many years.
TID:
What have you learned about others?
MICHAEL:
Through the years, I have learned that people are people. Everyone has a story and everyone thinks their story is insignificant to the greater whole. Yet each story is what makes us who we are and ordinary people with extra-ordinary stories make the world go round. The power we have with our photos to make people feel something and enact change is unlike any other line of work. I have laughed. I have cried. I have cried laughing. Just through the power of photos and the power of a story.
TID:
Now, onto the main image. Can you walk us through the moments leading up to it? Additionally, can you talk about what you were thinking processing while making the image?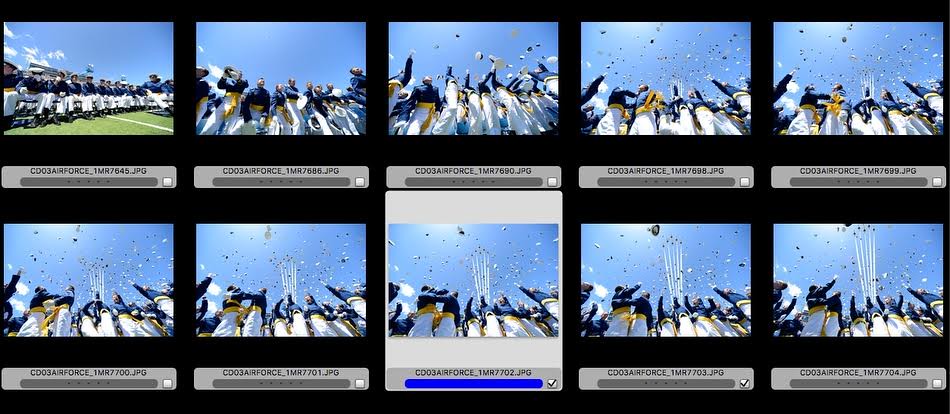 MICHAEL:
Going into the assignment I knew the token image was the flyover and hat toss that took place at the very end. I research through the AP, Getty and Denver Post archive and looked at past images to understand the surroundings. In the office, other photographers shared their stories about what went wrong and right for the photo. Thankfully staff photographer John Leyba had suggested using the Nikon 14mm for the flyover just to be safe and get the planes in the image.
The big challenge was where we were going to be able to position ourselves in comparison to the lighting fixtures. Right before the moment of the image,the PR staff let the photographers position themselves in front of the cadets who were in their seats. I took a few test images and got on my stomach as low as I could. I knew as soon as the speaker said "Class of 2016, you are dismissed" the Thunderbirds would zoom over. As soon as the speaker said it, I hammered the motor drive and hoped the planes flew over at the peak time of the cadets expressions and hats to make the photo. I was lucky the cadet in the front row of the image was very visual and ended up making the image pop.
TID:
In conclusion, what advice do you have for photographers?
MICHAEL:
Just have fun in everything you do. We are so very lucky to wake up on any given day and doing something different and interact with people in the way we do. Regardless of the images we make, we are welcomed into people's lives usually on their best or more than likely their worst day and share their story with the world and that is not a role to be taken lightly or for granted. If you truly love what you do, that result will show in the images you create.
:::BIO:::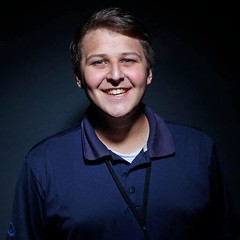 Michael is a business management and marketing senior at the University of Kentucky and currently serving as the photo intern at the Denver Post. Raised in Louisville, KY, Michael grew up playing sports and eventually realized that though he couldn't go pro in baseball he could at least be near sports through taking photos. He began taking photos in fall 2012 as a freshman at UK and has held internships at the Dallas Morning News and the Denver Post. Most recently, Michael was recognized by the KNPA as the Kentucky College Photographer of the Year for his work in 2015.
You can follow Michael's work on Twitter and Instagram at @MichaelMReaves and on his website at
michaelreavesphoto.com
.