Spotlight on Michael Ciaglo
Aug 30, 2014
TID:
This is a classic moment in all sense of the definition, fleeting and surprising. Please tell us a little of the backstory of the image.
MICHAEL:
First off, thank you so much for the opportunity to talk with you guys. I'm a huge fan of the site.
This was not the first disaster to hit Colorado Springs last summer. We had already had the Black Forest fire, which turned out to be the most destructive in Colorado history, and several other flash floods. This photo came after two days of already heavy rains. What some papers called the 1000 year flood was ripping through communities to the North, and while we didn't get hit as hard, the mountains were sending a lot of water down streams and into town.
This was the second day I was out covering the floods with the rest of our photo staff. The flooding we had been experiencing all summer was mostly located in Manitou Springs, which was a few miles North from where I was when I shot this photo. So while I was fairly seasoned shooting in Manitou Springs, this was new territory for me.
TID:
How did you begin the shoot and what were you looking for initially?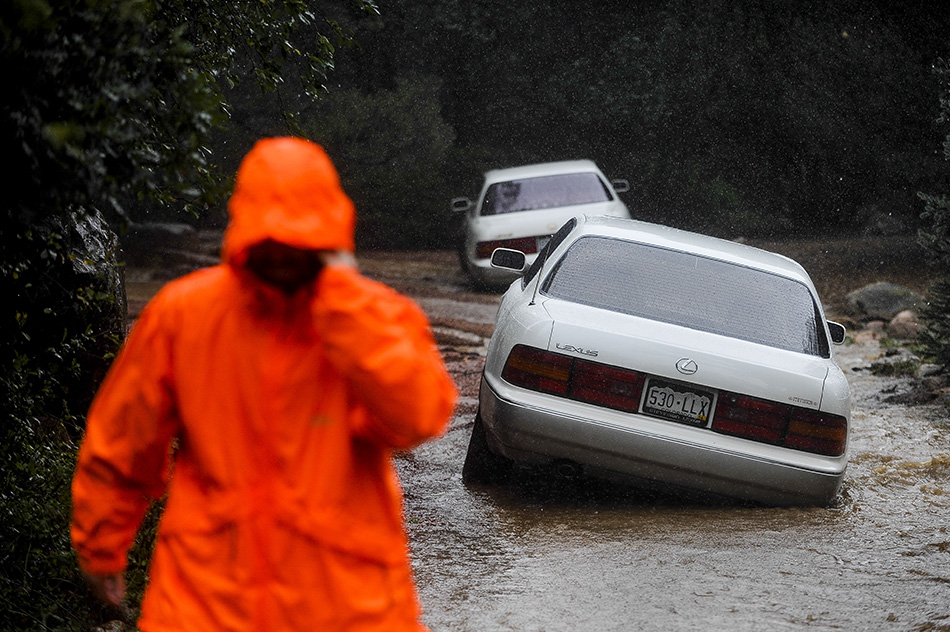 MICHAEL:
When I photographed the mailman it was actually my second trip out to the flooding that day. I started my first trip out there in the morning looking for any iconic scene that captured the high water, damage and any emotion or reaction to the disaster. I spent that time shooting photos of cars sunken in their driveways, washed out roads and people looking at the swollen river. When the rain disabled both of my cameras I returned to the office to file what I had shot and revive the cameras under our old film dryers.
A few hours later, we heard over the scanner that the Colorado Springs Heavy Rescue Team was cutting down a tree that was in the middle of the river and in danger of falling on a house. So I headed out again, really just hoping to make a photo that showed the scope of the damage that these rains were bringing to the region.
TID:
How did you prepare for this shoot/moment?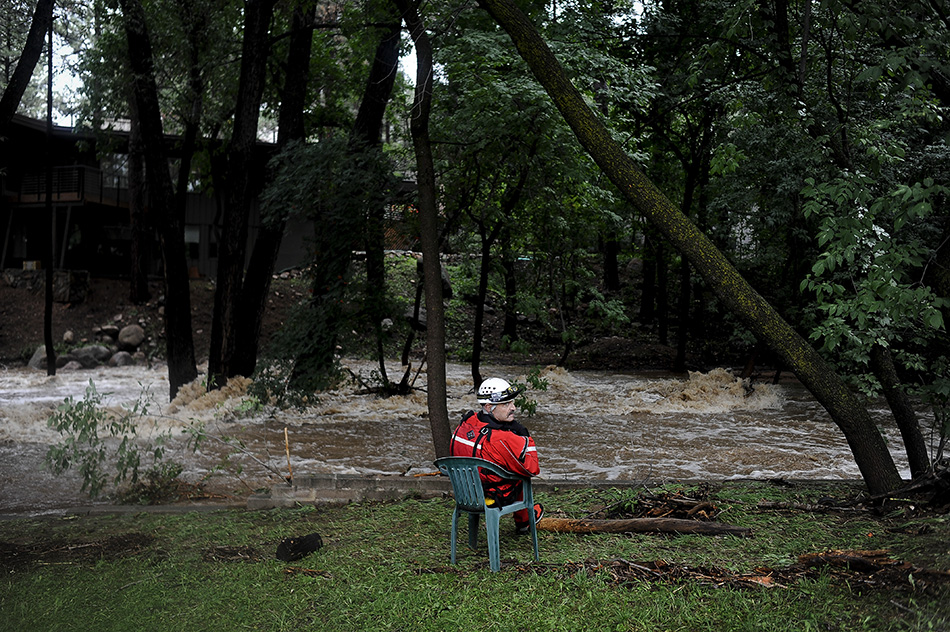 MICHAEL:
A lot of the preparation for this came from the other disasters I had been shooting earlier in the summer. I really learned how to dive into a situation headfirst but to keep my eyes open for both photos and my safety. While I may not have prepared my gear as well as I should have for the shoot (I just had a couple plastic grocery store bags wrapped around the cameras to keep the rain out), I felt mentally prepared to insert myself into the disaster and confidently make photos.
TID:
What challenges did you encounter while working to make this image?
MICHAEL:
I think the biggest challenge was realizing that any photo I made was very likely not the story that was going to be the big news of the day. The flooding up in Boulder and further North was so much worse that whatever I shot was going to be an after thought to most readers who were concerned with a much more serious situation up there. A shot of high water or any typical flooding photo was going to be dwarfed by that destruction, but I knew I needed to shoot something that would bring home the scope of our flood to the people in the Springs.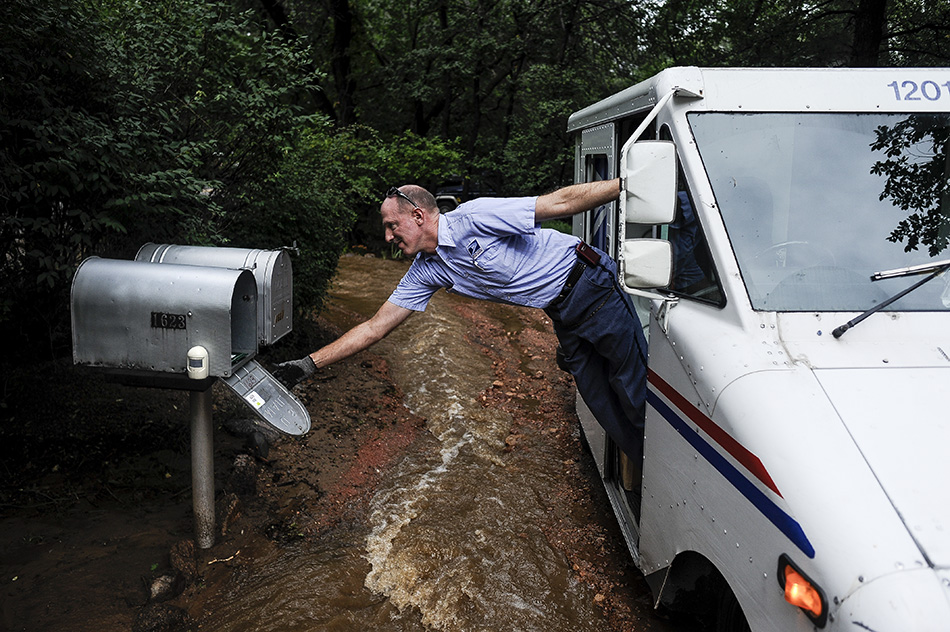 TID:
How did you handle and overcome these problems?
MICHAEL:
I wish I could say that I had more to do with the problem solving than I actually did. The best thing about being a photojournalist is the people we get to meet everyday, and this day, it was the people I met who saved my photos. Their actions, watching a flood from a lawn chair and athletically delivering the mail, gave my photos a different look that separated our floods from the ones up North.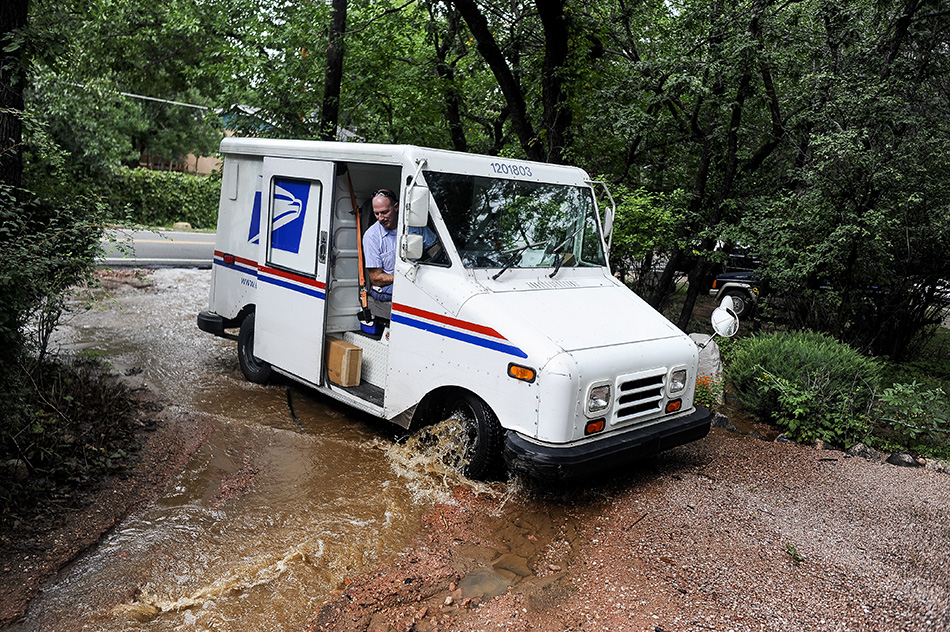 TID:
Now, onto the moment. Can you talk about the moments leading up to the picture and also the actual moment.
MICHAEL:
The mailman moment happened after I had left the Heavy Rescue Team to head back to my car. They were done cutting down the tree and I thought I already made my most impressive flood photos that morning. On the way back to the car I had stopped to photograph a particularly flooded backyard, and when I came out from the back, there was a mailman in the road next to the house. Their mailbox was in a roundabout like area to the right of the road across a small stream that had formed from the flood so he hadn't delivered any mail when I approached him.
I introduced myself as he was looking at the stream when he asked if I thought he could make it over to the mailboxes. Since I had just walked through with no problem, and assumed he wanted to walk over as well, I told him I thought it should be no problem. He then started up his truck and drove through the stream and over to the mailboxes. I ran in front, shooting as he crossed the creek, until he parked a little too far from the mailboxes to easily deliver the mail. At this point I was sure he was going to have to join me and get his feet wet, but he opted for the more acrobatic and awesome option of hanging from his truck to throw the mail in and close the box with his foot.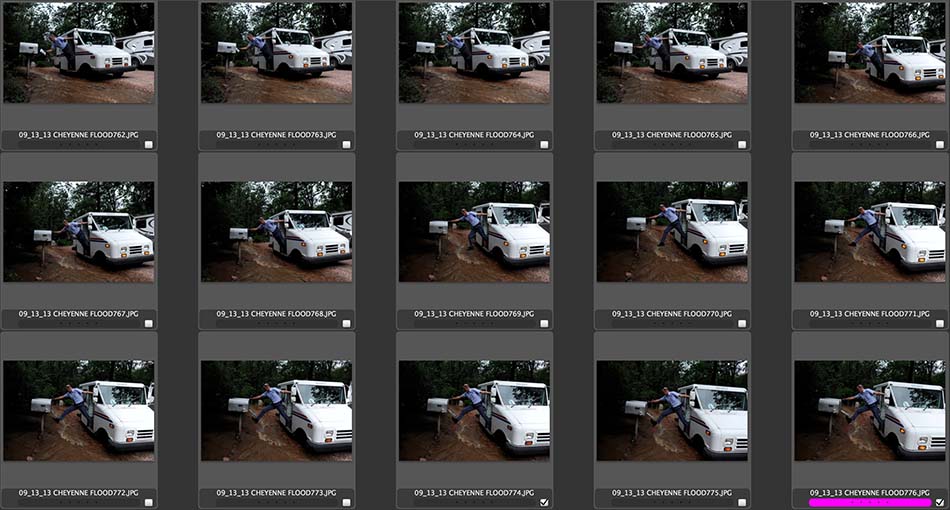 TID:
What surprised you about the moment?
MICHAEL:
Pretty much the entire moment was surprising. First off, the street we were on was closed. There were no cars and hardly even many people. So seeing a mail truck casually driving up the road felt fairly surreal. And then to top it all off, this mailman was a gymnast.
Sometimes I'll return to photos I've shot and think about what I could have done better, or if the person I was shooting just did something a little differently, how much better a photo it would have made.
This was a situation where, even in my wildest dreams, I wouldn't have known to ask for him to hang out of the truck like that and kick the mailbox closed. It wasn't even in the realm of possibilities in my mind, so it was definitely a pleasant surprise when it happened. And then, as soon as I got his name, he drove off down the street like nothing had happened. It really felt like a dream.
TID:
What have you learned about yourself in the process of making images like this?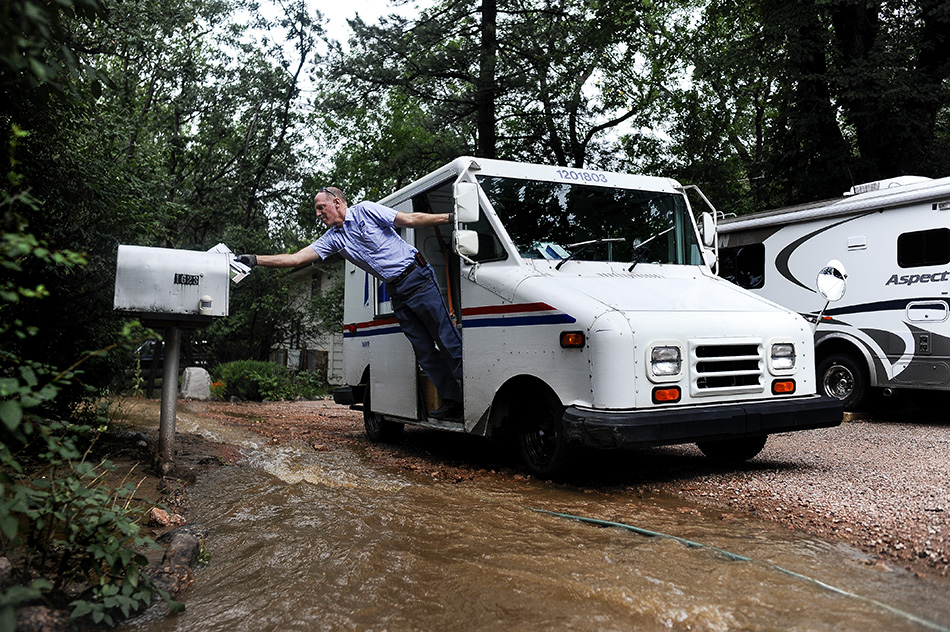 MICHAEL:
I think out of this experience, and many others, I've learned to respect the fact the photography is a two way street. Half of it is being prepared and being ready to make a photo, and the other is relying on someone else to provide you with an opportunity to make something great. If it weren't for our subjects letting us into their lives for a moment, so many photos would lose their spice. I think I've come to embrace this fact and be more open to waiting for moments to come together rather than working to make something happen.
TID:
What have you learned about others?
MICHAEL:
Sometimes people will do crazy and awesome things that will bring a smile to someone's face even in the worst of situations.
TID:
In conclusion, what advice do you have for photographers?
MICHAEL:
Seek out the places where opportunity is most likely to knock. If you are there and prepared, some incredible things will pass in front of your lens.
:::BIO:::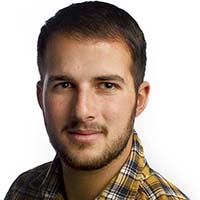 Michael Ciaglo is a staff photographer at the Colorado Springs Gazette. He was recently involved as the photographer for the Gazette's Other than Honorable series, which won the 2014 Pulitzer Prize for National Reporting and an honorable mention in the Returning Veterans, Coming Home category in the 2014 NPPA Best of Photojournalism contest. The mailman photo was also awarded an honorable mention in the feature category in the 2014 NPPA Best of Photojournalism contest. Michael was named the 2014 NPPA Region 9 Photographer of the Year. He graduated from the University of Oregon in 2012.
You can see his work here: www.michaelciaglo.com