Spotlight on Maura Friedman
Jan 2, 2017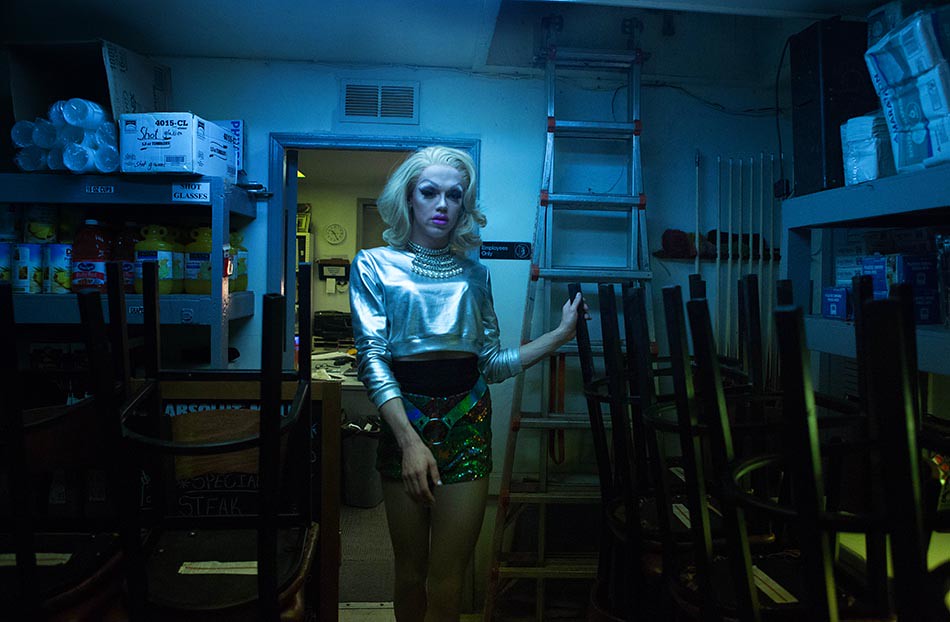 TID:
What an beautiful image. When I saw this on your Facebook feed, I was hoping you'd be up for an interview regarding it. Can you tell us some of the backstory?
MAURA:
Sure! Super honored you asked. This shot was taken in Atlanta, but before I moved here. At the time, I was living in Chattanooga, Tenn. working at the daily newspaper and primarily shooting for long term projects. I was passionate about the work, but I was still feeling incredibly burned out – both creatively and with what I felt like was my own slow professional development. To push back on all that, I tried to say "yes" to every visual event or opportunity that came my way, so I could have fun shooting for myself.
I was just trying to take a breath and enjoy making photos again. This was all while I was dating another photographer, so I would often tag along to any of his assignments where it wouldn't be inappropriate for me to act as an assistant or, even better, to make my own frames. That's how I ended up at Tossed Salad, a weekly drag show at Burkhart's Pub where I took this shot.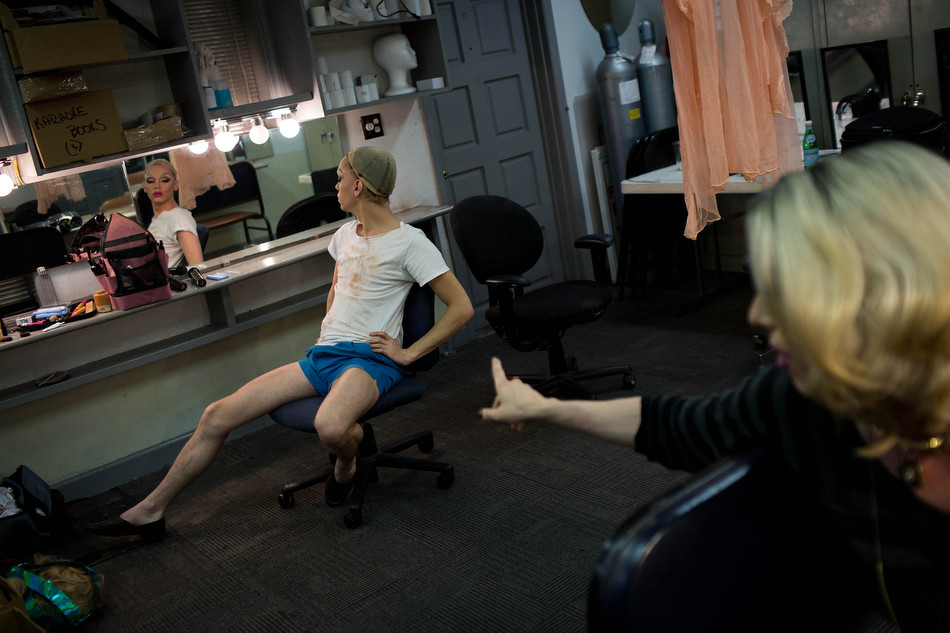 That photographer was there to make an image for the Atlanta alt weekly, Creative Loafing, announcing Brigitte Bidet (pictured) as the "Hostess with the Mostest" for the paper's annual "Best of Atlanta" issue. I came as "Maura takes pictures too, is that cool?"
Shooting the drag show and scenes backstage the Sunday before I worked another week at my newspaper definitely refreshed my shooting with some immediate feedback (it was such a visually rich scenario) and helped me realign my mind to do better in my long term work.
TID:
Why were you feeling burned out?
MAURA:
It's totally common, in my experience. Burnout is almost like the photojournalist equivalent of the flu. I think my own burnout came both from the work I was doing and the context in which I was doing it. Although I really relish in longterm project work, and hope to continue mostly working in that way, it can be really creatively exhausting to shoot and shoot and shoot without any feedback or an end product to feel like a grounding point for the work and relationships you're creating.
And, as a young visual journalist, it was hard for me to gauge and encourage my own progress working that way, which was a million times more frustrating because that's how I prefer to work and how I also feel I work best.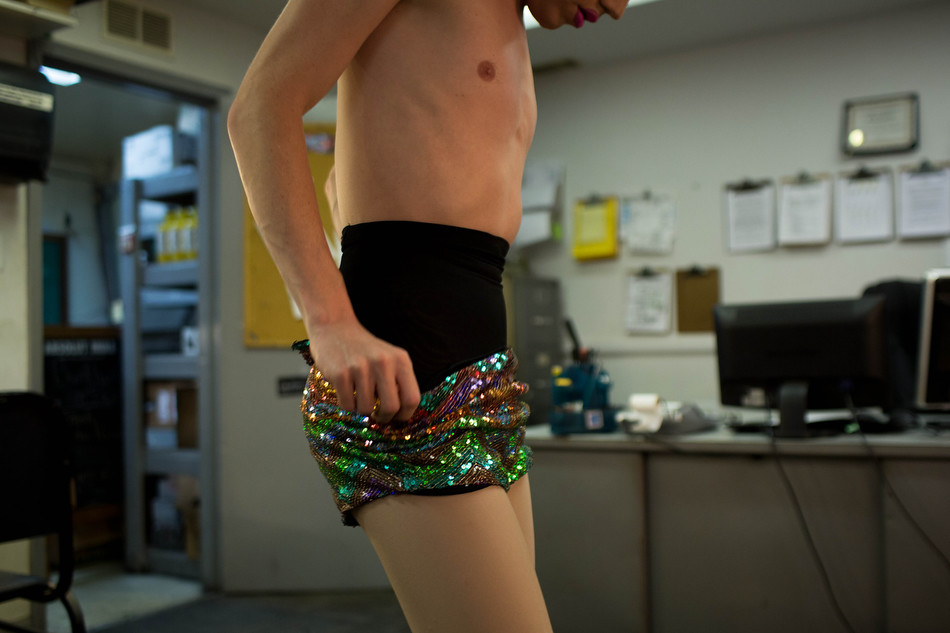 This was also all at a mid-sized newspaper trying to do a lot with a small staff (sound familiar, everyone?). And so although I was so thankful for the space and the freedom I was being given to pursue this work, I definitely felt a gap in mentorship and feedback that I think so many newspaper staffers feel as editing positions get stretched or even eliminated.
It kind of became a hole where I was hungry for the work, and I cared so much about the people I was documenting, but I didn't feel like my skills were advancing quickly enough to do these stories justice.
TID:
How do you normally work to overcome this feeling?
MAURA:
I first started confronting not feeling big enough to take on the work I was doing, when I shot my first ever longterm project for the newspaper, one about suicide. In discussing that with one of the women I was documenting, who had such an incredible story of loss and strength, she told me "you're good enough because you're here and you care." And that was such a generous act of encouragement that reminded me that technical skills are only part of my job.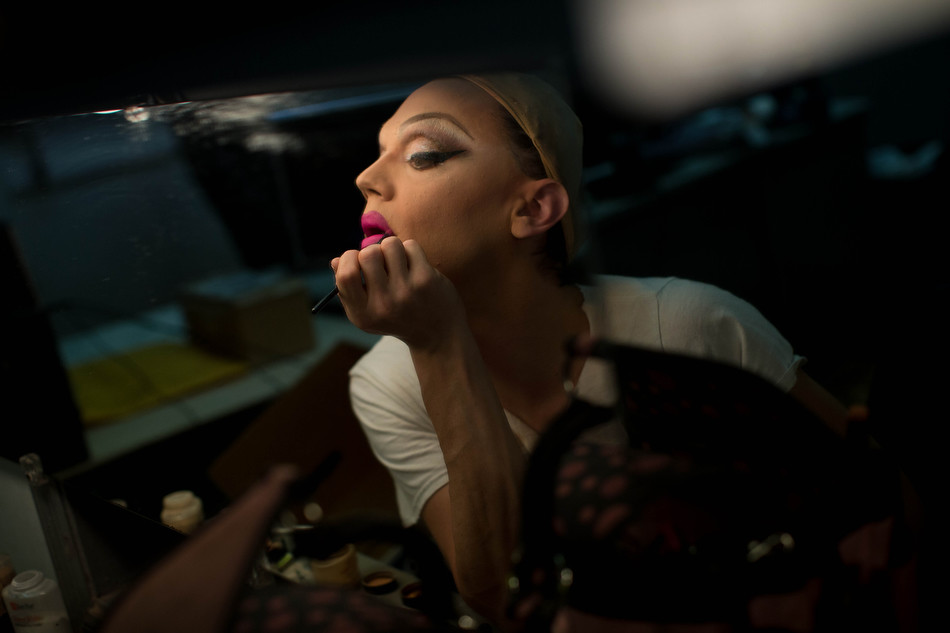 That being said, technique and vision are important to visual work. Most of the credit for any development I've made in those arenas goes to my photojournalism family. I feel fortunate that I've had the time and (let's be real) the expendable income to go to a couple of workshops a year. The people I've met at workshops – both as faculty and as peers – have become this big network of editors/cheerleaders/besties. When I feel like I've hit a wall or that all my work is the absolute worst, I have a productive outlet for that negativity – seeking feedback from people I trust.
These relationships have ranged in formality from texting some images occasionally to weekly Skype critiques to making an edit of an in-progress longterm project to see where there are holes in my story arc. I always come away from these interactions feeling connected to my community, with tangible ways to shoot or images to shoot for. And I end up feeling more capable and worthy as an artist.
TID:
I always struggled with photographing in spaces where I'm not on an official assignment. How did you approach this situation without a specific outlet to publish?
MAURA:
I try to walk the fine line between not misrepresenting myself and not making it sound like This Is A Big Deal You Should Think Twice. So I usually open with something like "Hey! I'm a photographer/documentary photographer/photojournalist, but I'm trying to just have fun taking photos tonight, is that alright by y'all? Is there anything I should know or anything I should steer clear from?"
Other then that, I think it's using all the normal empathetic tricks of the trade – read the room and keep an eye on if folks are giving you cues. Stay in control of your body language – open posture, fluid movements, a quick smile. All the sorts of things you would be using on assignment to stay a friendly and unobtrusive presence.
And then as far as publishing the work – no one wanted it! A few places liked the images but either thought it wasn't a great fit for their audience or that drag stories were kind of tired (Ru Paul and I disagree, but whatever). But I love them and, like I said earlier, shooting them was really personally refreshing. And since some images from that night made their way to my portfolio, they've become photos that people love and want to talk about in editor meetings and honestly, have gotten me work.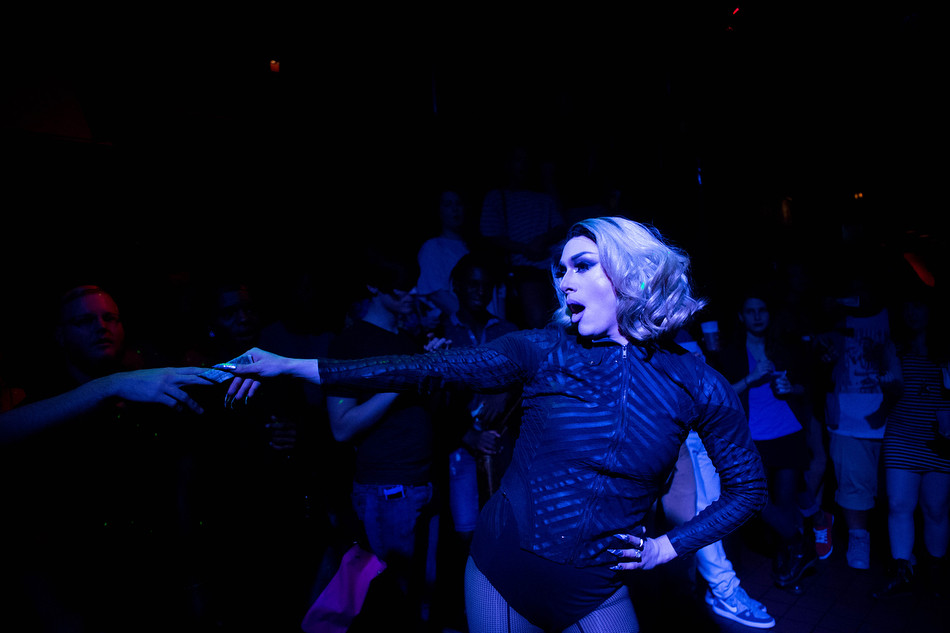 And I can't tell if this is more frustrating or inspiring, but it's important to remember that our work as visual journalists and artists is not the sum of our published clips. Our work is everything we invest ourselves into making (although I know, my landlord still won't accept that as payment).
TID:
I'm always curious how photographers problem-solve. What problems did you face while you where there, and how did you overcome them?
MAURA:
I think the main problem, which I'm always navigating if I'm on an assistant job, was staying clear of the other photographer and out of his frames. But I just tried to stay a couple steps behind him, next to him or in a totally different part of the room – kind of the same guidelines any good writer working with a photographer will stick to. It's great when you're working alongside someone you shoot with often because you get to be really good at reading each other and anticipating each other's needs and movements, just like we do with our subjects.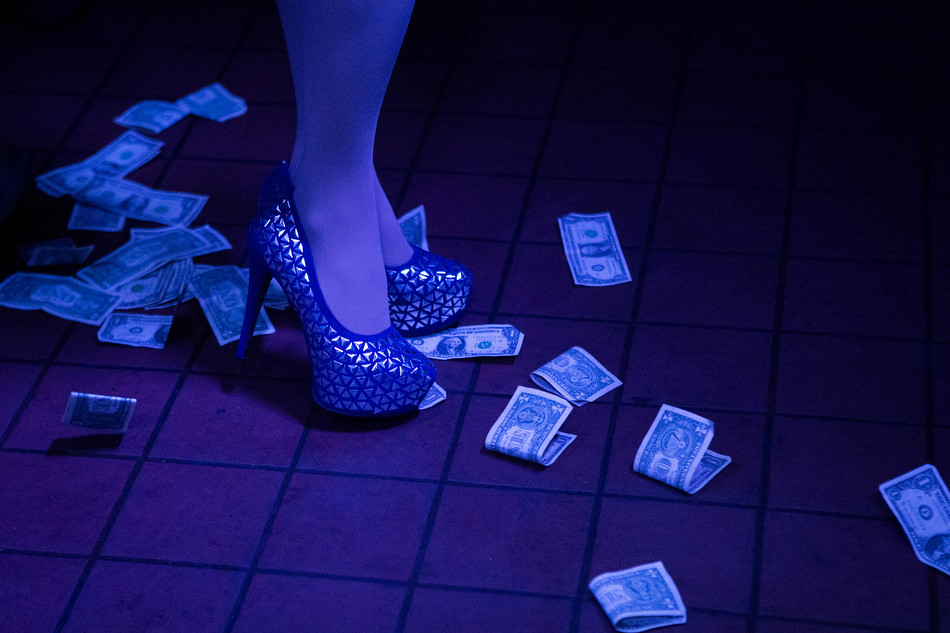 TID:
What did you learn about this community that you didn't know before going into this?
MAURA:
Just the level of commitment to character and audience that these folks have! I had a little background knowledge about drag performances from attending a few, but I had never thought about all the work that goes into each person's specific characters, including crafting outfits and makeup looks that would be true to that identity but also a little novel for the audience.
Tossed Salad is a weekly show with a lot of regulars (Sunday nights at Burkhart's Pub, let's go together!), so the drag queens want each week to be special – and that ranges from new choreography to a different leotard to expertly diffusing drunk white girls trying to get in on the act. There's so much simultaneous hustle and artistry required to pull off what looks like an effortless, fun show from the crowd perspective.
TID:
What did you learn about yourself during this shoot? I'm always very curious as to what photographers learn about themselves.
MAURA:
I can be a little flighty in my photography – I'm always working the room, working the angles – and often that constant movement means I can miss small adjustments that would enhance a frame, or just totally miss moments. And while I usually walk into a situation telling myself "Slow down, see the light and make more intentional images," that mantra usually dissolves pretty quickly – especially if I I'm overwhelmed by a visually rich place or an important scene or a tight deadline. In this case, being forced to slow down because another photographer was often in the room was a such a good growth exercise.
I had to actually do what I know I *should* do and it felt so soothing and made for a nice package of pictures.
TID:
Now, onto the moment. Can you tell us what was going on in the lead picture and how you mentally worked through the scene to capture the image?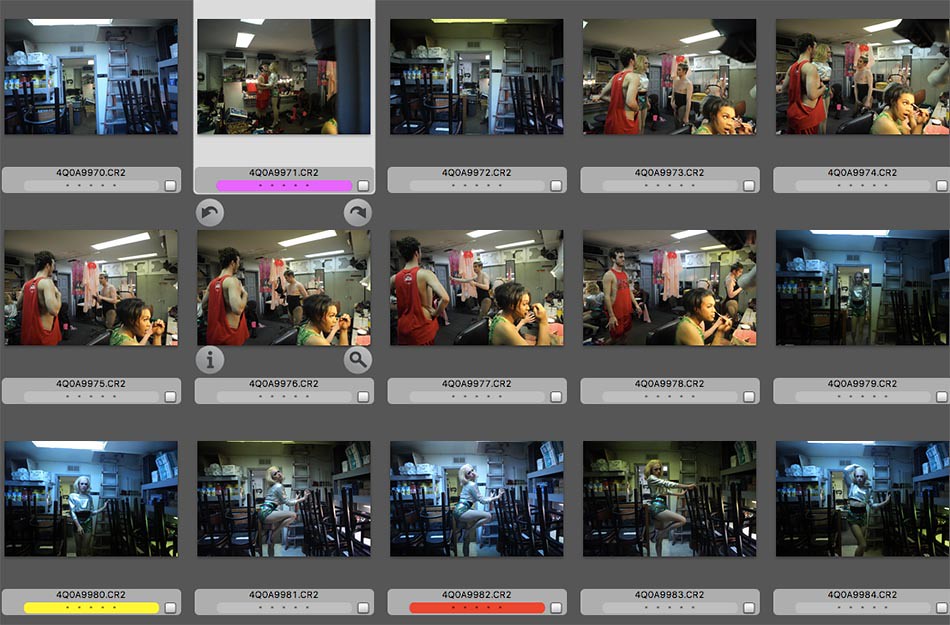 MAURA:
From the moment I got to Burkhart's Pub, I was enamored with the juxtaposition between the glamorous hair and makeup and costumes the drag queens were pulling together in this barebones back office and storage space. It was a little gritty, a little funny and spoke to the realism behind most fantastical shows. So that was a theme that I was keeping in mind as I shot around the space.
I think I moved out to the storage space that connects the back office/dressing area and the bar to give the other photographer some space, which is when I really took in the blue glow that space had, coupled with the spotlight effect the bright back room created. I made a few frames of people walking in and out of this space throughout the night, but I knew I really wanted to get Brigitte going through, so I kept her in my periphery and went out to that same frame every time it looked like she was leaving. There are a few frames in this sequence – the one right before where she's too far, this one where she's kind of suspended between seeing and registering me, and the next one where she starts posing.
So this frame is a combination of planning, catching a moment and having a friend look through my edit and say "no, this is the shot that works."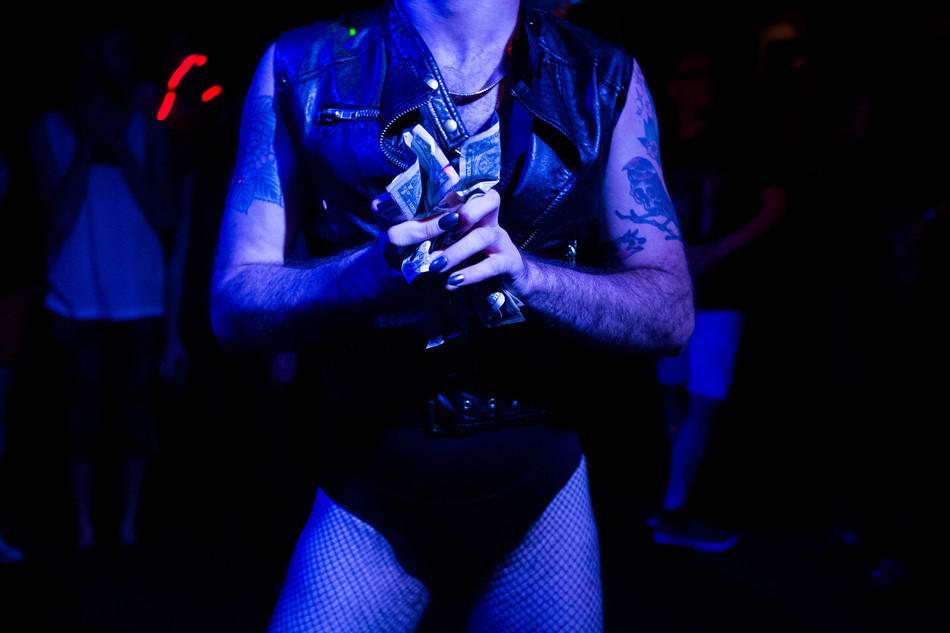 TID:
In conclusion, do you have any advice for photographers that you've learned from this (or from your career)?
MAURA:
Get you a photo fam!
I cannot say it enough, surrounding myself with folks whose visions, feedback and friendships I trust has been so pivotal to growth. And I'm super grateful to all of them. I'm freelancing in Atlanta now, but I'm not creating in a vacuum or without direction. And these folks aren't either! We have editors, sounding boards and people to say "keep going" in each other. Workshops have been a great way to meet and stay connected with so many amazing people and The Image Deconstructed workshop has been an especially thoughtful and thought provoking space for developing myself and these relationships, SO EVERYONE COME. Let's do pickle backs together.
And, beyond TID and you specifically, Ross, some important people and talented creators who I consider (possibly forcibly) on my team and deserve shout outs are Mary Helen Montgomery, Justin Gellerson, Tyler Stabile, Lathan Goumas, Jackie Molloy, Lexey Swall, Elaine Cromie, Caitlin O'Hara and Dustin Chambers. Please hire all these people and/or make them be your friends too.
:::BIO:::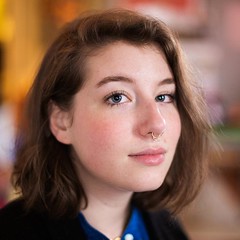 Maura Friedman is a freelance visual journalist and multimedia producer based in Atlanta, Ga. using photos, videos, words, social media, code and GIFs to put together award-winning packages. So like, a Journalism Renaissance Woman. Kind of.
Her work opens an intimate window into the lives of her subjects and their families, often focusing on the intersections between economic justice, race and gender.
Bylines include The Wall Street Journal, Education Week, The Guardian, The Week, US News and World Report and Femsplain. Maura also films and edits documentary-style advertising for folks like YouTube and Whole Foods and serves as a contributing editor for Scalawag Magazine, "a nonprofit dedicated to celebrating and examining the American South."
When she says she's always down to talk over coffee or a whiskey, she means it.