Spotlight on Maddie McGarvey
Mar 15, 2013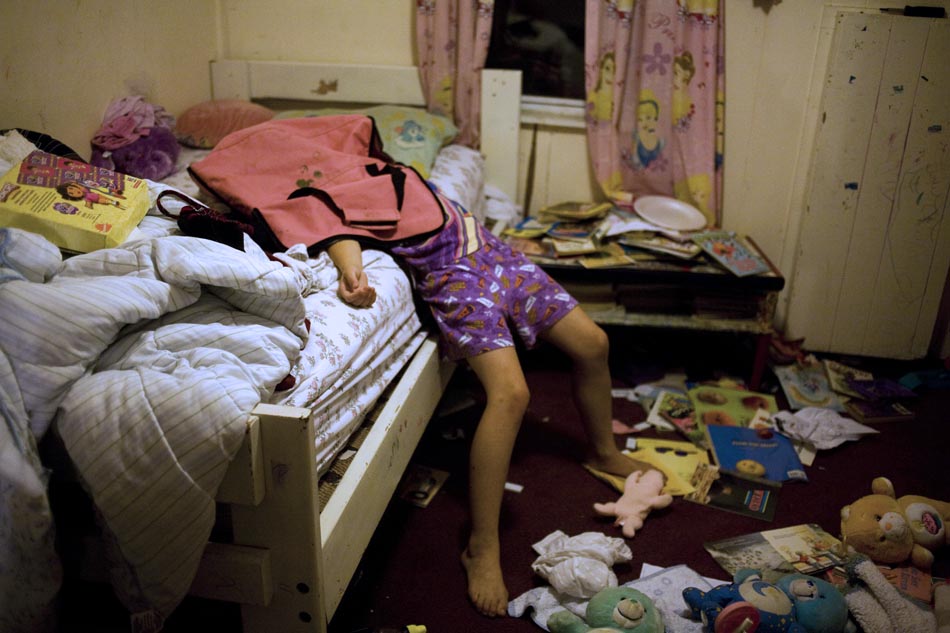 TID:
What an intriguing image, please tell us a little of the backstory.
MADDIE:
Thank you! It's an honor to be featured on this blog.
This is a photo of Sonya, a 10-year-old girl from southeast Ohio. Sonya and her two siblings are being raised by their grandparents since their mother is unfit to be a parent.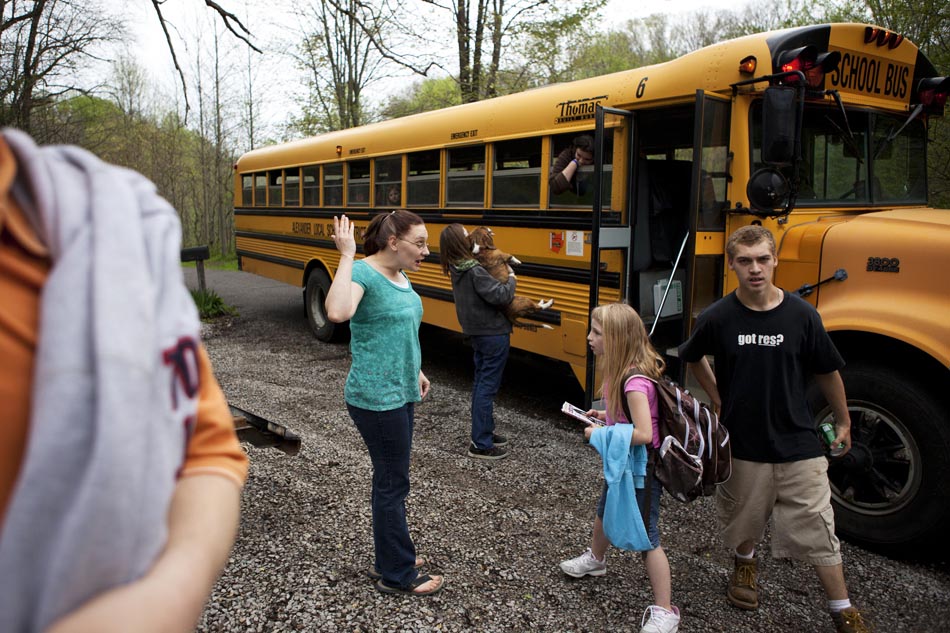 (Sonya gets off the school bus at her grandmother's house only to be yelled at by her mother, Amber. Amber attempts to be a larger part of her children's lives, but is unfit to be a parent. She doesn't have custody of her two daughters, refuses to get a job, and is constantly living in and out of homeless shelters.)
MADDIE:
Her mother's previous boyfriend did terrible things to Sonya like push her down the stairs and cut off all of her hair. As a result of this, Sonya suffers from Post Traumatic Stress Disorder and often lashes out at the people around her. She also has terrible night terrors and gets scared and frustrated very easily. She has different coping methods, but often the stress gets to her.
Her grandmother, Lorrie, has done an amazing job helping Sonya deal with these issues, even though it often wears on the entire family. Lorrie has sacrificed everything to raise her grandkids without a second thought about it.
TID:
Since this is part of a larger project, can you tell us why you began this project and how you got initial access?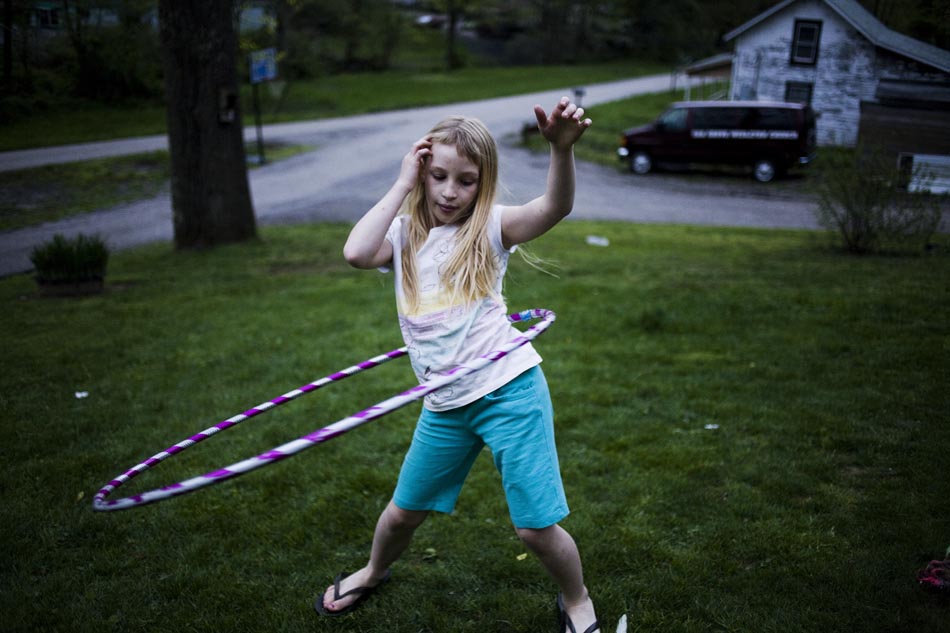 MADDIE:
I began this project when I was a student at Ohio University. The topic of grandparents raising their grandchildren was intriguing to me. It was a nationwide issue but I hadn't seen too much coverage of it. I began researching grandparents raising their grandchildren in the area and was surprised to see that this was a huge issue, especially in southern Ohio. I photographed a few different families and then I met the Castos.
The Castos welcomed me into their home with open arms. I had received their name and number from a social worker in Athens that helps grandparents who are raising their grandkids. I remember being nervous when I called them up, because when you think about it, it really is kind of an odd thing to call someone out of the blue to ask if you can come to their home and document their life. But they were so kind and open to sharing their story. I developed a really strong relationship with them and they became somewhat of a second family to me while I was living in Ohio.
TID:
What challenges did you encounter while working to make this image/project?
MADDIE:
The biggest challenge with this project was just convincing myself to do it. It's something that I had in mind that I wanted to do for a couple of years but kept putting off or psyching myself out if I ran into deadends. But once I actually grew the confidence to start this project, it became the most rewarding project of my career so far and something I feel truly passionate about.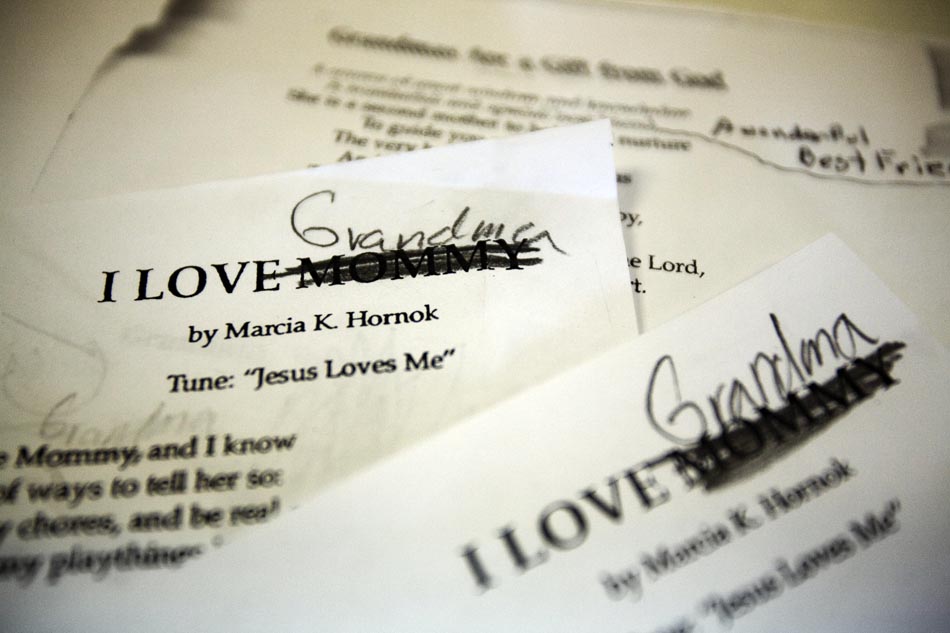 TID:
How did you handle and overcome these problems?
MADDIE:
I think I realized that I needed to just take that leap, and the worst that could happen is someone telling me no. And I'm always surprised in the best way that people are generally so welcoming. It's important to realize that things don't always just fall into place though. It takes a lot of hard work, persistence, and patience.
I am also not a big believer in the fly on the wall mentality. It's different for everybody, but I think to capture a story well you should form relationships with the people you are photographing. They need to trust you in order to open up to you, and you have to open up to them too. If they are going to let their guard down, it needs to be mutual. Photography is about give and take. You need to give them a part of you to get that in return.
I would also go over to the Castos without my camera - just to talk, play with the kids, watch TV, etc. I really enjoyed that, and I think it made them feel more comfortable around me too.
TID:
Now, onto the moment. Can you talk about the moments leading up to the picture
and also the actual moment?
MADDIE:
Oftentimes Sonya would get worked up over something or another and lash out. In this moment she stomped into her room, put the bag over her head, and flung herself onto her bed like she was trying to escape from the world for a few moments. I took some photos, let her have some time to collect herself and then talked to her about what was bothering her. Within a few minutes she was back to running through the house and playing with her siblings. This was a common pattern with her but it was her way of coping with situations that made her upset or brought back unpleasant memories.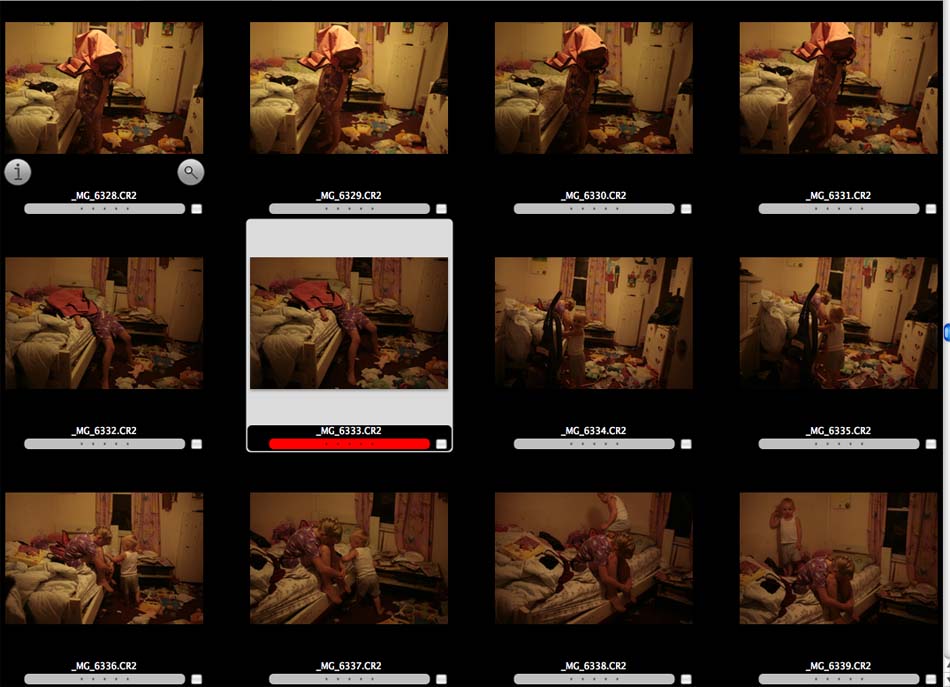 TID:
What surprised you about the moment?
MADDIE:
Since I had spent so much time with this family, the situation didn't really surprise me. This was a pretty common occurrence, but I think I learned that it helped to just be there for her to talk to afterwards. Sometimes all someone needs is a friend to talk to.
TID:
What have you learned about yourself in the process of making images
like this? What have you learned about others?
MADDIE:
I think it's just important to treat the people you photograph as humans and not necessarily subjects. I was comfortable taking these photos because I got to know the family so well and they trusted me. I don't want people to ever feel like I'm stealing moments from them. I want to treat them with the integrity they deserve and I want them to want to open up their lives to me.
TID:
In conclusion, what advice do you have for photographers?
MADDIE:
I think it's important to remember why you fell in love with photography in the first place. It's so easy to feel like a photo machine rather than a photographer on a day to day basis within the daily grind -- churning out building mugs and headshots -- but I have found that shooting stories like this reminds me why I've worked so hard and love photography so much.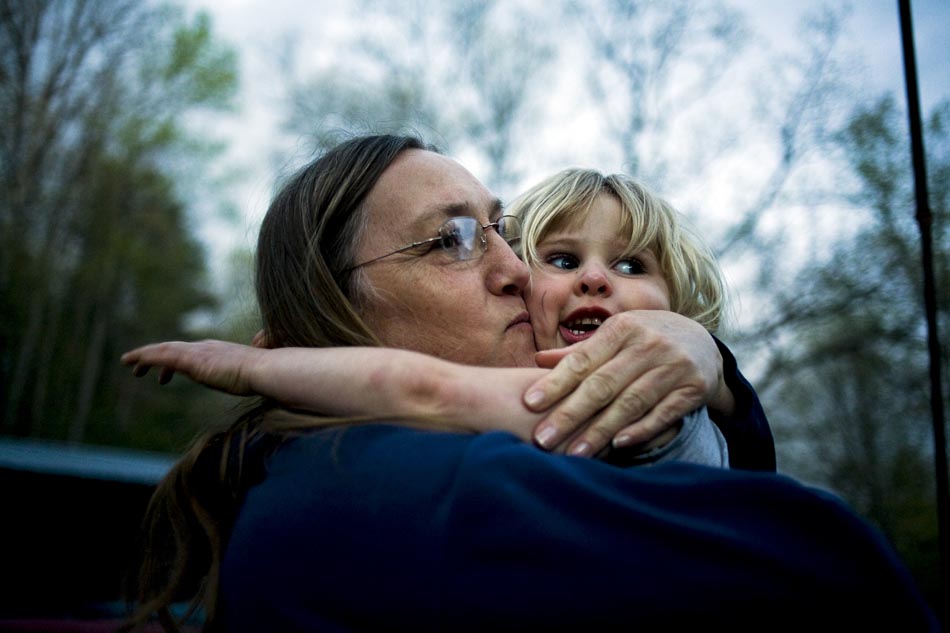 Work really hard at photography while you're still in college -- especially while you are surrounded by so many other bright-eyed budding photographers and helpful professors. Don't be afraid to ask for help. Find a mentor you trust and who can help you develop your vision. And find something that you are truly passionate about shooting because that's where you'll learn the most about yourself and your surroundings.
If you are at a newspaper or freelancing: find time to work on things that matter to you. It's a lot easier said than done but it's important to keep your passion for photography alive so the daily grind doesn't consume you. Trust your vision. Listen. And know when to be a human above a photographer.
And finally, no more excuses of, "I'll start that story I've been meaning to do tomorrow or next week." Just do it now. I promise you won't regret it.
:::BIO:::
Maddie McGarvey is a staff photographer at The Burlington Free Press in Vermont, and she is a graduate from Ohio University. You can view more of her work here: