Spotlight on Julia Javel
Oct 2, 2014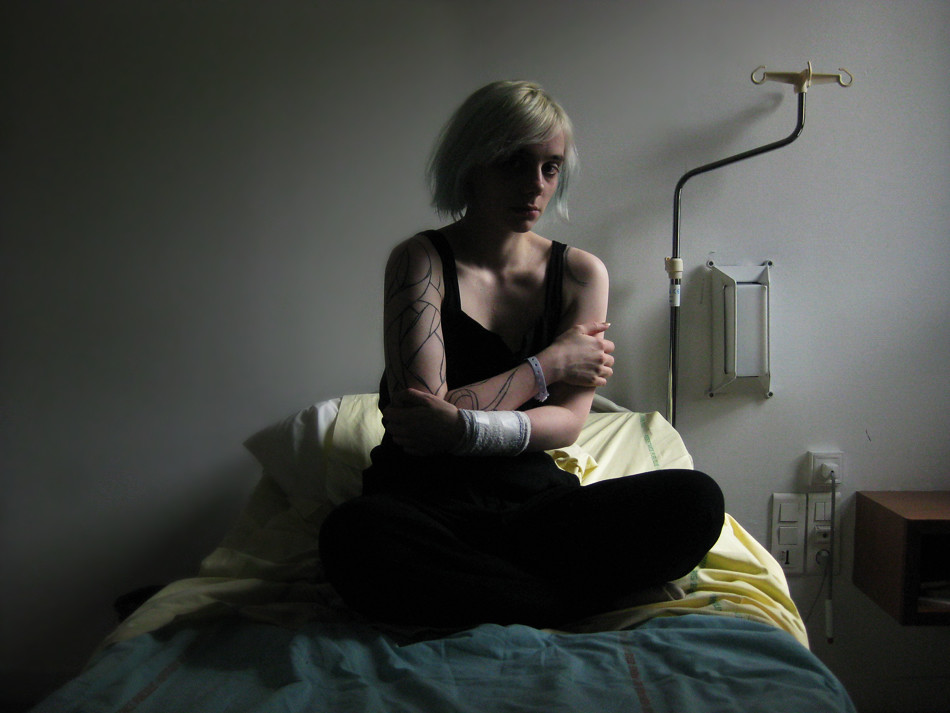 EDITOR'S NOTE: This post contains full frontal nudity, so may not be appropriate for workplace viewing (NSFW). All models featured are 18 or older, confirmed by the photographer featured here.
TID:
This is image is striking and also asks a lot of questions, please tell us a little of the backstory.
JULIA:
I was hospitalized for a while. I had managed to sneak in a small camera of rather mediocre quality. A reflex of mine to document it. I have the need to carry a camera at all times, whether it be a phone or an old analog. I don't want to let any potentially interesting moment slip me by, it's a very frustrating situation. So, even in the most trivial moments, the most ordinary, I always have my "third eye." Ever since working in photography, I have been doing self-portraits.
I am my own subject of experimentation; I let myself do what I wouldn't ask of my models. I am a chameleon; I can either play a role, or use it as a journal. I constantly blur the limits between fiction and reality. My work features anonymous models, people close to me, and sometimes I slither through. It's a game of paper chase, the self-portrait is a clue: is all this real? Or is it a made up story? It introduces different levels of interpretation, depending on the degree of intimacy I share with the onlooker.
TID:
Why did you decide to make this image?
JULIA:
In the hospital, we're just a random number: blood pressure, heart rate, temperature, blood work, and room number. I needed to re-introduce the human, the flesh, the identity in this constant depersonalization. I didn't take a lot of shots; I didn't have many chances to do it discreetly. At this moment, the light called to me, the sanitized atmosphere and austerity of the room. I saw something slightly dramatic, slightly tormented. It mirrored the way I felt. I took the shot, with a sense of emergency. I set the timer, took three shots and the moment was gone. It had ended. It was like catching a butterfly in mid-air. You know that your not allowed a second chance, that the opportunity won't replicate, won't come again. There is a rise, a tension, and then, a release.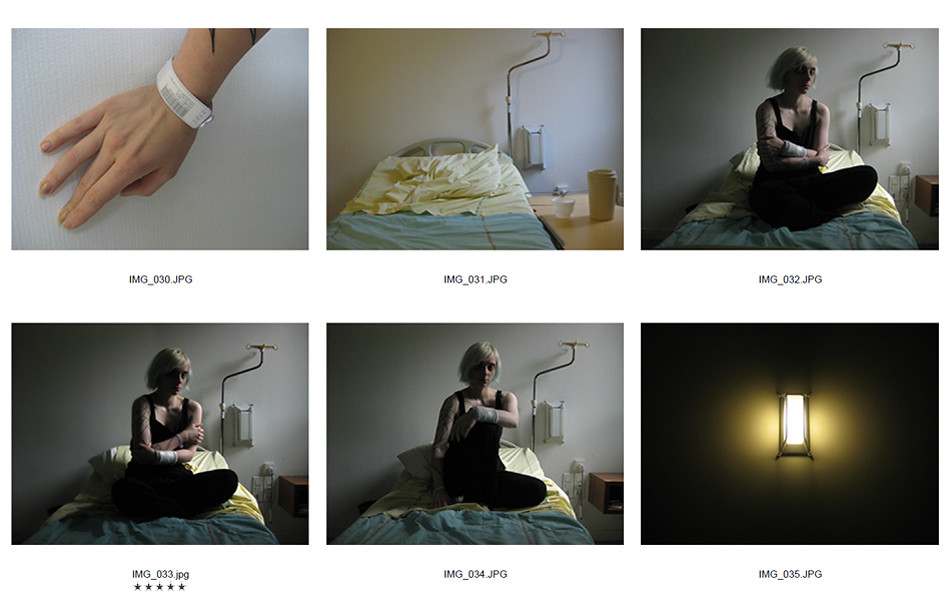 TID:
How does photography like this play a part in how you see your life and how you chose to document it?
JULIA:
Photography IS my life. Its hardcoded in my DNA, and my camera is the natural extension of my arm. Circling back to the self portrait in my hospital room, I consider it a sublimation of the ordinary. I create my own reality, and my own mythos. This type of image is part of my personal mythos, of how I photographically build my self.
TID:
You spend a lot of time documenting aspects of your life in an intimate way, what sort of reactions do you receive for this?
JULIA:
It depends of the type of work. There are portraits, artistic sets, fashion sets, videos, polaroids. Different faces of the same universe. Reactions vary from one extreme to the other. I don't seek beauty at all costs, I capture instants, I stage obsessions, I press where it hurts. In general my images affect my models. I can collect very enthusiastic opinions, or more visceral reactions, more violent reactions. Certain people refuse to shoot with me again, because they were so disturbed by what I see in them. However, I hope to communicate with an audience as large as possible. I don't want to keep the understanding of my pictures to a small-restricted circle of insiders. I try to speak to the larger numbers.
TID:
What did you learn about yourself, and others, from doing this type of work?
JULIA:
About myself, I realize I dare everything. About others, I realize the image can have a powerful impact. This power can bring people to change the way they see you. On many occasions I saw volte-faces. My work may be autobiographic, or very formal, but what matters in the end is what the audience projects on these pictures, and the interpretations they make. That is why certain productions, which I thought unimportant, can shock; whereas other personal works will be analyzed more critically.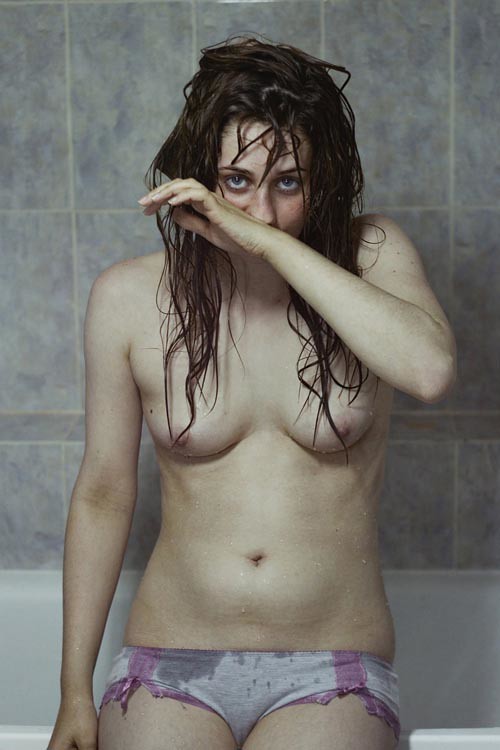 Regarding the self-portrait from one of my sets, this shot brings rather varied reactions, some people are baffled by it's spontaneity which contrasts with my usual touch, others are excited by the ambience and the atmosphere of this fantasized adolescence and rebuilt from a slice of life. I worked hard so that it could not be distinguished between the very elaborate images, and the "stolen" spontaneous shots.
TID:
This, and other work from you are intensely personal. How would you describe the mental process you have going into making such images?
JULIA:
My images are the product of a sometimes painful birth. Some are extremely elaborate. I draw and storyboard a lot, and I write. Other images come in a more accidental manner, like fortunate clumsiness. In these cases, I don't think. I just need a camera capable of taking a picture, regardless of the quality, and the rest comes from my eye and the scene taking place, or at least the view it.
TID:
What challenges do you encounter while working to make such images?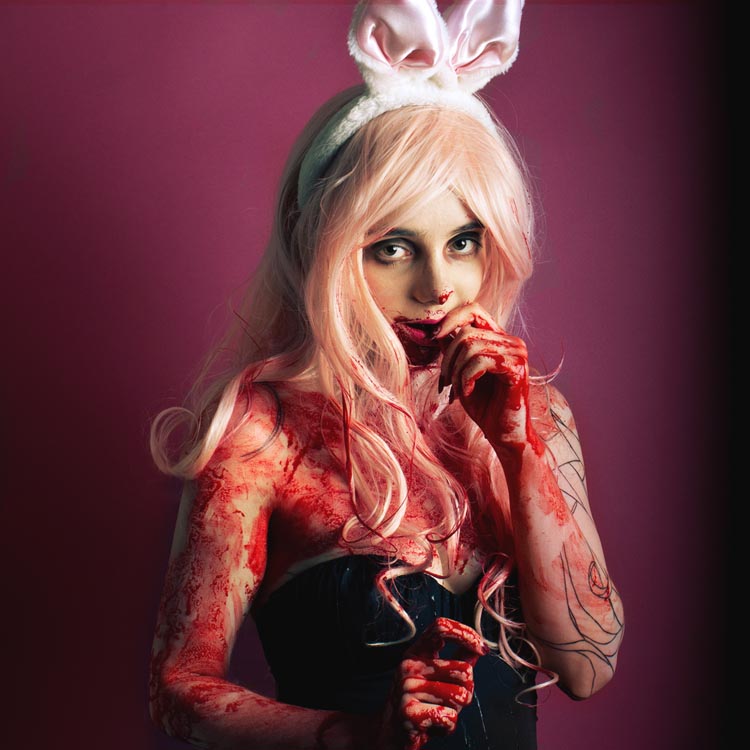 JULIA:
There is always the danger of narcissistic complacency, playing with the limit, especially with self-portraits. You can easily end up running around your navel, and lose yourself to self-satisfaction. Or, if we are brought to show our work, to interact with the public, the least is to take the exterior eye into account. We aren't in a situation of onenism, but rather in a relation with the Other.
TID:
How did you handle and overcome these challenges?
JULIA:
I made the choice to only be judged by untrained people. I ask about their feeling, their opinion, whether anything emerges from the image. Their opinion matters most to me. I try to have as much hindsight as I can on my pictures. I don't specifically create "for others". However, it is important to me that the audience can access my universe, without being repelled by something too personal, or to closed. I have the desire to be understood.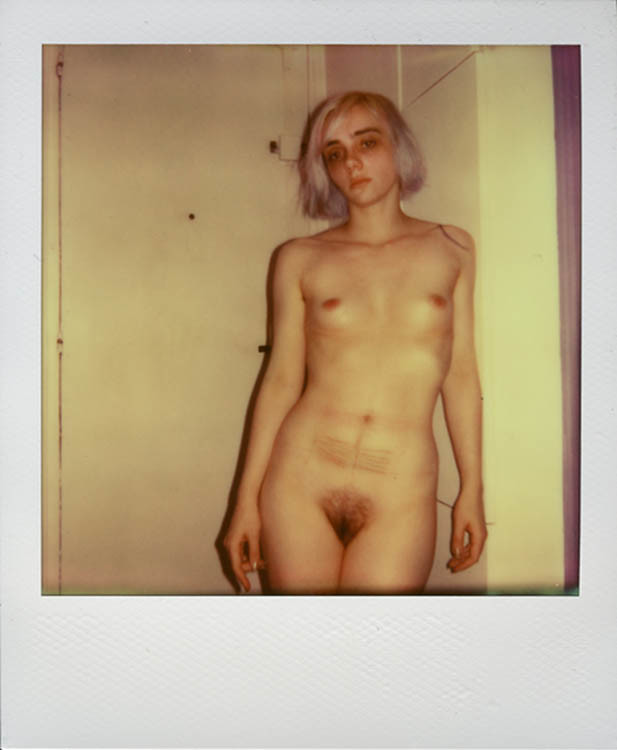 TID:
You have a number of conceptual images in your body of work. Can you please talk about your motivation for these and how you approach them mentally?
JULIA:
Painting, drawing and music videos have always fascinated me, but when I try to paint or to draw, it was terrible. Making music videos were impossible; it was too complicated. So I figured out how to create and express myself with a different tool. I started to photograph by chance, because my family had one of the first digital camera. It was brand new, simple and attractive. My first photographs weren't my parents, my cat or my cousin's birthday. It was already very thoughtful - staged with makeup, costumes and poses. I was making my own lights, but I was paying attention to every detail, even if I did not own professional equipment. I was seventeen.
I started photography with self-portraits and with my sister. She was 13 at the time and we shared the same passion for the cabaret atmosphere, characters, music videos, fashion and a gothic and weird mood. She became and still is my muse. The models take a prominent place in my photographic work. Thanks to them, I can finally stage my unhealthy obsessions. They are often very close to me and understand me perfectly. They can be trusted, they are not afraid to take risks with their image. It is a long term job.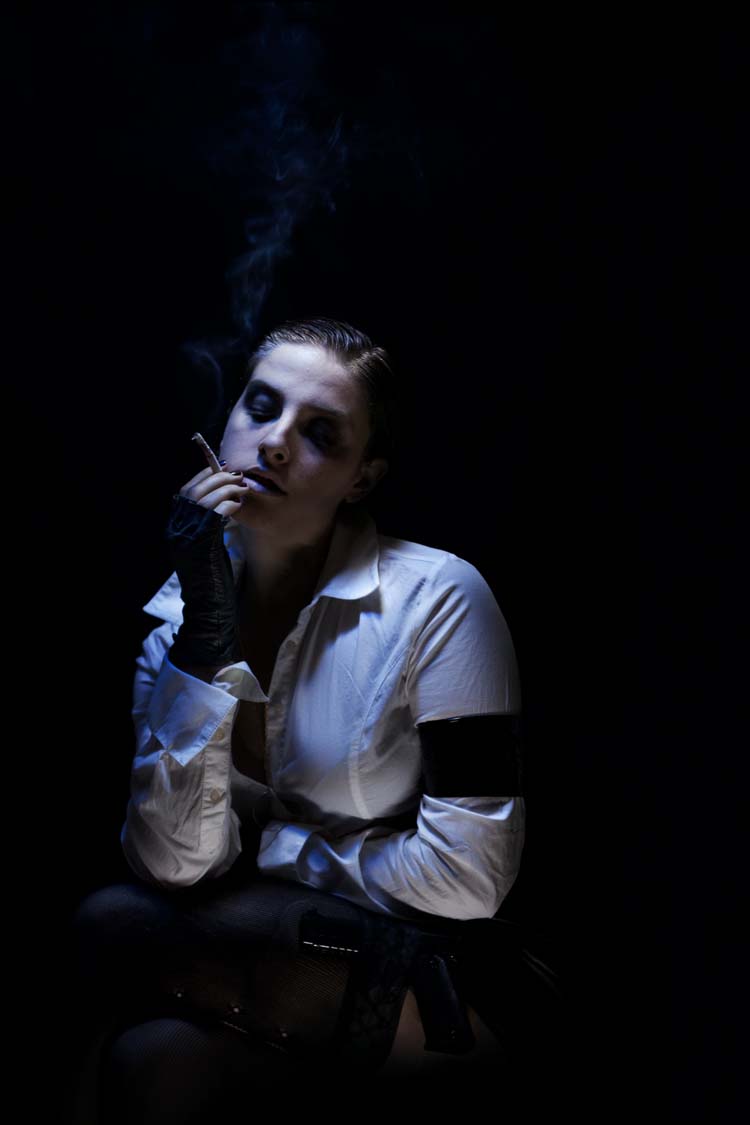 Sometimes, I come with a very specific idea: I worked on it, I made research, I tried lights or compositions before the shooting. Sometimes, it's an exchange. It depends on who I have in front of me. It is like a threesome between the model, the camera and me. It can be very intuitive or it may require an adjustment period. In some cases, the model also has a very intense universe and then it makes sparks.
TID:
In conclusion, what advice do you have for photographers?
JULIA:
Never close your eyes, never fear the trivial, work the light-consciously or not - she's your closest friend. Photography is an art of the moment, even for staged pictures. Any visual food is good to take because it feeds your world and your vision. Every detail counts. Take notes, make sketches, use your cell phone or a toy camera. Do not be afraid of anything. Especially not yourself.
:::BIO:::

Born in 1987, Julia Javel is playing with videos and pictures, digital and traditional forms of photography. An illegitimate child of the great painting and the pop culture, she dares to use the light and the scenes of Caravaggio, the kinky amazons of the pulp literature and the portraits of Dominique Ingres. These themes also allow her to question more formal issues: colors, lights and compositions in a continuous parallel with painting and drawing. She explores what is hidden behind the surface of the bourgeoisie, she is fascinated by the relationships between the same members of a family and she created erotic and toxic atmosphere to develop her owns fantasies. She exhibited at Palais de la Bourse (France), at Galerie Oberkampf (Paris), at Cabinet des Curieux (Paris), at Vitrine (Paris), at Centre Culturel Jean Vilar (France) and at Carreau (France). Her work has been published in Vandal Magazine, Coco Indie, Resource Magazine, The Art Factory Magazine, Zodiac Magazine, Image in Progress, OOB Magazine and Unspoken Magazine.
You can see more of her work here: