Spotlight on Josh Ritchie
Nov 28, 2012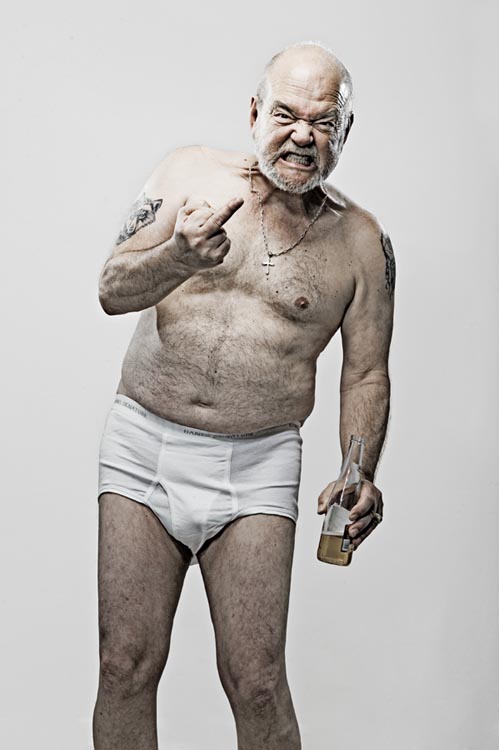 TID:
What an fantastic image! Please tell us a little of the backstory of the image.
JOSH:
Growing up my dad was a well-known dirty old man, but in a sort of weirdly fun loving way. He is a truck driver and has a sort of "sailor mentality." There were many times that my brothers and I would have friends over and our dad would be sitting in his lazy boy wearing nothing but his underwear. That chair sat right beside the front door so there was no getting around seeing him in all of his glory. He didn't care. In his words "It's my house. If you don't like it, don't let the door hit you in the ass on the way out." All of our friends got to see way too much of my dad's truck driver physique, and that includes girl friends.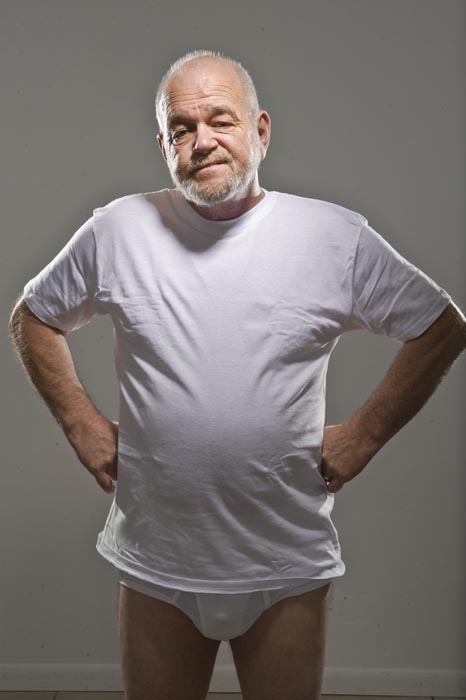 I remember the first time I took my girlfriend (who is now my wife) to meet him; we sat in the car for about 10 minutes so I could explain my dad to her. I painted a pretty hard-core picture of him for her and warned her that he was bound to do/say something that most people would find offensive. Of course she thought I was being dramatic. I said I had given her fair warning and we went in to meet the crazy man who is my father. The second that I finished introducing them my dad said, "Turn around so I can see your ass." She looked a bit perplexed, but she went along with it. After taking a look my dad agreed that she was a keeper.
After Stacy and I had gotten married and moved to Florida my dad decided to pay us a visit. At the time I was trying out a new lighting technique. I got to thinking that it would great to shoot a caricature of my dad, one that fit everyone's memories of him from childhood. It didn't take much to get him to agree.
TID:
I know I wouldn't be able to photograph my father like this. In fact, I rarely even photograph anything related to my life. Can you talk about what it's like mentally to photography him?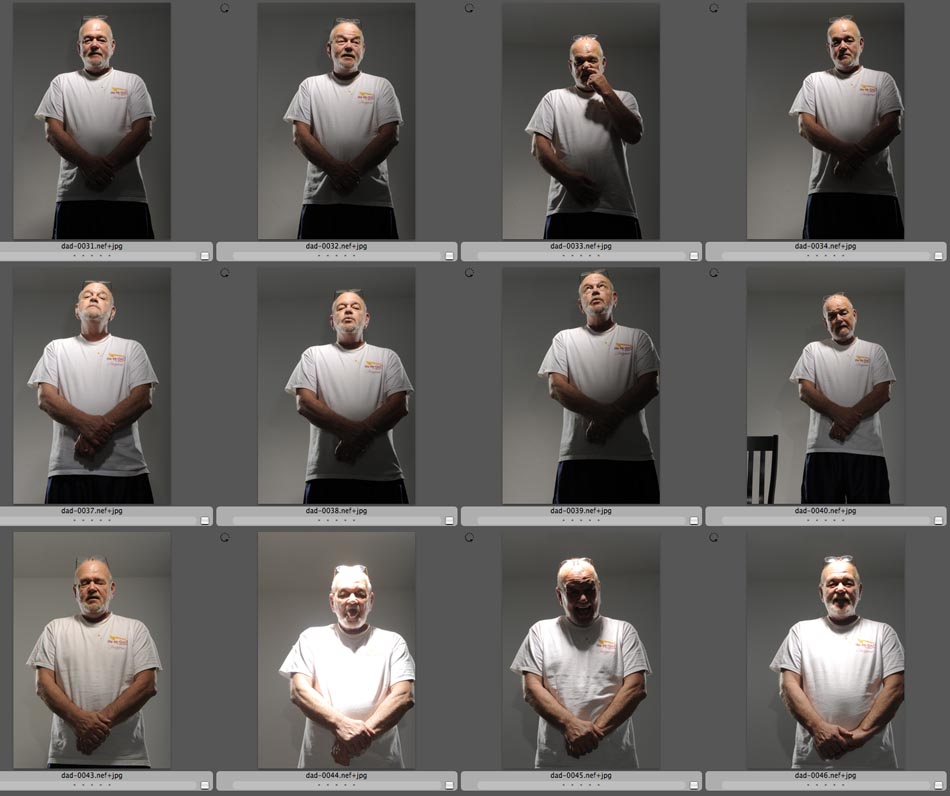 JOSH:
I also rarely shoot anything family-related, which I need to start doing now that I have a daughter. My dad loves to have fun, even if that fun means being more than a little offensive to most people. Shooting him was pretty easy as far as the mental part of it goes. He loves to be the center of attention, so I used that to my advantage. I will say it was a bit odd taking him to the store to help him pick out some underwear for the shoot.
TID:
I know we talked somewhat at the time of the image about your progression into lighting. Can you also talk about how mentally this played into your preparation?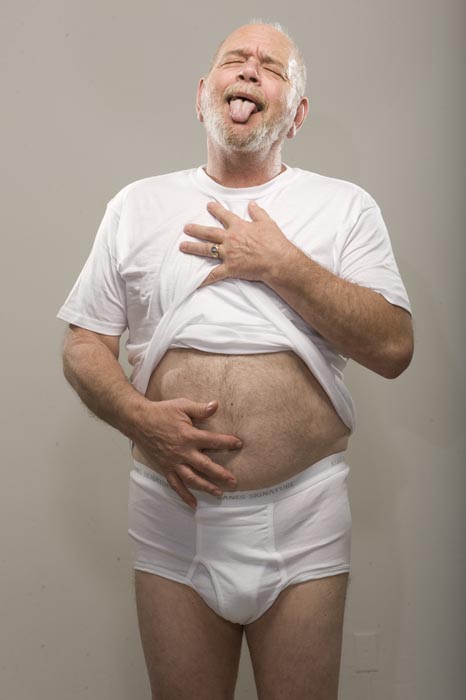 JOSH:
The lighting was the hardest part for me. At that time I was just learning to light with more than one strobe. I had an image in my head and I knew that if I didn't accomplish it that I couldn't blame the circumstances. The subject was my dad, and I had all the time in the world to get what I wanted. Knowing all of that I spent a lot of time testing the lighting on my wife. I knew my dad would get bored if we spent an hour or so with him just setting up the lights, so my wife became his stand-in.
TID:
What challenges did you encounter while working to make this image?
JOSH:
There were three things that presented me with the biggest headaches: first was figuring out the lighting. I knew the lighting had to be great. Second was myself. I tend to overthink things and make them way more complicated than they have to be. Third was the location. We ended up shooting in an empty apartment in the building I lived in at the time. Not the ideal location to shoot a photo like this since everything was white and there was nothing special about it.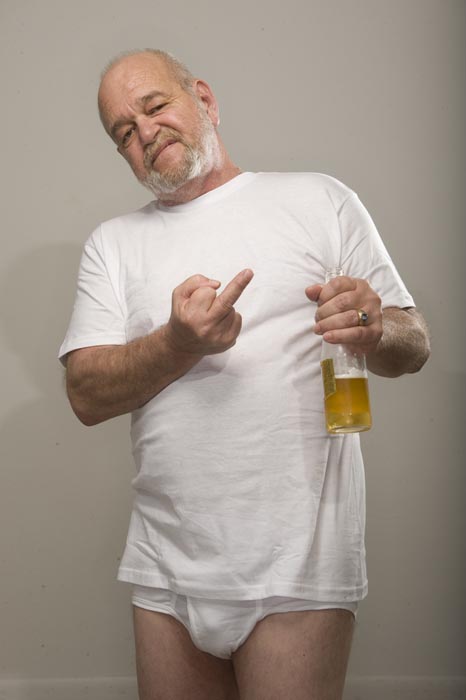 TID:
How did you handle and overcome these problems? (Problems are not unique, but what is unique is a photographer's approach to problem solve.)
JOSH:
I don't know how many times I changed the lighting. It was a lot. I found myself starting out one way, not liking it, and then heading in a completely different direction. It was pretty frustrating. I am a perfectionist, at least in my head, when it comes to photography. So I find myself never satisfied with what I am doing even while I am doing it. That leads me into overthinking things and making them more complicated than they need to be in an effort to make the image look like the one I have in my head. On the same hand though, that means I try a lot of different things on shoots and I learn more as I do it.
The good/bad thing about this shoot was the empty apartment we were shooting in. It was good because it meant I could take a break, step back and think about what I was doing. I did a lot of that on this one. Any time I found myself getting frustrated with what I was doing I was able to go to my apartment and chill out. Being able to think my way through the problem of lighting really helped. The bad part of shooting in the apartment was that it didn't have the feel I wanted. In an ideal situation, I would have shot this in a mobile home park. I really wanted a redneck, white trash kinda feel to this shot and the apartment just wasn't going to allow for that. It was pretty bland and had no furniture. I would have loved to have had a wood-paneled wall and a lazy boy with some god awful looking end tables to play around with, but that wasn't going to be possible.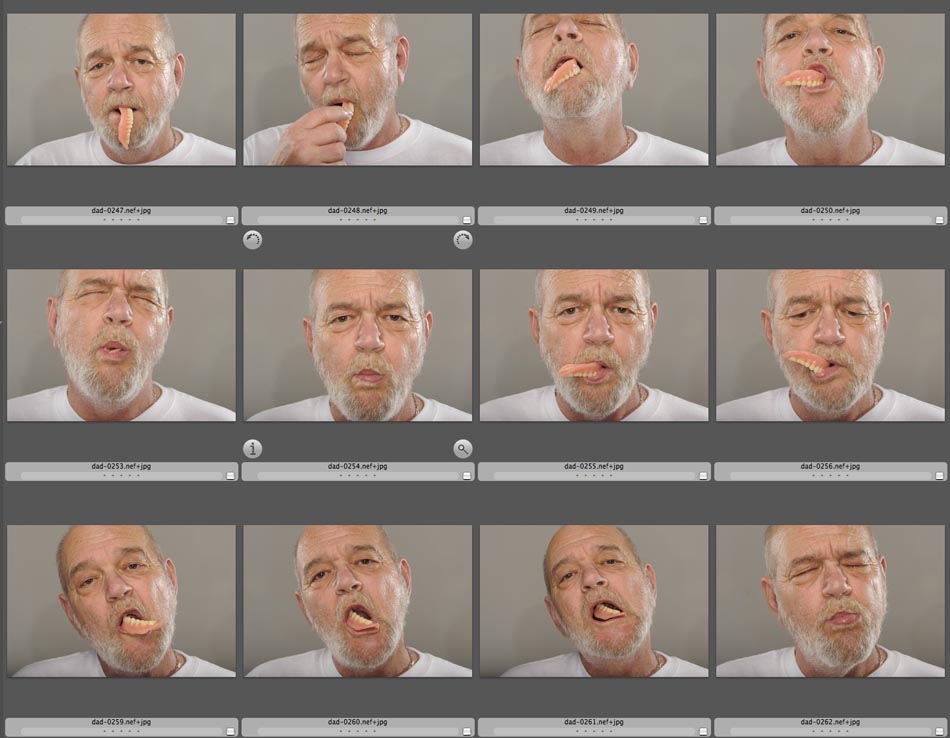 In the end, I knew I was going to have to resort to shooting him on a white wall, which meant that his body language was gonna have to be front and center. That also meant that the lighting had to be solid otherwise it was going to be a shot of a guy in his underwear flipping us the bird, funny but not amazing.
TID:
What surprised you about the moment?
JOSH:
Growing up with my dad has trained me to never really be surprised by anything he does. I mean, we are talking about a guy who is willing to let the world see him in his underwear. I wasn't really surprised at how willing he was to give me a variety of expressions during the shoot, but I was pleased.
TID:
What have you learned about yourself in the process of making images like this? What did you learn about your father?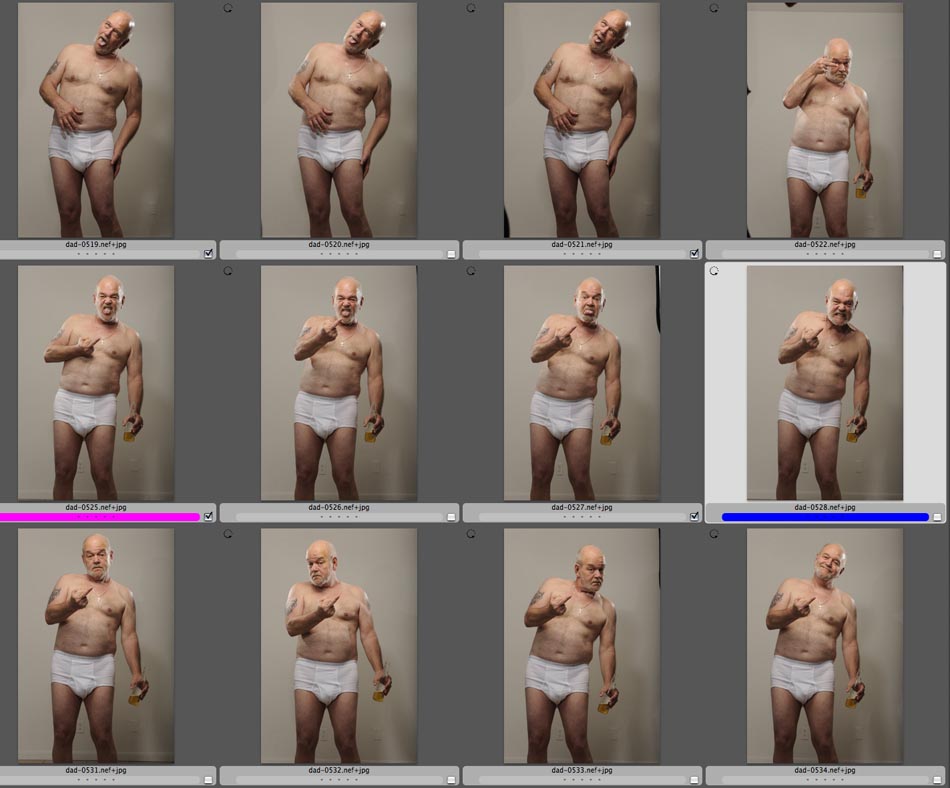 JOSH:
Great question. Well, I did learn quite a bit more about lighting. More importantly I learned that the images in my head aren't always achievable. In fact, they are probably never achievable since the stuff that happens in my head always happens in a perfect world. I need to get out of my head and shoot what I have in front of me instead of trying to make the situation into something it isn't. I should use my mental image as a guideline and a starting point, but remember to not get so tied up in it I am unable to shift gears when needed.
TID:
Now, onto the moment. Can you talk about the moments leading up to the picture and also the actual moment?
JOSH:
The moments leading up to the final shot came from the last round of images after one of the breaks we took. I think that was key considering I was just testing out this lighting scheme and my dad was starting to get a bit tired after 2 hours of playing around. I tried not to give him too much direction throughout the shoot since when I do direct subjects it tends to feel a bit more posed and less authentic. At this late stage though I needed to start giving him some direction. The lighting was very precise which didn't allow for him to do certain movements. If he moved too far forward his face was in shadow. Depending on where his right hand ended up, it would blend in tonally with his skin tone. After a few trial runs and some direction on where to end up I let him do his thing. At times it was really hard to shoot because we were all laughing so hard. It was a ton of fun, but at certain times the laughter tripped us up and he got out of character.
TID:
In conclusion, what advice do you have for people photographing in similar situations?
JOSH:
This was a shoot just for me. I wanted to create something that I could use in my portfolio but ultimately, it was just for me. When you are shooting for yourself, make sure you stay true to who you are. Don't allow yourself to think about an editor's needs, or what you think a prospective client will think when they see the images from the shoot. Build a wall around yourself and your subject in that moment. No one else can break through that wall. It is just you, the subject, and the situation you are in. Be true to yourself, your vision, and the subject.
The two most important pieces of advice I have are: Try new things and keep trying them until you master them.
and: Don't overthink things.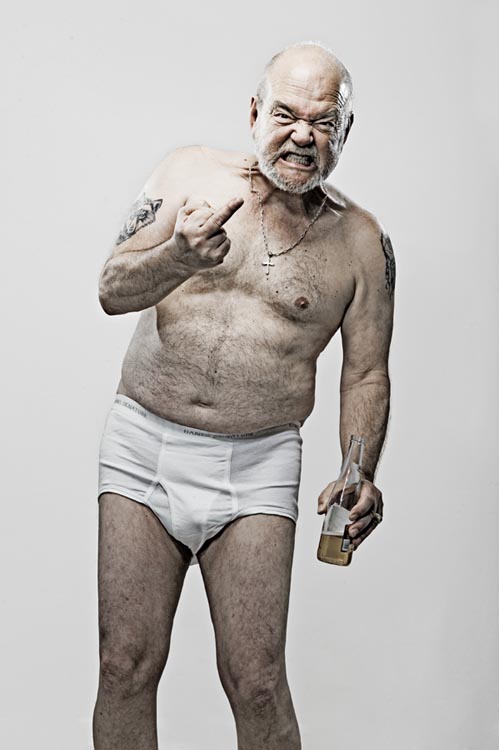 :::BIO:::
Having spent the first 10 years of his career at newspapers, Josh began to wonder what other challenges photography could present to him. So he had several long conversations with a close friend during which he decided he wanted a change from cold northern winters and newspaper assignments, so he gave up everything he had ever known, moved to Florida, and jumped head first into the new phase of his career as a freelancer. It was the best decision he ever made. He has found that he can feed his soul shooting the craziness that is south Florida for himself while feeding the beast working for some great corporate and editorial clients. Plus he gets to practice being a pirate, which allows him to fulfill a child hood dream. Aaaarrrrggghhh.
Josh currently lives in Fort Lauderdale with his wife, daughter and three cats. But he will make pictures for you anywhere in the world.
You can see more of his work here: