Spotlight on Erin Hooley
Oct 26, 2016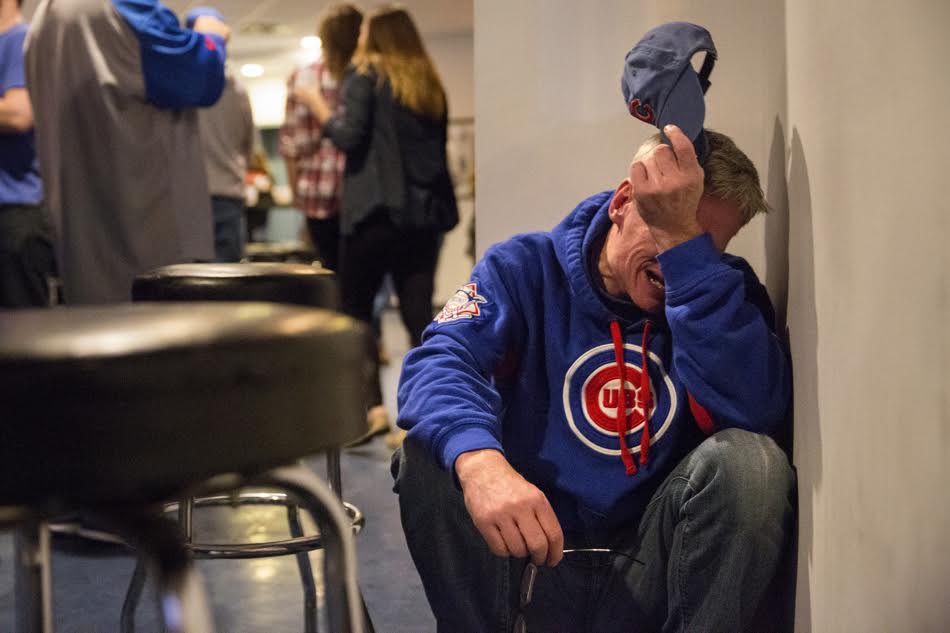 TID:
I thought this was such a different look at the emotional reaction to the Chicago Cub's advancement to the World Series. Can you tell us some of the background of the image?
ERIN:
I got permission to shoot a GoPro time lapse and fan photos in the Cubby Bear bar across the street from Wrigley Field for game 6 of the NLCS between the Cubs and the Dodgers.The upstairs overlooks the intersection of Clark and Addison, which is closed off to local traffic before game time as thousands of people arrive. I got there pretty early, about 4 hours before first pitch, to make sure I got my GoPro set up before fans swarmed the bar area. I let the time lapse run for a couple hours as the sun set and people showed up, then got the video edited right after so I could focus on fan photos and post-game mayhem.
TID:
You've covered the Cubs before, can you talk about what it was like that day? What did you focus on and logistically how did you cover it in ways that may differ than other ones?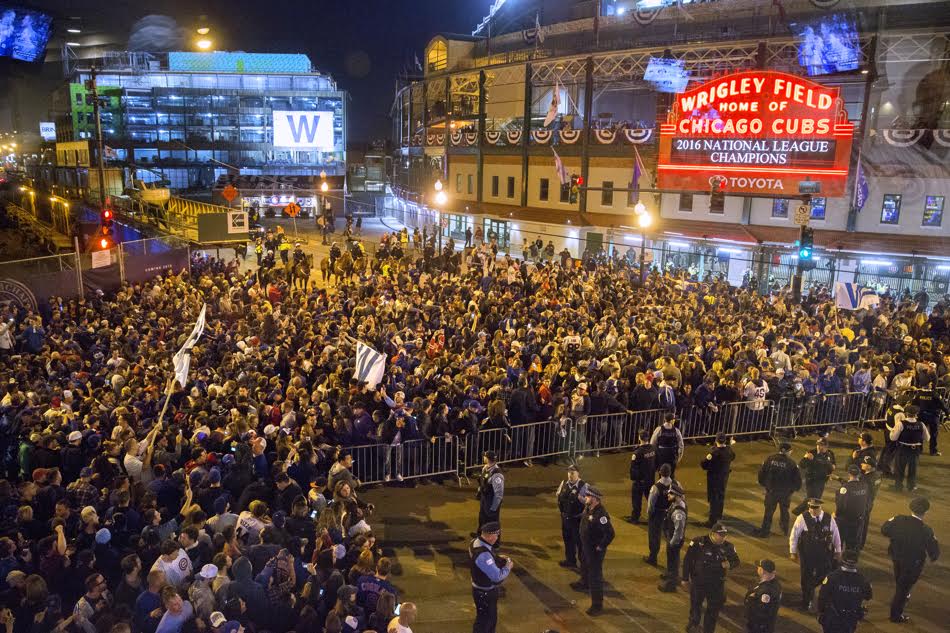 ERIN:
I have covered both Cubs games and fanfare before, but I anticipated a potential win for them and ensuing shitshow in Wrigleyville. Fans went crazy last year when the Wild Card Cubs simply made it into the playoffs, so I knew a shot at the World Series was going to bring out the diehards and crazies. Even 4 hours prior to the game, Wrigleyville was full of people. I knew I needed to beat crowds to make sure I got my time lapse set up properly, get a spot in the bar, figure out where I'm allowed to go, etc. Mostly, I just prepared for a tense night and sudden emotional reaction of fans.
TID:
I'm always interested in how photographers problem solve. What problems did you encounter and how did you work to overcome them?
ERIN:
Lighting wasn't great in the bar. I used a strobe for some photos but found some very expressive fans early on who were in a decently-lit part of the bar. Also got names right away but continued to photograph some of the same people over the course of the game. People get drunk, people might leave…important to get names right away.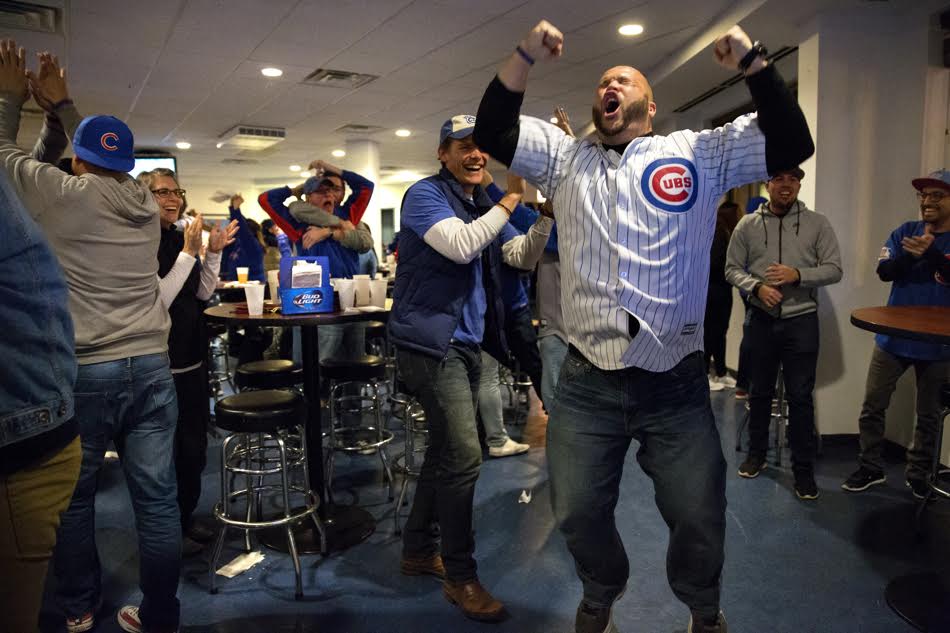 Also, I could't get any cellphone reception or hotspot (portable wifi) reception anywhere in the bar once the game started, or anywhere outside near Wrigley Field after, so ended up having to walk several blocks north and pay for two hours of Xfinity wifi while I sat on someone's steps and was finally able to send photos. They were very nice and had an adorable miniature pinscher named Mia.
TID:
I always tried to learn something from shoots, and one of the things I looked for what was surprising to me. What surprised you about during this event and what did you learn from it?
ERIN:
II was surprised nothing burned to the ground that night. I think there was probably some property damage and a few arrests but…the couple times the Blackhawks won the Stanley Cup (that's hockey, for you baseball people), people went pretty crazy in Wrigleyville, and that's not even the part of Chicago where the Hawks play. I covered one of those incidents, and there were people throwing bottles and cans at passing cars, jumping up and down on top of vehicles, yelling at and throwing things at police cars and officers…it got a little out of hand.
I recall a photo of a couple laying in the street, kissing, as police in riot gear fended off angry Canadians in Vancouver when the Canucks lost to the Boston Bruins in 2011. The camaraderie among fans wasn't exactly surprising, but it was interesting to see total strangers immediately bond with each other.
TID:
What have you learned about yourself and others from previous situations like this? How did you apply it here?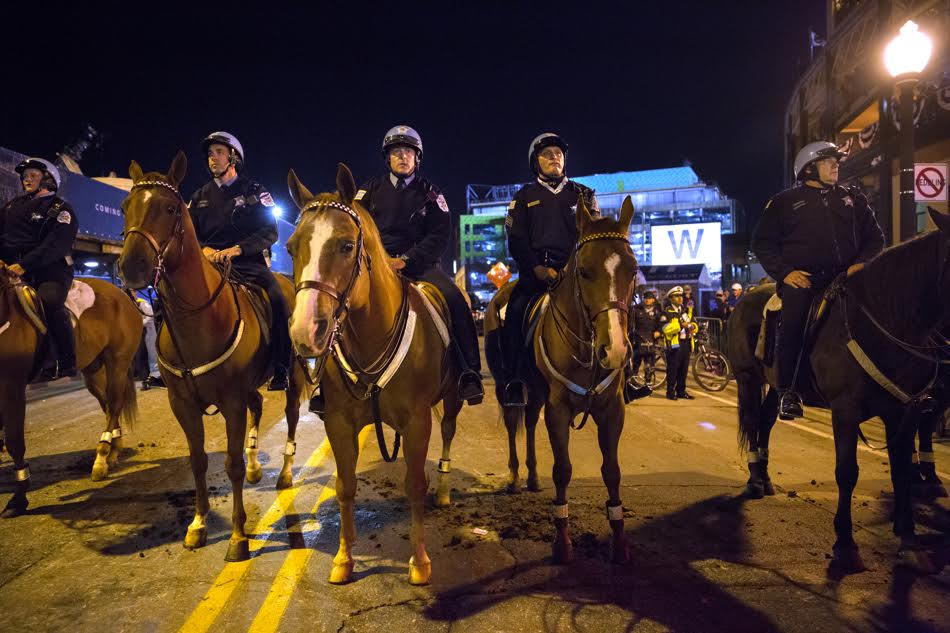 ERIN:
I think I'm pretty good at doing my job in really unpredictable situations. I might stress about it for days or hours beforehand going into it, but once I get there, I just get into photo-mode. I try to find the best moments among chaos and problem-solve along the way. I had to squeeze through the huge crowd of people that gathered outside after the game carrying all of my gear and figure out where I was allowed to go. Metal barricades were set up during the game to prevent people from gathering, but those were knocked down right away. I also almost immediately got covered in champagne by some dude (see photo), and quickly ran back to the bar and got a security guy to hand me a bunch of napkins so I could clean the front of my lens off. As I mentioned earlier, I couldn't get reception to send any photos so had to figure out a plan C for that. It all worked out.
TID:
Now, back to the main image. Can you walk us through the moments leading up to it? Additionally, can you talk about what you were thinking while making the image?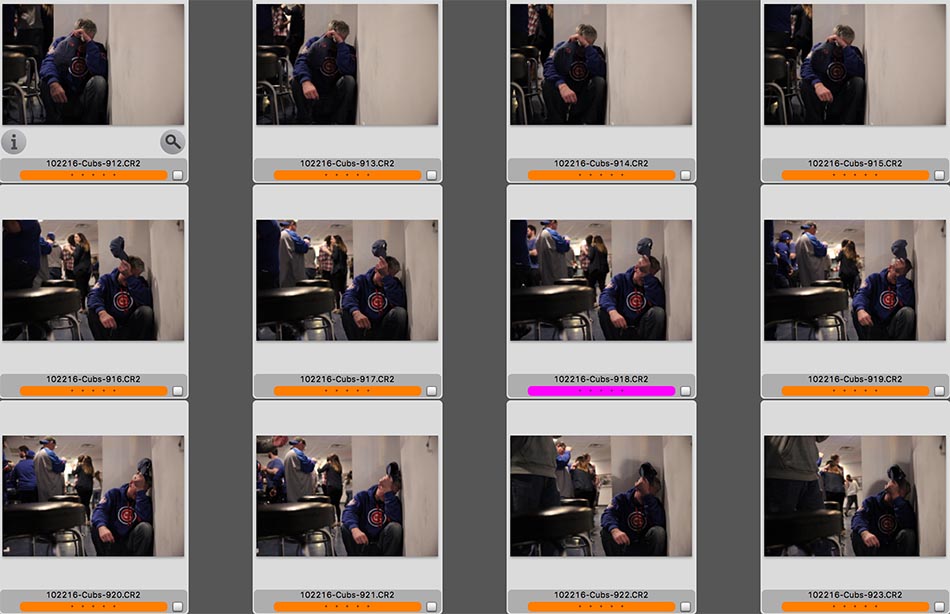 ERIN:
Cubs made a double play to shut down the Dodgers and everyone went insane. At this point, I was done with my video and everything else so I had plenty of time to pick a spot for the inevitable moment. I also had the advantage of a 7-second television delay: every time Cubs made a play, I could hear fans erupt at Wrigley Field across the street and prepare myself for everyone erupting in the bar. Convenient, right? So, everyone loses it, I make some photos. Then I noticed Michael sort of crumpling into a heap in the corner by himself, hat in hand, bawling his eyes out. My instinct told me, "This is the life-long Cubs fan who never though he would see this day. THIS is the guy." So I maneuvered my way over there, squeezed through some bar stools, and started taking photos. I made quite a few frames because people kept stepping in front of him.
TID:
How did he react to you taking the image?
ERIN:
He was overcome with emotion. I don't think he really knew what was going on until I asked him for his name. He was a little drunk, also, but gave me his name and said his family had been in Chicago for 50-plus years and that his nephew flew out just to watch the games with him. He kept trying how to explain how amazing the moment was to the people around him, but couldn't quite get full sentences out, he was so overcome.
TID:
What was the response to your image after publication?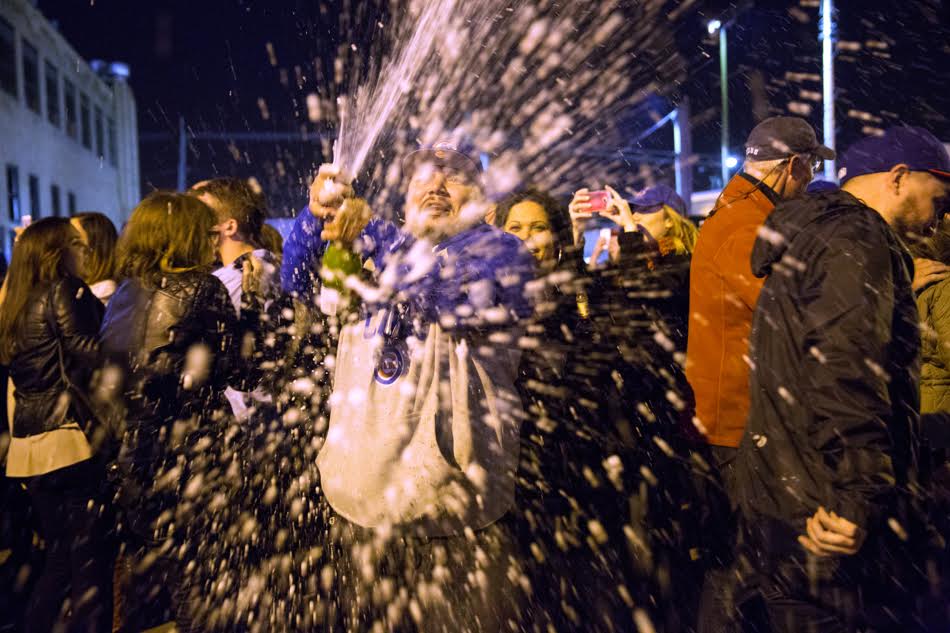 ERIN:
The photo ran online, as part of a huge gallery of game action, fans and features. I posted a few frames on Instagram and Facebook, and this one in particular got a lot of attention. I think people really connected with it and this guy.
TID:
In conclusion, what advice do you have for photographers in covering situations like this?
ERIN:
In Wrigleyville after the game (I guess this applies to everyone who will be covering the potential mayhem this weekend): Wear something waterproof, because people like to spray beer and champagne all over each other. Protect your gear. Be aware of your surroundings. People may be celebrating, but that doesn't mean things can't turn dangerous or violent. Just the sheer number of people who cram together in the streets makes for a sketchy situation. The cops may or may not help you out. Assume zero cell reception.
But…have fun. Be a nice person. You don't have to care about sports or the Cubs to know how passionate people are, so treat them kindly. Let people tell you their stories. Make pictures. Take names.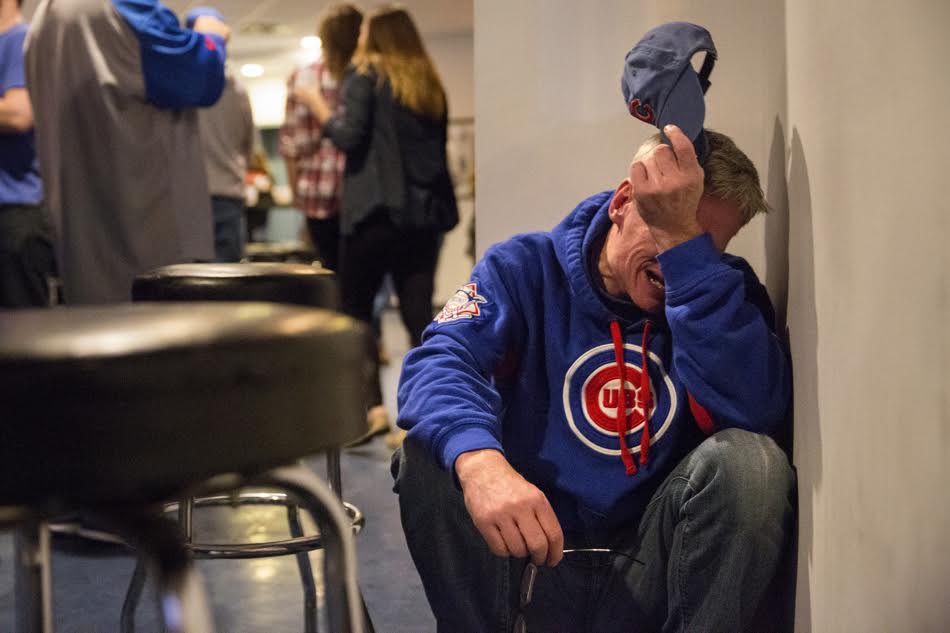 ::::BIO::::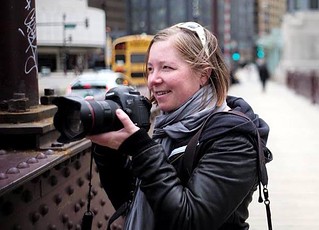 Erin Hooley is photojournalist at the Chicago Tribune where she enjoys working with a wonderful photo staff. Previously, she spent five years making photos at the Standard-Examiner in Ogden, including a long-term, personal project on mixed martial arts culture and people in Utah. After moving to Alaska, she worked as a photographer for the University of Alaska Anchorage. Erin was also a photo assistant during the Iditarod 1000+ mile sled dog race. One summer, she traveled to every brewery in Alaska and photographed hundreds of beers for The Beer Up Here iPhone app. She studied at the University of Colorado in her hometown of Boulder and found a love for photojournalism in Dan Eldon's "The Journey is the Destination."