Spotlight on Eric Kayne
Sep 19, 2012
Originally posted 10/22/2012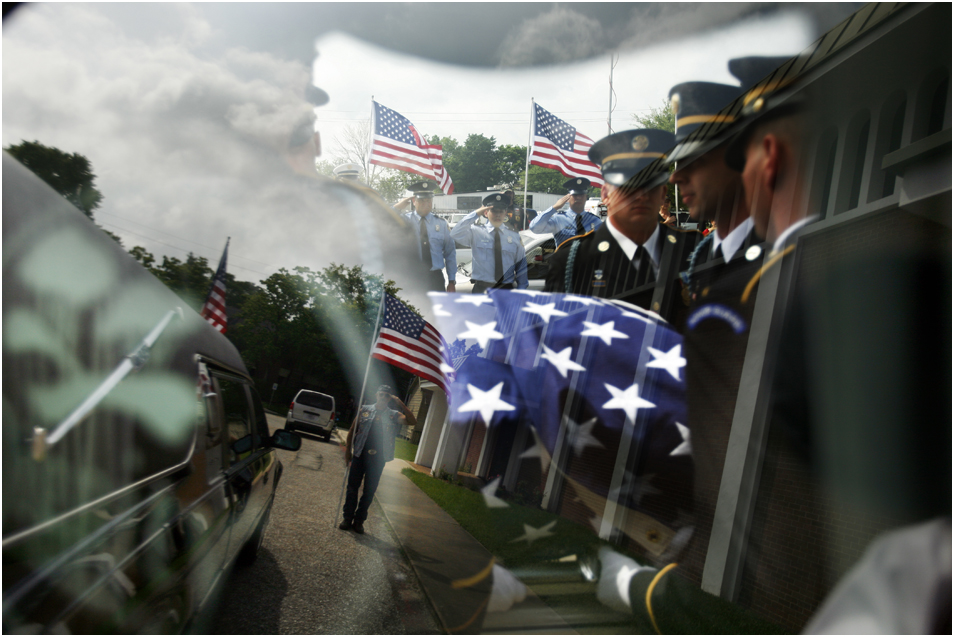 TID:
What a wonderful image. I remember when this image first appeared, it was very strong and stood out to many people. Great work. Can you tell us a little of the backstory?
ERIC:
Hi Ross, thanks for having me on TID. Video journalist Meg Loucks and I were assigned to cover the funeral of Cpl. Joshua Molina for the Houston Chronicle. I remember seeing a photo hanging in the photo room made by friend and fellow photojournalist Johnny Hanson of a back window of a hearse that emphasized the raindrops resting on the glass. I had it in the back of my head that I wanted to try something involving the back door or window of the hearse when the time came. I was also fairly new at the paper and this was my first funeral for the Houston Chronicle so I really wanted to knock the assignment out of the park. So many funerals are shot through long glass so I wanted to try and get closer for this one. It was a well-attended funeral and lots of people had cameras so I felt fairly comfortable getting close. No one objected to my presence until the very end after the burial.
TID:
How did you get yourself into position to make such an image?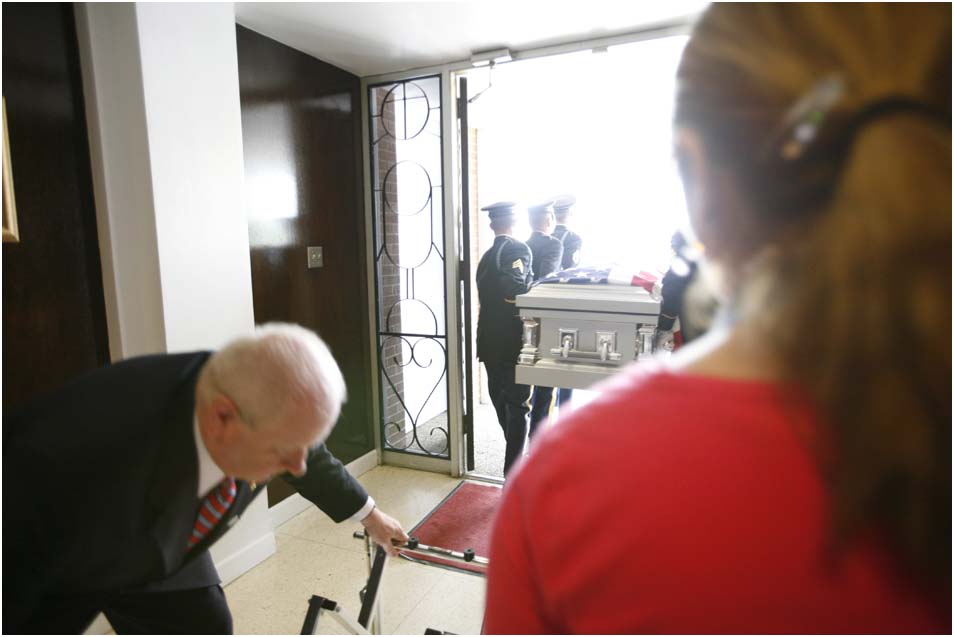 ERIC:
At the time, shooting a funeral filled me with a mix of dread and excitement. Dread because it's typically a very private moment and you never know what kind of reaction you'll get from the family with your presence. Excitement because something deep and emotional is going on and there will almost certainly be powerful moments happening. As for preparation, I made sure to wear a shirt and tie, have all my batteries charged, extra cards - the usual. As for getting in place, I tend to get as close as I can to where the moments are happening until someone in authority tells me to get back or to stop. As the casket left the church and was being moved to the hearse, I was always within 15 to 20 feet of it. When they started moving the casket into the hearse, I moved around to the backside of the back door to try and frame something with layers through the window. I didn't really have time to chimp (edit from looking at the back of the camera), so I wasn't sure what I had until I got back to the office.
TID:
What challenges did you encounter while working to make this image?
ERIC:
It might come as a surprise, but the family and friends in attendance didn't seem to have any problem with my proximity. I'm a bit of a pusher but I didn't have to push at all. In my mind, it seemed like they were happy to have the event documented. Every other person seemed to have a camera so I was in good company.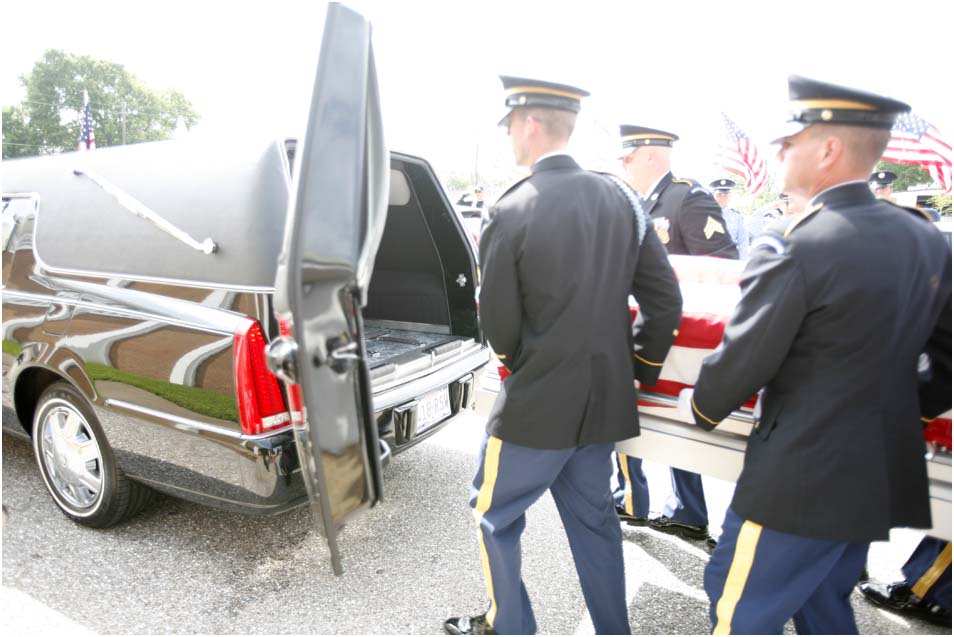 TID:
How did you handle and overcome these problems?
ERIC:
Sorry to disappoint, but I didn't really have any issues with access or proximity. It was just one of those days when everything was working in my favor. I came in knowing I wanted to better my friend's photo, so when the casket was heading for the hearse, I headed straight for the hearse's back window.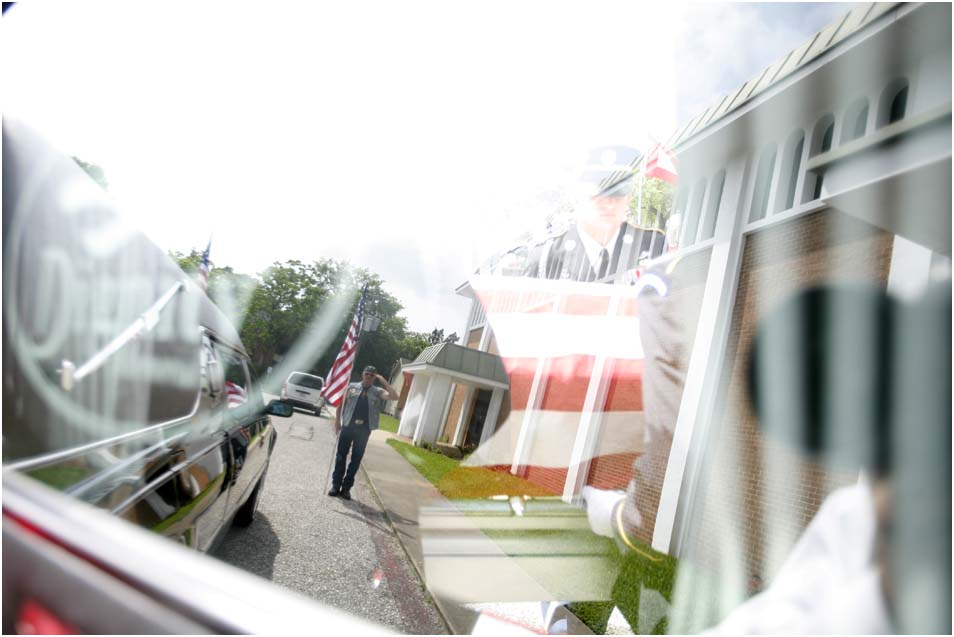 TID:
What surprised you about the moment?
ERIC:
One of the things emphasized at the graduate program I went to at Ohio University was layering images. I was surprised by how many layers I was able to fit into one frame and have all of the content in the image be relevant to the story.
TID:
Since you mention layering... Can you talk a little more extensively about how you approach layering in your photography?
ERIC:
The best way I can explain layering is that you're taking a three-dimensional space and converting it into a two-dimension space. What's a good way of recreating volume? One way (but not the only way), is by layering an image. This basically means shooting through something or around something, creating an internal frame for your subject by placing compositional elements in front of or around it. Sometimes backfocusing is used with this technique, but not always. If I can, I make the layering elements relevant to the context and content of the image. A recent example was an assignment I had at a hospital. The subject was having her lung capacity tested. I framed her with surgical-grade air hoses as foreground elements. Obviously, not all situations lend themselves to this compositional technique.
TID:
What have you learned about yourself in the process of making images like this?
ERIC:
It demonstrated to me the possibilities that can happen when one doesn't automatically assume one should just respectfully stand on the sidelines with a 400mm and not get close to an emotional event. Social taboos are a construct and, by definition, are not a hard and fast fact. We carry those taboos with us, but the people we're photographing typically have different rules that guide them. Why not step outside of our assumptions? I always figure if someone doesn't want me around, they'll let me know, in which case I'm more than happy to stand on the sidelines with said 400mm. But I will always try to get close first.
TID:
Now, onto the moment. Can you talk about the moments leading up to the picture and also the actual moment?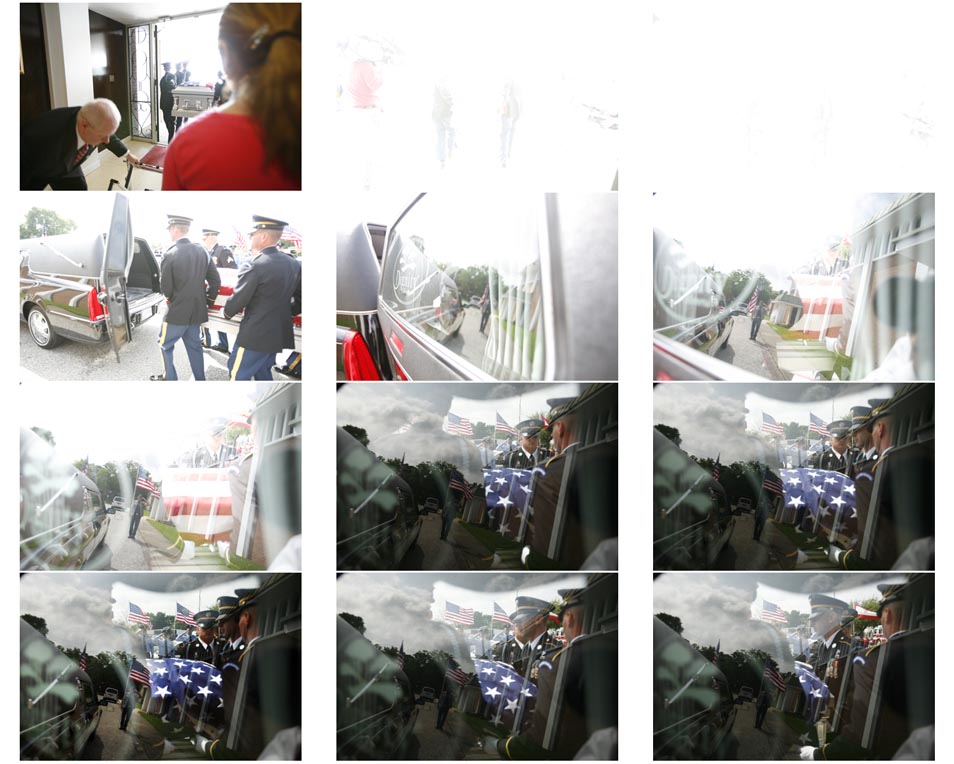 ERIC:
From the contact sheet, it appears I had forgotten to adjust my exposure from indoors to outdoors. I'm glad I checked before the moment was over because at the time, I think I was stupidly still shooting all my assignments on .jpg only. If I hadn't checked (I guess I did chimp at some point in there after all) I would have been hosed.
TID:
Can you talk a little about the friendly rivalry among some photographers, especially when you shoot several of they same type of assignments over and over again?
ERIC:
One of the best things about being a staffer at a newspaper is having the friendly competition. I have to admit I do have a competitive streak. Sometimes I'll look at a photo and say to myself, "If I had that assignment, I would have done this instead." Am I alone on this? The repetitive nature of newspaper assignment work (i. e. military funerals), allowed me to test my theories. It's one of the things I miss most now that I'm a freelancer. The forum for competition is much more loose and amorphous.
TID:
In conclusion, what advice do you have for photographers?
ERIC:
Don't assume anything and get closer.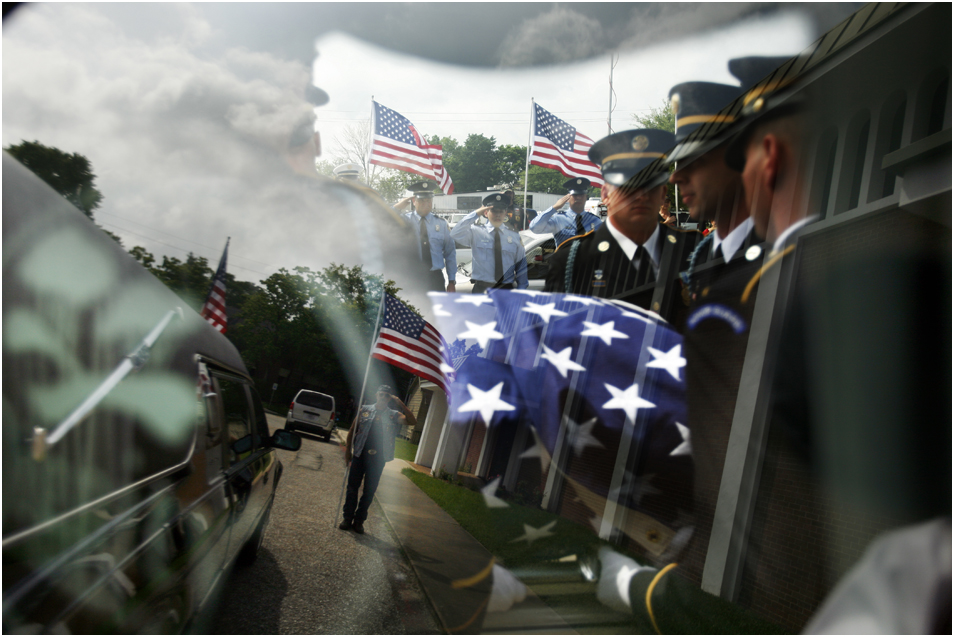 Kayne is a freelance photographer based in Houston, Texas. He attended graduate school at the Ohio University's School of Visual Communication. He attributes that experience to turning him on to new ways of thinking about photography, it's application and potential. During school, he did internships at The San Antonio Express-News, The Seattle Times and The Dallas Morning News. Kayne's also worked as contract staff photographer at the Houston Chronicle.

You can view more of his work here: