Spotlight on Drew Angerer
Dec 7, 2012
TID:
What a great moment, and one that is surprising, to say the least. Please tell us a little of the backstory.
DREW:
Thanks for having me on the blog, Ross.
I was interning at the NY Times in the D.C. bureau at the time, where I was regularly assigned to the White House shift. On that day, December 10, 2010, former President Bill Clinton came to the White House for a private Oval Office meeting with President Obama to discuss the compromise the president made with Congressional Republicans on taxes (extension of the Bush-era tax cuts in exchange for extension of unemployment benefits and a payroll tax cut).
They weren't scheduled to make an appearance to the public or media that day, but a press conference was called hastily at the end of the day in the White House Briefing Room. Details were sparse, but everyone figured the two would be coming out together to talk. And that ended up being the case. The president spoke for a couple minutes and then left to get ready for a White House holiday party and left President Clinton to answer questions from the press on his own.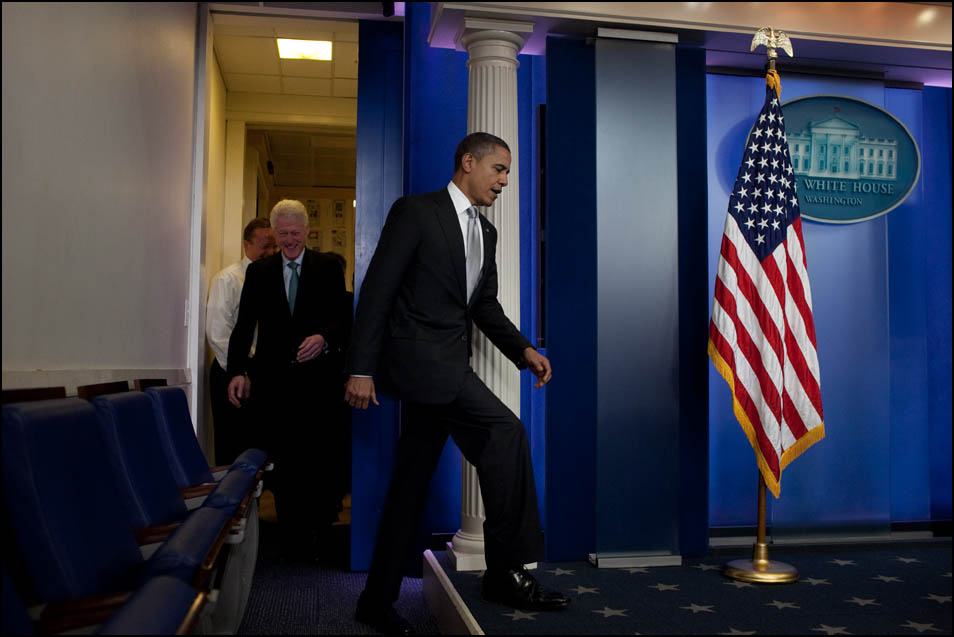 TID:
How did you prepare for this shoot, and what did you do to put yourself in position to make this image?
DREW:
I was assigned to the White House shift that day. Each day, the White House sends out a schedule of his events and press availabilities, so you usually know what's going on heading into the day and whether or not press will be allowed to cover them. On this particular day, there wasn't much scheduled, but photographers in the "travel pool" or "tight pool" are at the White House each day regardless of what's on the schedule, just in case something pops up. In this case, the two presidents were not scheduled to make any appearances to the media and were only supposed to meet privately in the Oval Office. When they decided to make an appearance, the media was only told a couple minutes before that they would be coming out to the Briefing Room to talk.
So sticking around at the White House for the full day, even though there was nothing scheduled, was essential to make this photo.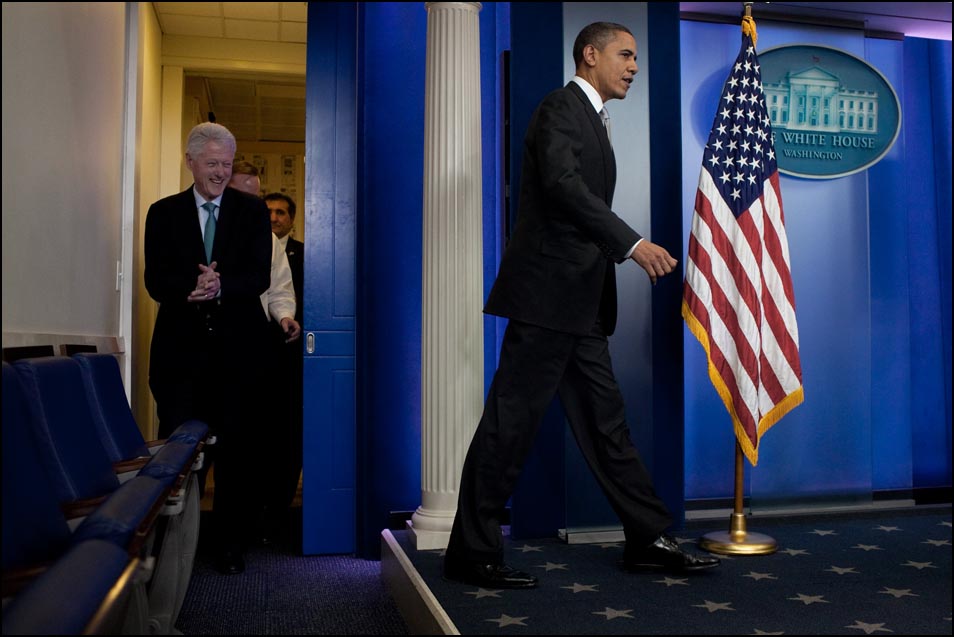 TID:
What challenges did you encounter while working to make this image? How did you handle and overcome these problems?
DREW:
The White House Briefing Room is pretty small. A lot of times the room can get really cramped and can be very tough to move around once a press conference starts. Luckily in this case, since the press conference was scheduled without much advanced notice, it wasn't too crowded in the room and it was much easier to move around.
TID:
Now, onto the moment. Can you talk about the moments leading up to the picture and also the actual moment?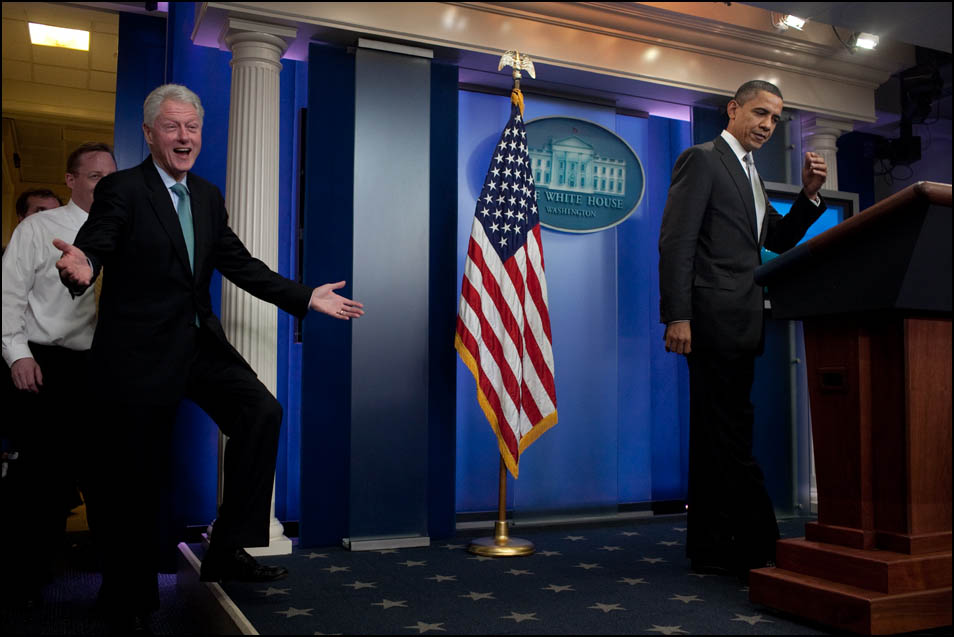 DREW:
I chose to crouch down in the front corner of the room and shoot wide with a 35mm lens when they walked out. When working with the NY Times, they encouraged me to try to move away from the pack and to be creative and look for different angles.
President Obama came out first and Clinton followed, gesturing with his arms wide open and a big grin on his face as he took to the small stage. I guess I really wasn't aware of the moment I had until I went through my take after the press conference. Everything happens fairly quickly and you don't have a whole lot of time to chimp (look at the back of your camera) because these things are over fast and you try not to miss anything important. So you have to pay attention.
I was just in the right place at the right time and caught them at the right moment. I think I'm the only photographer who has this picture. There was definitely some luck involved, but choosing where to position myself and what lens to use definitely played a part in helping make the picture.
TID:
What surprised you about the moment?
DREW:
I didn't realize at the time that I had captured them both with those humorous gestures. Clinton was obviously being jovial and having a good time when they both walked out to start the press conference. The tone quickly got more serious once they both started discussing the details of the tax deal. Clinton went on to speak with the press for about 30 more minutes. I just happened to capture a lighthearted moment in what can be a fairly mundane visual situation.
TID:
Just out of curiosity, was this is coincidence or was Obama reacting to Clinton's gesture?
DREW:
I think it was mostly coincidence. I've watched clips of this press conference a couple times and it appears Obama is just rubbing his head as he takes the stage. But he does smirk a little bit before he begins to speak.
TID:
What was the reaction of the editors when they saw the image? Did you know what you had when you got the image?
DREW:
The editor I normally worked with was off that day and someone was subbing on the desk, if I remember correctly. I don't know what they thought, to be honest. This was at the very end of the day, I filed the photos quickly to New York and then my day was over. They ended up running an AP photo by J. Scott Applewhite on the front page the next day. One that showed Obama leaving and Clinton taking the lectern by himself. Perhaps my photo was not really appropriate for the more serious tone of this particular story on taxes and compromising with the GOP.
Going through my take afterward, I did think the photo was humorous, but I never imagined it would win awards and take off in "meme" form.
TID:
This image has taken off on a life of its own, I have seen it pop up countless times as a meme. How does that make you feel? How do you handle something like this?
(BELOW ARE TWO EXAMPLES)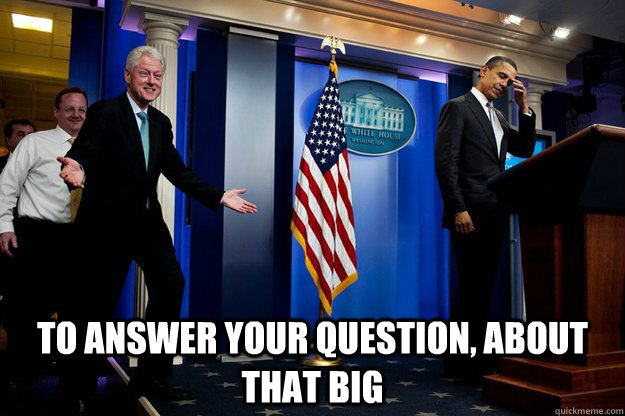 DREW:
It's a strange phenomenon. I think it started popping up about a year and half after I shot the photo and I'm not sure what started it. The newspaper actually ran a wire photo in print the day after I shot the photo, so I'm glad a lot of people eventually got to see the photo, but most of the time there was rarely any credit associated with my picture floating all over the web. Some friends told me it was at the top of Reddit for a couple of days - I didn't even really know what Reddit was before that. Some of the captions and memes definitely made me laugh though.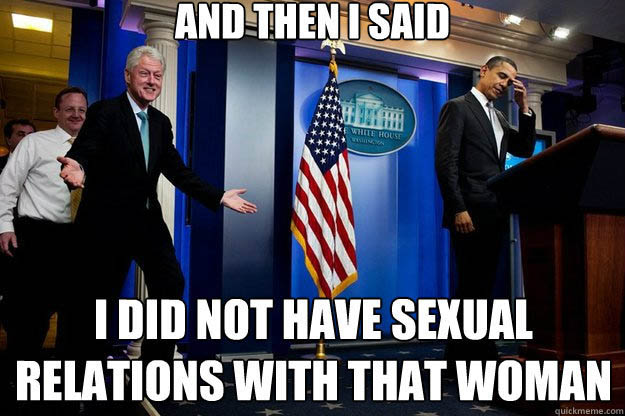 TID:
What have you learned about yourself in the process of making images like this?
DREW:
Covering the White House beat can be really slow some days. I don't think I had clicked the shutter the entire day prior to this set of pictures. You have to be patient and a lot of times not a lot happens.
TID:
In conclusion, what advice do you have for photographers in these type of situations?
DREW:
Not sure how much advice I can give on shooting press conferences, but I think when you're at an assignment or event with a lot of other photographers, it can sometimes pay off to go to spots where other people aren't to try to make a different picture.
:::BIO:::
Drew Angerer is a freelance photographer based in Washington, D.C. Previously, he interned with The New York Times, Associated Press, White House Photo Office, Palm Beach Post and Midland Daily News. His photos have appeared in TIME Magazine, Newsweek, The New York Times, Washington Post, and many other publications across the globe. His work can be viewed here -
www.drewangerer.com