Spotlight on David Surowiecki
Mar 18, 2012
TID:
After years of talking about photography between soccer matches and late nights in the East Village, I'm excited to chat without interruption about this image. Your experience shooting fashion is interesting, considering you have a documentary background. Set the scene for us with this image.
DAVID:
This photo is of model Linda Vojtova, and it's from a fashion story I shot in New York for the Czech Republic publication of Elle magazine. It's one of a series of seven different looks (wardrobe changes) that I photographed with her that day at the Cooper Hotel. I think this was the third look of the day; the final story ran as eight pages and a cover.
Elle Magazine in Prague had emailed me about a week beforehand to see if I was available to shoot one or two stories with Linda for a special issue. The fashion content of the issue was entirely dedicated to Linda, marking her ten years in fashion. In addition to my work, she was photographed in Prague, with two other photographers, and in Paris. Mine was the New York end of the production - important because the model also lives here.
After the magazine calls and proposes two stories to shoot, the Elle team and I discuss story ideas. It's a process of back and forth as we build a concept. Generally, from my perspective, the first thought is the model and everything builds around that: wardrobe styling, location or studio, lighting style, hair and makeup. We put these elements together to create the mood and feeling that you're looking for. Of course, on the day of the shoot often the story takes on a life of its own -- you just try to keep it going in the right direction. An editorial can have a narrative evolution, or you can just shoot it as straight fashion with no pretense to a storyline.
TID:
Can you describe what you were thinking, how you wanted this image to look and how you knew when you had the right frame?
DAVID:
In a fashion shoot, a lot of the direction for a photo naturally comes from the styling: what the model is wearing, and how the hair and makeup looks. The styling and production decisions on this shoot were made very last minute, and we wanted to shoot this story in contrast to a previous one shot with Linda the day before. That meant strong, loud colors, high energy, strong posing from the model, and punchy, sharp light from me.
For this image, Linda is wearing this kooky green Prada dress with Baroque monkeys on it, and her hair is curled so it's nearly an afro. At this point, we had already dialed in the feeling of the story, and the photos began to flow. I remember thinking, "Ok, almost anything can work in this shot as long as the attitude of the model and the pose stay in character." I had already committed to my lighting as well. It's an on-camera ring flash with an octagonal soft box, and I know that in the right situation this light can give a cool, sexy look to just about anything. The model was thirsty and someone handed her a bottle of water, with a straw so as not to mess up the lipstick. When she took a drink, I knew that was the shot I wanted.
A lot times on a shoot, a model will do something natural when the camera isn't focused on her, and it can be in those moments that you see a certain beauty, an ease or a look that is different than what has been happening on-camera. That's what happened here, and that is something that I try to grab a hold of during all of my shoots. It is like trying to find that little bit of magic. It's hard and it's ephemeral, but that's why it is an art, not a science.
Looking back at the digital files now, I can see that I only shot 52 frames of this look, which is almost nothing for me these days. Sometimes the next shot involves a makeup change, a hair change, or even a location change, each look runs a full-page in the magazine, so you want to make sure you have the frame before you move on.
As far as reviewing the photos during a shoot, I almost never shoot tethered to a computer, and more and more, I try not to look at my camera screen too much. But after I feel that I've got the picture I need, I'll flip through the sequence quickly on the camera, check focus, and then tell the team we can move on to the next picture. This image immediately stood out for me, and without any retouching or color moves, it already looked ready to print.
In post-production, I shifted the reds a bit to take it subtly away from reality, then added some contrast and cleaned up the skin, but that's about it. The image was also cropped to fit the magazine format, which I think involved extending the canvas a little on the left side of the photo.
TID:
Mentally, how do you prepare for an editorial fashion shoot? Do you feel it's different from an editorial portrait shoot?
DAVID:
The most important thing for me is to have a clear picture in my mind of the "look" for the shoot, and then everything flows from there. Until you can define the "certain something" that you want from the story, you will struggle to find your way. A lot of this is very abstract: the mood, the feeling of the shoot. These things are difficult to put into words, but it is important to try to do so -- this really helps you to think about how your lighting, location, posing, and styling will combine to build the pictures.
The team talks over all of these details, but in the end the decisions have to come down to the photographer -- you're the person behind the camera, and you have to feel it. If you don't like what's in front of the camera, then it's going to be a very difficult shoot.
I don't think that this approach is very different from an editorial portrait shoot, with the exception that you are trying to build a story, perhaps 10 photos that go together and feel connected, while avoiding being repetitive. But if you are shooting an actor, a musician or someone else in the creative fields, then it's very similar to a fashion story.
TID:
Did you have a plan or storyboard to follow when shooting this fashion story?
DAVID:
For this story, we were shooting off-the-cuff with no storyboard. Our references for the shoot were mostly about the lighting, featuring a direct-flash style of lighting -- not necessarily small flash on top of the camera, but something with that feeling. We also wanted the story to feel somehow "American" since we were shooting in New York and the magazine is based in Prague. It was December and cold, so our outside options were limited. That is where little styling touches came into play, and then we were also able to shoot on the rooftop deck of the hotel to incorporate the New York skyline to bring the point home.
TID:
How much time did you have with this shoot?
DAVID:
We started the day at 9 am and were done by 4 pm, which is a short day by fashion standards. On any production like this, your shooting time is considerably less than you would think because of the fitting, hair, makeup, and changing outfits or looks between shots.
I didn't begin shooting the first look until 1:30 pm, and I had finished the seventh look by 4 pm, which is really crazy fast. Most of most shoots won't move that quickly, but a few things this day really contributed to that.
First, the model has a big role to play, obviously. Linda Vojtova is a great model, very experienced, and most importantly, she's very easy to shoot. When you look through the camera and realize that it's hard to take a bad picture of your subject, then you know you're in good shape.
Second, I had a fixed lighting setup, so we could move on to the next photo as quickly as the team could change the model for the next look. Exposure moved around a little based on my distance from the model, and when I was outside, finding the right balance between the daylight and the flash was the challenge, but other than that, the lighting was set and consistent. We shot the whole story in two locations the Cooper Hotel, so there was no time wasted relocating.
TID:
Do you think your documentary background helps you with process?
DAVID:
I don't think that it really plays a role much in my planning, but it definitely has been a big help when I'm shooting natural light and when I'm on location. When I was just starting out shooting fashion and editorial portraits, I had the confidence to know that I could put the subject in just about any environment, any type of lighting, and come away with something good. It's something that newspaper and documentary photographers deal with every day. They have an assignment, or are thrown into a situation where they don't have any control, and they have to produce something that will run in the newspaper the next morning. There's this calm, this belief that the picture will come.
How many times has a newspaper photographer had to go find a "feature" photo, with no idea of where the picture is going to come from, but inevitably it happens? I still really enjoy shooting fashion and portraits like that, and I feel very much at home when we are out in the streets, in the city somewhere and just letting the shoot happen.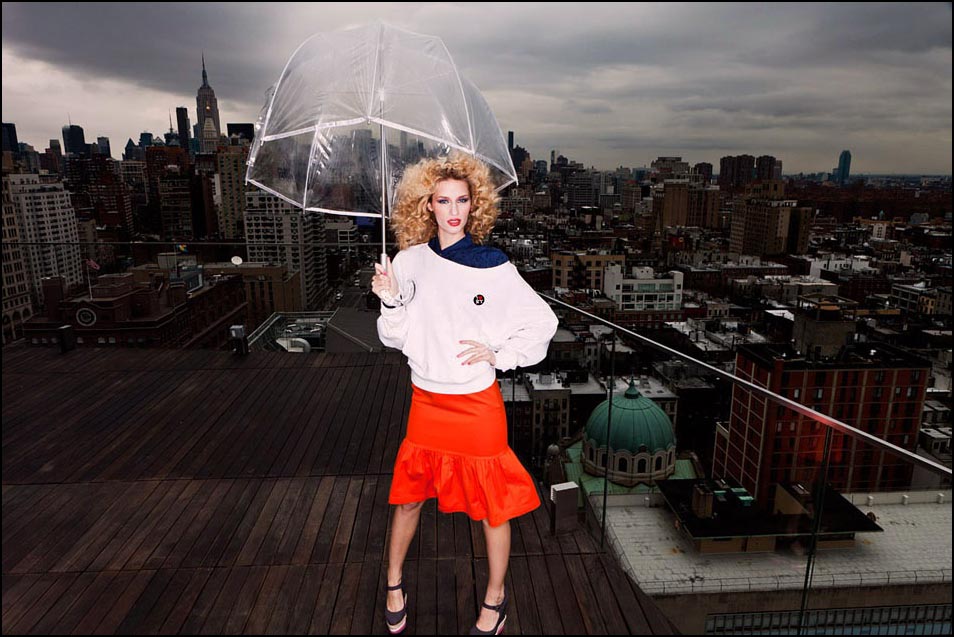 TID:
What do you say to subjects to make them comfortable?
DAVID:
The main thing is to create an environment on set that is conducive to the kind of photo that you want to create. It can be quiet and intimate, or full of energy and purpose, so that the subject knows that something big is going to happen that day. In all cases, you keep the set organized and under control. Even if the lighting isn't looking right, even if the computer is crashing and you're running out of time, it's your job as the photographer to make the subject feel confident that the pictures are looking amazing.
If the subject is reticent, or uncomfortable in front of the camera, I try to keep the set relaxed and low-pressure. I manage how many people are in the line-of-sight of the subject. On my shoots I don't like the team standing behind me and looking down the line at the model -- the subject should just see the photographer and the camera, because anything else is a distraction.
One of the most valuable things that the assistants can do is free me up to concentrate on the photography and not think about the production side of things. If I can be relaxed in the knowledge that all the gear is working well, the lights are firing as they should, the exposure is on, the files are being copied to the computer and backed up, it allows more mental space to think about the photo.
A lot of times I find that my best photos will occur when it is just the model and me somewhere quiet, away from crowd because ultimately, the subject has to make some sort of connection with the camera (or the photographer) and for most people that is easier away from the spotlight.
There are exceptions of course. Some subjects turn on the energy and charm when they feel they're in the spotlight, then it's great when the set is loud, busy and exciting, making it feel like an event.
TID:
Do you have any habits or strategies you use regularly to communicate to models?
DAVID:
I treat the models like professionals and as collaborators: the person in front of the camera has as much of a say in the final outcome as the person behind the camera. I make it clear from the beginning what I expect from them, but I also try to foster this feeling of a little conspiracy between the photographer and model, like it's really just up to us to create something here. I'm on their side, because I know that my picture depends on them.
During the shoot, like with any other subject, sometimes you have to encourage, sometimes you have to inspire, and sometimes you have to demand more from them. This relationship goes both ways, because both you and the model are invested in the shoot. Fashion shoots are different from many other kinds of assignments in this way, in that the subject of the photo cares just as much about the outcome as you do. If something isn't working, it's up to one of us, or one of the rest of the team, to do something to turn it around.
TID:
How do you handle it if you think things aren't going well?
DAVID:
Change something. Change the music. Change the outfit. Change the hair. Change the makeup. Change the light. Break out the Red Bull. Find a look that you feel confident about and shoot that one first to get things rolling. If the model has an amazing face, shoot a portrait, shoot a close-up and get the energy of the shoot moving in the right direction.
Shoot a lot of movement, turn the music up, turn the wind machine up. Have the model jump around, doing so many different things at once they can't worry about the pose or their expression, or what else is going on around her. Give the team a pep talk, jump around, yell a little bit, anything to get it going again. You're the one who is responsible for these images, and it's your name that's going to be in the magazine, so you do what you have to get things moving in the right direction again.
TID:
Are there patterns you watch for in people's behavior?
DAVID:
When things are going well, you can feel it, the mood is good and the pictures are flowing. All of the elements of the shoot are in sync and you actually have to remind yourself to stop shooting and change the outfit.
When it's going badly, well, as photographers we really see everything that's going on in the subject's face, and it's amazing how quickly you can notice some spark that's gone from the eyes, or a slight change in body language. You also have a whole team there as well, so sometimes the stylist or makeup artist will notice something you don't.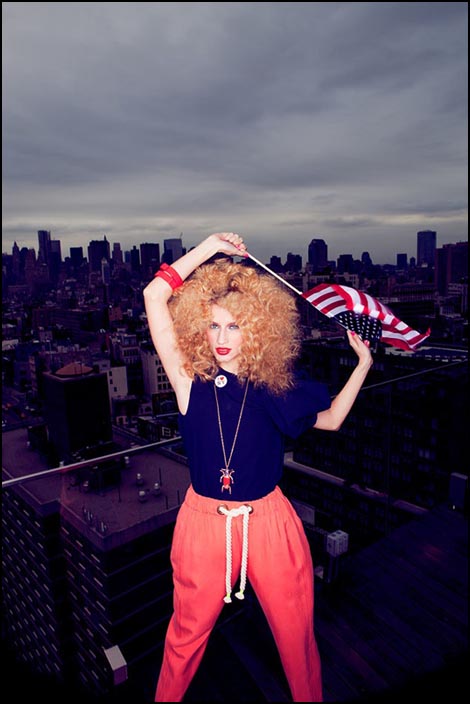 TID:
Any advice might you have to photographers wanting to focus their career on fashion photography?
DAVID:
Assist. If you really want to make it in fashion photography, move to New York or Paris or London and assist the best photographer you can possibly find. And then move on.
Fashion photography is a collaborative medium, and you won't go far on your own. On my shoots we really function as a team. It's more akin to making a small movie than going out on your own and shooting a documentary scene. Find people whose work you value and who you enjoy working with, and keep your team together. You're with these people all day long, sometimes for days on end, and the right team will make your job a lot easier.
TID:
Your educational background is in photojournalism, so how did you decide you were going to make your focus fashion?
DAVID:
Well, it wasn't actually a conscious decision to switch my focus to fashion. I had the intention of running along parallel paths, shooting fashion and still shooting documentary work as well. But it is true that part of the motivation to pursue fashion did have to do with the differences between the business of photojournalism and fashion photography.
In the fashion world, someone gives you 8, 10, 12 pages in a magazine and says, give me something great. Or they say, what do you think? What's your idea for this story? It's wide open, and it can really be your vision that ends up across ten full pages in a magazine.
I had worked for newspapers before, and parts of the job I loved, but a lot of it just wasn't for me: the daily routine of press conferences, portraits in an office, and then one small photo running in black and white. Photojournalists have to fight so hard for space for their photos. They need to justify the value of their images on a daily basis. In fashion photography, your images are the most important thing in the magazine. Photography defines these publications, and you are valued as an artist accordingly.
This shoot was a reminder that it's good to step out of your comfort zone. Most of my work has a bit more classical feel to it, more traditionally "beautiful" than this story, and it felt good when I shot the story with this more directapproach to lighting and mood.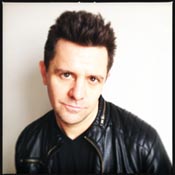 Bio:
David Surowiecki is a graduate of the University of North Carolina at Chapel Hill and began his career as a newspaper photojournalist before transitioning to magazine work, shooting fashion and portraiture. Now based in New York, Surowiecki spent the majority of the past decade living and working in Europe, where his client list includes international editions of Harper's Bazaar, Elle, Esquire, In Style, and Marie Claire among others.
His iconic images of the World Trade Center tragedy in New York on September 11th were seen around the world and were recognized by the World Press Photoand Pictures of the Year International competitions.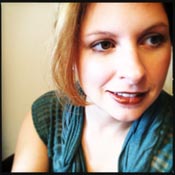 This week's interview was conducted by Pattie McNab who runs her own visual media company,
McMushroom Media
, which includes
PJ Photo Editors
, a consultancy that helps professional photographers reach their full potential. Before working for herself Pattie was a photo editor at The AP and Getty Images, collaborating with photographers on spot news and longer-term photo stories. She lives in NYC with her husband and two children.
Next week we'll examine this image by a caregiver/photographer Jim Mortram: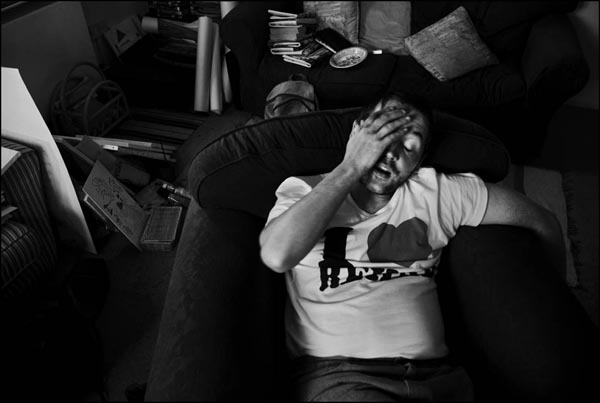 If you have any suggestions or if you want to interview someone
for the blog, contact Ross Taylor or Logan Mock-Bunting.