Spotlight on Brittany Wait
Oct 22, 2015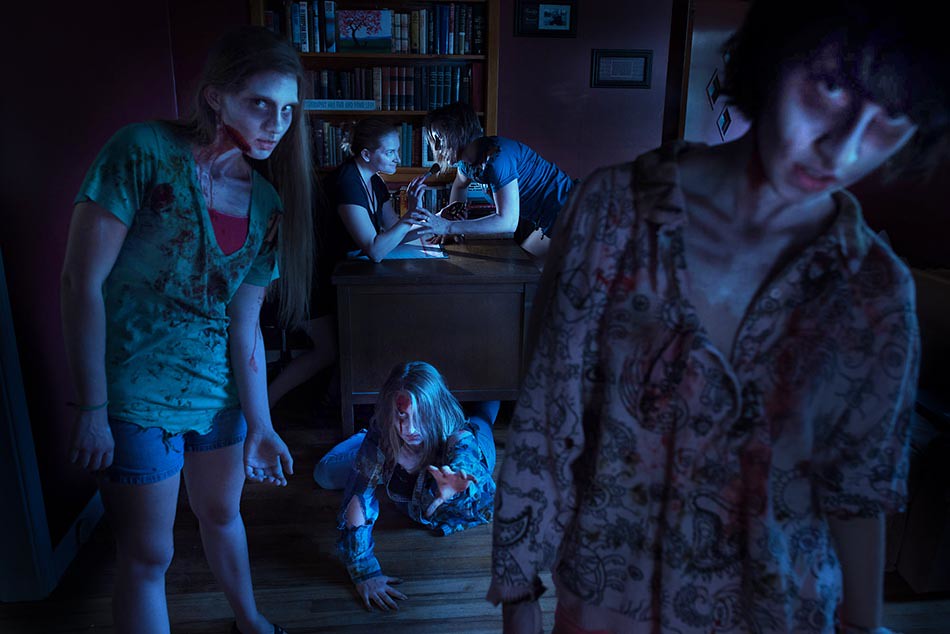 TID:
Thanks for being open to this, Brittany! When I first saw these images, I was hoping you'd be open to talking about them more - they're really lovely. Can you tell us a little of the story of the lead image?
BRITTANY:
My intention was to shoot 13 zombies at a haunted quarry at sundown, but because we only had one makeup artist, things took longer than planned. While she was touching up makeup, I setup another shoot in her living room. While Megan Reed created zombies, I had my assistant stand in for her until I was ready. The idea was to have her creating a zombie, but as she's finishes her last creation, it becomes more "alive." I then placed zombies in the foreground to frame the makeup artist with her creation in the back with a desk lamp to light her face and lead your eye to her.
TID:
Let's backtrack a little - you used to be a newspaper photographer, but returned to graduate school at Syracuse University. What was your decision for this?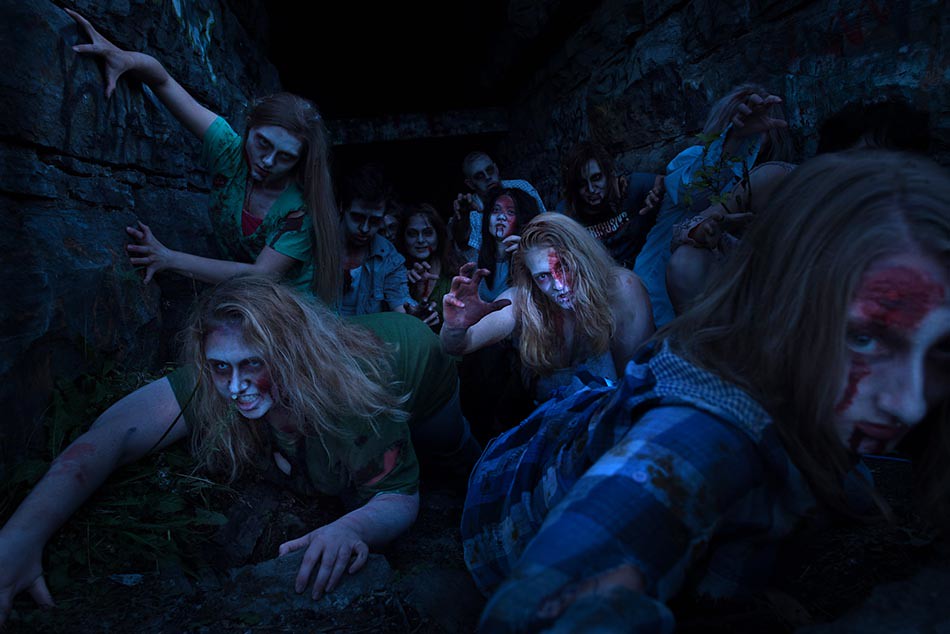 BRITTANY:
For two years I worked as a multimedia reporter at Newsday shooting video, stills and writing for online and print. On top of that, I was responsible for using social media to share stories and keep viewers' interest.
Because I found myself drawn more to visual storytelling, I decided to go to back to my hometown for graduate school. I'm a year into pursuing a master's degree in the Multimedia, Photography and Design at Syracuse University's Newhouse School, but still have another semester until I complete my master's film.
TID:
How has returning to school helped you visually?
BRITTANY:
Returning to school has changed the way I see the world, especially through a camera lens. I see composition differently. I'm more confident in my work and more experienced to defend it. I shoot more with intention now and have become a better photo and video editor. I've learned what story is and how to tell a story in a way that's unique. If it weren't for grad school, I wouldn't have found my love for documentary and fiction filmmaking. Learning from one of the most influential portraiture photographers, Gregory Heisler has changed the way I see lighting in a composition, and he's giving me the support to pursue filmmaking. I've learned to see the quality of light in images more than I had ever before. I now understand where light is coming from and what a photographer's intention could've been in creating or manipulating that light. I use much more of my creativity to express mood and story when crafting an image or video frame than ever before.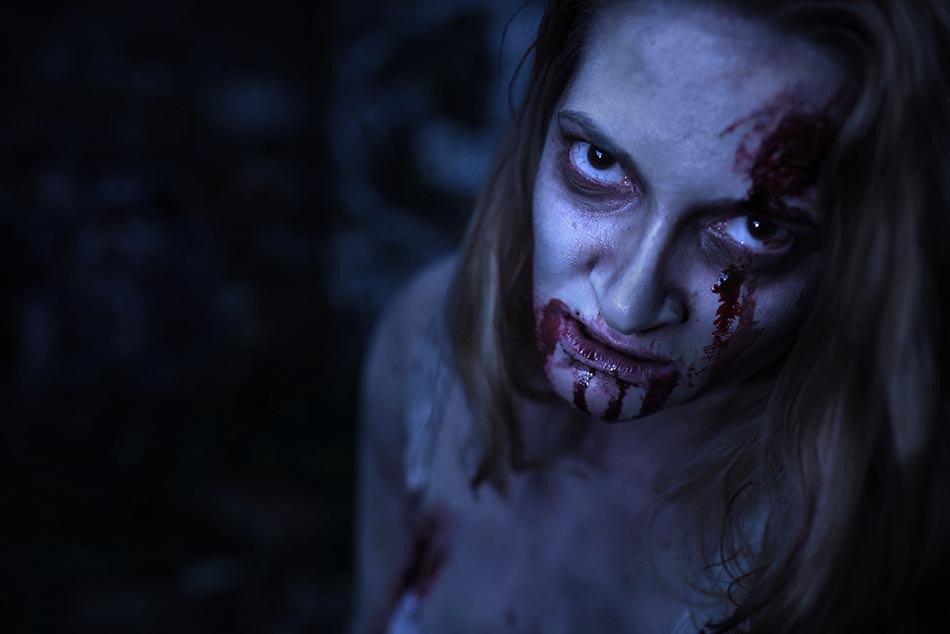 TID:
This was part of an assignment, can you talk about how you created the setup for this?
BRITTANY:
This was for an assignment in Professor Heisler's class. Since I'm a filmmaker, my intention in his class is to create stills that serve as film sketches. The plan is to tackle a zombie flick at some point. I had taken the makeup artist, Megan Reed, out to the local haunted quarry a week prior to the group shoot to test the natural light and location. On the day of the group shoot, makeup took longer than we had hoped, so I thought that would be the perfect time to try out a shoot I had imagined happening in the living room.
My process? Because I had worked with the makeup artist on a prior shoot, she was all for the challenge of a group shot. A week prior, she gathered up all her friends and family, and on that Sunday made them up as zombies out of her garage, and then we all raced against the clock to get to the location and shoot before the sun went down. Because I hadn't practiced with artificial lighting in the studio at school yet, I only used available light from sunset paired with flashlights to light the scene at the quarry.
TID:
Now, onto the moment. Can you talk about the minutes leading up to the main frame, and what was going on in your mind at the same time?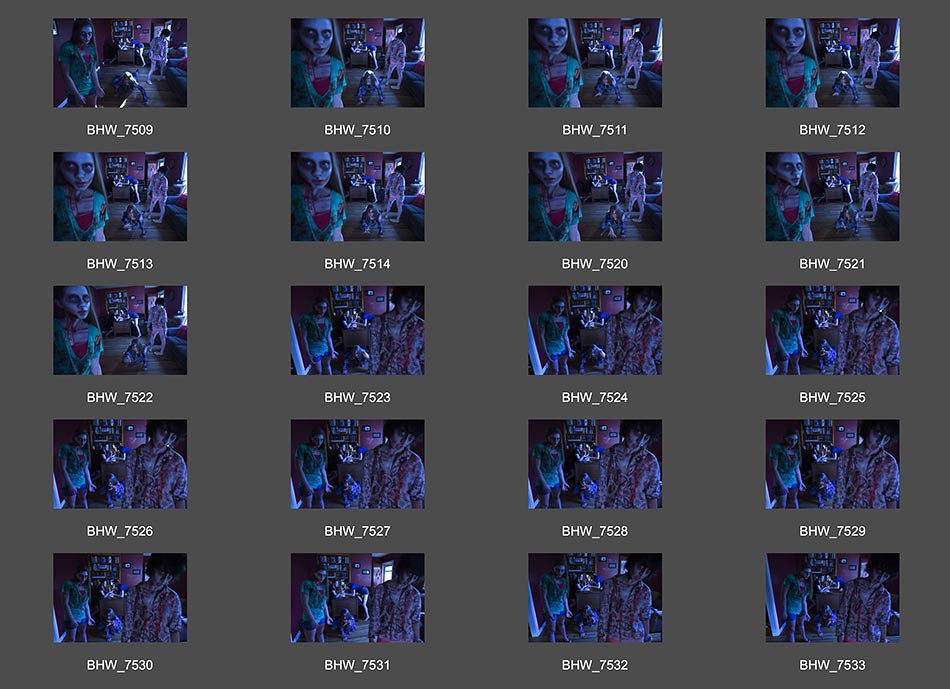 BRITTANY:
I'm taking a directing class this semester, so I was thinking of how to direct the actors in a way that would make their zombie characters come alive. I had the makeup artist create certain wounds with my frame in mind and then I told each zombie how they died and how their wounds affect the way their body moves. I was thinking about how to place each zombie in a way that frames the main character in the background. Each zombie needed to be at a different distance, but close enough to the character that would still add depth to the photo.
TID:
What problems did you face, and how did you overcome them?
BRITTANY:
Because I was using natural light coming in through the windows in the living room, I had to think of a way to light the main character's face and the zombie she was creating. I found a desk lamp and hit it behind the main character's head enough so the camera couldn't see it, but her face was lit. And I moved zombies closer to the camera to give off the feeling of them now coming after the photographer.
TID:
What did you learn about others from this shoot?
BRITTANY:
I saw firsthand how much more actors get into their roles when having fun on a photo shoot. It's important to make sure your subjects are comfortable, having fun and feel they can own their character. I find that you, as a photographer or filmmaker, get the best results that way.
TID:
What did you learn about yourself?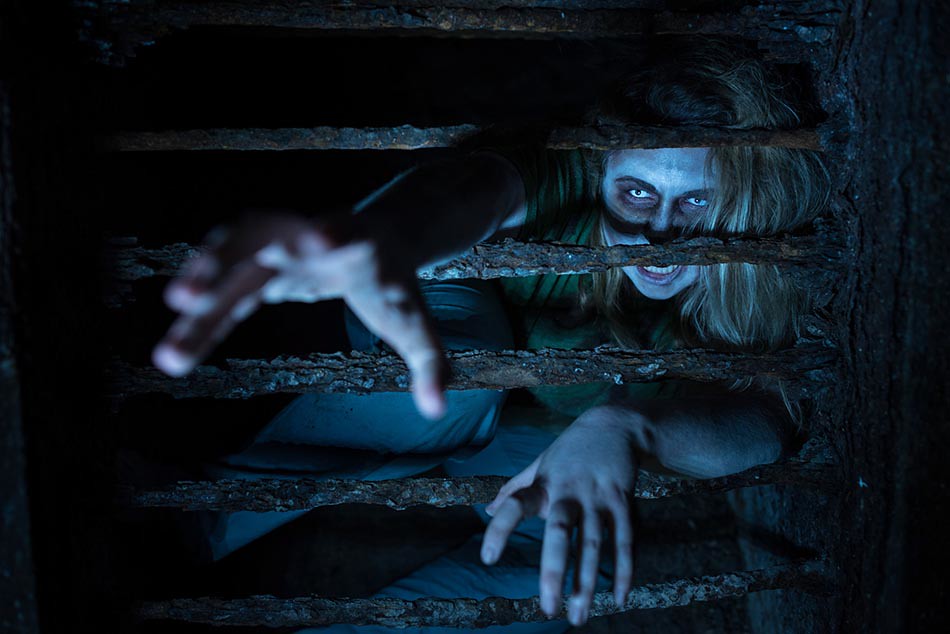 BRITTANY:
This was the first time I had tried a composition like this. It was also the first time I had taken on the challenge of directing and placing multiple actors in a frame in a way that tells a story. I learned to trust myself more. Trust that I know what I'm doing and that my vision isn't wrong. I just need to work for it.
TID:
In conclusion, what advice do you have for photographers who may want to do this type of work?
BRITTANY:
Make connections with designers and makeup artists. Build a community of people you can count on and hold onto those relationships. I hadn't seen Megan Reed for six years, but it just so happened we always wanted to work with each other and this was the perfect chance. Also, make sure you're aware that everyone's time is valuable and work fast and efficiently. Be flexible and adaptable. Things always go wrong. It's how you handle it is the difference between making a successful or unsuccessful picture.
:::BIO:::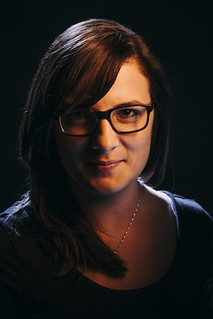 After starting out as a visual and print journalist, Brittany Wait has recently changed her path to filmmaking. She attends Syracuse University's Newhouse School of Public Communications to pursue a master's degree within the Multimedia, Photography and Design Department.