Spotlight on Andrew Renneisen
Aug 21, 2015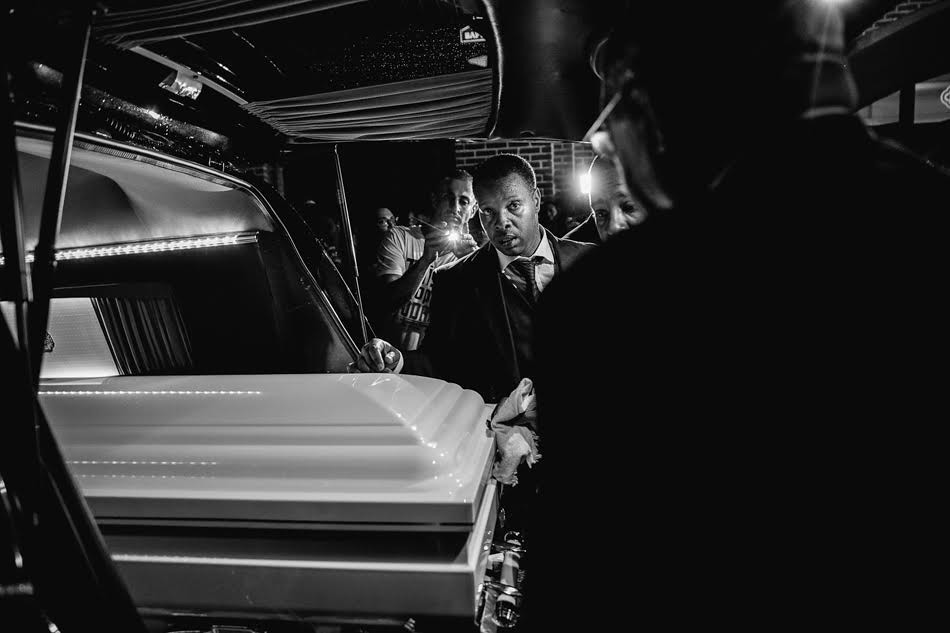 TID:
Thanks for being open to this, Andrew, can you tell us a little of the backstory to the image?
ANDREW:
Thanks so much for the opportunity, Ross. This is an honor, TID was an inspiration for me when I first started, and continues to be with every post. This was an assignment for me when I was an intern at The New York Times, and the image has become a part of a bigger project I am currently working on about Race in America.
This frame is from the funeral of Eric Garner, the 43-year-old black man who died after being put in a illegal chokehold by an NYPD officer in Staten Island. His arrest was caught on video, and his death became one of the many symbolic deaths for the Black Lives Matter movement throughout the United States.
It's the moment when Mr. Garner's casket was moved at the end of the service. It had started pouring rain moments before, and stopped just in time for the end of the service. Everyone who was outside the church moved up to see the casket come out and be placed in the hearse.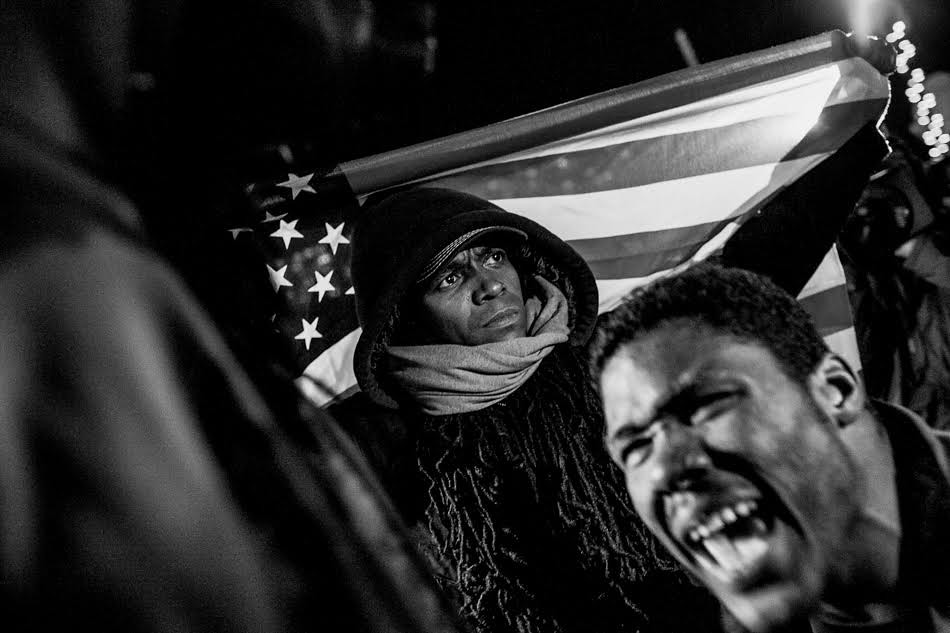 TID:
This is part of a larger coverage of a news event, can you tell us more about what it was like to be there, and what were you thinking as you were working/what were you trying to achieve?
ANDREW:
I think funerals are the hardest things to cover in regards to news events. Despite the fact that funerals are inherently sad and traumatic, larger funerals like this are so crowded and tough to work in. I arrived many hours before the service was supposed to start, in order to get a spot in the press area as well as photograph guests arriving to the service, and stayed until the end. The funeral was highly attended with lines stretching out the church. There was also an extremely high presence of police officers which aggravated a few louder protestors, but overall people remained respectful of the situation.
The most important thing for me when working in these situations is trying to craft an image that is effective, and different from other photographers basically in the same situation. In this type of news environment, the press is often placed in the same areas, so a lot of the images look extremely similar. I'm often trying to make something different from a standard news image, while still conveying the same information necessary for the story.
TID:
What sort of planning did you do in preparation for the assignment?
ANDREW:
This was one of the first bigger funerals I had ever photographed, so I talked a lot with my editors and other photographers who had worked similar events which was a huge help. Had I arrived without the information they provided me, it would have been very overwhelming. I scouted out the location of the church on google maps the night before, and made sure I got to the scene extra early to see how things would play out once a press area was established.
Technically, I knew the assignment was going to be a long one, so I packed extra batteries for my cameras, made sure my cellphone and mophie battery was charged, and was prepared to transmit images on site. This kind of assignment there should be no excuse for technical failure if you are properly prepared. I bought some cliff bars and a couple bottles of water to keep me going. I think being able to work comfortably and not worry about your gear minimizes your stress level in an already very stressful environment.
TID:
When you first arrived, what was it like for you, and what problems did you face?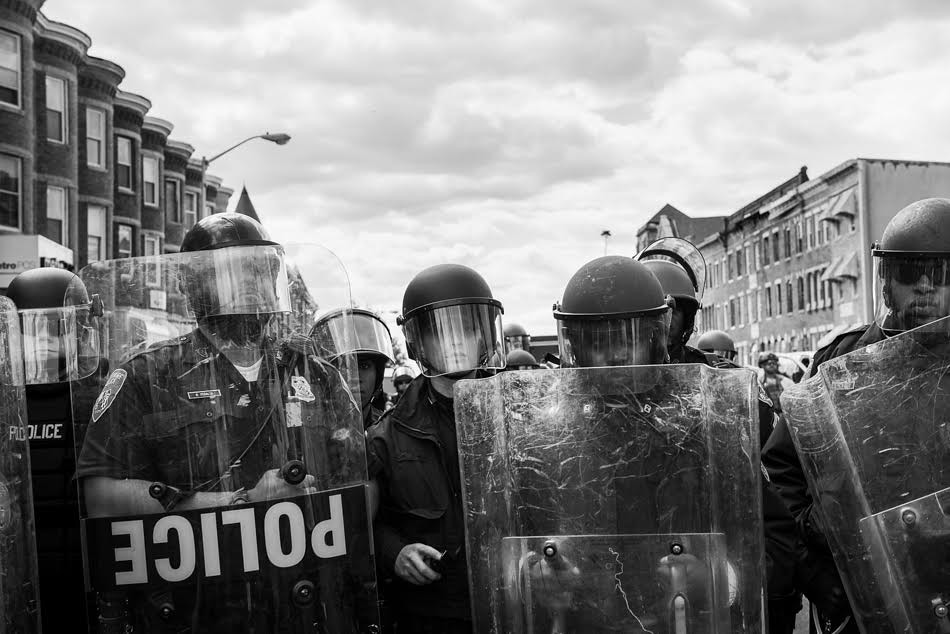 ANDREW:
When I first arrived, it wasn't too crowded, but as the day went on it got a bit overwhelming. The constant search for the right positions to make good photographs is always a problem in media saturated situations. Also, deciding when to file pictures and making sure to not miss anything important was difficult.
TID:
How did you overcome these problems (problems are not unique but how photographers handle them are)?
ANDREW:
I was lucky enough to be working with another amazing photographer and friend, Bryan Thomas. So, if I wasn't in the right spot, hopefully he was. It also helped when we needed to file because we could cover for each other.
TID:
You're still early in your career, but what have you learned so far, and how have you changed?
ANDREW:
The first year out of college has been such an crazy time for me. I've experienced things that I never thought I would on assignments. I believe these experiences help you grow, both as a photographer and a human being. They have also showed I still have a lot of growing to do.
One thing I've definitely learned is the importance of being informed and articulate in the way you talk about images and pitch projects. Being informed on the topics you photograph goes a very long way and generates more meaningful imagery. People can easily read when you are not informed and that certainly does not help you in the long run. It was something I really didn't think much of before, but now am going out of the way to get better at.
I've also learned the need to live in the moment, especially when you are working on an assignment or project. I have a bit of ADD, and am easily distracted. Taking a deep breath, being present, and focusing on the moment and the why behind photographs helps me a ton. You can always answer that phone call or text after the assignment is over.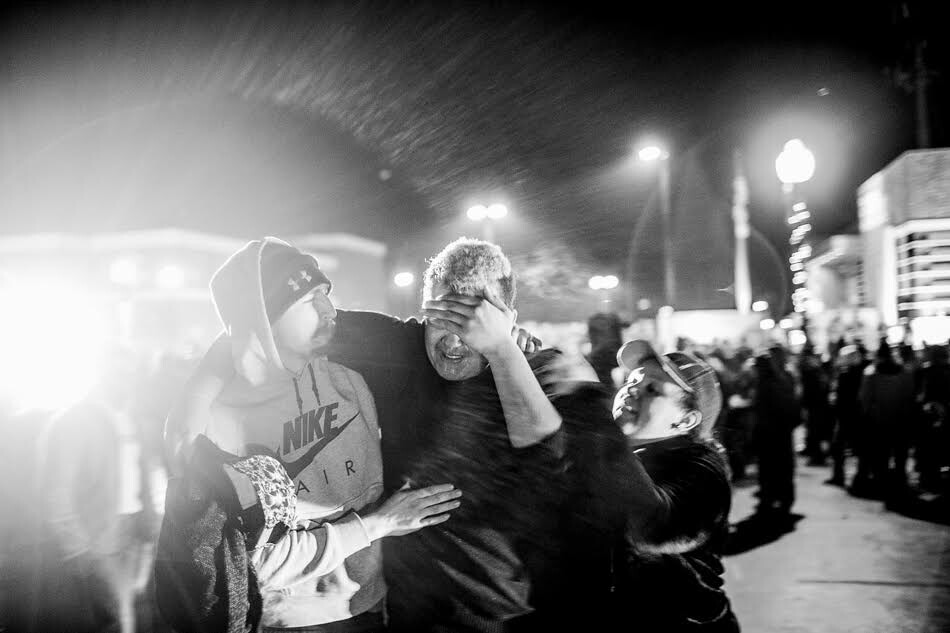 TID:
What have you learned about others?
ANDREW:
I think the most important thing that I've learned in regards to others is to treat everyone with respect. If you are respectful to the people you photograph, the editors that assign and work with your images, and fellow photographers you meet in the field — that respect will go a long way. The photo industry is a very competitive one, but it is also filled with a community of people that want to help one another succeed. If you treat everyone with respect, it will most likely be reciprocal.
TID:
Now, onto the moment. Please walk us through how you photographed it, and what was going on in your mind at the time. Key in on language (verbal and non-verbal as well) Also please discuss how you got in this position to make the frame.
ANDREW:
Someone from the inside the church gave everyone outside a heads up that the service was over and Mr. Garner's casket would soon come out of the church. Everyone, press and bystanders alike, moved up to the entrance. I knew I wanted to be in a position close to the hearse, but still be able to make an image of the casket coming out the front. This is always a very emotional part of most funerals. I thought I had a better chance of photographing raw emotion closer to the hearse than standing directly in front of the doors of the church, which I believed was my other option for a good image.
There was a lot of pushing, shoving, and yelling to get back, due to the amount of media in attendance. I ended up right in front of the hearse in a position I felt very comfortable in. Mr. Garner's casket came out and volunteers pushed members of the media back to make room. They made their way out, opened the door to the hearse, and slid the casket in. At that point, I thought they were done, but for some reason they paused putting the last third of the casket in. One of the pall bearers looked across at the gentleman standing right in front of me with an almost sad and puzzled look on his face, and I made the frame.
I stuck around for the next few minutes as the hearse stood still. A friend of Mr. Garner's came up and said his last goodbyes, and then the hearse left.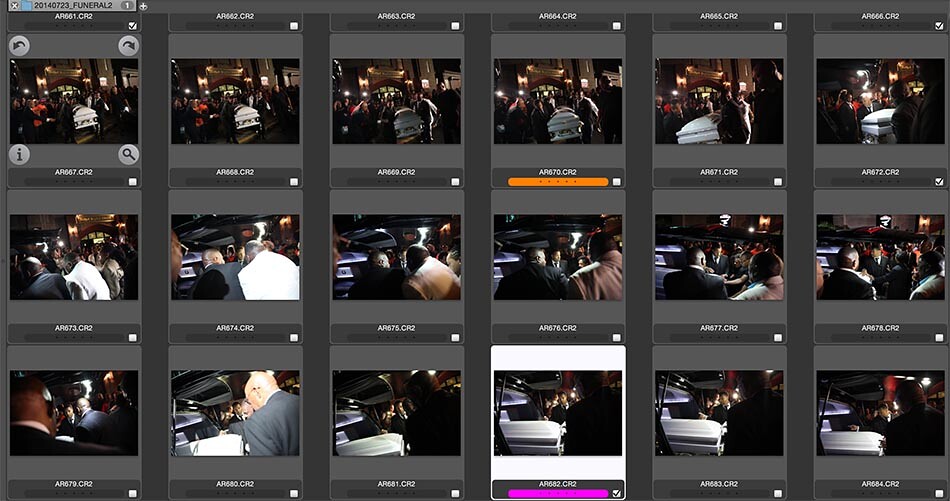 TID:
Can you talk about fear and how you work to overcome it? I think this is common in photographers, and I'm always curious out they overcome it?
ANDREW:
Fear can live in so many ways; fear in a dangerous situation, fear to approach someone for a photograph, fear to show your work to an editor. I don't know if I necessarily overcome fear, because it is a natural human reaction. I think rejecting fear can lead to actions that may cause physical or emotionally harm.
I believe knowing your fear, and controlling it, is important. Being prepared for different situations is important, so I tend to talk to a lot of people that have been in situations I am entering. I listen to them and figure out how I can prepare. I think it's important to be observant in order to pick up on physical or mental cues. Trusting your instincts also goes a long way. If something doesn't feel right, there is a high chance it probably isn't. Of course, there will be situations in life with fear which you just can't prepare for, and you hope you know yourself and your instincts enough to control it.
I just started reading a really interesting book on fear called "The Gift of Fear" by Gavin Debecker. I highly recommend what I have read so far.
TID:
What do you hope to achieve with this work?
ANDREW:
I hope this work is a document of systematic racism and a deeper look at racial disparity that currently exists through out United States. The Civil Rights Act of 1964 outlawed discrimination based on race, color, religion, sex or national origin over 50 years ago, yet so much discrimination is still visible in 2015.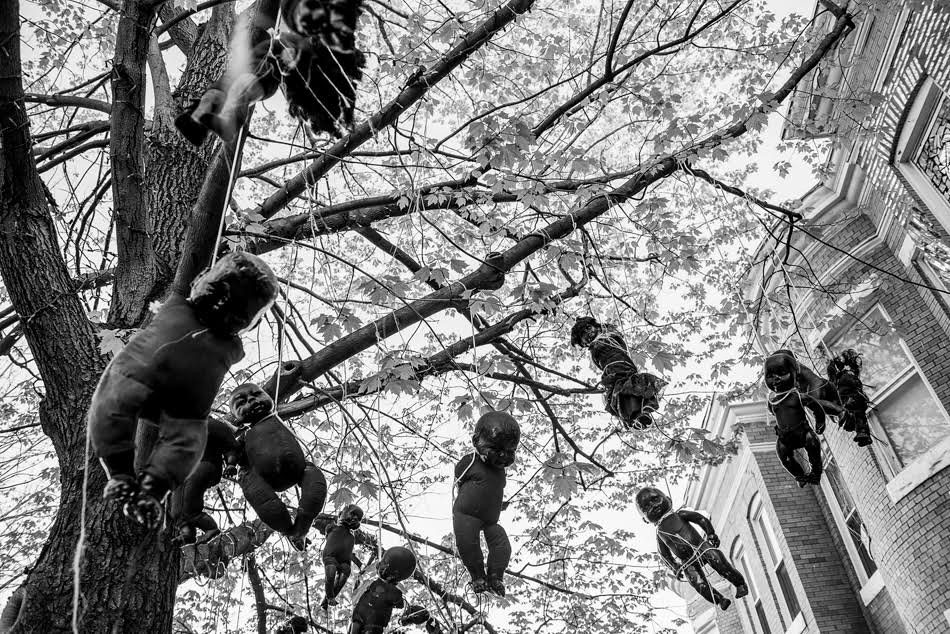 TID:
In conclusion, what advice do you have for photographers wanting to do this type of work?
ANDREW:
I'm still learning so much about this type of work. But once again, I really think everything comes down to respect. Put yourself in the shoes of the people you are photographing, and think of how you would want to be treated.
:::BIO:::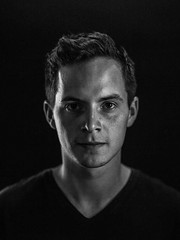 Andrew Renneisen (b.1992) is an American freelance documentary photographer based in Brooklyn, NY interested in documenting conflict and social issues domestically and internationally. Prior to New York City, Andrew attended the S.I. Newhouse School of Public Communications at Syracuse University with focuses in Photography and Information Management and Technology. Andrew has interned at The New York Times, The Philadelphia Inquirer, The Press of Atlantic City, and The Wilmington News Journal. Andrew's work has been published in The New York Times, The Philadelphia Inquirer, The Los Angeles Times, Bloomberg Businessweek, Mother Jones, Rolling Stone, Stern, TIME, amongst others. He is currently a member of the Emerging Talent Roster at Getty Images Reportage.
You can see more of his work here: