Raymond McCrea Jones
May 6, 2012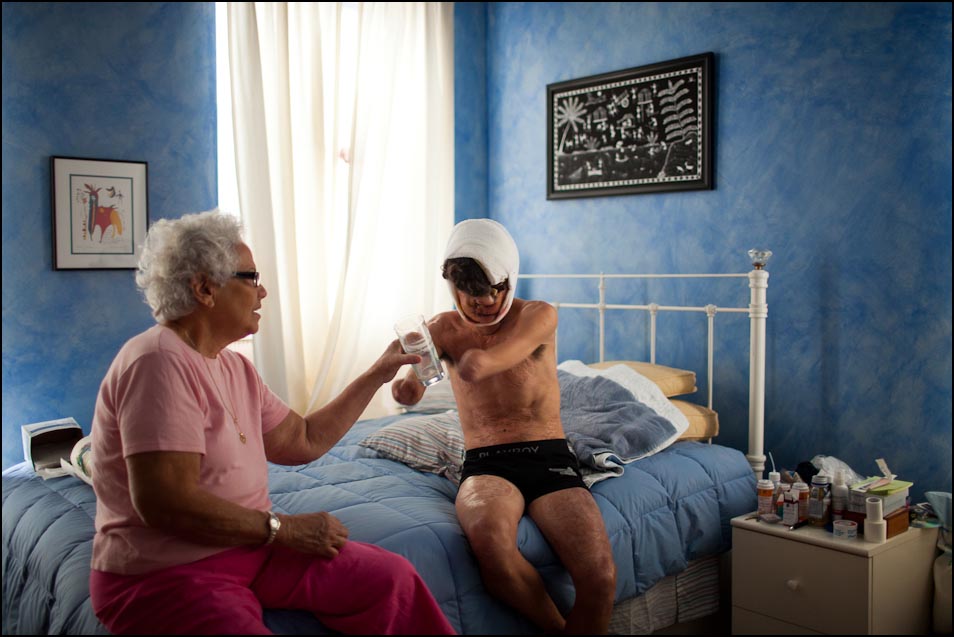 TID:
Ray, what a touching picture. Can you tell us the backstory?
RAY:
Sure, thanks Ross. Let me start by saying how much of a great mentor and inspiration you've been to me over the years. You really offered me great advice and direction when I was a young clueless photographer. And I sincerely appreciate it.
I began shooting this story in March of 2011 in New York. I was working at The New York Times and during my time in the city I was very involved in the cycling community. I rode everywhere and raced on the weekends.
In January of 2011 I heard Damian's story, I think through a local bicycling blog that I read. It became one of those things where if you rode a bike in New York City, you had probably heard the buzz about Damian because it was such a captivating story.
He was badly injured in an electrical accident at age 13 in Cuba where he lives. The accident caused him to lose both of his arms and left him with terrible burns over much of his body. However, his passion for cycling was not fazed. He adapted and taught himself to ride and even race.
Through the fundraising and good will of many cyclists in the city, as well as former pro rider Tracy Lea, Damian was able to come to the states for a series of reconstructive facial surgeries and prosthetics fittings in January of 2011 with the hopes of competing in the 2012 Paralympic games in London.
When I heard his story I immediately knew I wanted to do something with it. I made contact with one of the families hosting Damian while he was in the U.S. and started shooting in March with the intention of documenting his time here until he had to go back to Cuba in June.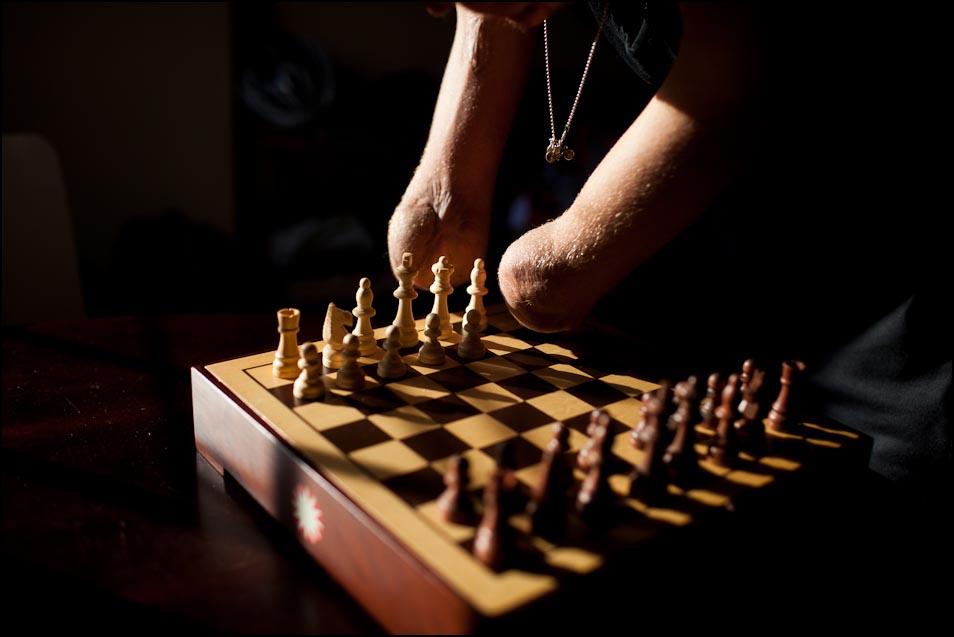 TID:
What was going through your mind as you worked to gain trust and insight into his experience?
RAY:
Well, Damian doesn't speak any English but from the beginning we shared a common bond through our love of cycling. So the connection was really effortless, honestly. I mean I can't pretend to be able to relate to his situation, you know, but for me it's the same with every story I'm involved in; I just try to be honest and real and friendly. You have to make that connection and this is how I've learned to do it.
I remember the first time I met him, we met up to go on a short ride and the first thing he did was check out my bike. "Dur-Ace, nice," he said in his extremely thick accent, and instantly we were connected. That's all we needed, the universal language of bikes.
One thing that I wholeheartedly believe in is developing a relationship with your subject. That may sound obvious or over-simplified but for me that is the first priority and I make it a point to always be conscious of that. Before I take the first picture or even take my camera out of the bag, I'm building that relationship by putting in the time to talk and listen or just sit and hang out.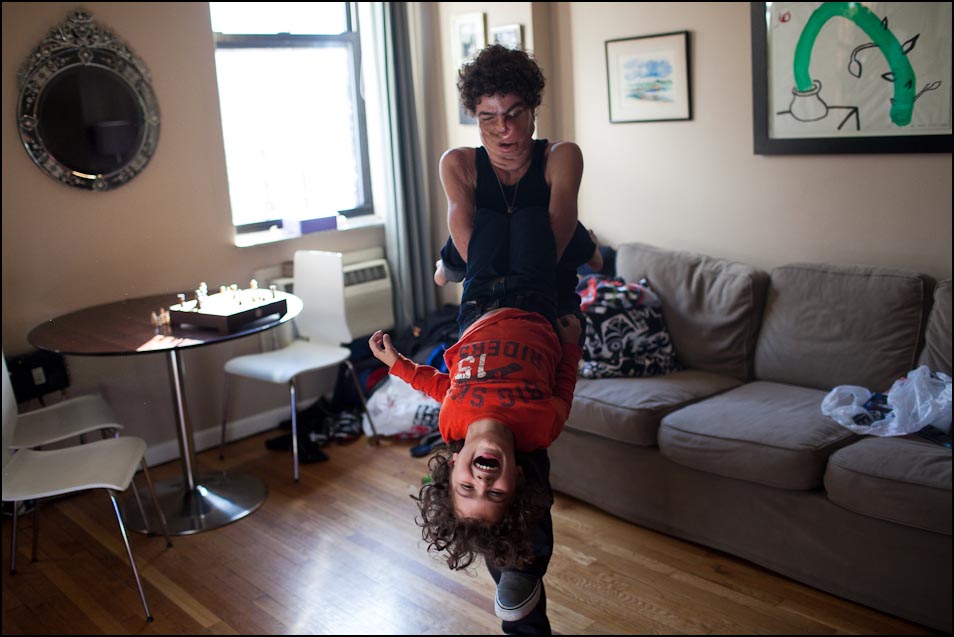 For me this is what it's all about: meeting people and developing sincere relationships. This is how I find fulfillment in what I do. Of course I want to make beautiful pictures that everyone loves, but I'm in it for something deeper. I need that connection in order to feel like what I'm doing is meaningful.
TID:
What were your concerns/problems in documenting him and how did you problem solve?
RAY:
The first thing I wanted to do was secure backing from an editor at The Times so that I could be confident the story would be published in the end. So I pitched Damian's story to a writer, J. David Goodman, then together we were able to get some buy-in from the editor of the Metropolitan section.
Another of my concerns was to make sure that I was constantly being mindful of Damian's portrayal through my pictures. Sensitivity and objectiveness are not mutually exclusive. I think it's very helpful as a photographer to constantly be mindful of your motivations. I didn't want this story to be a "look at this double amputee with terrible injuries and feel sorry for him" story. I didn't want it to come across like that at all because Damian is anything but that. On the first day, I hung out with him and shot pictures, we not only rode bikes but we played basketball, handball, chess and baseball. He's amazing, truly.
Finding the time to shoot was also a constant issue. Even though we had the support of an editor, this was still a self-assigned story so I had to fit it in around my other work. Much of the shooting was done before or after other work and on the weekends. There are some things Damian was doing that I just couldn't make it to because of other obligations, but that's how it goes. I tend to take my time and work on a story over a long period of time. That makes it easier to cover all the bases.
TID:
Can you also talk about how you speak to people in sensitive situations like this?
RAY:
The key is definitely to be mindful and practice sensitivity. First, I do as much research as I can on the subject and his/her condition or plight. If I've made contact with the subject through someone else then I will also talk with that person extensively to further feel it out. From there, like I said earlier, I just try to treat the subject with fairness, honesty and respect. So I really just try to treat the individual as any other person I may have just met.
At the same time, I make it a point to convey how gracious and humbled I am for the subject to let me into his/her life. I briefly talk about what it is that I do and how I'm hoping to convey their story. I take what I do extremely seriously, and the fact that the subject is willing to let me into their home, life, experience, etc. is not something that I take lightly. I tell my subjects these things openly and I think that offers them some reassurance.
TID:
Now, onto the moment. Please describe what was happening at the time and what was going through your mind to make the image happen.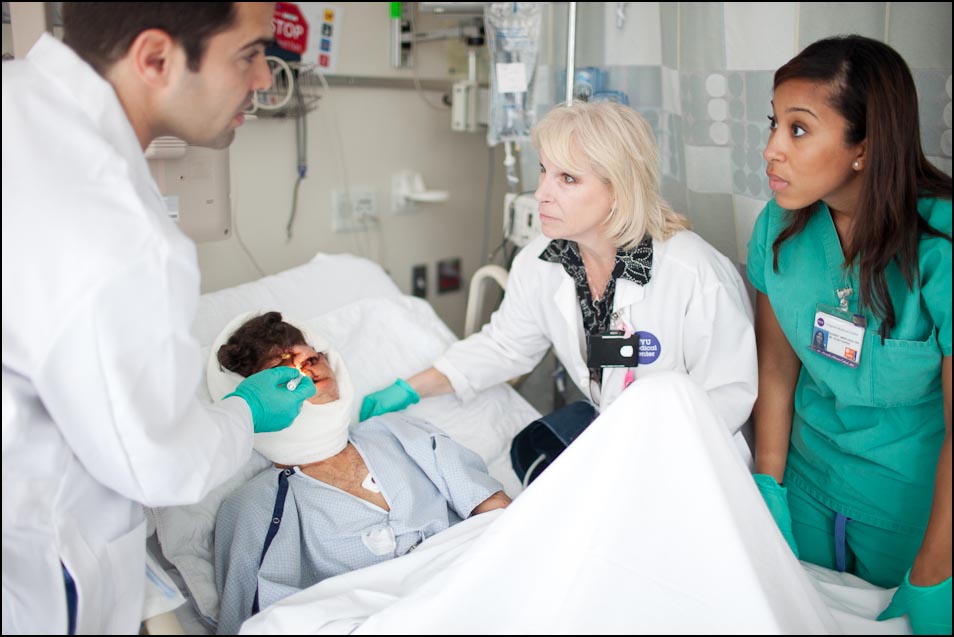 RAY:
The facial reconstructive surgery Damian had was a very intense procedure. He had only one relative in the U.S., his aunt Edilia who lived in Miami. Coincidentally, she was also the one who cared for him extensively in Cuba after the initial accident. The facial surgery would keep Damian almost completely bedridden for two weeks during recovery so Edilia volunteered to come up and care for him during that time. The two stayed in a Brooklyn apartment of a friend-of-a-friend who was out of town.
I went to visit Damian there about one week after his surgery. Edilia met me downstairs. She told me how worried she was for Damain because he had been so depressed since the surgery. He had been so independent his entire life that it was really hard on him being so debilitated during this recovery time.
I followed Edilia upstairs and sat in an adjacent room to wait for Damian to wake up. I started going through the motions in my head. I looked around, all the lights were off. Perfect. Only sunlight coming through the windows so no mixed colors. From what I had seen of the apartment, it was nice but I wasn't expecting the room to be anything extraordinary. I didn't know what condition Damian would be in but I knew I wasn't going to shoot very many pictures because of how Edilia told me he was feeling.
A few minutes later I heard Edilia open his bedroom door and they started speaking to one another in Spanish. Then to my surprise, I began hearing the Beatles and Damian starting singing along to "I Want to Hold Your Hand" in the best English he could. It was such a surprisingly beautiful moment.
Edilia came into the room where I was waiting to tell me Damian was awake and that I could see him now. When I asked about the Beatles she said they're his favorite band. As I walked into the room I immediately began composing, not through the viewfinder, but in my head. I noticed the beautiful color of the walls and the three large windows with sheer curtains acting as giant softboxes. This made the light in the room utterly gorgeous.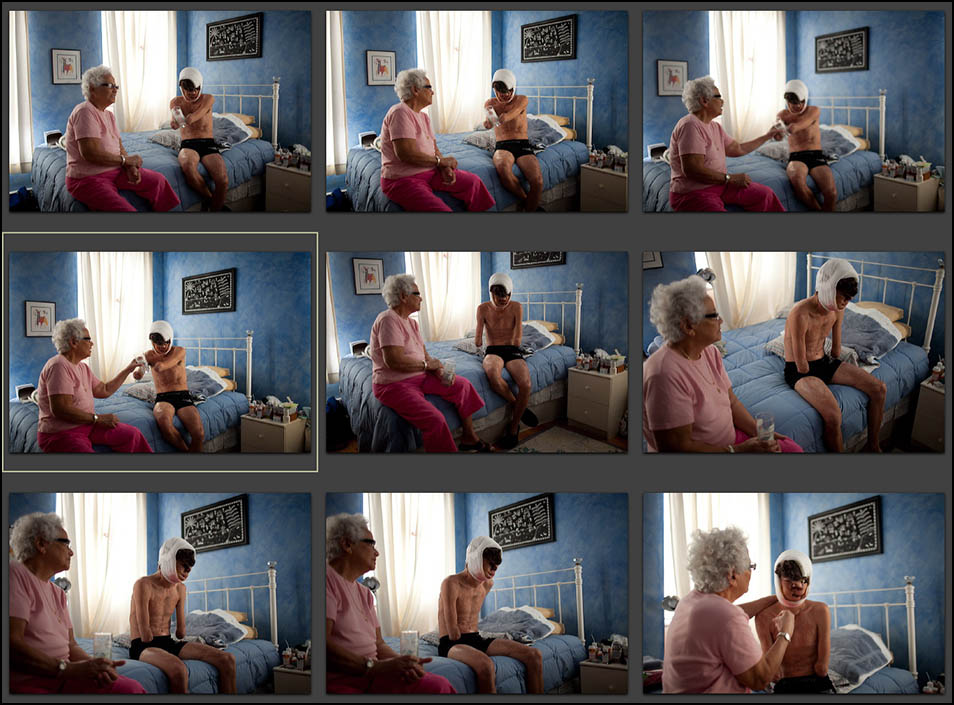 After talking to Damian for a few minutes in my broken Spanish, I stepped back to allow the interaction between him and his aunt to unfold. I bent over a little to be closer to their eye level and started shooting. Edilia sat down on the bed beside Damian and handed him a glass of water to take his medication. Damian kept humming and singing along to the music as I shot.
I shot and listened and was just captivated. I shot only fifteen frames then just hung out and talked with him and his aunt. Damian was very open about me photographing him and always wanted me around, but I was always careful to be respectful and not to intrude.
TID:
What did you learn about yourself in the process of making of this image?
RAY:
That's a tough question. I'm not sure I've ever learned anything about myself through a single image. I feel like it's more of a journey, more about the whole process. You know, I truly believe that telling stories and exploring the world this way, through shared experiences with the people I meet, is how I've learned what I have about myself and living life. That may sound melodramatic or cheesy, but it's 100% true. One thing I think I learned was how fortunate I am to be able to do what I love. I'm healthy, I'm alive and I'm doing what I love to do. What more could I ask for?
TID:
What surprised you about the him? What do you want people to know about him?
RAY:
One thing that surprised me about Damian is just how independent and downright stubborn he is. I think these qualities have really worked in his favor, allowing him to work through his setbacks and pushing him to figure out his own way of doing things. You know, he lives in Cuba where things are pretty rough. He's done absolutely everything on his own. He's taught himself to do everything from ride a bike to ride a motorcycle to fix cars. That really inspired me. I just hope that through my pictures people can learn a little bit about Damian and how awesome of an athlete and person he is.
TID:
In conclusion, what advice do you have for photographers in similar situations?
RAY:
I would encourage other photographers to be mindful of their motivations at all times. You are only allowed the access that you have by the good grace of the person you are photographing. Don't forget how to act with respect or compassion just because you're deep into your visual storytelling or reporting. All that stuff you're told about how you should be disconnected from your subject and how it's unethical to be emotionally involved in the life or circumstance of the person you're photographing, forget that. Challenge yourself to make a deep connection with your subjects. Empathize, feel, open up your heart and mind. Think about why you want to tell this story. Then attack it with all your energy and produce something powerful and great.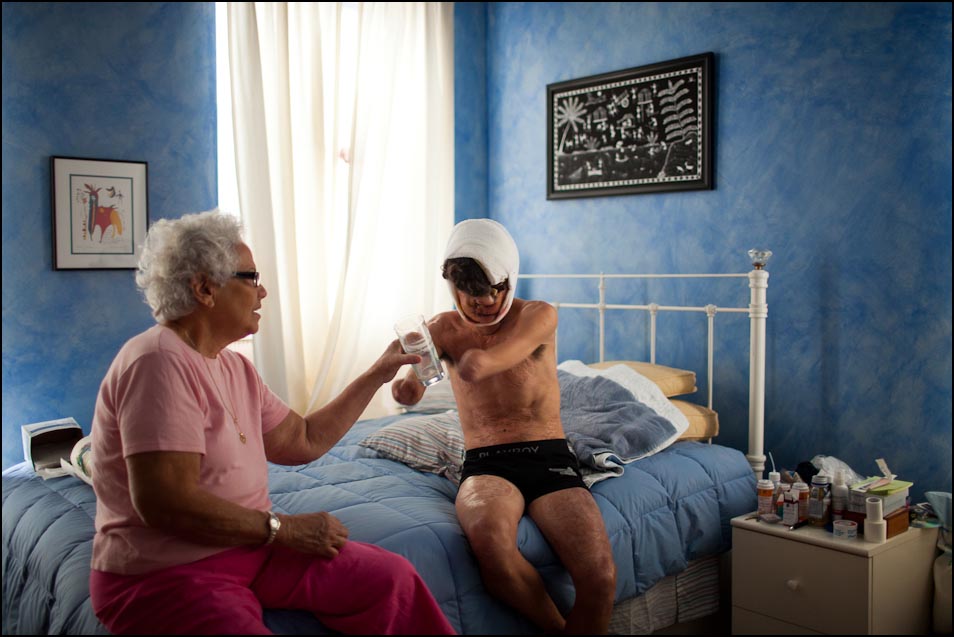 :::BIO:::
Ray Jones is a freelance editorial photographer, multimedia journalist and contributing photographer at
Redux Pictures
. He was born in Wichita, Kansas and studied visual communication at UNC-Chapel Hill. After graduating he was hired by The New York Times. During his years there he wrote, produced and/or photographed pieces for almost every section of the benchmark publication. Two of his most recent projects for The Times,
"Love Endures Even Cancer"
and
"Damian's Ride"
won awards in the National Press Photographers Association
Best of Photojournalism contest
. In 2011 he left his staff position at The New York Times to return to the South as a freelance photographer.
His first book of photography, "Out of Step: Faces of Straight Edge" was independently published in 2007 and was recently made available as an eBook through "iTunes".
Ray lives in Atlanta with his wife and two sons.
Website: http://raymjones.com
Blog: http://facesofstraightedge.com
Twitter: @RMJATL
Damian's piece in the NYT: http://www.nytimes.com/2011/06/12/nyregion/cyclists-embrace-a-handless-c...